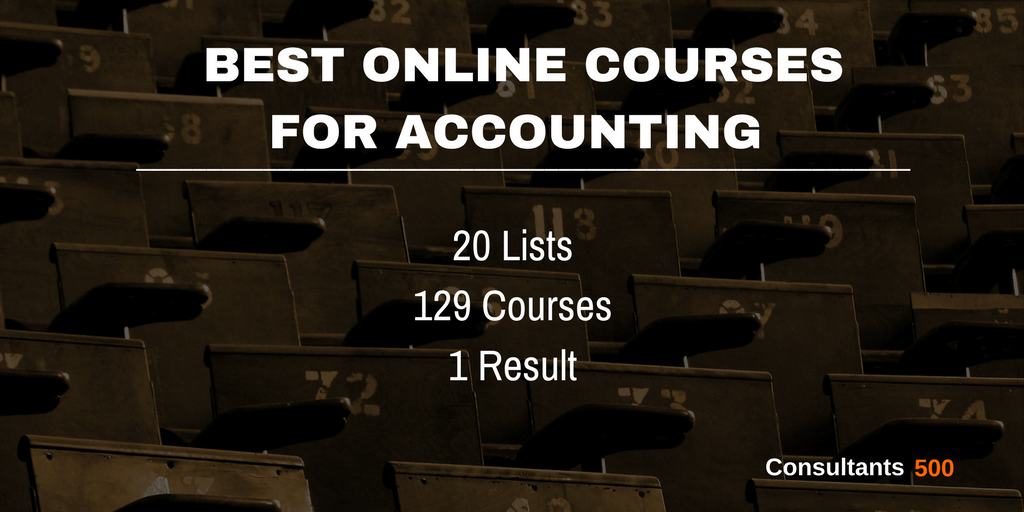 Following online accounting courses or programs are an ideal way to stay up to date on the latest developments and learn new insights about accounting. The only problem is that there are a lot of online accounting programs offered and they are all screaming for your attention.
So which ones are successful in providing you exactly what you are looking for and how can you find them? As we have done for these other accounting knowledge sources (like Best Accounting Blogs or the Best Accounting Books to read as recommended by accounting professionals), we searched for 50 "Best of List", selected and combined the 20 most valuable "Best of List" and earmarked and ranked what Online Programs for Accounting keep up appearing in most of these recently published lists. From a total of 129 Online Programs for Accounting reviewed and ranked, here are the top 20 results!
Top 20 Accounting Programs to Follow
& Stay Up-To-Date
Accounting Career Opportunities
Accounting is often ranked as one of the most desirable professions available—including being ranked as one of the top 25 jobs in 2016 by U.S. News & World Report. In general, accounting jobs are in high demand no matter what the current state of the economy is. Hoovers places annual revenue in the public accounting industry at $125 billion, and with rising interest in emerging specialties such as international accounting, investigative and forensic accounting, and environmental accounting, the industry promises to remain dynamic and rewarding for years to come. Nevertheless, employers will be seeking to hire the best and brightest, and competition for top jobs can be regarded as fierce.
There are many different positions you can find in the accounting field. Careers in accounting can range from entry-level positions to executive level and can cover fields like Forensic Accounting, Management Accounting, Public Accounting, Auditing and Financial Accounting. Further detailed information about career opportunities in accounting can be found here. Want to know what salaries are for typical accounting professions, just check our overview of the Best Annual Salary Surveys for the Accounting Professional.
Most Favorite Accounting Posts
on our Blog 
Blog: Accounting, Audit & Advisory
Our Blog focuses on helping you to find the best sources on the web about Accounting. Think of blogs, books, tools, software, online courses, firm rankings, universities and much more, all related to Accounting. It also includes guest posts from our users or visitors about all sorts of accounting topics.
Popular Articles:
Top 15 Accounting Books Recommended Most Times by Accounting Pro's
Top 20 Accounting Blogs to Follow and Stay Up to Date
Best Accounting Software for Professional Service Firms
More Resources for Accounting
Q&A: Accounting Knowledge Sharing 
Via our Accounting Community Forum, Professionals and Clients can share knowledge by having Q&A conversations about typical business issues or best practices in relation to Accounting. Here you can share your Accounting Knowledge, rank answers by how valuable they are, or just read and follow any Accounting topic you want, and get noticed when new contributions are made to discussions you follow.
Latest Sector News: Aggregated Accounting News
Via our Accounting Briefing Room, the Top Accounting Resources on the web are followed and only the most shared content is shown. You can filter all the content for the last 24 hours, 3 days, 1 week, 1 month, 3 months, etc so you can easily find and stay up to date with the latest Accounting developments.
Other Briefing Rooms:
All Latest Sector News Briefing Rooms
Digital Marketing & SEO
Entrepreneurship, Technology, Freelance, and Professional Services
Do You Have Any Tips for
Your Favorite Accounting Resources
Want to share your favorite Accounting Resources? Just complete our online survey in less than a minute, we do not ask for your email and you can skip or answer any question you like. We will include your suggestions in one of our Best Accounting Resources Shortlists if we also like it.
Then via Accounting Knowledge Resources, you can quickly find the best Accounting Resources on the web as suggested by our users and visitors via the above online survey. Think of blogs, books, learning, online courses, cheat sheets, university rankings, firm rankings, salary surveys, tools, industry reports and much more, all related to Accounting. We prepare a base list of Accounting Resources and then this list is continuously updated basis tips received from our users and visitors.
Some Examples:
Top Accounting Firms – Global & Regional Rankings
Best Annual Salary Surveys for the Accounting Profession
Best Online Accounting Courses
How Our Platform Works
More than 75% of potential Clients who look for Accounting Services start a Web Search to find the best Accounting Pro for the Job. Because the internet is by far the leading channel, it is critical that your business can be easily found on the internet. Creating a profile on our Platform is free and opens the door to new opportunities, it can be done in only a few minutes and without any credit card.
Easily find and compare highly qualified Accounting Pros by searching our Platform, which can be Accounting Firms, Accounting Professionals, or Accounting Freelancers. Directly contact and work with your ideal candidate in any way you like. Searching is always free, and that also means that we never charge any transaction type of fees.
Learn More:
How it Works
Memberships
Create Profile
How we Established the Final Top 20 List
We made a list of 50 posts that we recently published about "Best Online Accounting Programs" to follow.
From this list of 50 posts, we selected the top 20 that seem most valuable to our readers and users.
We combined the 20 lists about "Best Online Accounting Programs" and earmarked all individual blogs that were on those lists.
When a blog was ranked as number 1 it got 1 point and when it was ranked 2nd it got 2 points etc.
When no particular ranking was applied to a certain list, then each listed blog got the same points.
To be included in the final list a blog should be listed  for a minimal number of times.
More weight was assigned to blogs who where clearly listed more times than other blogs.
All lists were summed up and the blog with the lowest number was ranked 1, 2, 3 etc.
This resulted in the final "Top 20 Online Accounting Programs" that are recognized by many different sources. 
 Sources Used
The 20 "Best of Lists" used for our research are: