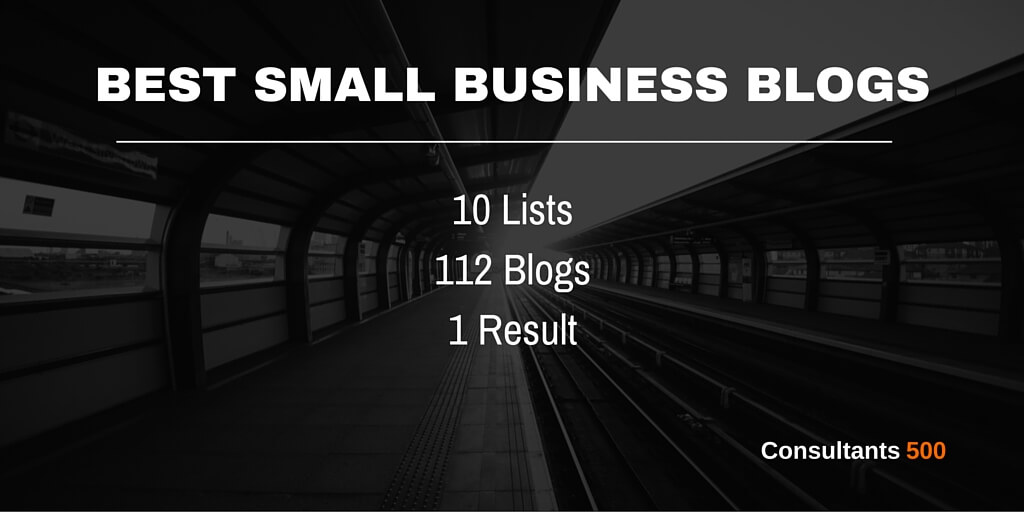 As a small business owner, you need to do most of your business activities yourself and be knowledgeable about the whole spectrum of your day-to-day operations. From drafting legal contracts to making sure your website stays in the air or determining your optimal social media strategy to grow your business.
Small Business Blogs are an ideal tool to stay up to date on the latest developments and learn new tricks on how to succeed and grow your business. The only problem is that there are a lot of business blogs out there and they are all screaming for your attention.
So which ones are successful in providing the information your business needs and how can you find them? Like we did for the Best Content Marketing Blogs, we combined 10 popular "Best of List" and earmarked what blogs keep up appearing on most of these recently published lists. And here are the results!
As we are a small business ourselves, we use this list as well of course for educating and inspiring our minds and for optimizing our Consultants 500 platform.
Top 12 Small Business Blogs to Follow
& Grow your Business
Both blogs (#9) Gary Vaynerchuk and (#10) Entrepreneur on Fire actually ended up equally. However, the technology behind our blog is not that sophisticated that you can make amendments to numbered lists;-)
The blogs of Duct Tape Marketing (1), Copyblogger (2), Buffer (3), Social Media Examiner (4), Convince and Convert (8) and Social Triggers (11) also ended up in our Best Content Marketing Blogs list, so a lot of people must agree on the great value these blogs create on a day-to-day basis.
How we Established the Ultimate List
We combined 10 lists about "Best Small Business Blogs" that were recently published by specialists who are (small) business owners themselves or who know their way around on this subject because they for instance advice or coach small businesses.
When a blog was ranked as number 1, it got 1 point, and when it was ranked 2nd, it got 2 points, etc.
When no particular ranking was applied to a certain list, then each listed blog got the same points
To be included in the final list a blog should be listed minimal 3 times out of the 10 lists in total.
More weight was assigned to blogs who were listed at least 5 times or more out of the 10 lists in total.
All lists were summed up, and the blog with the lowest number was ranked 1, 2, 3, etc.
This resulted in the 12 (13) Best Small Business Blogs that are followed by many Small Business owners and/or experts.
Sources Used
The 10 "Best of Lists" used for our research are:
25 Blogs Small Business Owners Should be Reading.
15 Best Small Business Blogs to Follow.