Meyer Feldberg, a professor and dean emeritus at Columbia Business School and a senior advisor in the Investment Banking Division at Morgan Stanley, has written a memoir in which he shares the lessons of his experiences and wisdom on living a good and meaningful life.
A warm and beautifully written memoir from one of the leading business school educators of his generation. Not surprisingly, this former Dean of Columbia Graduate School of Business―who transformed the institution into one of the world's leading business schools―uses the opportunity to distill a series of life lessons relevant to all. At the same time, the memoir shows a humanity that serves as a role model. Particularly moving is the description of how, as Dean of the University of Cape Town's business school, he used his position to fight against apartheid. — Joseph E. Stiglitz, Columbia University, winner of the 2001 Nobel Prize for Economics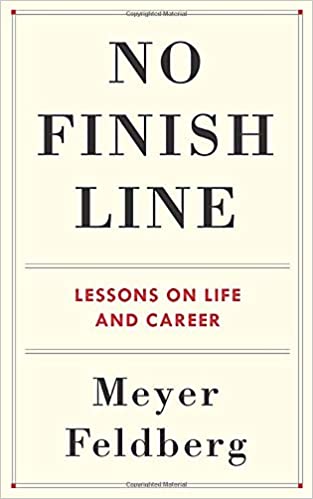 Meyer Feldberg is a storyteller. The source of his stories is his rich and unique life, which took him from South Africa under apartheid to a C-Suite in present-day New York, from the hallowed halls of academia to the frenzy of global investment banking. As with all storytellers, there is a purpose embedded in each of his stories that is specific in its details but universal in its message.
No Finish Line is Meyer Feldberg as his friends and colleagues know him. It is the professor dispensing sage advice. It is the mentor telling a tale about himself that is really about you. In his telling, Feldberg's story―his successes and his failures―is a lesson plan for how to lead a worthy personal and professional life.
You can find more information here.
About Meyer Feldberg
I have lived on three continents and in eight cities.  I have studied and taught at nine universities and have had leadership roles at 5 universities.  I left the city of my birth – Johannesburg in 1963 and moved to New York City to attend Columbia University Graduate School of Business.  I graduated in 1965.  I worked in the US for two years after graduation and returned to South Africa to Cape Town University where in 1972 I was appointed Dean of the Graduate School of Business.  I was appointed to two Boards – Sappi one of the world's largest paper manufacturers and ICL a London based computer company.  The appointments gave the school considerable visibility and the company benefited by having an academic who was young and vigorous and who brought a different perspective to the other members of the Board.
My board experience has been extremely demanding but exceptionally valuable.  It began in South Africa and London and continues in New York City.  I've served on a wide range of boards including Consumer Retail, Global Cosmetics and Beauty, Finance, Education, and Nonprofit.  The greatest asset of being on boards of substance is that you're able to inform and be informed.  I've learned a lot.
It is a great mistake to imagine that a board acts like an old boys club.  A successful board has members from many different backgrounds so that it can draw upon different experiences.  Over the past 40 years, I've found myself bumping into the same leaders in the community on many of the boards as well as have had former students or sometimes colleagues of mine as fellow board members.
I have served on numerous corporate boards that were successful and helped me grow my knowledge and skills in business.  All the boards are interesting and I was often able to transfer my knowledge from one board to another.  Boards are extremely demanding of the time, the knowledge, the information, and the judgment that board members bring to the institution.  I have probably attended about a thousand board meetings.  5 meetings a year x 7 boards x 30 years is 1050 meetings. Not all board meetings and events are agreeable.  Don't be confused.  The purpose of a board is to assist management in their duty to their shareholders.  It can be difficult to interact with a board with whom you have philosophical and ethical differences.  It can be very unpleasant.   I have dropped boards that have become less meaningful to me or the community they serve.
I particularly enjoyed being on the NYC Global Partners board and to continue to serve on the board of the New York City Ballet.  Both nonprofit boards.  Being on the Board of the New York City Ballet has exposed me not only to a first class institution but also to some of the most creative people in the city. Institutions that are established to work for nonprofit organizations frequently attract the most generous and thoughtful individuals.  University boards, community boards, climate boards, and religious boards all have a vision of how they can make lives better and in many ways they do.  It is not about scale, but intensity.  Nonprofit board generally include members who are committed to the philosophy of the institution.  Such boards inevitably depend on the generosity of board members and donors.
As we all know, boards don't always work.  There are great boards and there are rotten boards.  Boards with integrity and boards with greedy people who only use the board for their own advantage.  The leadership of the board must always be vigilant.  It is not only about finance, manufacturing, technology or ballet and education.  It is about the people to whom and for whom you are responsible.  The employees, the students, the dancers, manufacturers, scientists, managers and bankers.  All have a right to expect the board to do their duty with integrity.
Meyer Feldberg is a professor and dean emeritus at Columbia Business School and a senior advisor in the Investment Banking Division at Morgan Stanley. His new book is No Finish Line: Lessons on Life and Career.