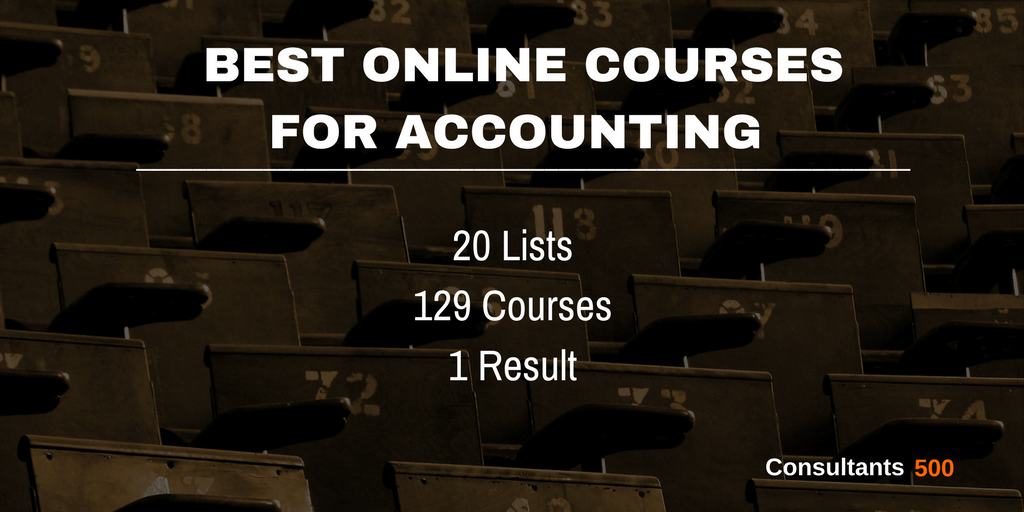 Following online accounting courses or programs are an ideal way to stay up to date on the latest developments and learn new insights about accounting. The only problem is that there are a lot of online accounting programs offered and they are all screaming for your attention.
So which ones are successful in providing you exactly what you are looking for and how can you find them? As we have done for these other accounting knowledge sources (like Best Accounting Blogs or the Best Accounting Books to read as recommended by accounting professionals), we searched for 50 "Best of List", selected and combined the 20 most valuable "Best of List" and earmarked and ranked what Online Programs for Accounting keep up appearing in most of these recently published lists. From a total of 129 Online Programs for Accounting reviewed and ranked, here are the top 20 results!
Top 20 Accounting Programs to Follow
& Stay Up-To-Date
Other Accounting Resources
that Might be Helpful
Stay up to date on the latest developments and learn new insights by following some (or all) of the Best Blogs About Accounting. For this list we followed the same approach as we did for our Top 20 Accounting Programs to Follow.
Even further increase your accounting knowledge by reading some (or all) of the 15 Most Recommended Accounting Books. Again, for these recommendations we followed the same approach as we did for this article.
If you are looking for an Accounting Advisor for help or for advice you can search for Accounting, Audit or Advisory professionals on our Consultants 500 platform, where you can compare, find and hire a wide range of accounting specialists and other types of advisors.
Accounting Career Opportunities
Accounting is often ranked as one of the most desirable professions available—including being ranked as one of the top 25 jobs in 2016 by U.S. News & World Report. In general, accounting jobs are in high demand no matter what the current state of the economy is. Hoovers places annual revenue in the public accounting industry at $125 billion, and with rising interest in emerging specialties such as international accounting, investigative and forensic accounting, and environmental accounting, the industry promises to remain dynamic and rewarding for years to come. Nevertheless, employers will be seeking to hire the best and brightest, and competition for top jobs can be regarded as fierce.
There are many different positions you can find in the accounting field. Careers in accounting can range from entry level positions to executive level and can cover fields like Forensic Accounting, Management Accounting, Public Accounting, Auditing and Financial Accounting. Further detailed information about salaries and the various career opportunities in accounting can be found here.
How we Established the Final Top 20 List
We made a list of 50 posts that we recently published about "Best Online Accounting Programs" to follow.
From this list of 50 posts, we selected the top 20 that seem most valuable to our readers and users.
We combined the 20 lists about "Best Online Accounting Programs" and earmarked all individual blogs that were on those lists.
When a blog was ranked as number 1 it got 1 point and when it was ranked 2nd it got 2 points etc.
When no particular ranking was applied to a certain list, then each listed blog got the same points.
To be included in the final list a blog should be listed  for a minimal number of times.
More weight was assigned to blogs who where clearly listed more times than other blogs.
All lists were summed up and the blog with the lowest number was ranked 1, 2, 3 etc.
This resulted in the final "Top 20 Online Accounting Programs" that are recognized by many different sources. 
 Sources Used
The 20 "Best of Lists" used for our research are: