Job hunting has changed over time. We're all more connected and distance is just a concept, making job portals more and more popular. No matter what fluctuations we'll see in the economy, people will always need to find work.
The popularity of job listing sites also means that your website needs to stand out from the rest. One good way to do this is by having an amazing design—following the trends while doing something extra.
To succeed, you'll need a sophisticated and functional web template. With this in place, make sure that you check all the mandatory boxes—like mobile-friendliness, low loading speed or responsiveness. But you'll also be able to make room for other non-technical improvements in your business.
Popular Job Board Design Templates
1. Jobber—HTML5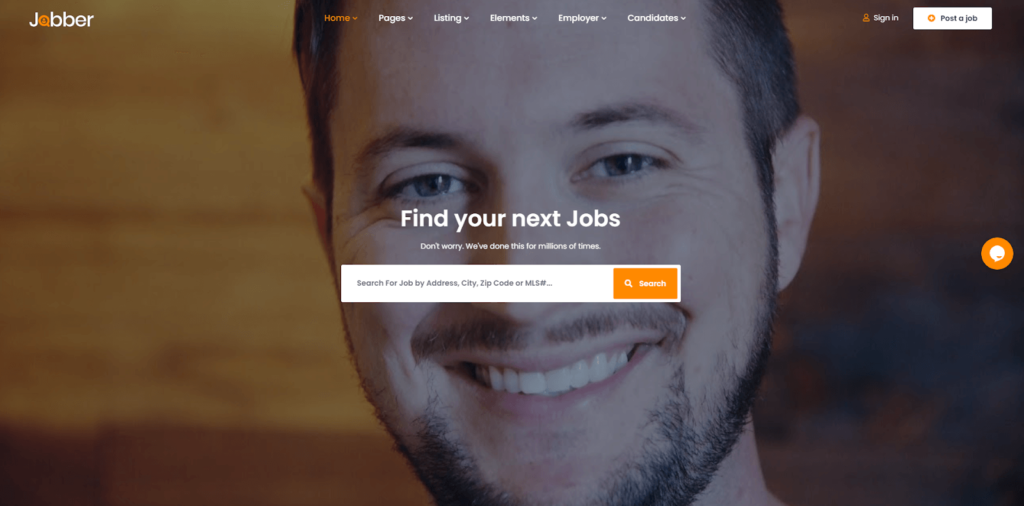 This template is built on the Bootstrap 4 Framework. All the CSS in Jobber is written in SASS—meaning that the design is easily manageable. It doesn't take a web developer to manage this template. The code is cleanly organized. There are comments describing each section. This makes it easy to personalize the design.
Jobber is fully responsive, meaning that it will automatically resize to fit any screen size. Additionally, there's a set of pre-made pages that you can choose from and make your work easier to complete..
Another bonus is the fact that you'll get free updates without any extra cost. There is also carefully put-together documentation that should answer all your questions. And if you still have problems, there's support offered for all major browsers.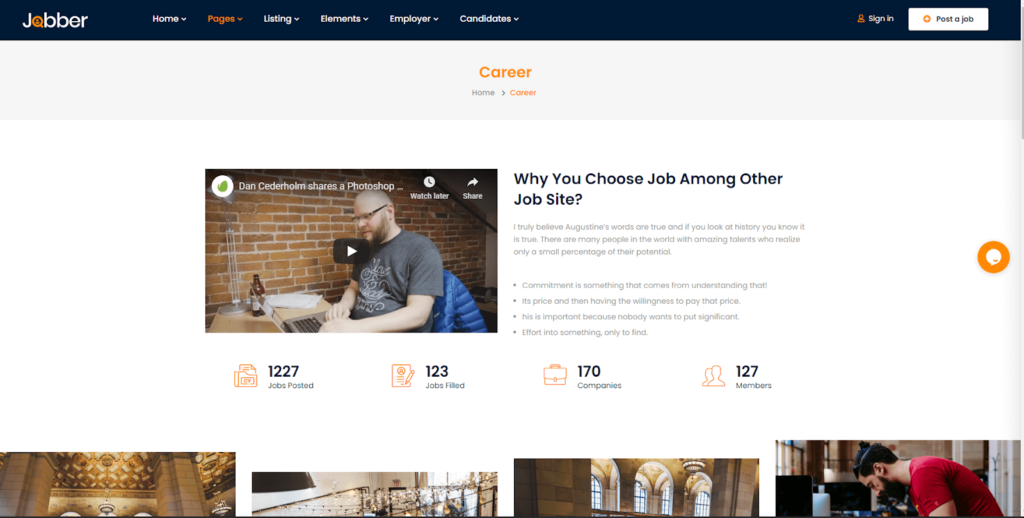 The name of the template is Jobber and was created by Potenza.
2. Hireo—HTML5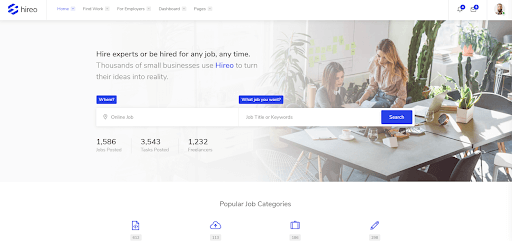 This is almost a plug-and-play template. It's also an HTML template and it features similar environments with websites like Fiverr, Upwork, Freelancer, and more. This means that it's built for bidding on projects, tasks, or project listing or simple job listing.
Hireo has a full-page liquid layout—it fills the browser window from edge to edge. This makes the look of it more engaging and professional for the user.
The template has built-in micro-interactions. These are subtle animations or visual responses to certain actions from your visitors. It could be a ripple effect for a mouse click, a pop-up window, and many more. This type of interaction engages with the visitor and gives them confidence that their action was accepted.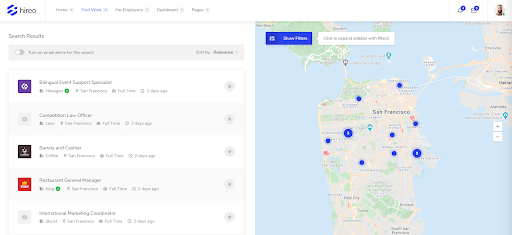 This template is called Hireo and was created by Vasterad.
3. WorkScout—HTML5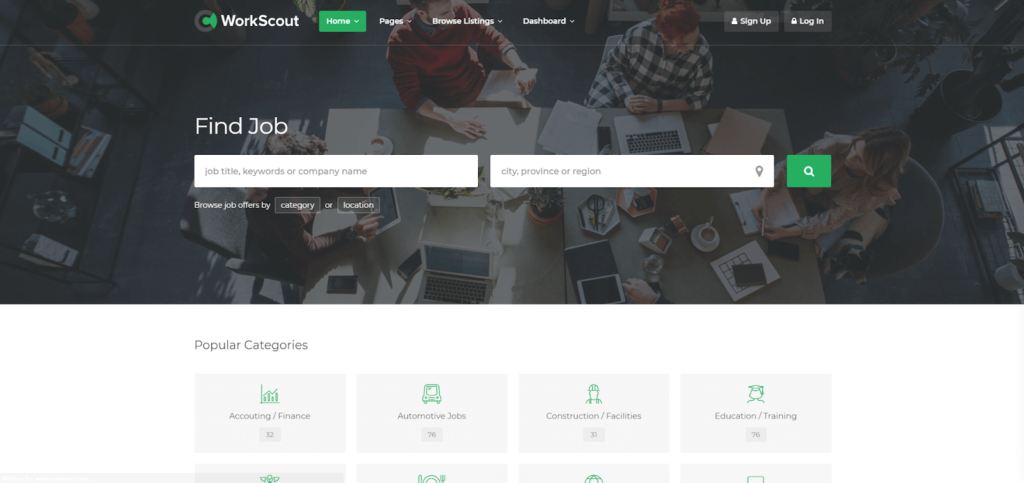 This template was built with mobile in mind. This means that it will work seamlessly on any device, from desktops to tablets and smartphones. It comes with a set of 2000+ specifically designed icons, divided into 53 categories.
WorkScout was developed for both recruiters and job offices. However, you don't have to be a professional to customize it. The code was carefully written and structured so that anyone would be able to make the necessary changes to suit their specific needs.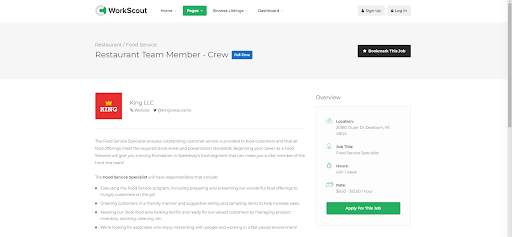 This template is called WorkScout and was developed by Vasterad.
4. Rejoin—HTML5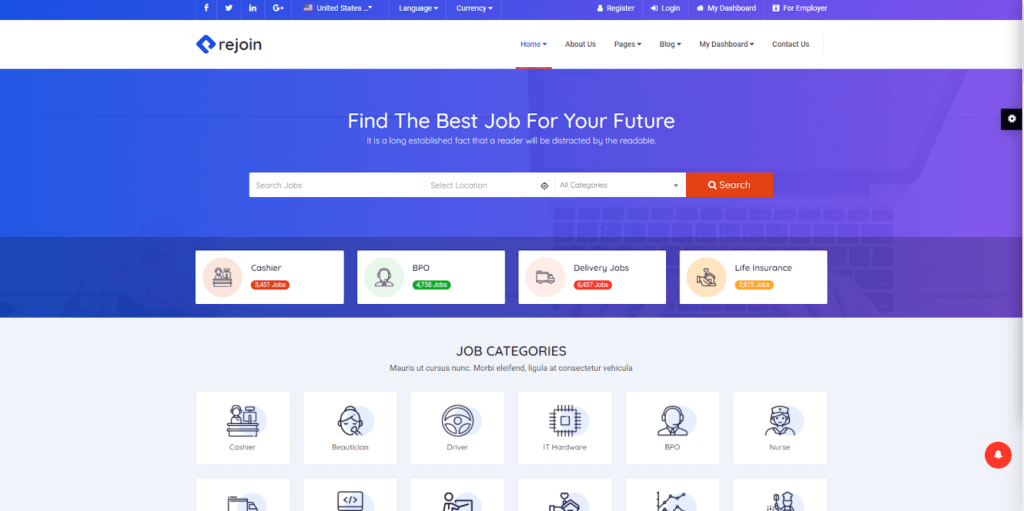 Rejoin comes with +140 HTML page templates that are ready to be customized. To create any type of job application. you just need to make some minor modifications in the code.
The design is simple, minimalist, and colorful. It comes with widgets and prebuilt header options. You also get lifetime free future updates for your template after purchase.
It's responsive, so it will work on any type of device. However, if you have any issues with your template, they offer 24/7 company support.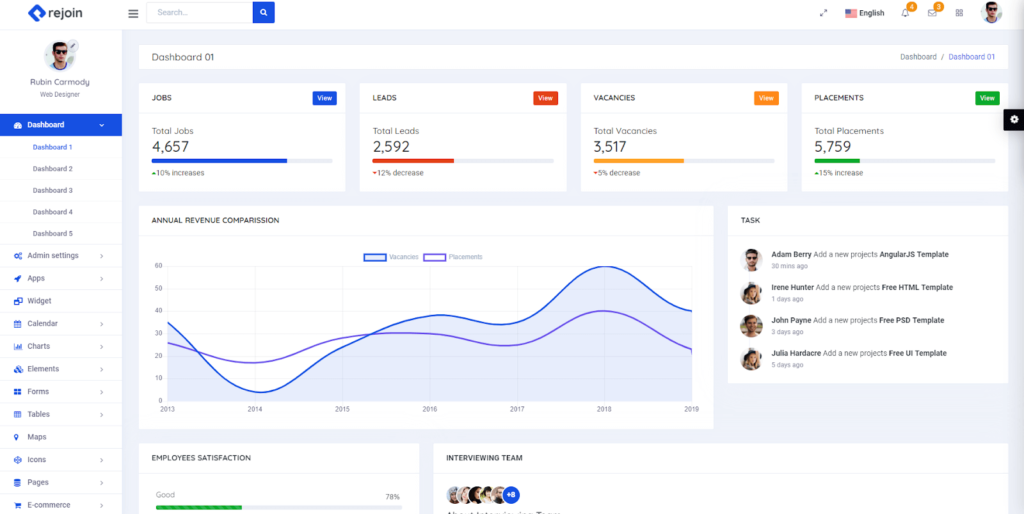 The name of the template is Rejoin and it was made by SprukoSoft.
5. Job Stock—HTML5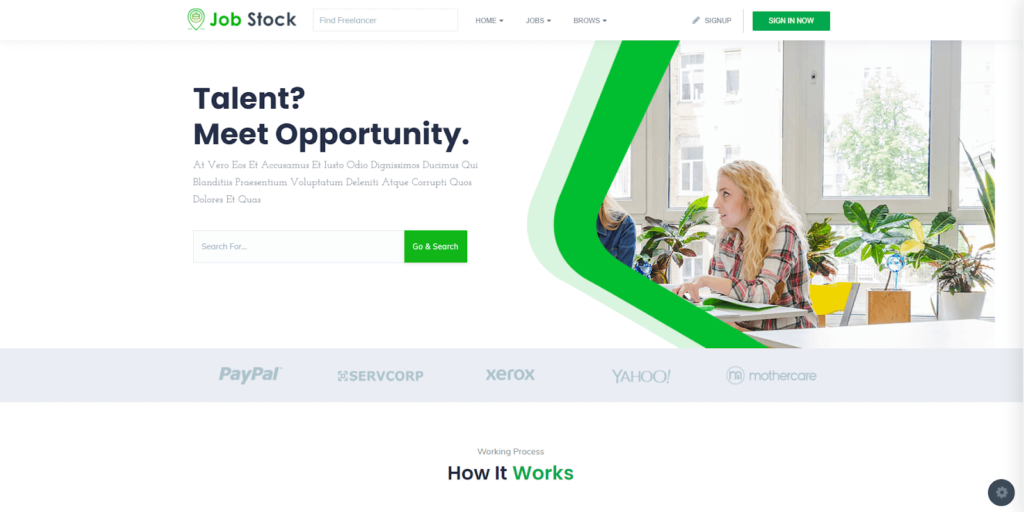 This is the last HTML template on this list. It comes with more than 40 pre-made pages. There are 9 different styles for the home page, each with a different feel. There's also a creative dashboard, where you can see how different stats for your job evolve.
The design is fully responsive, so it will look great on any device. The code is nicely structured and includes comments. So, whatever you choose to modify, it can be done easily.
The template is updated at least a couple of times per year. With your purchase, you also get lifetime access to these updates for free.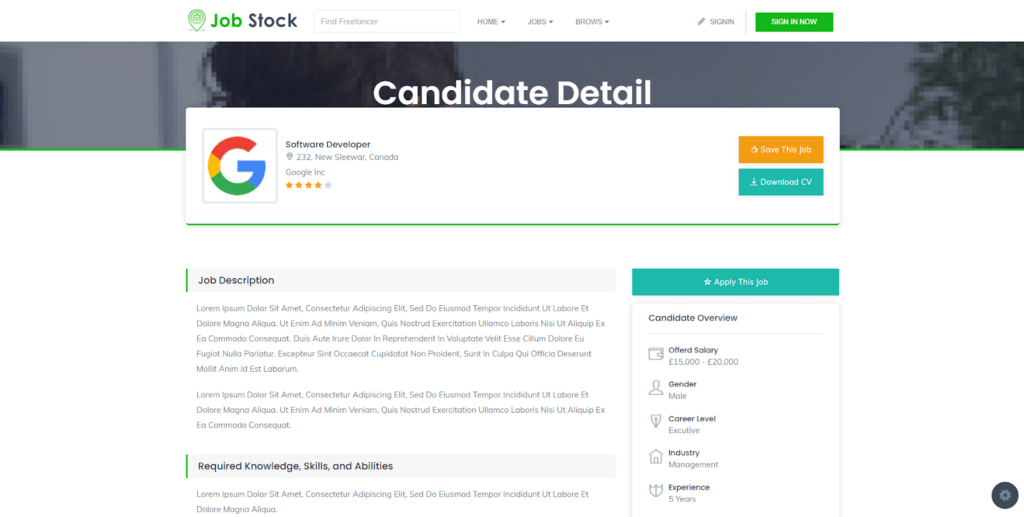 The template is called Job Stock and was developed by themezhub.
6. CareerUp—WordPress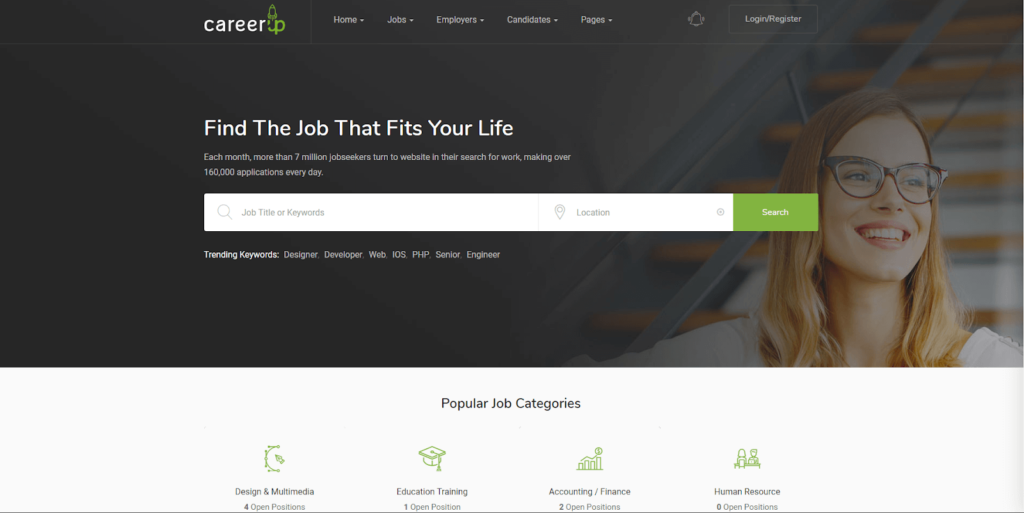 This template comes with 13 different demos, each with their own style. The whole template was designed specifically for employment agencies, job portals for recruiters, or even company career pages.
CareerUp can be used as a website design for nonprofits as well. It's clean, with just enough pizzazz to get your attention. The template is designed to offer great user experiences for both your visitor and yourself.
Being a WordPress theme, it's very easy to customize to suit your needs. There are just a plethora of options from which you can choose and find everything you'll need.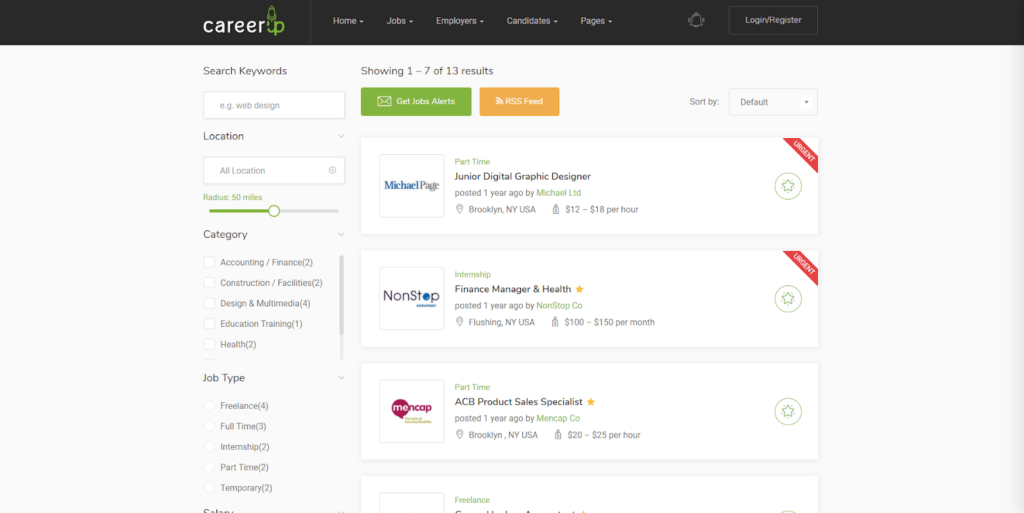 The theme is named CareerUp and was developed by ApusTheme.
7. Kormosala—WordPress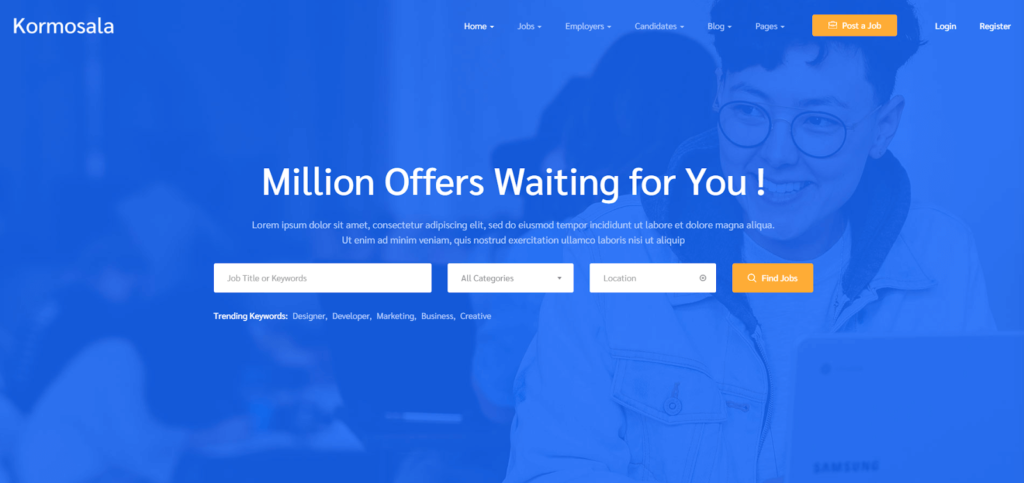 This WordPress theme was developed with recruiters in mind. It's easy to use, both for administrators and for visitors. It's highly customizable, with plenty of pre-made pages to put to use.
The template comes with a lot of extra features, like multiple dashboard views, application tracking, deadlines, and many more. This makes it versatile and it's very likely that no matter what kinds of visitors you get, they will be satisfied.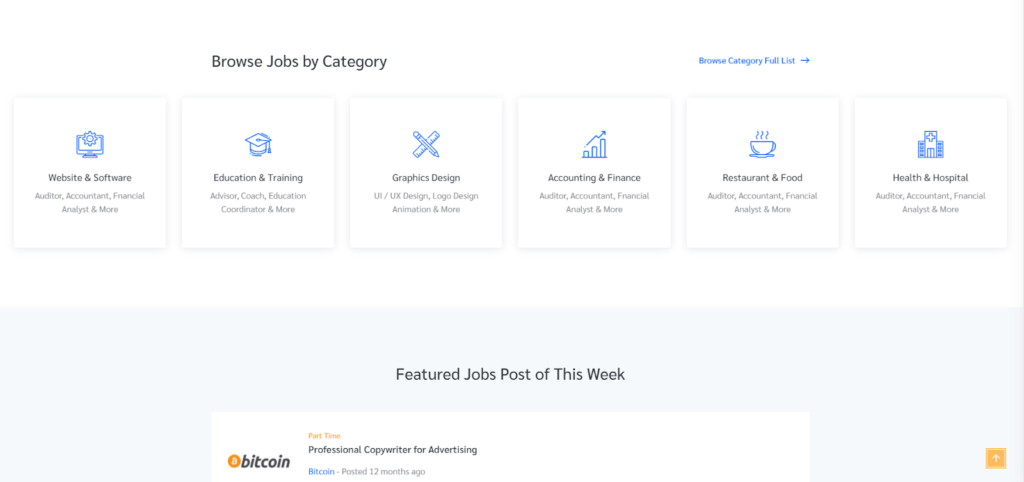 The theme is called Kormosala and was made by ApusTheme.
Get the Right Template for You
To be successful with your job listing website, you need to be clear on what kind of customers you are expecting. By knowing your target, you'll know exactly what features you need your website to offer.
But your website shouldn't be just about its features. It also needs a design that inspires confidence and professionalism. You need your visitors to feel like your website will be the answer to their problems. If you choose a website with these things in mind, you'll be one step closer to success.