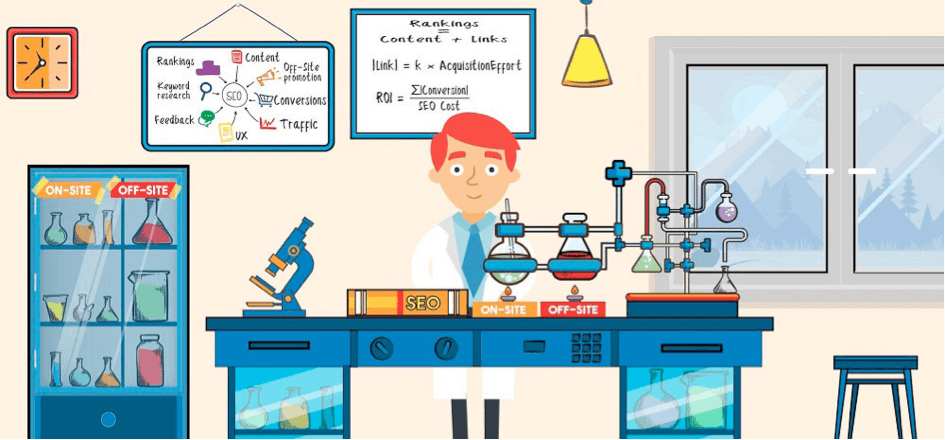 Blogs about SEO are an ideal source for staying up to date on the latest developments and learn new insights into all sorts of SEO topics. A good SEO blog offers in-depth analyses, how to guides, industry trends, handy statistics insights, strategy papers, the best tools for the SEO professional and much more.
The only problem is that there are a lot of SEO blogs out there and they are all screaming for your attention. It is estimated that there are more than 440 million blogs worldwide, and about 2 million blog posts are written every day. Luckily, not all of them write about SEO, but you get the idea right?
So which SEO blogs are successful in providing the information you need and how can you find them? You can do a google search and search for the Best SEO Blogs, but then you get hundreds of "Best of Lists" in front of you, so that doesn't help a lot either unless you want to spend a full day going through all those lists. Well, that is exactly what we did! We searched for 50 "Best of Lists" highlighting the most recommended SEO Blogs, selected and combined the 20 most valuable "Best of Lists" and earmarked and ranked what Blogs about SEO keep up appearing on most of those recently published lists. From a total of 146 SEO Blogs compared, reviewed and ranked, here are the Top 20 SEO Blogs around.
As we are a small business ourselves, we use this list as well for educating and inspiring our minds and for optimizing our Consultants 500 platform, on which you can also find and search for SEO Experts. If you are an SEO Expert yourself, you can create a free profile on our Platform in a few minutes and without any credit card, opening doors to new opportunities.
The 20 Most Recommended
SEO Blogs
#1. The Moz Blog / Twitter
Listed 20 out of 20 times. The industry's top wizards, doctors, and other experts offer their best advice, research, how-tos, and insights—all in the name of helping you level-up your SEO and online marketing skills. The Moz Blog's team of contributors offers an article per day to help expand your knowledge of search marketing. Moz, formerly SEOmoz, has a name that was inspired by organizations like DMOZ, Mozilla, and Chefmoz — all companies that strove for engaging their communities with openness and integrity.
Handy Resources:
How to Rank in 2018: The SEO Checklist
"SEO Is Always Changing"… Or Is It?: Debunking the Myth and Getting Back to Basics
9 Predictions for SEO in 2018
What Does It Mean to "Write for SEO" in 2018? – Whiteboard Friday
---
#2. Search Engine Land / Twitter
Listed 20 out of 20 times. Search Engine Land is a leading daily publication that covers all aspects of the search marketing industry. In addition to the editorial news staff coverage, Search Engine Land features contributed articles by subject matter experts across all digital marketing disciplines, filled with practical tips, tactics, and strategies for running successful marketing programs. Daily news coverage includes breaking stories, industry trends, feature announcements and product changes at popular platforms used by search marketers to reach consumers online.
Handy Resources:
What Is SEO / Search Engine Optimization?
The Periodic Table of SEO Success Factors
8 game-changing SEO trends that will dominate 2018
7 quick SEO hacks for the SEO newbie
---
#3. Search Engine Roundtable / Twitter
Listed 13 out of 20 times. The purpose behind the Search Engine Roundtable is to report on the most interesting threads taking place at the SEM (Search Engine Marketing) forums. By enlisting some of the most recognized names at those forums, the Roundtable is able to not only report on these outstanding threads but also provide a synopsis that provides greater detail into those threads. In addition, all authors have the leeway to step beyond forum coverage and either take a thread topic and expand on it or bring up a concept that was not found at a thread.
Handy Resources:
Google On Trailing Slashes & How It Impacts SEO & Search Rankings
Ranking Vs Indexing: The Google SEO Confusion
Google: Grammar Does Not Impact SEO & Search Rankings
Google: Negative SEO Via Canonicals Redirects Don't Really Work
---
#4. Search Engine Journal / Twitter
Listed 19 out of 20 times. Educating and empowering the SEO community by providing the freshest news and latest best practices via the industry's smartest practitioners. Launched in 2003, SEJ is unique in its community-based approach to search marketing content. Virtually all of their contributed articles come from real online marketing experts, both independent and in-house.
Handy Resources:
A Complete Guide to Getting Started in SEO
5 Reasons Why Your Company Might Not Need SEO
12 Reasons Why Your Business Absolutely Needs SEO
20+ SEO Words You Should Delete From Your Vocabulary Immediately
---
#5. Search Engine Watch / Twitter
Listed 15 out of 20 times. Search Engine Watch provides tips and information about searching the web, analysis of the search engine industry and help to site owners trying to improve their ability to be found in search engines.  Their articles, written by a range of marketing professionals, feature tips, industry news, issues, and commentary. They also cover updates from Google, Bing, Yahoo, other major search engines and events.
Handy Resources:
A quick and easy guide to meta tags in SEO
6 SEO Experiments That Will Blow Your Mind
11 ways to raise your SEO click-through rate
The best tools for automating your SEO
---
#6. SEMrush Blog / Twitter
Listed 13 out of 20 times. SEMrush's blog is on the cutting edge of today's SEO trends, offering advice on SEO through a variety of lenses — from app development to social media, to voice search. Their posts tackle tips for doing SEO effectively, ways to avoid penalties, and case studies to help readers learn from companies that have pulled off traffic and ranking improvements.
Handy Resources:
7 SEO Rules Every Marketer Should Know
10 Mentors Who Can Help You Understand SEO and the SEO Industry
11 Most Common On-Site SEO Mistakes – SEMrush Study
Most Important SEO Metrics to Consider in 2018
---
#7. Yoast SEO Blog / Twitter
Listed 15 out of 20 times. The mission of Yoast is SEO for Everyone. Their SEO plugin, blog posts, and online courses should enable both large companies as well as small websites to attract the traffic they desire. Their blog has separate sections for content SEO and technical SEO, where you can find tons of actionable tips that help you get found on Google. Aside from publishing free articles, they also offer online SEO training courses that go deeper into technicalities of their popular SEO plugin for WordPress.
Recent Posts:
Ask Yoast: Reusing category name as tag in different taxonomy
Is Facebook getting less important?
Using Gutenberg as an editor: does it make my life easier?
How to keep your page out of the search results
---
#8. SEO Book / Twitter
Listed 14 out of 20 times. SEO Book offers marketing tips, search analysis, online business tips, and general commentary on the evolution of the web from an algorithmic, publishing & business model perspective. This top SEO blog not only covers all the actionable SEO guides but also provides an inside training program that will help you increase your search traffic.
Recent Posts:
Left is Right & Up is Down
Grist for the Machine
Virtual Real Estate
DMOZ Shut Down
---
#9. The Backlinko SEO Blog / Twitter
Listed 14 out of 20 times. Backlinko was founded by Brian Dean, an internationally recognized SEO expert. Since launching Backlinko, Brian quickly made a name for himself by publishing insanely practical strategies that marketers can use to grow their online business. Backlinko is now one of the most popular marketing blogs online.
Handy Resources:
On-Page SEO: Anatomy of a Perfectly Optimized Page (2018 Update)
21 Actionable SEO Techniques That Work GREAT in 2018
The Definitive Guide To SEO In 2018
Google's 200 Ranking Factors: The Complete List (2018)
---
#10. Neil Patel's Blog / Twitter
Listed 9 out of 20 times. Neil Patel is a New York Times bestselling author. The Wall Street Journal calls him a top influencer on the web, Forbes says he is one of the top 10 marketers, and Entrepreneur Magazine says he created one of the 100 most brilliant companies. On his blog, Neil offers a whole host of valuable information, such as tips on getting your first DA 80+ backlink, or how to increase your mobile site speed. He even hosts a regular webinar on increasing your visitor count without having to spend any money on ads.
Handy Resources:
7 Essential HTML Tags that Separate SEO Pros from the Rookies
The Step-by-Step Guide to Improving Your Google Rankings Without Getting Penalized
4 Things About SEO I Wish I Knew When I Started
5 SEO Formulas That'll Kickstart Your Rankings
---
#11. HubSpot Internet Marketing Blog / Twitter
Listed 8 out of 20 times. HubSpot is another top-rated SEO blog that is known for its unique way of writing. The best thing about this blog is the conversational tone of the articles that humanize the content, making it easier to understand. It helps you find SEO advice and covers a wide range of topics such as web design, sales, academy and more.
Handy Resources:
Blog SEO: How to Search Engine Optimize Your Blog Content
How to Create an SEO Strategy for 2018 [Template Included]
The Top 12 SEO Tools of 2018
A Comprehensive Guide to Local SEO in 2018
---
#12. SEO Blog By Ahrefs / Twitter
Listed 8 out of 20 times. Anyone familiar with SEO will surely have heard of Ahrefs, widely regarded as the best website analysis toolsets. In their blog, they cover essential SEO tips, tutorials, case studies and opinion pieces from various industry leaders, as well as insights on tools and tips, offering readers a look at their recommendations for complex features most site managers don't know about (but should), like Google Sheets formulas.
Handy Resources:
SEO Basics: How to Grow Traffic When You Know Nothing About SEO
7 SEO Techniques That Will Help You Win In 2018
65+ Best Free Chrome Extensions for SEO (As Voted-for by the SEO Community)
A 16-Step SEO Audit Process To Boost Your Google Rankings [2018 Update]
---
#13. SEO by the Sea / Twitter
Listed 9 out of 20 times. The SEO by the Sea blog was originally started in 2005 to inform people about a grassroots gathering of people interested in internet marketing and search engines in Havre de Grace, Maryland. The site has since evolved into a place where the author Bill Slawski keeps track of search-related research and patents and writes about search engine optimization and other topics.
Recent Posts:
Google to Offer Combined Content (Paid and Organic) Search Results
PageRank Updated
3 Ways Query Stream Ontologies Change Search
Related Questions are Joined by 'People Also Search For' Refinements; Now Using a Question Graph
---
#14. The Google Search Blog / Twitter
Listed 4 out of 20 times. The official Google Search blog is an obvious resource you need to follow to stay up to date on what's been happening around Google Search. Google's blog is always full of useful information that is regularly updated. There's information about the latest search trends, changes to the search engine itself and fantastic stories about their accomplishments.
Recent Posts:
Spotting and squashing spam on Search
Google for Brazil: Technology that serves people's needs, wherever they may be
Keep track of all the GOOAAALS with Google
Meet the national finalists of our 10th annual Doodle 4 Google contest
---
#15. Reddit | SEO / Twitter
Listed 4 out of 20 times. Reddit's SEO category doesn't just deal with search engine optimization either—users contribute content to many of the industry's facets. Because it's a community forum, you'll also find that it's incredibly interactive. As a subscriber, you'll be able to ask questions and receive direction, as well as showcase your SEO knowledge by sharing your experience with other users that post queries.
Handy Resources:
What Is SEO?
What is your cool SEO Trick/Hack
What is the worst thing in SEO?
Tumblr is Good for SEO?
---
#16. SEO Nick / Twitter
Listed 4 out of 20 times. SEO Nick is a place to share the collective experiences of SEO professionals in building websites (and web-based businesses) using search to drive sales. We spend our time competing against Fortune 500 brands. If you are looking for real case studies on SEO that will explode your search traffic, SEO Nick is the perfect blog for you.
Handy Resources:
9 SEO Errors of E-Commerce Websites
How To Do Market Research For SEO Using Search Data
How to Choose a Domain Name for Maximum SEO
On Page SEO Guide for 2018 Best Practices
---
#17. Google Webmaster Central Blog / Twitter
Listed 4 out of 20 times. The Google Webmaster Central Blog blog is the official source of news and announcements. Any of the Google products webmasters use to help with search may be posted about on the blog. It may be a change to the way some of the tools work, or perhaps a rectification of some data in GSC or Analytics.
Recent Posts:
Google Search at I/O 2018
Our goal: helping webmasters and content creators
Google I/O 2018 – What sessions should SEOs and Webmasters watch live?
Send your recipes to the Google Assistant
---
#18. Growth Hackers: SEO / Twitter
Listed 5 out of 20 times. GrowthHackers runs the largest online community of growth professional where members share insights for driving sustainable growth. They regularly host AMAs with the top growth professionals in the industry. The GrowthHackers Community is also a great place to hire growth talent or find exciting new growth roles.
Handy Resources:
How Can You Rank A New Website On Google Fast With SEO?
Does Cloudflare hurt your SEO?
Ask GH: SEO for Medium?
SEO Is Not Hard: A Complete, Step-By-Step Guide that Works Every Time
---
#19. The Portent Blog / Twitter
Listed 4 out of 20 times. Portent is a full-service internet marketing company, helping businesses with SEO, paid search, content creation, social media, web design and development and more. Their blog is full of info which you can readily use to update your own knowledge. There is always something else about digital marketing that makes really think.
Handy Resources:
Video SEO in 2017 Best Practice Guide
Field Guide to Spider Traps: An SEO's Companion
SEO: The Quick & Dirty Google Index Diagnostic
My (Insanely Large) List of SEO Tools & Other Useful Resources
---
#20. TopRank Marketing Blog / Twitter
Listed 5 out of 20 times. TopRank Marketing is a digital marketing agency founded by Lee Odden and Susan Misukanis that helps companies increase sales, brand visibility online and develops better customer engagement. Started in December 2003, TopRank's Online Marketing Blog has provided insights, resources, and commentary on a range of digital marketing and public relations topics.
Handy Resources:
Still Struggling with Your SEO Strategy? Focus on These 4 Best Practices for Improved Results
3 Important Ways Social Media Can Boost Your SEO
Search Engine Optimization is a Team Effort
Holistic Search Engine Optimization
What is SEO (Search Engine Optimization)?
There is no standard definition of what SEO actually is. So here is what some of the SEO authorities around have to say about it. MOZ defines it as:
Search engine optimization (SEO) is the practice of increasing the quantity and quality of traffic to your website through organic search engine results.
Search Engine Land also gives a quite basic and simple definition while the article explaining "What is SEO", actually gives a very handy overview of all SEO aspects and can be used as a great starting guide on SEO:
SEO stands for "search engine optimization." It is the process of getting traffic from the "free," "organic," "editorial" or "natural" search results on search engines.
Wikipedia defines SEO as the process of affecting the online visibility of a website or a web page in a web search engine's unpaid results—often referred to as "natural", "organic", or "earned" results. In general, the earlier (or higher ranked on the search results page), and more frequently a website appears in the search results list, the more visitors it will receive from the search engine's users; these visitors can then be converted into customers.
The best answer at Quora says this about it. SEO refers to the techniques and strategies used to increase the likelihood of a website appearing on search engine results, namely as close to the top of that list as possible. The visual stated there explains it all: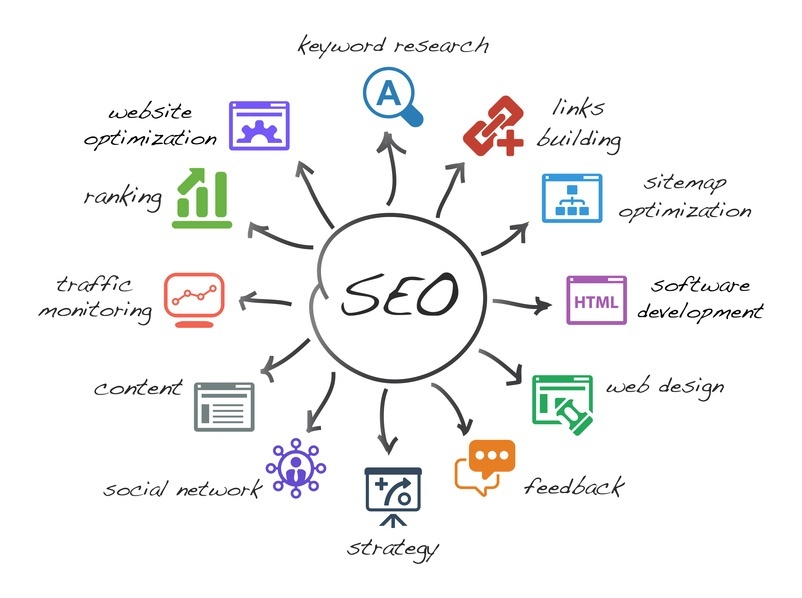 SEO Ranking Factors
In the end, SEO is about ranking. So you better know what ranking factors are the most critical, what factors are less critical, and what can even hurt all your SEO efforts done.
Where else to look than this epic list from Backlinko: Google's 200 Ranking Factors: The Complete List (2018).
MOZ's Whiteboard Friday is on every SEO specialist's shortlist. Thus when they cover "How to Rank in 2018: The SEO Checklist" it's a pretty good idea to watch it.
Finally, this table from Search Engine Land gives a quick and good overview of all aspects involved in SEO.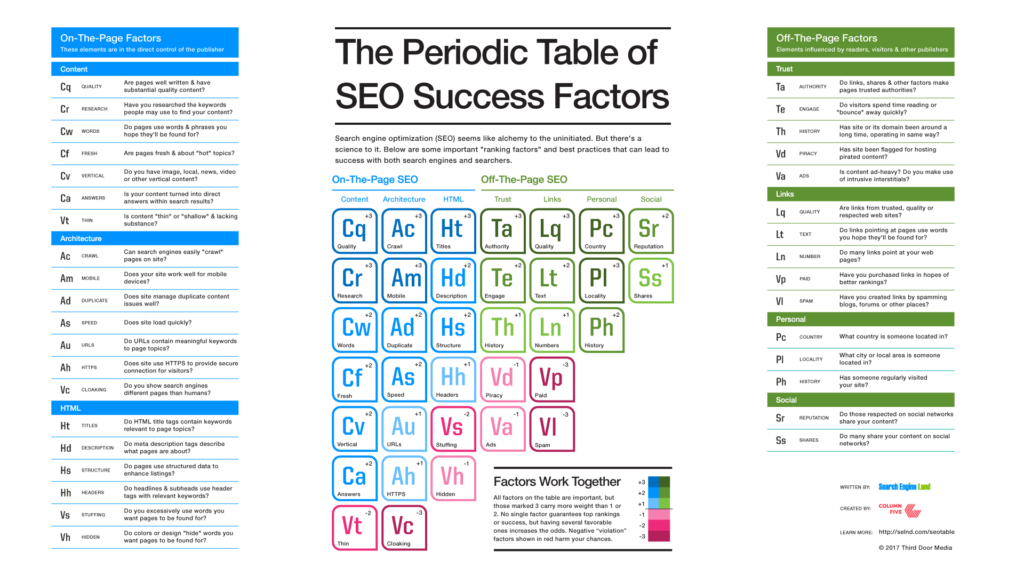 SEO Aspects:
Highly Recommended Content Marketing Blogs
Content Marketing is the backbone of SEO, and by far, Content is the number 1 determining factor of any successful SEO effort. These Top 19 Content Marketing Blogs keep up appearing on all the lists of Best Content Marketing Blogs, and here are the top 5:
SEO Aspects: 
Best SEO Tools
There are a lot of SEO Tools in the market to help you and to optimize your SEO efforts. These 5 SEO Tools are considered as the most favorite tools to further improve your SEO work to be done:
SEO Aspects:
Best Social Media Blogs
Social Media should be another key element in your overall SEO strategy. Here are some very popular Social Media Blogs that are considered as one of the best resources to stay up to date with the latest Social Media trends:
SEO Aspects:
Best Analytics Blogs
Without Analytics you have no idea what works and what doesn't. So if you want to improve and optimize your SEO efforts you better start measuring all sorts of metrics on your website. Here are some very popular Analytics Blogs that are considered as one of the best resources to stay up to date with the latest Analytics do's and don'ts:
More Resources for
Marketing
Besides reading blogs about SEO, there are other great ways to stay up to date with the latest Marketing trends and developments.
Q&A: Marketing Knowledge Sharing 
Via our Marketing Community Forum, Professionals and Clients can share knowledge by having Q&A conversations about typical business issues or best practices about Marketing. Here you can share your Marketing Knowledge, rank answers by how valuable they are, or just read and follow any Marketing topic you want, and get noticed when new contributions are made to discussions you follow.
Latest Sector News for Digital Marketing: Aggregated Marketing News
Via our Marketing Briefing Room, the Top Marketing Resources on the web are followed, which includes the Top 3 Affiliate Marketing Blogs listed above, and only the most shared content is shown. You can filter all the content for the last 24 hours, 3 days, 1 week, 1 month, 3 months, etc so you can easily find and stay up to date with the latest Marketing developments.
Other Briefing Rooms:
All Latest Sector News Briefing Rooms
Entrepreneurship, Technology, Freelance, and Professional Services
Do You Have Any Tips for
Your Favorite SEO Resources
Want to share your favorite SEO Resources? Just do the following:
Later on, we will share the results via Knowledge Resources, so you can quickly find the best SEO Resources on the web as suggested by our users and visitors.
How Our Platform Works
More than 75% of potential Clients who look for SEO Services start a Web Search to find the best SEO Specialist for the Job. Because the internet is by far the leading channel, it is critical that your business can be easily found on the internet. Creating a profile on our Platform is free and opens the door to new opportunities, it can be done in only a few minutes and without any credit card.
Easily find and compare highly qualified SEO Experts by searching our Platform, which can be SEO Firms, SEO Professionals, or SEO Freelancers. Directly contact and work with your ideal candidate in any way you like. Searching is always free, and that also means that we never charge any transaction type of fees.
Learn More:
How it Works
Memberships
Create Profile
Sources Used for
The 20 Best SEO Blogs
The 20 "Best of Lists" used for finding what the Best SEO Blogs are:
Top 25 SEO Blogs
Top SEO Blogs That You Must Follow in 2018 to Master the Art of SEO