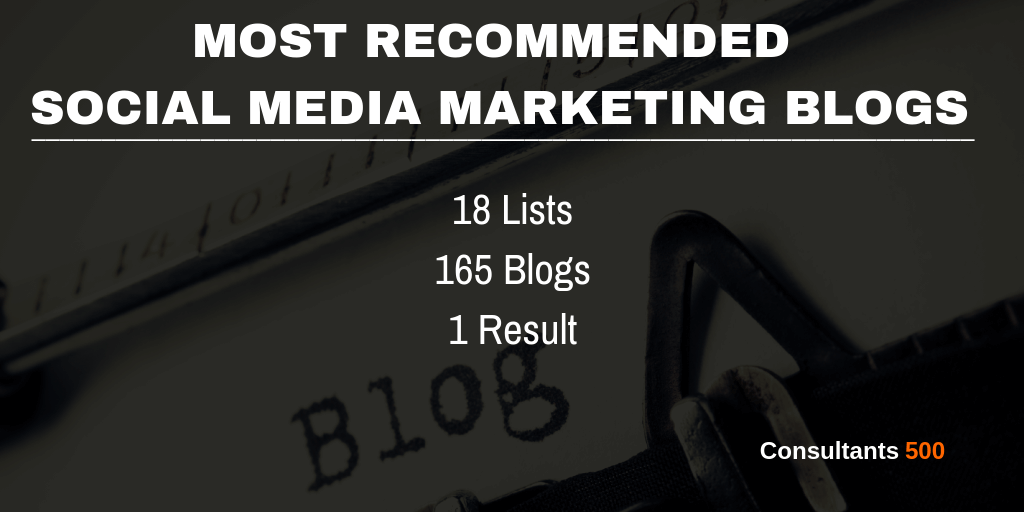 Blogs about Social Media or Social Media Marketing are an ideal source for staying up to date on the latest developments and learn new insights into all sorts of Social Media Marketing topics. A good Social Media Marketing blog offers in-depth analyses, how to guides, industry trends, handy statistics insights, strategy papers, the best tools for the Social Media Marketing professional and much more.
The only problem is that there are a lot of Social Media Marketing blogs out there and they are all screaming for your attention. It is estimated that there are more than 440 million blogs worldwide, and about 2 million blog posts are written every day. Luckily, not all of them write about Social Media Marketing, but you get the idea right?
So which Social Media Marketing blogs are successful in providing the information you need and how can you find them? You can do a google search and search for the Best Social Media Marketing Blogs, but then you get hundreds of "Best of Lists" in front of you, so that doesn't help a lot either unless you want to spend a full day going through all those lists. Well, that is exactly what we did! We searched for 50 "Best of Lists" highlighting the most recommended Social Media Blogs or Social Media Marketing Blogs, then we selected and combined the 20 most valuable "Best of Lists" and earmarked and ranked what Blogs about Social Media / Social Media Marketing keep up appearing on most of those recently published lists. From a total of 165 Social Media Blogs compared, reviewed and ranked, here are the Top 20 of Most Recommended Social Media Blogs around that appear on most of the Best Social Media Blogs lists.
As we are a small business ourselves, we use this list as well for educating and inspiring our minds and for optimizing our Consultants 500 platform, on which you can also find and search for Social Media Marketing Experts. If you are a Social Media Marketing Expert yourself, you can always create a free profile on our Platform if you want to. It only takes a few minutes and no credit card is needed for opening doors to new opportunities. It's all up to you. See here how it works.
Top 20 of Best Social Media Blogs
Most Recommended 
#1. Buffer Social / Twitter
Listed 8 out of 18 times. Buffer is a social media management platform. Entitled "thoughts on social media and online marketing," it can help you schedule social media posts, track content performance and manage all of your social media accounts in one place. The blog publishes strong content with lots of value and original angles, discussing social media tools, analytics, and strategies.
Handy Resources:
How to Create a Social Media Marketing Plan From Scratch
8 Tips to Quickly Master Social Media For Businesses & Entrepreneurs
You Have $100 to Spend on Social Media Marketing. Here's One Way to Spend It.
The State of Social 2018 Report: Your Guide to Latest Social Media Marketing Research [New Data]
---
#2. Social Media Examiner / Twitter
Listed 11 out of 18 times. Social Media Examiner helps millions of businesses discover how to best use social media to connect with customers, drive traffic, generate awareness, and increase sales. This source has a number of original articles for SMBs and marketers who want to use social media and 3rd party tools. Social Media Examiner brings original and comprehensive articles, expert interviews, original research, and the news you need to improve your social media marketing.
Handy Resources:
5 Ways to Repurpose Your Popular Social Media Posts
How to Ensure Your Future Blog Posts Are Popular
12 Types of Blog Posts to Drive More Traffic to Your Blog
How to Get Your Facebook Posts Noticed in the News Feed
---
#3. Jon Loomer / Twitter
Listed 9 out of 18 times. Jon Loomer is a digital marketing specialist and entrepreneur, as well as a top social media blogger, with a focus on Facebook. Through his social media blog, Loomer aims to help businesses and brands "make a difference with social media," helping with this through informative and detailed posts.
Handy Resources:
How to Leverage Popular and Irrelevant Blog Posts
How Using Facebook URL Tags Can Help Measure Viral Impact of Posts
Facebook Hashtags for Brands: What You Need to Know
---
#4. Socially Sorted / Twitter
Listed 8 out of 18 times. Donna Moritz is a Digital Content Strategist with a passion for visual storytelling & founder of award-winning blog, Socially Sorted. She helps businesses leverage the power of visual storytelling and content strategy, and she's a regular speaker and trainer in the marketing and tourism industries internationally. Donna's blog, Socially Sorted was awarded Best Business Blog in Australia 2014, and a Top 10 in Australia 2015.
Handy Resources:
2017 Best Blog Posts From Socially Sorted
26 Productivity And Social Media Marketing Tools To Spice Up Your Business
How "Subconscious" Is Your Social Media Marketing?
---
#5. Social Media Today / Twitter
Listed 7 out of 18 times. It is an independent, online community for professionals in public relations, marketing, advertising, and social media with tons of guest posts from these professionals. Social Media today covers industry news and provide original analysis. Throughout the day, their editorial team analyzes the top news stories and publishes in-depth feature articles.
Handy Resources:
How to Use Instagram for Social Media Marketing
7 Steps in Creating a Winning Social Media Marketing Strategy in 2018
9 Key Elements of an Effective Social Media Marketing Strategy, and How to Establish Them
5 Reasons Why Your Social Media Marketing Strategy Isn't Working
---
#6. AgoraPulse Blog / Twitter
Listed 7 out of 18 times. AgoraPulse consistently provides content several times a week, using screenshots to show readers how to use social media. This blog offers lessons in digital marketing, latest news, expert views, comprehensive guides, do's and don'ts, useful tools, tips and tricks and more. You can use it to stay updated with the latest happenings in the social media sphere.
Handy Resources:
9 Free Social Media Marketing Tools You Should Try
How to Keep Your Social Media Marketing Going While You're on Vacation
Think You Can Apply a SWOT Analysis to Social Media Marketing?
6 Social Media Marketing Lessons That Samurai Can Teach You
---
#7. Convince & Convert / Twitter
Listed 7 out of 18 times. Convince & Convert is an experienced, highly focused analysis and advisory firm that creates effective, best-in-class digital marketing strategies for the world's most interesting organizations. They use a framework of four success pathways to show brands how to methodically optimize digital marketing programs to make them remarkable. This group of experts also share their insight and knowledge on the company's award-winning social media blog, with daily posts covering everything content marketing and, you guessed it, social media.
Handy Resources:
9 Best Social Media and Content Marketing Tips From Buffer
5 Steps to Launch Your International Social Media
How to Integrate Social Media Into Your Marketing
The Truth About Social Media Strategy
---
#8. Peg Fitzpatrick / Twitter
Listed 7 out of 18 times. Peg Fitzpatrick is a popular social media speaker, trainer and, social media author. She's co-author of The Art of Social Media: Power Tips for Power Users. Covering all the major social media platforms, she frequently hears "you're everywhere!  She's passionate about social media and inspiring others to be their best.
Handy Resources:
How to Drive Value into Your Social Marketing
Master New Skills: Social Media Power Tips to Be More Successful
26 Tips to Create Social Media Magic for Your Business
How to Market on Social Media Like a Global Brand
---
#9. dustn.tv / Twitter
Listed 4 out of 18 times. Dustin W. Stout is part owner and co-founder of Warfare Plugins, creators of the best social sharing plugins. He's also created an online course that teaches non-designers how to create eye-catching, highly effective visual content for social media and blogs. Dustin is a self-taught guy who learned how to get his story heard. Now he helps others do the same.
Handy Resources:
Social Media Statistics 2018: What You Need to Know
The Biggest Social Media Mistake (And How to Avoid It)
The Ultimate Guide to Branding Yourself on Social Media
The Best Social Media Management Tools
---
#10. Mashable: Social Media / Twitter
Listed 6 out of 18 times. Mashable is a global, multi-platform media and entertainment company. Powered by its own proprietary technology, Mashable is the go-to source for tech, digital culture, and entertainment content for its dedicated and influential audience around the globe.
Handy Resources:
Social Media, Marketing and PR: Who's Responsible for What?
19 Social Media Facts That Every Marketer Should Know
7 Sins of Social Media Marketing
Master the art of social media marketing without going back to school
---
#11. Danny Brown / Twitter
Listed 3 out of 18 times. Danny Brown is a Senior Manager, Digital and Social Media Strategy at Sensei Marketing, a niche agency delivering customer experience, loyalty, and influence marketing programs with offices in Toronto and New York. In his blog, Danny focuses on "how we can tell better stories; be better businesses; and live better lives," because "after all, business comes and goes; but we only get one shot at being good people, in life and in business."
Handy Resources:
The Changing Face of Social Media for Business in the B2C and B2B Space
The Sunday Share: How to Use Social Media to Grow Your Business
Sorry, Social Media, But Marketing Is Still Cool
Brands and Marketers Won't Ruin Social Media – Consumers Will
---
#12. HubSpot Marketing Blog / Twitter
Listed 3 out of 18 times. HubSpot is an inbound marketing and sales platform. Their marketing blog attracts more than 2 million monthly readers. The blog covers everything you should know about marketing, social media, and many other marketing topics. It is perfect for entrepreneurs, startups, and businesses, who want to use social media marketing to reach their maximum potential customers.
Handy Resources:
How to Learn Social Media Marketing: 30 Resources for Beginners
5 Social Media Trends in 2018
5 Proven Social Media Engagement Strategies for 2018
The Future of Social Media Is Here: These Are the Trends You Need to Know
---
#13. Canva Blog / Twitter
Listed 3 out of 18 times. Canva has revolutionized how many businesses incorporate design into strategy and dramatically improved the lives of social media managers and overworked designers around the world. Their Canva Design School blog delivers helpful tidbits about how to use the tool itself as well as how to structure images into your social media calendar.
Handy Resources:
Your complete guide to social media marketing world
10 tactics for launching on social media and generating buzz, inspired by companies who've done it [with free templates]
8 eye-catching marketing trends for social media in 2018
10 brilliant social media examples for your B2C content marketing
---
#14. OhSoPinteresting / Twitter
Listed 3 out of 18 times. Cynthia Sanchez launched the Ohsopinteresting blog in 2012 and has been sharing Pinterest marketing knowledge ever since. The information provided through Ohsopinteresting helps companies and brands use Pinterest in their marketing strategies to get the most out of the platform. OhSoPinteresting blog was acquired by Tailwind, the social media marketing platform provider.
Handy Resources:
The Risks Associated with Social Media Marketing
Goals of Social Media Marketing
Etsy Social Media Marketing Tips from the Etsy Up Conference
How to Land a Social Media Marketing Job
---
#15. Jenn's Trends / Twitter
Listed 6 out of 18 times. Since starting Jenn's Trends in 2013, Jenn Herman has become a globally recognized expert in Instagram marketing and the forefront blogger on Instagram marketing. Her blog has won the prestigious award of being a Top 10 Social Media Blog three years in a row: 2014, 2015, and 2016. The goal of her blogs is to bring relevant social media and business trends and discuss their applications, implications, and benefits.
Handy Resources:
How to Succeed at Social Media Marketing Without Spending Any Money
Three Things Social Media Will NOT Do For Your Business
The Cold Hard Truth: Social Media Takes Time
---
#16. Brian Solis / Twitter
Listed 3 out of 18 times. Brian Solis is a principal analyst at Altimeter, the digital analyst group at Prophet. He is also an award-winning author, prominent blogger/writer, and world-renowned keynote speaker. His research and books help executives, and also everyday people, better understand the relationship between the evolution of technology and its impact on people and also the role we each play in evolution.
Handy Resources:
Social Business Is The Sum Of Social Media Marketing, Social Customer Service, Social Selling And More
The Past, Present and Future of Social Media
The Top 10 Marketing Sites For Social Media Marketing Trends
The Travel Vertical: Cool Tools– The Conversation Prism For Social Media
---
#17. Hootsuite Blog / Twitter
Listed 4 out of 18 times. HootSuite is the most widely used social media management platform. They have 16+ million customers and are recognized as a leader in social media management by Forrester, one of the most influential research and advisory firms in the world. Their blog provides helpful social media marketing blog articles organized by social media topics, networks, and resources. It also highlights trending and featured blog posts.
Handy Resources:
How to Create a Social Media Marketing Strategy in 8 Easy Steps
23 Benefits of Social Media for Business
How to Build a Social Media Sales Funnel That Sells
Social Media and Psychology: 4 Things Marketers Need to Know
---
#18. Rebekah Radice / Twitter
Listed 6 out of 18 times. Rebekah Radice is an entrepreneur, author, international speaker, creator of, "The Authority Matrix," and host of the Brand Authority Show and Podcast. She is the founder of Rebekah Radice Media and RadiantLA, premier training and development companies working with growth driven leaders to build comprehensive marketing systems.
Handy Resources:
How to Use Social Media to Increase Your Conversion Rate
11 Steps to the Best Social Media Marketing Campaign
Social Media Marketing Tactics to Substantially Boost Engagement
All Successful Social Media Marketers Share These 6 Habits
---
#19. RazorSocial Blog / Twitter
Listed 3 out of 18 times. As one of the most trafficked social media blogs in the world, RazorSocial's site is a great resource for information on tools and technology in the social media and content marketing world. The blog posts on RazorSocial's blog are sorted into the categories of "Blogging and SEO," "Social Media Tools," "Analytics," and "Conversion Optimization," so readers can quickly find what they are looking for.
Handy Resources:
8 Social Media Marketing Tools to Rapidly Accelerate Your Growth Online
12 Social Media Tools from Social Media Marketing World
How to Validate that your Social Media Marketing Strategy is Working
The Definitive List of Social Media Marketing Tool Categories for Businesses
---
#20. Copyblogger: Social Media Marketing / Twitter
Listed 3 out of 18 times. Copyblogger started as a simple one-man blog. Today they're known as Rainmaker Digital — a digital commerce company with more than 200,000 unique customers. Copyblogger brings you original, relevant content every week about what's working right now in online content marketing.
Handy Resources:
6 Tactics That Turn a Blog Into a Business Engine
The 7 Essential Elements of Effective Social Media Marketing
Why Social Media Marketing?
How to Master Social Media Marketing
Do You Have Any Tips for
Your Favorite Social Media Marketing Resources
Want to share your favorite Social Media Marketing Resources? Just do the following:
Later on, we will share the results via Knowledge Resources, so you can quickly find the best Social Media Marketing Resources on the web as suggested by our users and visitors.
More Resources for
Marketing
Besides reading blogs about Social Media Marketing, there are other great ways to stay up to date with the latest Marketing trends and developments.
Q&A: Marketing Knowledge Sharing 
Via our Marketing Community Forum, Professionals and Clients can share knowledge by having Q&A conversations about typical business issues or best practices about Marketing. Here you can share your Marketing Knowledge, rank answers by how valuable they are, or just read and follow any Marketing topic you want, and get noticed when new contributions are made to discussions you follow.
Latest Sector News for Digital Marketing: Aggregated Marketing News
Via our Marketing Briefing Room, the Top Marketing Resources on the web are followed, which includes the Top 3 Social Media Marketing Blogs listed above, and only the most shared content is shown. You can filter all the content for the last 24 hours, 3 days, 1 week, 1 month, 3 months, etc so you can easily find and stay up to date with the latest Marketing developments.
Other Briefing Rooms:
All Latest Sector News Briefing Rooms
Entrepreneurship, Technology, Freelance, and Professional Services
How Our Platform Works
Be Found As a Social Media Marketing Expert
More than 75% of potential Clients who look for Social Media Marketing Services start a Web Search to find the best Social Media Marketing Specialist for the Job. Because the internet is by far the leading channel, it is critical that your business can be easily found on the internet. Creating a profile on our Platform is free and opens the door to new opportunities, it can be done in only a few minutes and without any credit card.
Learn More:
How it Works
Memberships
Create Profile
Search, Compare, Find & Hire Social Media Marketing Experts
Easily find and compare highly qualified Social Media Marketing Experts by searching our Platform, which can be local Social Media Marketing Firms, specialized Social Media Marketing Professionals, or independent Social Media Marketing Freelancers. Directly contact and work with your ideal candidate in any way you like. Searching is always free, and that also means that we never charge any transaction type of fees.
How we Established the
Final Top 20 of Best Social Media Marketing Blogs
We made a list of 50 posts that were recently published about "Best Social Media Marketing Blogs" to follow.
From this list of 50 posts, we selected the top 18 that seem most valuable to our readers and users.
We combined the 18  lists of "Best Social Media Marketing Blogs" and earmarked all individual blogs that were on those lists.
When a blog was ranked as number 1, it got 1 point, and when it was ranked 2nd, it got 2 points, etc.
When no particular ranking was applied to a certain list, then each listed blog got the same points.
To be included in the final list a blog should be listed for a minimal number of times.
More weight was assigned to blogs which were explicitly listed more times than other books.
All lists were summed up, and the Social Media Marketing with the lowest number were ranked 1, 2, 3, etc.
This resulted in the final "Top 20 of  Best Social Media Marketing Blogs" that have been recommended most times by all types of SMM Experts. 
Sources Used for
Best Social Media Marketing Blogs to Follow
10 of the best social media and content marketing blogs to subscribe to
What are the best Social media blogs?