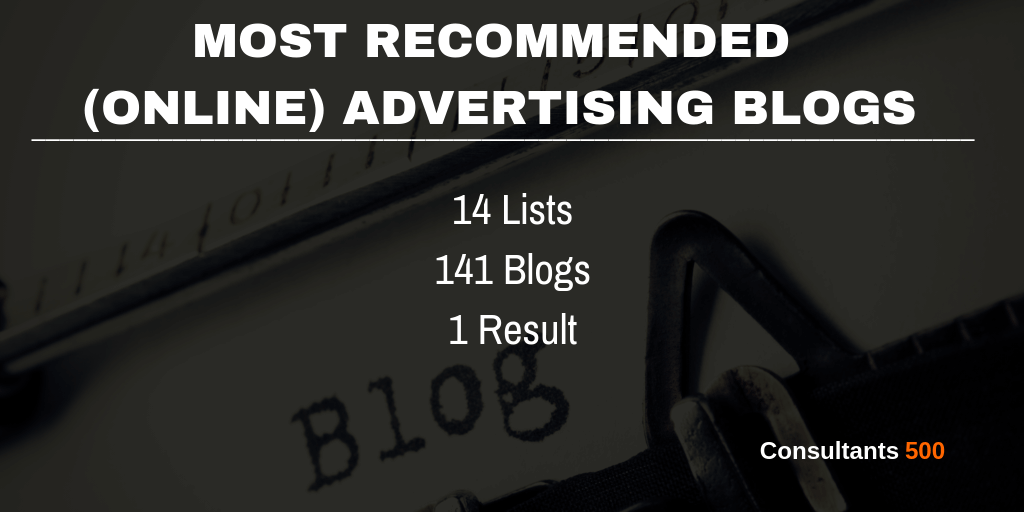 Blogs about Advertising or Online Advertising are an ideal source for staying up to date on the latest developments and learn new insights into all sorts of relevant Advertising topics. A good Advertising blog offers in-depth analyses, how to guides, industry trends, handy statistics insights, strategy papers, the best tools for the Advertising professional and much more.
The only problem is that there are a lot of Advertising blogs out there and they are all screaming for your attention. It is estimated that there are more than 440 million blogs worldwide, and about 2 million blog posts are written every day. Luckily, not all of them write about Advertising, but you get the idea right?
So which Advertising blogs are successful in providing the information you need and how can you find them? You can do a google search and search for the Best Advertising Blogs, but then you get hundreds of "Best of Lists" in front of you, so that doesn't help a lot either unless you want to spend a full day going through all those lists. Well, that is exactly what we did! We searched for 50 "Best of Lists" highlighting the most recommended Advertising Blogs or Online Advertising Blogs, then we selected and combined the 14 most valuable "Best of Lists" and earmarked and ranked what Blogs about Advertising / Online Advertising keep up appearing on most of those recently published lists. From a total of 141 Advertising Blogs compared, reviewed and ranked, here are the Top 20 of Most Recommended Advertising Blogs around that appear on most of the "Best Advertising Blogs" lists.
As we are a small business ourselves, we use this list as well for educating and inspiring our minds and for optimizing our Consultants 500 platform, on which you can also find and search for Advertising Experts as well as Online Advertising Experts. If you are an Advertising Expert yourself, you can always create a free profile on our Platform if you want to. It only takes a few minutes and no credit card is needed for opening doors to new opportunities. It's all up to you. See here how it works.
Top 20 of Best Advertising Blogs
Most Recommended
#1. Seth's Blog / Twitter
Listed 6 out of 14 times. Seth is an entrepreneur, best-selling author, and speaker. In addition to launching one of the most popular blogs in the world, he has written 18 best-selling books. Though renowned for his writing and speaking, Seth also founded two companies, Squidoo and Yoyodyne (acquired by Yahoo!). By focusing on everything from effective marketing and leadership, to the spread of ideas and changing everything, Seth has been able to motivate and inspire countless people around the world.
Handy Resources:
Big company advertising
Advertising's hidden design and its impact on our culture
Three kinds of advertising
Do ads work?
---
#2. Hubspot Blog / Twitter
Listed 4 out of 14 times. Over 475,000 subscribed readers enjoy the content on a virtual cornucopia of topics, including B2B, SEO demand generation, marketing strategies and executing effective marketing campaigns. You can even host your business blog on HubSpot, and the whole industry rushes to download their annual state of inbound marketing report once it's hot off the (PDF) press. They update their blogs frequently, so you're always sure to find fresh content. With so many posts available, be sure to take advantage of their search field to streamline for specific topics
Handy Resources:
The 17 Best Advertisements of All Time
Everything You Need to Know about Advertising Best Practices
Why Agencies Should Abandon Advertising and Invest in Owned Media
The Definition of Advertising in Less Than 50 Words
---
#3. Kissmetrics Blog / Twitter
Listed 3 out of 14 times. Listed 5 out of 19 times. Kissmetrics is more than just a blog! Their online software helps marketers turn analytics into insights that guide decision-making and growth. Kissmetrics is different because it ties every visit on your website to a person – even if they are using different devices. This company was co-founded by Neil Patel, a well known online marketing guru, but he sold the company a while ago.
Handy Resources:
5 Things You Must Do Before Jumping Into Paid Internet Advertising
A Deep Dive Into Facebook Advertising
Native Advertising: Marketing Flop or Marketing Future?
Here's What Happens When Facebook Advertising Fails
---
Listed 3 out of 14 times. Adweek is the leading source of news and insight serving the brand marketing ecosystem. First published in 1979, Adweek's award-winning coverage reaches an engaged audience of more than 6 million professionals across platforms including print, digital, events, podcasts, newsletters, social media and mobile apps. As a touchstone of the advertising and marketing community, Adweek is an unparalleled resource for leaders across multiple industries who rely on its content to help them do their job better.
Handy Resources:
Where Is the Line Between Creepy and Creative in Advertising?
Why Intelligent Disruption in Advertising Will Be the Most Important Trend of 2018
Advertising Can (Maybe) Save the World, Just Not the Way You Think
Social Media Is Dead … Long Live Social Advertising
---
#5. MarketingProfs / Twitter
Listed 3 out of 14 times. MarketingProfs is the one source that individual marketers, marketing teams, and some of the world's largest organizations turn to for modern marketing tools, training, strategies, articles, online seminars, discussion forums, and much more. Their educational materials will give you or your team real-world solutions to common and not-so-common marketing problems. Their experts also provide strategies for various types of marketing, from email to social media and beyond.
Handy Resources:
Television Advertising: Audience, Cost, Duration, and Genre Trends
The Advertising Media That Consumers Trust Most
How to Target Millennials With Billboard Advertising
What's Coming Up? Online Advertising Trend Predictions
---
#6. Adland / Twitter
Listed 5 out of 14 times. Adland is a website focusing on the advertising industry and an Internet archive of commercials. It incorporates advertising news, critical commentary on ads and the advertising industry, and archives of ads and ad campaigns, concentrating on television advertisements. Adland is a ground-breaking examination of modern advertising, from its early origins, to the evolution of the current advertising landscape.
Handy Resources:
9 Things Mark Twain Taught Me About Advertising
Ten tips for a better work environment in advertising
Dear Mom. This is how much advertising loves you.
Shakespeare's influence in advertising (a.k.a. You, minion, are too saucy)
---
#7. AdAge / Twitter
Listed 5 out of 14 times. Created in 1930 to cover a burgeoning industry with objectivity, accuracy, and fairness, Ad Age continues to be powered by award-winning journalism. Today, Ad Age is a global media brand focusing on curated creativity, data and analysis, people and culture, and innovation and forecasting. From vital print editions to must-attend events and innovative platform offerings, its industry-leading offerings include the coveted A-List & Creativity Awards, the Ad Age Next Conference, and proprietary data such as the Leading National Advertisers Report from the Ad Age Datacenter.
Handy Resources:
Top Ad Campaigns of the 21st Century
#Hashtag10: a Look Back at the 10 Tags That Shaped Advertising
Scale is Killing Advertising
10 Questions You Need to Ask Your Advertising Data Provider
---
#8. AdExchanger / Twitter
Listed 5 out of 14 times. Founded in 2008, AdExchanger is an integrated media and events company devoted to the digital advertising and marketing space. Their award-winning publication enables the exchange of ideas between all members of the "ecosystem," including marketers, agencies, publishers, data providers, advertising and marketing technology companies, analysts, the investment community and the press.  AdExchanger has 223,000 monthly unique visitors, and editorial newsletters with more than 28,000 subscribers.
Handy Resources:
The Publisher's New Role In Advertising
The Complete Guide To Amazon's Ad Business
Zero-Data Media Could Be The Future Of Digital Advertising
GDPR: The Death Knell For Programmatic Advertising?
---
#9. AdPulp / Twitter
Listed 4 out of 14 times. AdPulp offers a unique point of view on the most pressing topics of our day in marketing communications. They work in the business, think about, talk about and write about the business. They're advocates and critics, but first and foremost we're practitioners, so they understand the pain of being thrown under the bus, of working late nights, of dealing with difficult clients.
Handy Resources:
Why Working In Advertising Sucks And What We Can Do About It
Advertising Vs. Information
How To Break Into Advertising: Be Intensely Curious and Possess Multiple Skill Sets
The Real Mad Men of Advertising Adds Real-World Context To The Drama
---
#10. The Inspiration Room / Twitter
Listed 5 out of 14 times. The Inspiration Room is a creative archive and community site first established in 2006. The Inspiration Room is a collaborative effort, providing you with the latest and classic creative inspirations from television, print, ambient and interactive advertising, music videos, photography and design. They base our articles on submissions sent to us directly from agencies, production houses, photographers, sound and music companies, PR companies.
Recent Posts:
It's a Tide Ad
Lamb Side Story unites Australian left and right
Don't You Forget About Me – State Farm
BBC One – The Supporting Act
---
#11. Ads of the World / Twitter
Listed 6 out of 14 times. Ads of the World is basically an advertising version of Disney's Epcot, except it's even more awesome and top-notch. Visiting the Ads of the World blog is like visiting an advertising museum, with quite possibly the most comprehensive archive of ads anywhere. Even their search menu speaks to the endless possibilities for inspiration. You can view hundreds of different Ads, whether it be print, radio, TV, outdoor, DM, online or ambient.
Handy Resources:
Creative Typography in Advertising
Donald Trump in Advertising
Gender Equality in Advertising
Girl Power in Advertising
---
Listed 5 out of 14 times. Adrants, published by Adrants Publishing LLC, provides marketing and advertising news. It provides insightful, informed, experiential, no holds barred commentary on the state of the advertising and media industries. Editorial covers emerging marketing and advertising trends, cultural and demographic shifts affecting advertising strategies, new campaign launches, viral and buzz marketing, the rise of social media, useful industry research and the examination of the industry's shift from old paradigms to new.
Handy Resources:
8 Critical Elements of Successful Native Advertising
Advertising Makes Our World Go 'Round
Why Advertising Will Never Portray Reality
The Three Ages of Advertising Slavery Illustrated
---
#13. Joe La Pompe / Twitter
Listed 4 out of 14 times. Joelapompe is a free website, based in France, which is not affiliated with any company or organization. It's all about hunt and collect any twin-advertising concepts. The more the ideas are similar, the more it's interesting to compare. It's dedicated to advertising, and it's always going strong. This site is for lovers of really creative advertising and all those who cannot stand to see the same ideas trusted directories and creative charts year after year.
Handy Resources:
Devalued Advertising Idea?
A Congested Creative Road?
A Stack of Similarities?
The Road to Plagiarism?
---
#14. More About Advertising / Twitter
Listed 3 out of 14 times. More About Advertising set out to be the alternative voice of advertising, marketing and media nearly ten years ago and since then has developed into one of the main sources of news, information and insight into these industries globally. MAA doesn't set out just to report the news or display people's opinions but, at all times, tries to show why things are happening in the industry and what the consequences are for every stakeholder.
Handy Resources:
Why do brand owners waste their precious advertising assets?
Five things you didn't know about advertising agencies 1970s
Art and advertising: a mutually rewarding relationship or a marriage of convenience?
Why shouldn't we ban advertising to children?
---
#15. AgencySpy / Twitter
Listed 4 out of 14 times. AgencySpy is a part of Adweek Network. It covers the ad agency world from the inside. From breaking agency news to new campaigns and client wins, AgencySpy is a trusted news source keeping advertising professionals up to date on what's happening at their agency and beyond.
Handy Resources:
Redditors Kind of Hate Working in Advertising
Suck It, Creatives: 'Web Developer' Is the Hottest Gig in Advertising
Advertising Account Executive Is Apparently One of the Most Overrated Jobs
Advertising Doesn't Need Another Old White Guy…Says Middle-Aged White Guy
---
#16. AdFreak / Twitter
Listed 5 out of 14 times. It is AdWeek's daily blog of the best and worst of creativity. AdFreak is edited by Adweek's Tim Nudd. The blog shares the latest and freakiest commercials with a lot of entertaining top 10 lists, like '10 ads that killed dubstep'. Informative and insightful are the best two ways to describe the posts on Adfreak.
Latest Posts:
How an Art Director's Frustration Fueled the Curiously Creative Instagram Feed 'Trump as Food'
Watch the Stars of Netflix's Glow Lip-Sync 'Maniac' in This Joyous Season 2 Promo
'Baskin-Robbins Got Me Like' Is 2018's Twerkiest, GIFiest, Meme-iest Ad Campaign
Is Your Room Dead Boring? This Ghostly Ikea Ad Encourages You to Resurrect It
---
#17. The Ad Contrarian / Twitter
Listed 5 out of 14 times. The Ad Contrarian is a blog where great conversational writing meets business-oriented content and statistical analysis. Bob Hoffman, CEO of Hoffman/Lewis and author of the book by the same name, produces interesting and unvarnished content, particularly on running a small agency. He shares his thoughts on advertising news and frequently offers contrary perspectives on advertising discussions.
Handy Resources:
Top 10 Reasons Online Advertising Must Change
Death And Advertising
Volkswagen Will Be Saved By Its Advertising
Advertising Industry Gives Up
---
#18. Copyranter / Twitter
Listed 3 out of 14 times. Mark Duffy describes himself as "The Best Ad Critic In The World. When you read his content, you will accept this as a reasonable description. He rants about Cannes, Apple, marketing jobs and how to advertise to millennials.
Handy Resources:
What is "Native Advertising"?
Seven New Names for "Advertising"
Advertising Is Not A Science, Never Will Be.
What The Hell Happened To Apple's Advertising?
---
#19. The Curious Brain / Twitter
Listed 3 out of 14 times. The Curious Brain belongs to Michael  Paredrakos, Strategic Planner from Greece ( ex Ogilvy & Mather, ex Lowe And Partners) now playing Managing Director @ avakon+ an award-winning digital agency from Athens.…. who is curious about many things. The Curious Brain offers a strong variety of ads, whether they are a cartoon and artistically drawn ads, gifs, and other cleverly simple ads all audiences can appreciate. This blog has a simple design and focuses on ads as well as gifs for the younger, tech-savvy generation.
Handy Resources:
Sell & Spin A History of Advertising
The History of Advertising on YouTube
We're All in Marketing: What Evolution Tells Us About Advertising
The Evolution of Advertising: From Stone Carving to Old Spice Guy
---
#20. Social Media Examiner / Twitter
Listed 3 out of 14 times. One of the world's largest social media marketing resource, which platform helps millions of businesses discover how to best use social media to connect with customers, drive traffic, generate awareness, and increase sales. Their mission is to help you navigate the constantly changing social media jungle.
Handy Resources:
Social Media Advertising: New Research for Marketers
4 Ways to Create Social Media Ads That Stand Out
New Research Reveals Paid Social Media Effectiveness
Do You Have Any Tips for Your Favorite Online Advertising Resources?
Want to share your favorite Online Advertising Resources? Just do the following:
Later on, we will share the results via Knowledge Resources, so you can quickly find the best Online Advertising Resources on the web as suggested by our users and visitors.
More Resources for
Marketing
Besides reading blogs about Online Advertising, there are other great ways to stay up to date with the latest (Digital) Marketing trends and developments.
Q&A: Marketing Knowledge Sharing 
Via our Marketing Community Forum, Professionals and Clients can share knowledge by having Q&A conversations about typical business issues or best practices about Marketing. Here you can share your Marketing Knowledge, rank answers by how valuable they are, or just read and follow any Marketing topic you want, and get noticed when new contributions are made to discussions you follow.
Latest Sector News for Digital Marketing: Aggregated Marketing News
Via our Marketing Briefing Room, the Top Marketing Resources on the web are followed, which includes the Top 3 Online Advertising Blogs listed above, and only the most shared content is shown. You can filter all the content for the last 24 hours, 3 days, 1 week, 1 month, 3 months, etc so you can easily find and stay up to date with the latest Marketing developments.
Other Briefing Rooms:
All Latest Sector News Briefing Rooms
Entrepreneurship, Technology, Freelance, and Professional Services
How Our Platform Works
Be Found As an Online Advertising Expert
More than 75% of potential Clients who look for (Online) Advertising Services start a Web Search to find the best (Online) Advertising Specialist for the Job. Because the internet is by far the leading channel where potential buyers start their journey, it is critical that your business can be easily found on the internet. Creating a profile on our Platform is free and opens the door to new opportunities, it can be done in only a few minutes and without any credit card.
Learn More:
How it Works
Memberships
Create Profile
Search, Compare, Find & Hire (Online) Advertising Experts
Easily find and compare highly qualified (Online) Advertising Experts by searching our Platform, which can be local Agencies Specialized in (Online) Advertising, specialized (Online) Advertising Professionals, or independent (Online) Advertising Freelancers. Directly contact and work with your ideal candidate in any way you like. Searching is always free, and that also means that we never charge any transaction type of fees.
How we Established the
Final Top 20 of Best (Online) Advertising Blogs
We made a list of 50 posts that were recently published about "Best (Online) Advertising Blogs" to follow.
From this list of 50 posts, we selected the top 14 that seem most valuable to our readers and users.
We combined the 14  lists of "Best (Online) Advertising Blogs" and earmarked all individual blogs that were on those lists.
When a blog was ranked as number 1, it got 1 point, and when it was ranked 2nd, it got 2 points, etc.
When no particular ranking was applied to a certain list, then each listed blog got the same points.
To be included in the final list a blog should be listed for a minimal number of times.
More weight was assigned to blogs which were explicitly listed more times than other books.
All lists were summed up, and the (Online) Advertising Blog with the lowest number was ranked 1, 2, 3, etc.
This resulted in the final "Top 20 of Best (Online) Advertising Blogs" that have been recommended most times by all types of (Online) Advertising Experts. 
Sources Used for
Best (Online) Advertising Blogs to Follow
The 14 "Best of Lists" used for researching what the Best (Online) Advertising Blogs are: