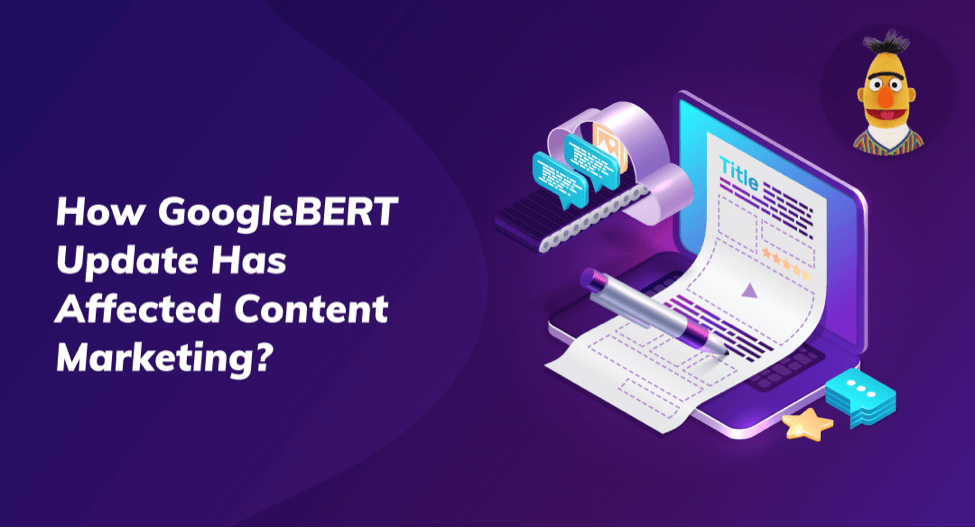 What is Google BERT Update?
BERT is a core Google update rolled out in December 2019 for more than 70 languages worldwide. The abbreviation stands for Bidirectional Encoder Representations from Transformers.
According to the search engine giant, it is one of the biggest and most important algorithm updates that is being released in the last five years and is said to impact 10% of the search queries.
With the BERT update, Google aims to interpret complex long-tail search queries more accurately and display relevant results in the search engine.
BERT is a Natural Language Processing (NLP) Algorithm, and Google is using it in search to understand the semantic context of the conversational queries. Therefore, whenever there's a new search query, Google analyzes the meaning of a word in relation to all other words in the search phrase.
Importance of Google BERT Update
Google BERT is a major step towards the future as it is going to improve results for voice search queries. With the increasing usage of AI assistants such as Siri, Cortana, and Alexa, conversational queries are on the rise.
With the BERT update, Google is now giving more importance to prepositions like "to" and "from" to find the accurate meaning of a search query. Therefore, brands will now have to focus more on targeted content, rather than publishing bulk content with no context.
How Google BERT Update Affects Content Marketing?
Google algorithms are getting smarter day by day. To keep up with the changes Google has been implementing lately, businesses must improvise their content marketing strategies.
As Google's primary focus is to offer a better user experience, you need to ensure that your content marketing goals are aligned in the same line.
Here are a few content marketing strategies that you can implement to meet the Google BERT update criteria.
Informational Queries Are Getting More Impetus With BERT
BERT is primarily affecting search queries that are present at the top of the funnel. These are mostly informational questions asked at the first stage of the marketing funnel.
During this stage, users want to learn more about a product or a service. Informational queries are also quite ambiguous in nature.
For example, if you type a search query such as "can you get medicine for someone in the pharmacy?," A pre-BERT update search result would give out a general answer related to filling prescriptions for medicines.
However, with BERT being a bidirectional model, it will focus on the words before and after each term. Hence, you will get the exact answer from Google.
Google further processes search queries using a technique called masking. Using this method, Google tries to identify a few target terms in your search query and then generate answers that you are looking for.
Long-Tail Keywords Have Become More Important Than Ever
Giving focus to long-tail keywords is not new to the SEO industry; the BERT update only made it more important.
The update doesn't need site owners to optimize their content for keyword density, but rather focus on providing direct answers to informational queries.
So, if you write an article on kitchen cabinets, try adding different sections that address various queries related to the subject, such as benefits of installing cabinets, best materials used for kitchen cabinets, types of kitchen cabinets, cost of kitchen cabinets, etc.
As you offer laser-focused answers, your chances of appearing on top of SERP also increases. Besides, formatting your content in a question and answer format can get you on the featured snippets too.
Long-Form Content Is Not Much Relevant to the BERT Update
Most research done on content says, longer content does better on search engines. But, after the BERT update, it has been observed that Google is giving more focus on content that can answer search queries specifically rather than long-form content that may not answer direct questions.
For broad queries such as "how to bake a cake," Google may continue to prefer long-from content, but as we've already said, the rise of voice searches in the coming days will limit the number of broad queries and make way for more specific questions.
Localized Content Are More Impactful Than Translated Sites
Most businesses face this common dilemma when they operate in multiple regions whether to go for content localization or translate the existing content on their site.
While translation is simpler than localization, it creates limitations when it comes to translating certain terms from English to other languages.
Therefore localizing content into regional languages will be helpful for multilingual users as well as the local audience. This will also work in favor of the BERT update according to Brenden Walsh of Lionbridge.
According to him, global businesses should start focusing on demand-based regional content. According to Unbabel, 55% of the entire online content is in English, whereas only 20% of the whole world population speaks it.
There is a vast content gap when it comes to top finding information in regional languages. With the BERT update being rolled out in 70 languages, more companies will now focus on localization than translation to reach out effectively to the global audience.
No Space for Grammatical Inconsistencies
Most websites that have seen a massive dip in their traffic due to the BERT update, either had focused too much on the keyword density in their content or had too many grammatical errors.
Now that the BERT update is scrutinizing prepositions to interpret the meaning of your search queries, it gets even more essential to write error-free and grammatically correct sentences for your articles or blog posts.
This is the Time to Answer Maximum Search Queries
With the implementation of the BERT update and the rise of conversational searches, answering online queries have become essential more than ever.
As a business owner, you must try to cover all kinds of queries related to your niche. To take a cue of the searches that people are conducting related to your niche market, use tools like AnswerthePublic, or explore the "People Also Ask" section on Google.
This can help you cover all related queries based on any topic and ensure that your site comes up for maximum search queries.
Conclusion
If you notice carefully, the Google BERT update doesn't need you to make any drastic changes to your ongoing content marketing strategies. Most of the requirements already existed before the BERT was implemented.
The official announcement of this update just ensured that people are no longer indulging in poor content practices that add little or no value to the public.
Since user experience is the foremost priority for Google, this update just adds to the cause and strikes out any site that is still not prioritizing the same in 2020.
Author Bio:
Shreoshe has been crafting and editing content on multiple niches for more than 4 years. She specializes in guest post services. When she isn't writing, you can find her working for the welfare of street animals.