Marketing and promotion allow companies to share their products, services, and mission with the world. Not all businesses, however, have a dedicated team of specialists to execute a marketing strategy.
Small businesses and startups are constantly challenged to allocate human and financial resources to marketing.
Marketing efforts such as social media, email promotions, and digital advertising are often time-intensive practices that require expertise.
Marketing consultants can help businesses promote their products or services effectively by establishing goals, identifying a target audience, and building creative, multi-channel campaigns.
1.   Marketing Consultants Establish Goals
Marketing is a wide field that helps diverse businesses meet individual needs.
Consultants help both large and small businesses to establish specific goals that determine the scope of a company's marketing efforts.
Outside consulting services often provide helpful, third-party perspectives on your marketing strategies and objectives.
Marketing strategy consultants are often seasoned marketing professionals familiar with current marketing trends across different industries.
A business-to-business (B2B) company, for example, might have different goals than a business-to-consumer (B2C) company.
B2B companies often set goals involving generating and nurturing leads. A consultant might advise a web designer to define the success of a marketing campaign by the number of leads generated each quarter.
B2C companies, on the other hand, might have more concrete goals involving product impressions or numbers of new customers.
Consultants will help you determine realistic and actionable goals for your marketing strategy.
2.   Consultants Identify and Segment Your Target Audience
Marketing consultants use their understanding of the marketing landscape and technologies to identify the right target audience for your business.
Identifying a core audience for your marketing efforts helps you tailor your content to the audience's place in the buyer's journey.
Marketing consultants that specialize in SEO, for example, can help you target the right keywords to rank on pages that correspond to the audience's correct level of purchasing intent.
A keyword such as "scuba gear," for example, will yield results catered for people looking to purchase scuba gear in their area.
A marketing consultant might advise that company to write an article about how to choose the best scuba gear to target an audience at the top of the buyer's funnel — interested in learning more but not ready to make a purchase.
Marketing consultants have experience with social media platforms and can help you tailor your strategy to different platforms based on your audience's age and other demographics.
3.   Consultants Develop Marketing Campaigns
After identifying a clear set of goals and a target audience, your consultant can help you start to create a campaign to meet those goals.
Marketing campaigns are organized, time-bound strategies focused on one product, service, or event. They often involve outreach to potential customers on multiple channels, such as social media, email, and online advertising.
Consultants will incorporate the "marketing mix" into client campaigns to maximize outcomes. The "marketing mix" is also known as the "4 P's of Marketing," which are:
Product: the goods and services a company offers
Price: the cost of those goods and services
Place: the location where the goods and services are sold
Promotion: the advertising
Defining a company's marketing mix helps marketing consultants create the best possible multi-channel campaigns, including helping companies choose the right channels and times to promote specific messages.
4.   Marketing Consultants Help Define and Position Your Brand
Marketing strategy consultants also help businesses create a brand that reflects their unique identity.
According to Investopedia, a company brand is the impact or impression of a company's identity as experienced by customers. Branding helps businesses control how consumers experience their products and services online and in-person.
Common branding activities include:
Identifying company colors
Creating a company logo
Establishing a company's "brand voice"
Publishing a consistent company mission statement
All of these activities combined help cultivate an emotional connection between your company and its target audience.
Marketing strategy consultants help your company establish a brand and maintain consistency of that brand across all marketing strategies.
A style guide is often a critical component of a company brand. It helps team members and external stakeholders identify the specific colors and language to use when writing or promoting the company.
Netflix, for example, has a "Brand Assets" page that instructs media and internal employees on how to use the logo and colors.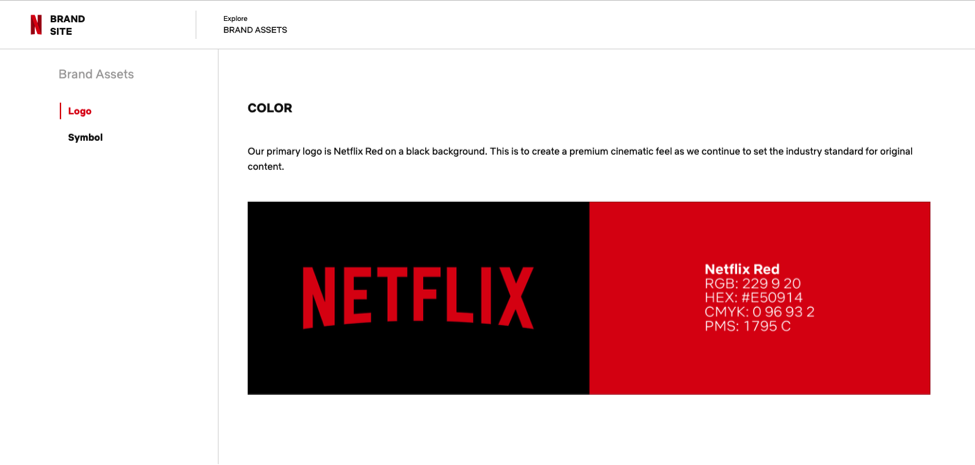 Netflix identifies specific colors to use when sharing the logo or imagery online. Its style guidelines also include a brand story that puts visual identifiers in the context of its positioning in the market.
Marketing consultants help companies establish a brand identity and voice that make their marketing tactics more consistent and effective at connecting with consumers.
5.   Consultants Introduce Technology to Achieve Goals
Finally, marketing consultants ensure their clients are set up for success by providing them the tools necessary to execute effective marketing strategies.
Consultants help you identify which free and paid resources you can use to manage marketing activities, such as social media, online advertising, SEO, and email marketing.
Rather than schedule social media posts individually, for example, a consultant may advise your company to invest in tools such as Hootsuite or Buffer.
Hootsuite and Buffer are social media management platforms that allow companies to schedule social media posts in advance across different accounts.
This saves marketers time by doing most of the manual work upfront and in one platform.
Marketing consultants teach your team to use technology to streamline marketing efforts and save time.
Marketing Consultants Help Businesses Expand Their Outreach
Businesses often turn to consultants to help fill in gaps in expertise on their teams. Marketing consultants in particular help businesses with their marketing and promotion practices in a few key ways.
Marketing consultants are often experts in specific marketing practices that help businesses improve website traffic, followers, and engagement.
Consultants help businesses establish a set of specific and attainable goals for marketing practices, and then implement marketing plans to help them achieve those goals.
Businesses should consider hiring consultants to help them solve crucial marketing challenges.