For those of us who've been in the SEO industry for a long while, it's easy to forget the times when we knew much less than we do now. The times when our SEO knowledge was fledgling when we barely knew our alt tags from our schema mark-up.
Through the years of calling myself an SEO (it's now been over a decade..!) I've soaked up theory from all sorts of blogs, videos, and keynote speeches. I've put this theory to use on personal websites and client websites, and the harsh mistress of real-world experience has converted it, gradually, into a solid bank of knowledge.
But, looking back, what has been the most useful, reliably valuable source of my SEO knowledge?
I can answer this without any hesitation: Whiteboard Friday by Moz.
Those of you nodding your head in agreement know exactly why this is my answer. And for any of you who don't know what I'm talking about, one question: have you been living under a rock for the past decade?
In my opinion, any SEO worth their salt should be familiar with Whiteboard Friday. It's an unerring source of knowledge straight from the mouths of industry experts, published in full and for free every week (pretty much).
If you've never seen it, I'm not suggesting you trawl back through more than a decade worth of videos – several hundred episodes worth. I do think you should acquaint yourself with some of the most popular episodes though, and make a point of watching the new stuff they publish. I guarantee you'll learn something useful.
Recently at Edge45, we sat down and thought about what we'd learned from WBF over the years. Then we thought about what new SEOs may have missed, and we had a bit of a lightbulb moment. We decided that such a vast bank of freely available, high-quality content would lend itself perfectly to an interactive infographic. One where you could delve back into the history of WBF to see the highest highs, the best milestones, and, of course, the many outfits of Mr Rand Fishkin.
Here's what we came up with.
Obviously, we can't embed a full interactive infographic on the Consultants 500 website. But fret not. You can explore the full graphic with the link above, or you can browse through some of the key takeaways below.
What is the most popular Whiteboard Friday content?
WBF has held its popularity surprisingly well over time. Obviously, there are high and low points – that's to be expected with any long-running content series – but it continues to draw large and faithful audiences.
The graph below shows the bell curve of likes over time. Please note that likes are only one metric, and this graph doesn't take into account social shares and other vouches.
As you can see, the most popular posts in terms of like all fall around 2011 and 2012. The most-liked post ever is this one, which details changes SEOs should make to their site to avoid penalties. Obviously, the specific tips in that post are a bit outdated now, eight years on, but the underlying ethos remains the same: helping webmasters to configure their sites properly and align themselves with Google's guidelines, rather than being tempted toward black-hat practices.
We think that's a succinct summary of the noble goals of the WBF series.
What are the most popular Whiteboard Friday topics?
The WBF presenters draw on an incredible bank of expertise when creating their videos. It's not just SEO that gets discussed. It's everything you need to make your business perform well online, from UX, to PR, to SEO, and everything in between.
Here are the most popular topics in 2019 at the time of publishing our graphic, some time around June.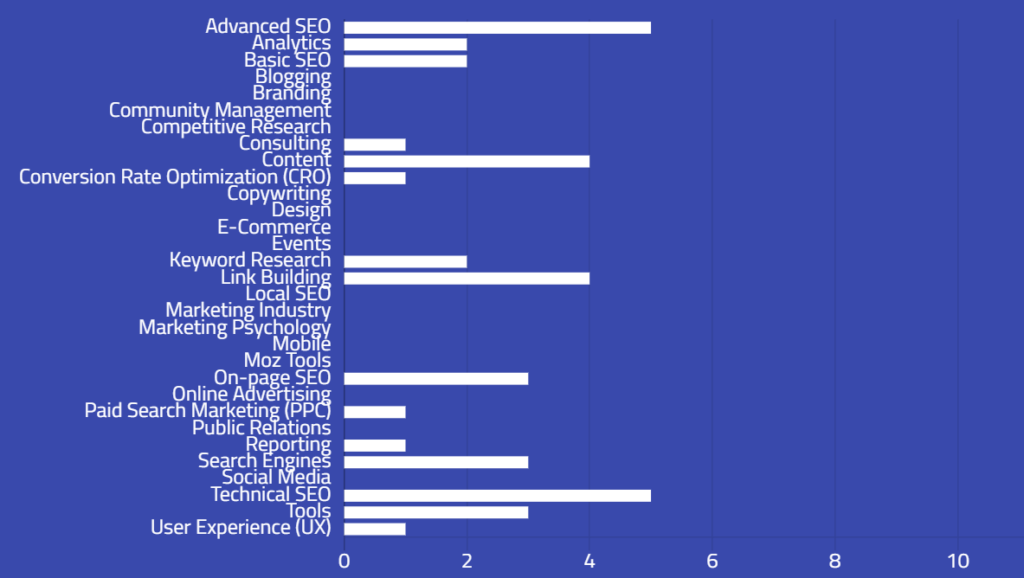 As you can see, Technical SEO and Advanced SEO were leading the pack halfway through the year. This chimes pretty well with what we found with other years. The most popular topics from 2014 through 2018 were Advanced SEO, link building, and content.
Our graphic charts topics back to 2014. Before that, Moz didn't use categorization on the Whiteboard Friday posts, so short of watching every single video and gauging what it's about, it's not really possible to extend the graph back further.
Who are the biggest Whiteboard Friday presenters?
The series is known as the baby of Rand Fishkin, former Moz top-dog. But tons of other people have either joined or temporarily dislodged Rand. Here are six presenters who've achieved double-digit post counts, for example:

There is also a long list of people who've presented just once, bringing some niche piece of knowledge to the series, and broadening its reach and scope in the meantime.
We think it's testament to the quality of the series that such a wide field of SEOs and marketers have appeared. It shows that WBF isn't just a one-trick pony.
Fancy Dress
As the series evolved, so too did its production values. Whereas the first couple of years featured grainy videos and a dishevelled Rand, later editions began to get more polished. Extra pixels were introduced, gradually bringing HD to the table. Exciting innovations were added to videos, like props and costumes. And Rand took to this latter addition like a fish to water.
Over the years he's dressed as Hulk, Santa (twice), a magician (twice), a punk, a Victorian, an explorer, and so much more. Here he is channelling Shakespeare's Hamlet, too: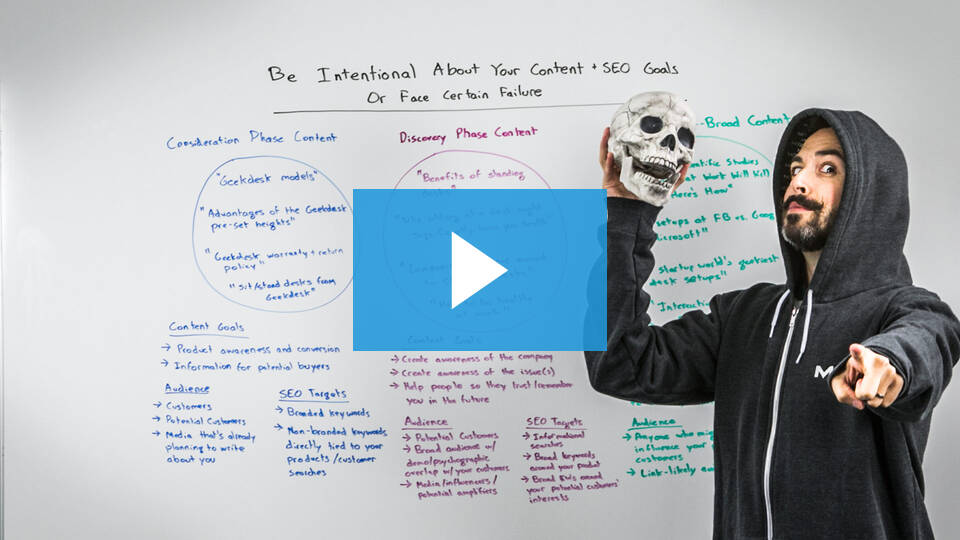 We'll be honest, seeing what's new in the wardrobe department is one of the things that keeps us going back. Nowhere else but WBF can you find such a solid, useful, and actionable bank of SEO content. Nowhere else can you see such enthusiasm and care for their craft.
There's a reason we recommend WBF to new team members at Edge45. Over the years, it's become an indispensable resource for SEOs at all levels. So, if you're already familiar, take a look at our infographic and enjoy the nostalgia. And if you're not, head over to the WBF pages on Moz and get acquainted!
About the Author
Chris Lee works in the content department at Edge45, a digital marketing agency in York. He's been involved in SEO since 2008 and has seen the good, the bad, and the ugly in that time. He knows that to succeed in this industry, you have to focus on the good. SEO isn't some dark art: it is theory implemented correctly and refined over time.