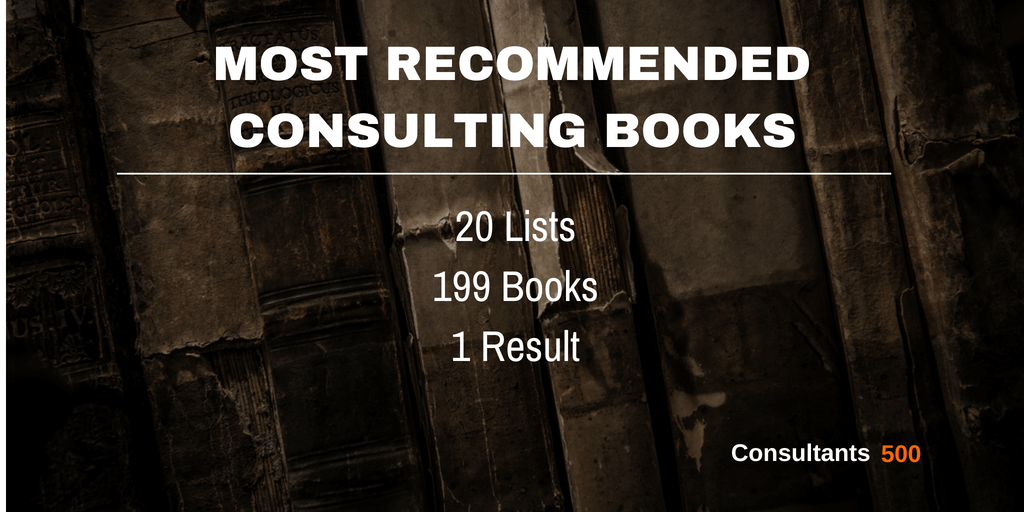 Books that teach the art of Consulting offer a great way of learning the ins and outs of Consulting and at a much lower price than taking, for example, a specialist  Management Consulting Course or an Executive MBA Course. By reading a book, you consume a huge amount of research in a relatively short amount of time, and it is one of the best ways to improve your skills.
The only problem is that there are a lot of Consulting Books in the market and there are much more to come. For instance, just doing a search for "Consulting Books" in Amazon results in more than 20,000 books about Consulting, so how do you make up your mind about what to read?
You can do a google search and search for the Best Consulting Books but then you get hundreds of "Best of Lists" in front of you, so that doesn't help a lot either unless you want to spend a full day going through all those lists. Well, that is exactly what we did! We searched for 50 "Best of Lists" highlighting the most recommended Books about Consulting and Management Consulting by various authority sites. Then we selected and combined the 20 most valuable "Best of Lists" and earmarked and ranked what Books  About Consulting / Management Consulting keep up appearing on most of those recently published lists. From a total of 199 books reviewed and ranked, here are the Top 20 of Most Recommended Consulting Books that appear on most of the Best Consulting Books lists!
Are You Recruiting in the Consulting Sector?
Then join our niche Job Board with a 100% Professional Services focus. With 1-click you reach:
150+ Job Boards and 2.000+ Publisher Sites.

50+ million Job Seekers.

Get at the top of 30+ million daily email alerts send to Job Seekers.

Jobs are also posted to Google for Jobs, reaching millions of Job Seekers who search for Jobs on Google every day.
Learn more about our Job Posting options or Post a Job straightaway on our niche Job Board for the Professional Services sector only. 
Top 20 of Best Consulting Books
Recommended Most Times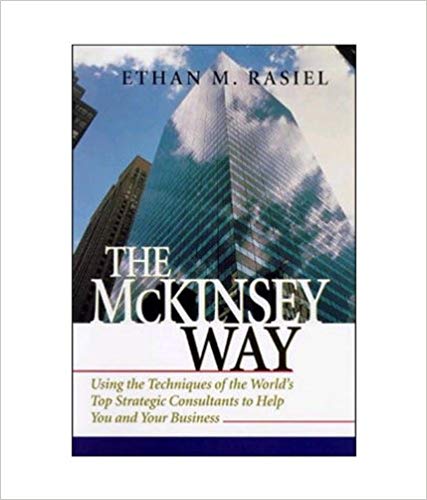 #1. The McKinsey Way – Using the Techniques of the World's Top Strategic Consultants to Help You and Your Business
by Ethan M. Rasiel
Listed 10 out of 20 times. Ethan M. Rasiel was a consultant in McKinsey & Co. s New York office. His clients included major companies in finance, telecommunications, computing, and consumer goods sectors. Prior to joining McKinsey, Rasiel, who earned an MBA from the Wharton School at the University of Pennsylvania, was an equity fund manager at Mercury Asset Management in London, as well as an investment banker.
"Enlivened by witty anecdotes, The McKinsey Way contains valuable lessons on widely diverse topics such as marketing, interviewing, team-building, and brain-storming."­­ (Paul H. Zipkin, Vice-Dean, The Fuqua School of Business, Duke University)
Recommended by:
– Top Executives from multiple large enterprises
– Vice-Dean, The Fuqua School of Business, Duke University
– Multiple best selling authors of other Business books
---
#2. The Trusted Advisor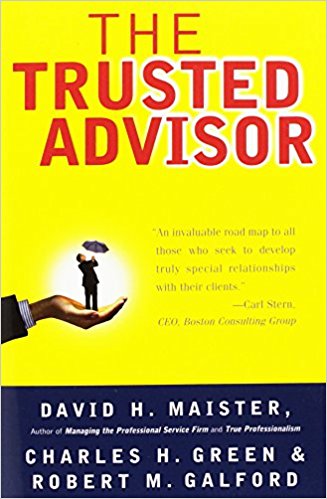 by David H. Maister, Charles H. Green, and Robert M. Galford
Listed 6 out of 20 times. David H. Maister, one of the world's leading authorities on the management of professional service firms, is the author of several successful books, including Managing the Professional Service Firm, True Professionalism, and Practice What You Preach, and coauthor of The Trusted Advisor.
Charles H. Green is president of Trusted Advisor Associates, which focuses on trust-based client and customer relationships. An ex-consultant, he has taught in executive education programs at Columbia and Kellogg Business Schools.
Robert Galford, who has taught at Columbia and Kellogg as well, is a managing partner of the Center for Executive Development.
" This book is engaging, enjoyable, and absolutely on target. It is packed with truth. The Trusted Advisor will guide success not just in the advisory professions but in leadership and life as well." (William F. Stasior senior chairman and former CEO, Booz-Allen & Hamilton)
Recommended by:
– Carl Stern CEO, Boston Consulting Group
– William F. Stasior former CEO, Booz-Allen & Hamilton
– Professor Charles Fombrun Leonard N. Stern School of Business, New York University
---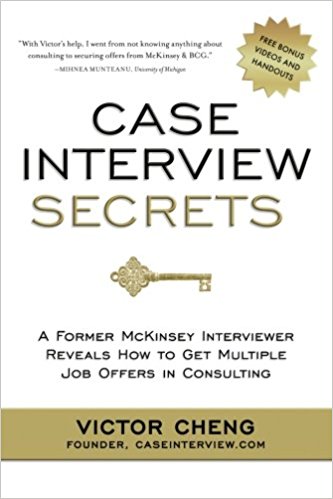 #3. Case Interview Secrets: A Former McKinsey Interviewer Reveals How to Get Multiple Job Offers in Consulting 
by Victor Cheng
Listed 7 out of 20 times. As a former McKinsey consultant, résumé screener, and case interviewer, Victor Cheng mentors thousands of aspiring consultants via his articles and videos at www.caseinterview.com. As a candidate, he passed 60 cases and received job offers from McKinsey, Bain, Monitor, LEK, AT Kearney, and Oliver Wyman. At McKinsey, he was rated in the top 10 percent of consultants worldwide in his cohort. Today he advises Inc. 500 CEOs.
"I received six offers–from McKinsey, BCG, Booz, Deloitte, A.T. Kearney, and Marakon. Everything Victor said was right!" (Michael Yang, Northwestern University)
Recommended by:
– Many consultants from the elite Consulting Firms
---
#4. The Pyramid Principle: Logic in Writing and Thinking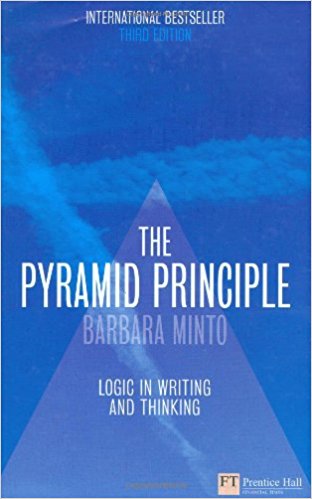 by Barbara Minto
Listed 7 out of 20 times. Barbara Minto attended the Harvard Business School, in the second class to admit women. In 1963 she joined McKinsey & Company the international management consulting firm, as their first female consultant. Barbara Minto developed The Pyramid Principle through her early years as a consultant at Mckinsey & Company, Inc. She now runs her own consultancy, International, Inc., specializing in teaching the pyramid principle to people whose major training is in business or the professions. She has taught her course to most of the major consulting firms in the world's largest corporations and government organizations.
"How many times have you written an email at work, read it back and found that it didn't make as much sense as you'd hoped? or worse, someone else has told you that they can't follow it. The Pyramid Principle will show you how to communicate your ideas clearly and succinctly."
---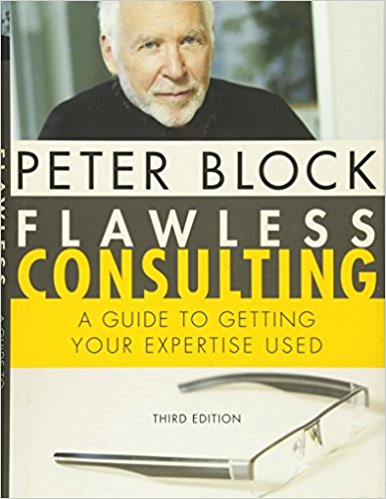 #5. Flawless Consulting: A Guide to Getting Your Expertise Used
by Peter Block
Listed 8 out of 20 times. Peter Block is an author and consultant whose work is about empowerment, stewardship, chosen accountability, and the reconciliation of community. He is the author of several best-selling books, including the first two editions of Flawless Consulting, Stewardship, Community, and The Empowered Manager. He is a partner in Designed Learning, a training company that offers his personally designed workshops that help to build the skills outlined in his books.
"Consulting at its best is about action and interaction, relationships and results. In a highly readable guide that is both inspirational and practical, Peter Block leads consultant and client together through a proven approach to realize their future." (SAMUEL R. STRICKLAND chief financial and administrative officer, Booz Allen Hamilton)
---
Are you looking for new Hires?
Post your job on our
Niche Job Board
 for the Consulting Sector.
#6. Valuation: Measuring and Managing the Value of Companies | by Tim Koller, Marc Goedhart, David Wessels
Listed 7 out of 20 times. Tim Koller is a partner in McKinsey's New York office. Tim has served clients in North America and Europe on corporate strategy and issues concerning capital markets, M&A transactions, and value-based management. He leads the firm's research activities in valuation and capital markets issues. He received his MBA from the University of Chicago.
Marc Goedhart is an associate principal in McKinsey's Amsterdam office. Marc has served clients across Europe on portfolio restructuring, issues concerning capital markets, and M&A transactions. He received a Ph.D. in finance from Erasmus University Rotterdam.
David Wessels is an adjunct professor of finance and director of executive education at the Wharton School of the University of Pennsylvania. Named by Business Week as one of America's top business school instructors, he teaches corporate valuation at the MBA and Executive MBA levels. David received his Ph.D. from the University of California at Los Angeles.
"The best valuation book just got better. This edition's greater emphasis on what drives value and how to measure it will improve the way practitioners conduct financial analysis and, ultimately, make strategic decisions. It is required reading for all executives." (Professor Benjamin C. Esty, Harvard Business School, author of Modern Project Finance: A Casebook)
---
#7. The Back of the Napkin: Solving Problems and Selling Ideas with Pictures | by Dan Roam
Listed 5 out of 20 times. Dan Roam is the author of the international bestsellers "The Back of the Napkin" (Fast Company's Innovation Book of the Year, The London Time's Creativity Book of the Year, and Amazon's Top 5 business book of 2008) and "Blah Blah Blah: What To Do When Words Don't Work." Dan is the founder of The Napkin Academy, the world's first online visual-thinking training program. www.napkinacademy.com Dan has helped leaders at Microsoft, Boeing, eBay, Kraft, Gap, IBM, the US Navy, the United States Senate, and the White House solve complex problems with simple pictures.
"If you observe the way people read or listen to things in the early 21st century, you realize that there aren't many of us left with a linear attention span. Visual information is much more interesting than verbal information. So if you want to make a point, do it with images, pictures or graphics… Dan Roam is the first visual consultant for businesses that I've worked with. His approach is faster for the customer. And the message sticks." (Roger Black, Media design leader, Author of Websites That Work)
---
#8. The Boston Consulting Group on Strategy: Classic Concepts and New Perspectives | by The Boston Consulting Group
Listed 6 out of 20 times. For more than forty years, The Boston Consulting Group has been shaping strategic thinking in business. The Boston Consulting Group on Strategy offers a broad and up-to-date selection of the firm's best ideas on strategy with fresh ideas, insights, and practical lessons for managers, executives, and entrepreneurs in every industry.
"Essential reading for anyone with a serious interest in strategy." (Long Range Planning, 40/2007)
---
#9. The McKinsey Mind: Understanding and Implementing the Problem-Solving Tools and Management Techniques of the World's Top Strategic Consulting Firm | by Ethan Rasiel and Paul Friga
Listed 7 out of 20 times. Ethan M. Rasiel was a consultant in McKinsey & Co.'s New York office. His clients included major companies in finance, telecommunications, computing, and consumer goods sectors. Prior to joining McKinsey, Rasiel, who earned an MBA from the Wharton School at the University of Pennsylvania, was an equity fund manager at Mercury Asset Management in London, as well as an investment banker.
Paul N. Friga worked for McKinsey & Co. in the Pittsburgh office after receiving his MBA from the Kenan-Flagler Business School at the University of North Carolina. He has conducted consulting projects relating to international expansion, acquisition and strategic planning, education, water, and other industries.
"The McKinsey Mind provides a fascinating peek at the tools, practices, and philosophies that have helped this much-admired firm develop generations of bright young MBAs into trusted corporate advisors. But the book's practical, down-to-earth advice is not just for consultants. The disciplined way in which McKinsey consultants frame issues, analyze problems, and present solutions offer valuable lessons for any practicing or aspiring manager." (Christopher A. Bartlett, Daewoo Professor of Business Administration, Harvard Business School)
---
#10. Key Management Models: The 60+ Models Every Manager Needs to Know | by Marcel van Assen, Gerben Van den Berg, Paul Pietersma
Listed 4 out of 20 times. Marcel van Assen is a senior consultant at the Operations Management group of Berenschot. His industrial consulting experience covers various manufacturing, supply chain, and strategic issues, from operational excellence, outsourcing & contract manufacturing to value-innovation based on strategic conversation, road mapping and foresight.
Gerben van de Berg studied business administration at the University of Groningen. He works at Berenschot as a consultant in the Business Strategies group. He is a co-author of the book Excellence = optimization and innovation and (co)author of several articles concerning strategic management.
Paul Pietersma MSc. BA is a strategy consultant and managing director of Business Strategies at Berenschot. He has more than 10 years of experience in the consultancy business in which he advised many CEO's and boards of directors on various strategic issues.
"This book gives you short, practical overviews of the top classic and cutting-edge management models in an easy-to-use, ready reference format. Whether you want to remind yourself about models you've already come across, or want to find new ones, you'll find yourself referring back to it again and again. And you'll wonder what you ever did without it!" (From the Back Cover)
---
#11. Million Dollar Consulting | by Alan Weiss 
Listed 3 out of 20 times. Alan Weiss is the founder and president of the renowned Summit Consulting Group, Inc. The only non-journalist to receive the Lifetime Achievement Award by the American Press Institute, he is an inductee into the Professional Speaking Hall of Fame and the concurrent recipient of the National Speakers Association Council of Peers Award of Excellence. He has written 60 books that have been translated into 12 languages.
"Must reading for those who are beginning a practice or seeking to upgrade an existing practice" (Victor H. Vroom, John G. Searle Professor, School of Management, Yale University)
---
#12. Competitive Strategy: Techniques for Analyzing Industries and Competitors | by Michael E. Porter 
Listed 3 out of 20 times. Michael E. Porter, one of the world's leading authorities on competitive strategy and international competitiveness, is the C. Roland Christensen Professor of Business Administration at the Harvard Business School. In 1983, Professor Porter was appointed to President Reagan's Commission on Industrial Competitiveness, the initiative that triggered the competitiveness debate in America. He serves as an advisor to heads of state, governors, mayors, and CEOs throughout the world. The recipient of the Wells Prize in Economics, the Adam Smith Award, three McKinsey Awards, and honorary doctorates from the Stockholm School of Economics and six other universities, Porter is the author of fourteen books, among them Competitive Strategy, The Competitive Advantage of Nations, and Cases in Competitive Strategy, all published by The Free Press. He lives in Brookline, Massachusetts.
"Porter's books on competitive strategy are the seminal works in the field." (Philip Kotler S.C. Johnson & Son, Distinguished Professor of International Marketing, Northwestern University)
---
Are you looking for a new Job?
Search for jobs on our
Job Board
 for the Consulting Sector.
#13. How to Win Friends and Influence People | by Dale Carnegie
Listed 3 out of 20 times. Dale Carnegie was born in 1888 in Missouri and educated at State Teachers College at Warrensburg. As a salesman and aspiring actor, he traveled to New York and began teaching communications classes to adults at the YMCA. In 1912, the world-famous Dale Carnegie Course was born. Dale Carnegie's company became incorporated as Dale Carnegie & Associates, Inc., in 1954. Dale Carnegie passed away a year later, leaving his legacy and a set of core principles to be disseminated for decades to come. The company now operates in over eighty countries.
"it changed my life" (Warren Buffet)
---
#14. Case In Point: Complete Case Interview Preparation | by Marc P. Cosentino
Listed 4 out of 20 times. For the past two decades, Marc Cosentino's work has towered over the field of case interviews. The Wall Street Journal calls his book Case in Point the MBA Bible which is one of the many reasons why Cosentino is the world's foremost authority on case interviewing. He is CEO of CaseQuestions.com and a popular and sought-after speaker. Over the past 28 years, he has advised and coached over 100,000 students and alumni. Case in Point is not only the number one selling casebook worldwide but is also the number two selling interview books worldwide and the top book in the field of consulting as well.
"With humor and insight, Marc gets students thinking about how to use the case interview as a showcase of their talents rather than an obstacle to their employment." (Nancy Saunders Associate Director, Office of Career Services, Harvard University)
---
#15. Blue Ocean Strategy: How to create uncontested market space | by W. Chan. Kim and Renee Mauborgne 
Listed 4 out of 20 times. W. Chan Kim works at The Boston Consulting Group and is the Bruce D. Henderson Chair Professor of Strategy and International Management at INSEAD and an advisory member for the European Union.
Renee Mauborgne is an INSEAD Distinguished Fellow and a professor of strategy and management and a Fellow of the World Economic Forum.
"After reading Blue Ocean Strategy, you will never again see your competition in quite the same light. Kim and Mauborgne present a compelling case for pursuing strategy with a creative, not combative, approach. Their emphases on value innovation and stakeholder engagement alone make this book a must-read for both executives and students of business." (Carlos Ghosn, President and CEO, Nissan Motor Co., Ltd.)
---
#16. Built to Last: Successful Habits of Visionary Companies | by Jim Collins and Jerry I. Porras
Listed 3 out of 20 times. James C. Collins is a student and teacher of enduring great companies – how they grow, how they attain superior performance, and how good companies can become great companies. The author of the national bestseller Good to Great, his work has been featured in Fortune, the Economist, USA Today, and Harvard Business Review.
Jerry I. Porras is the Lane Professor of Organizational Behavior and Change, Emeritus, at the Stanford University Graduate School of Business where he has served as associate dean for academic affairs and as the director of several executive programs on organizational change.
"Built to Last is an unusual business book – seriously researched, unconventional in its conclusions… [It] is well worth reading, particularly by those engaged in trying to reinvigorate our nation's largest enterprises." (Richard J. Tofel, Wall Street Journal)
---
#17. The Lords of Strategy: The Secret Intellectual History of the New Corporate World | by Walter Kiechel 
Listed 5 out of 20 times. Walter Kiechel has been the editorial director of Harvard Business Publishing and the managing editor at Fortune magazine. He has written articles and columns on all aspects of business and is the author of a previous book, Office Hours: A Guide to the Managerial Life (Little, Brown, 1989). He received AB, MBA, and JD degrees from Harvard, and served five years in the U.S. Navy.
"In a history of business ideas strikes you as an oxymoron, you must read this brilliant book. The strategists of the title are practical visionaries who discovered that ideas, even more than capital or technology, make the world of business go 'round. In the sixties, they decided that it was time for management to become more scientific and invented the modern consulting firm to transform corporate America. In the deft and experienced hands of journalist Walter Kiechel, these pioneers are as glamorous and complicated as Mad Men and their message even more compelling in today's perilous times than in the go-go years." (Sylvia Nasar, John S. And James L. Knight Professor, Columbia University, and author, A Beautiful Mind)
---
#18. Good to Great: Why Some Companies Make the Leap…and Others Don't | by Jim Collins 
Listed 5 out of 20 times. Jim Collins is the co-author of Built to Last, a national bestseller for over five years with a million copies in print. A student of enduring great companies, he serves as a teacher of leaders throughout the corporate and social sectors. Formerly a faculty member at the Stanford University Graduate School of Business, where he received the Distinguished Teaching Award, Jim now works from his management research laboratory in Boulder, Colorado.
"This carefully researched and well-written book disproves most of the current management hype – from the cult of the superhuman CEO to the cult of IT to the acquisitions and merger mania. It will not enable mediocrity to become competence. But it should enable competence to become excellence." (Peter F. Drucker)
---
#19. Getting Started in Consulting | by Alan Weiss
Listed 4 out of 20 times. Alan Weiss is a consultant, speaker, and bestselling author. His firm, Summit Consulting Group, Inc., has consulted with such clients as Merck, Hewlett-Packard, GE, and Mercedes-Benz, among many others. His thirty other books include the bestseller Million Dollar Consulting. For more information, contact him at his blog, www.contrarianconsulting.com, or Web site, www.summitconsulting.com.
"For almost a decade, Alan Weiss's Getting Started in Consulting has been an indispensable resource for anyone who wants to strike out on his own and start a new consulting business. It provides a rich source of expert advice and practical guidance, and it shows you how you can combine low overhead and a high degree of organization to add up to a six- or even seven-figure income. You'll learn everything you need to know about financing your business, marketing your services, writing winning proposals, meeting legal requirements, setting fees, keeping the books, and much more." (From the Back Cover)
---
#20. The McKinsey Engagement: Insider Secrets to the Tools and Techniques Used by the World's Top Consulting Firm | by Paul N. Friga 
Listed 3 out of 20 times. Paul N. Friga, Ph.D., worked with McKinsey & Co. at its Pittsburgh office as an associate consultant. He holds an MBA and a Ph.D. in strategy from the Kenan-Flagler Business School at the University of North Carolina and has conducted numerous consulting projects throughout his career and continues to work with Fortune 500 companies throughout the world. He has also worked for PricewaterhouseCoopers as a management consultant and continues to research the consulting industry. Dr. Friga is an associate professor at the Kenan-Flagler Business School, where he teaches courses in management consulting and strategy. He also serves as the director of the consulting concentrations.
"Drawing upon the solution-centric culture and behaviors described in the international bestseller The Mckinsey Way, as well as the unparalleled analytical skills outlined in the critically acclaimed The McKinsey Mind, this final volume in the McKinsey Trilogy delivers the team-building and communication methodologies all McKinsey consultants use to achieve stellar business solutions and to ensure that those solutions "stick."" (From the Back Cover)
The Ivy League
MBA Reading List
We did another research and these Business / Consulting Books might also interest you. We tried to find the MBA Reading Lists recommended by the Best Business Schools in the world and again earmarked what Business Books are recommended most times by Ivy League schools like Harvard, Stanford, Wharton, and MIT. These Top 20 of Best Business Books keep appearing on the MBA Reading Lists, and here are the top 5:
Learn More About Our Job Board
The Best Management Consulting
Blogs & Resources to Follow
Blogs about Management Consulting are another ideal source for staying up to date on the latest developments and learn new insights into all sorts of Consulting topics. These Management Consulting Blogs keep up appearing on all the lists of Best Management Consulting Blogs, and here are the top 5:
Top Management Consulting Firms
Global & Regional Rankings
It's always fun to see Consulting Firm rankings. Quickly find the Top Global & Regional Management Consulting Firms ranked basis revenue, salaries paid, the number of partners, prestige, working environment and much more.
We have listed the most trusted and useful Top Global & Regional Management Consulting Firms Ranking resources for you in a curated and structured way, as you can find here.
Do You Have Any Tips for
Your Favorite Books About Consulting
Want to share your favorite Consulting Books? Just do the following:
Later on, we will share the results via Knowledge Resources, so you can quickly find the best Books about Consulting on the web as suggested by our users and visitors.
Latest Sector News For
Consulting
Latest Sector News: Consulting
Via our Consulting Briefing Room, the Top Resources on the web are followed and only the most shared content is shown in relation to Consulting. You can filter all the content for the last 24 hours, 3 days, 1 week, 1 month, 3 months, etc so you can easily find and stay up to date with the latest developments.
Other Briefing Rooms:
All Latest Sector News Briefing Rooms
Entrepreneurship, Technology & Freelancing
How we Established the
Final Top 20 of Consulting Books
We made a list of 50 posts that we recently published about "Best Consulting Books"  to read.
From this list of 50 posts, we selected the top 20 that seem most valuable to our readers and users.
We combined the 20  lists of "Best Consulting Books" and earmarked all individual books that were on those lists.
When a book was ranked as number 1, it got 1 point, and when it was ranked 2nd, it got 2 points, etc.
When no particular ranking was applied to a certain list, then each listed book got the same points.
To be included in the final list a book should be listed for a minimal number of times.
More weight was assigned to books that were explicitly listed more times than other books.
All lists were summed up, and the Consulting Books with the lowest number was ranked 1, 2, 3, etc.
This resulted in the final "The 20 Best Consulting Books" that have been recommended most times by all types of consulting experts. 
Sources Used for
Best Consulting Books 
The 20 "Best of Lists" used for finding out what the Best Consulting Books are:
Best Consulting Books
8 Books Every Consultant Should Read at Least Once!
Consultants 500
Via our two platforms, you can find jobs, professional services providers, and more in the professional services sector, including the management consulting industry.
Consultants 500
Niche Job Board
Market Place