Over 54% of employees globally would leave their jobs to work more flexibly. That's just one figure to explain the increasing shift from corporate careers to solopreneurship.
 The rise of remote work, the ease and freedom of working on your terms, the satisfaction of being your own boss, the desire to upskill, and the limitless potential for earning—all these factors have collectively spurred the growth of independent consultants.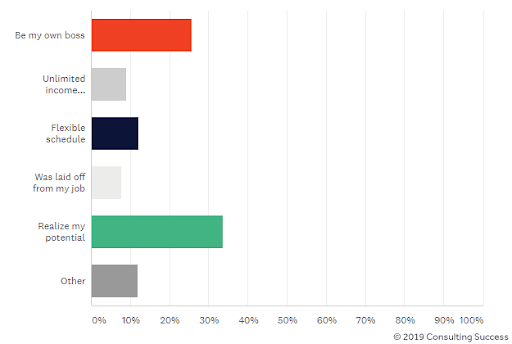 But the biggest challenge to establishing yourself as an independent consultant is answering why exactly anyone should trust and work with you.
If you choose to take up independent consulting, a priority focus should be adding credibility to your name. If you're wondering about where to begin, this article will offer a deep dive into the best strategies to build credibility for yourself and grow your independent consulting business.
1. Allow people to contact you easily with a business number
The first step to launching your independent consulting business is making yourself approachable. So, add a business phone number to your online assets and allow people to contact you easily.
A business phone number works best as a professional means of communication over call or messaging. Add this number to your email signature, social media profiles, and website. You can also register it as a WhatsApp business account or Google My Business listing.
In essence, a business number will help ensure clients can reach you conveniently.
2. Clearly define your niche and the services you offer
To offer specialized knowledge and build authority, niching down is one of the best things you can do. You can't be the go-to independent consultant if you offer generic services—the riches are in the niches.
Selecting a niche and the scope of your services will help in:
Shortlisting the most suitable projects
Strengthening your expertise as a consultant

Amplifying your name in the domain
If you are starting out as an independent consultant, identify the projects you enjoy the most. Additionally, analyze your strong suits and interests to find the perfect niche for yourself. Finally, align your services with the most common client pain points in your domain to understand how you should best position yourself.
3. Consistently work on your personal brand and network
Building a solid brand and network is another crucial step to boost your credibility in the market. Creating your personal brand can help in growing your community, cultivating trust, and generating leads.
Direct your personal branding efforts to distinguish yourself from the competition and consider expanding your network as one of the end goals.
Matt Olpinski, a digital marketing consultant, has created a personal brand for himself through his website. From newsletters and blogs to products and courses, he has a lot to offer to his clients and network!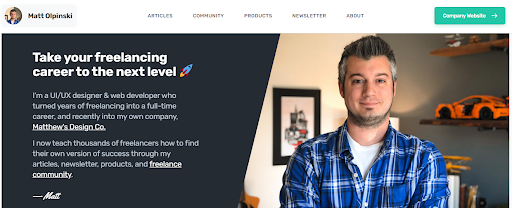 Here are a few ways to get started:
Build recognition for yourself: Create a logo and a tagline that people can associate with your name. Look at how Richard Citrin does it with his unique logo and tagline of Accelerating Success.
Demonstrate your expertise:

Share your learning and experiences to highlight your skills. Learn from the way Jane Portman compiles

blogs

on her website.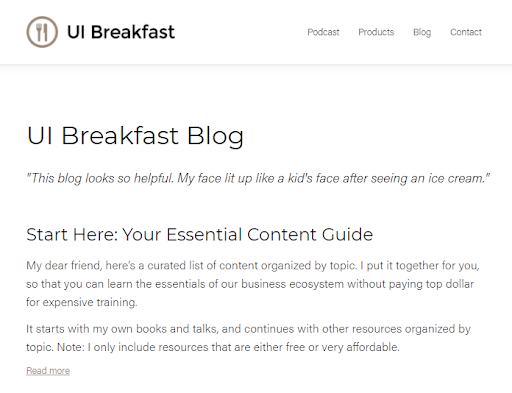 Make yourself visible:

Collaborate with other professionals to talk about your work and increase your brand awareness. Vangos Pterneas has a dedicated section for all the sessions he has presented about his work.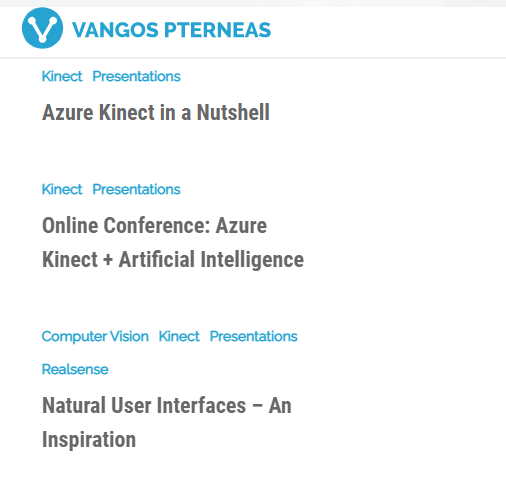 While your branding efforts will naturally grow your network, participate in networking events, webinars, and conferences as well.
4. Enhance your pitch with social proof and testimonials
There's virtually nothing better to build your integrity than social proof.
The power of social proof is evident because 93% of buyers read and trust online reviews before purchasing. The same applies to businesses as well.
If you want to secure the right projects and enhance your positioning, include social proof in each of your pitches to a potential client. You can consider including:
Testimonials: Ask your existing or former clients to create honest and detailed testimonials about your consulting services. Include reviews like these for creating confidence in your pitch.

Case studies:

Show your process in action by detailing your work on previous projects by stating the challenges, solutions you offered, and the results it got your clients. Lorenzo Gutierrez's case studies page will help you create one of your own.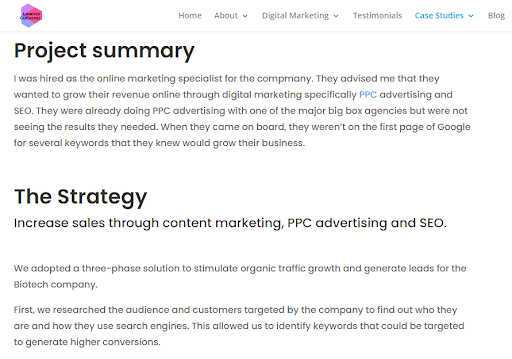 Press mentions:

Include any coverage you've received in the media, including podcasts, social media, and industry journals. Look at how Daniel Siegel added an element of social proof on his website.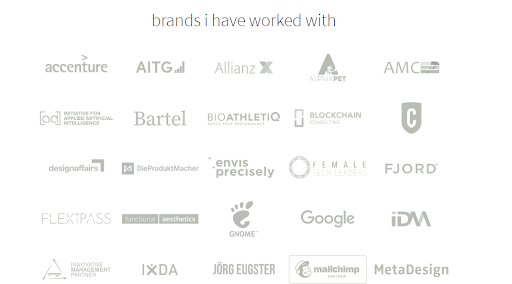 5. Create content to establish thought leadership
While social proof is the best way to add credibility to your name, it might be difficult if you're beginning as an independent consultant.
 The next best alternative to position yourself as a thought leader is — creating content. Producing value-packed content can help you:
Build your influence in your niche.

Become a resource for others.

Make yourself a sought-after consultant.
Posting consistently on LinkedIn and sharing blogs on Medium are the two best ways to put your content strategy into action. On top of these, you can also build a mailing list and share newsletters, drive conversations on Twitter, and seek opportunities to be a keynote speaker at events.
Here are some sources to create thought leadership content for your consulting business.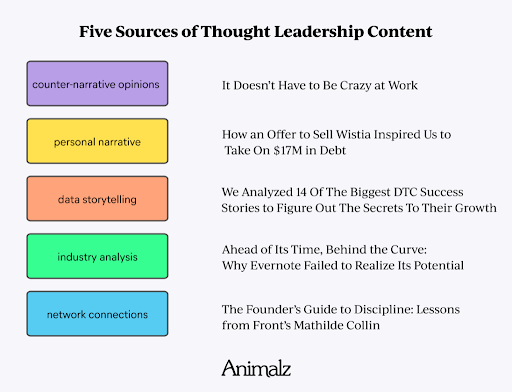 6. Build an appealing and optimized website
Fact: 80% of people go through a consultant's website to review their work before finalizing a deal.
An optimized website can bring opportunities to:
Build your authority on the search engine and enhance visibility

Instill confidence in your profile and generate leads

Drive your marketing campaigns and outreach efforts
 Ian James's website offers some inspiration on what your website can look like! Clearly define what you can do and how you will do it. Talk about the qualities that set you apart and details of all your services.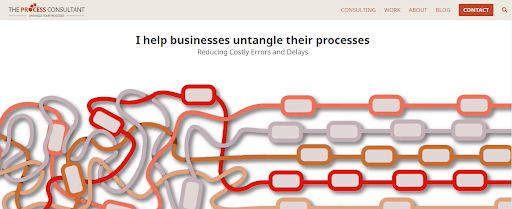 7. Establish seamless and systematic workflows
Lastly, a crucial step to make yourself a trustworthy consultant is creating detailed workflows for your services. 
From signing an agreement to processing the invoice, a set of systematic workflows can make a great first impression on your clients. It reflects your proficiency to plan and structure your work while helping you deliver the desired results within the promised timeline.
Some requisites to create professional workflows are: 
Create templates and resources for your entire client pipeline, right from proposals to invoices.

Create the necessary documentation like agreements and NDAs

Use the right tools to automate processes for project management, lead management, and billing
Conclusion
Over 15 million people are working as full-time independent consultants in the US alone. For professionals leaving their corporate jobs, working independently is an increasingly viable and attractive option. 
So, if you have decided to go independent and kick start your consulting business, work on building credibility. Focus on your personal brand, expand your professional network, define your offerings, and collect social proof.
Gradually move a step forward to create your website and build your authority online. 
Use the seven tips detailed in this blog to advance your career as an independent consultant and maximize your business potential.
Author Bio:
Hazel Raoult is a freelance marketing writer and works with PRmention. She has 6+ years of experience in writing about business, entrepreneurship, marketing, and all things SaaS. Hazel loves to split her time between writing, editing, and hanging out with her family.