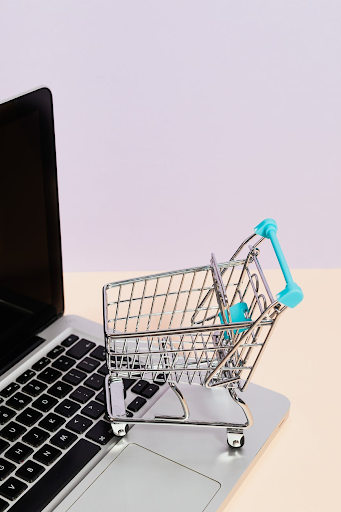 Which business-to-business (B2B) e-commerce companies are performing well and how do they do it? We'll answer that in this article. But first, let's have a brief overview.
Most people think of business-to-customer (B2C) transactions when they hear the word "e-commerce" but B2B is a rapidly growing industry and it involves more than just wholesaling. If you sell to big organizations like schools or nonprofits, or you supply goods to chain retailers or resellers, you are practically in the B2B market.
Simply put, online order transactions between businesses are considered B2B e-commerce. In 2018, a B2BecNews survey found that almost 50% of companies purchase products online at least once a week. The industry is forecasted to reach $20.9 trillion by 2027. 
B2B's advantages include a large average deal size, sizable market potential, and a higher probability for customer loyalty. However, transactions can be delayed due to longer decision-making among buyer companies. Buyers also often ask for discounts and extra services because they purchase in bulk. 
Most importantly, because it's a small market, B2B is ultra-competitive. So, it pays to know and understand what software is effective for managing a B2B site. One surefire way to do this is to observe what the B2B industry leaders are doing.
Below are five of the best B2B e-commerce sites currently in operation, and some of the automation software they use to stay on top of their game.
1.  Cisco – website
Cisco, Systems, Inc. is a USA-based multinational technology company that is recognized for its computer networking products. Founded in 1984, it develops, manufactures, and sells software, networking hardware, and telecommunications equipment. 
Cisco's online marketplace, called Cisco Connection Online, was launched in 1994. In just four years, their website was accessed one million times in a month by customers looking for technical support, checking orders, and downloading software. Also in 1998, the company revealed that they saved $363 million a year by launching its online applications.
Cisco's early introduction of its website is proof that successful B2B e-commerce businesses should have their website. Not only did their website help Cisco's customers, but it also helped Cisco save lots of money, specifically $180 million a year from letting customers get software updates online as well as $50 million a year from displaying catalogs on their site instead of printing them. 
Websites and apps are a great way to automate the traditional way of releasing updates, information, and promotions to customers.
2. Alibaba – AI chatbot
The world's biggest e-commerce company, Alibaba Group, was founded in China in 1999. Its main sites Taobao, Tmall, and Alibaba.com are hosts to millions of merchants. Transactions on these websites generate around $250 million, bigger than the sales of eBay and Amazon combined. 
Alibaba.com hosts B2B transactions and is one of the largest wholesale websites you can find. It is a go-to place for people and groups looking to buy items in bulk and make a higher profit by selling them elsewhere. 
The pioneer of double-digit sales, Alibaba sees a regular increase in the number of items sold on their websites during popular sales like Singes' Day (11.11). On November 11, 2019, a whopping $38.4 billion gross merchandise volume was recorded by Alibaba. 
To keep up with skyrocketing demand, they introduced the artificial intelligence chatbot AliMe in 2015. AliMe used customer transaction data to analyze and predict customers' needs. In 2018, AliMe was upgraded and is now able to provide key features such as product recommendation, generating invoices, and appointing logistic vendors. As an intelligent shopping assistant, AliMe can also recognize a customer's emotions and alert human customer service agents to intervene.
3. Flexfire LEDs – AI-powered search tool
Best practices in e-commerce automation are not exclusively done by multinational brands. Some small companies employ brilliant automation software, too.
Flexfire LEDs is a leader in interior and exterior lighting. They distribute and manufacture powerful linear LED strip lighting products. The company is based in California, USA.
Their website features a special product selector tool that exemplifies AI-powered site search. An AI-powered search lets a platform learn from the data they have on users. They use this data to generate accurate and relevant search experiences. Refinement is programmed in the AI system. This means that a customer's previous purchases, spelling errors, and intent are considered when the AI search tool makes predictions and presents search results.
4. The Knobs Co – automated lead generation
The Knobs Co is a "family-friendly online store offering durable, decorative and affordable cabinet and bathroom hardware", according to its website. 
More than their wide range of kitchen and bathroom accessories, you will be interested in their prospecting techniques.
The Knobs Co redirects B2B clients to a landing page that highlights the perks of their online purchasing program. Then, the company encourages customers to fill out a form so that they can enjoy benefits in terms of product quality and customer service. The data from the form is ultimately used so they can contact prospective buyers. 
If you also want to come up with a strong prospecting strategy but you don't know where to start, consider using lead generation tools. You may also check out some tools for building an attractive landing page.
5. Casey's Distributing – automated inventory management
A sports novelties distributor known across North America, Casey's Distributing services over 50 manufacturers and partners with several thousand resellers. Its company website features a neat and easily navigable product catalog that shows each product's availability. Their app is used by retailers to add NFL and NBA merchandise to their respective sites.
Managing orders and the inventory at Casey's used to be done manually. However, they have recently switched to an automated option that allowed them to keep track of orders more efficiently. As a result, the sports company has reduced labor costs and heightened productivity significantly.
Key points: Best automation software for B2B e-commerce
Automation is a need in B2B e-commerce because it involves a lot of bulk orders and high-priced deals. Want proof? The top companies in the industry do it. Automation software can greatly benefit B2B e-commerce sites in terms of online presence and service, customer relations, search and suggestion, customer outreach, and inventories.
Check out Why a Customer Journey Map is so Essential for a Digital Experience to skyrocket your B2B e-commerce business.