The world's largest PC vendor, Lenovo, scores a perfect 100 in the Corporate Index for LGBTQ equality. The company's strength lies in its diverse mindset and skillset—nurtured under the supervision of its Chief Diversity Officer, Yolanda Conyers. 
Lenovo's success in building a massive workforce of 57,000 employees across 60 countries exhibits the importance of cultivating a diverse and inclusive culture within a company. 
Almost every company is eager to uphold diversity and inclusion in the workplace, as DE&I goes beyond policies and headcounts. The ideals of diversity and inclusion are deeply rooted in a company's culture and go a long way in building the right team.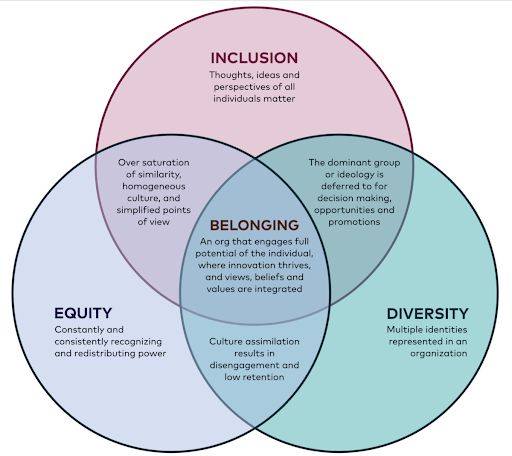 As shown in this chart, each of these elements represents a different piece of the full human experience. Hence, it's critical to look at and work to uphold all the elements.  
Below are practices for achieving DE&I goals and strengthening company culture.
1. Enhance employee motivation and retention
A diverse and inclusive workplace is important from the lens of employee engagement. 
Fostering a sense of belonging and inclusion helps the workers resonate better with the company and their colleagues. It also builds a strong emotional commitment to the organization. 
A highly engaged workforce then promises greater productivity and results. Deloitte Australia's report attests to this claim with the conclusion that inclusive teams outperform others by 80% in different assessments. 
Moreover, Changeboard's research also suggests that employees at a diverse company are 19% more likely to stay at the company for long. These figures indicate how imbibing the values of diversity and inclusion in your workplace can enhance your company culture.
Here's McKinsey's research on how gender and ethnic diversity can strengthen teams financially.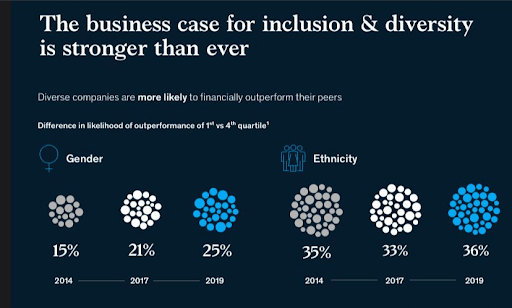 If you want to enhance your employees' productivity while reducing the attrition rate, start with examining your recruiting methodology and practices through the diversity lens. Tools like Joonko enable fully-integrated recruiting workflows on the path to fulfilling your DE&I goals.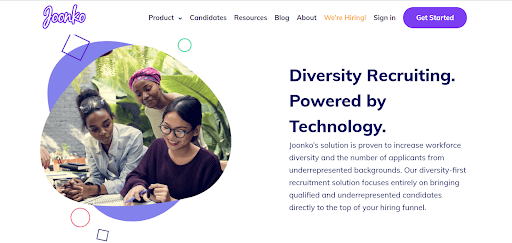 As a powerful tool to source and recruit talent from underrepresented backgrounds, Joonko empowers recruiters and HR teams to improve diversity in the team and enhance their culture. 
Joonko's platform gives you access to a pool of pre-qualified candidates, shared by partnering companies, cutting down on time devoted to finding and vetting talent.
2. Increase the scope of innovation
You can measure diversity in two primary dimensions – inherent and acquired. While inherent diversity factors in natural traits like ethnicity and gender, acquired diversity refers to your experience of working with people from diverse backgrounds. 
HBR research concludes that teams with two-dimensional diversity exhibit a more encouraging environment to hear and accept out-of-the-box ideas. Credit to their openness to unique ideas, these diverse teams are 45% more likely to report market growth. 
Here are some ways in which a diverse and inclusive culture leads to a greater innovation quotient: 
There is less 'similarity' in thoughts and more heterogeneity—leading to detailed discussions and decision-making.
There exist a lot more alternatives to consider and opposing views to evaluate.
There are avenues to broaden employees' mindsets through opposing viewpoints.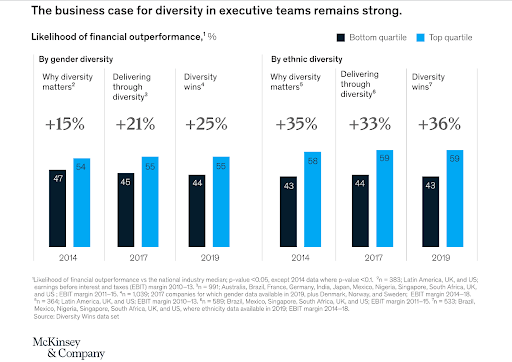 As shown in the image, McKinsey's analysis also conveys the importance of diversity and inclusion in executive teams to improve financial performance and innovation. 
3. Nurture a sense of pride among your employees
Did you know that 67% of job seekers assess the diversity in a company's workforce while applying for jobs? Almost a third of this number comprises candidates from underrepresented backgrounds. 
Today's employees look for companies that encourage diversity and inclusion within their culture. 
A culture imbued with D&I goals promotes the idea of allyship. Such a culture creates a safe space for employees to ask questions, start conversations, make mistakes, and build relationships.
4. Eliminate 'identity cover' and promote openness
The concept of identity cover explains the fear that pushes employees from diverse backgrounds to hide certain parts of their identity. 
A Muslim employee, for instance, performs their daily prayers in the car. They are probably afraid to express their religious affiliation openly because of judgment from their colleagues. They mask certain parts of their personality just to fit in with their colleagues. Doing this naturally hits their productivity and contributions to the company. 
This identity cover clouds the employees' freedom of expression. A diverse and inclusive culture creates a more welcoming environment and eliminates this coverage. 
While business leaders and recruiters understand the idea of diversity, they fail to work towards inclusion in the workplace. You can nurture more openness among employees in three easy and effective ways: 
Carry surveys and public assessments to take a pulse of how your employees feel

Create focus groups to build a closer bond between people from all backgrounds


Encourage Individual conversations to make employees feel heard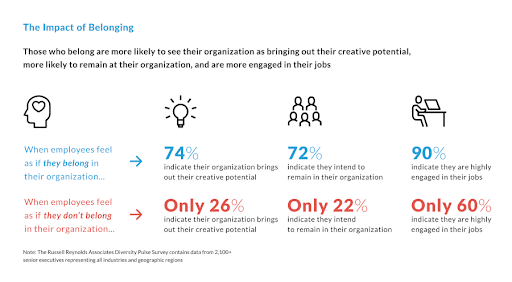 As evident through this image, a feeling of belongingness amid employees can make a huge difference in their contribution to the company. 
5. Cultivate collective accountability
Building a diverse and inclusive culture is a sustained effort. Such a culture brings the team together and builds collective accountability toward the organization's D&I goals. This enables companies not to limit their efforts to a policy and dedicate real efforts to implementing them.
Comerica Bank presents a great example of how diversity and inclusion can bring more accountability into the team. Under the leadership of its Chief Diversity Officer, the company assesses its culture on various metrics like: 
The team analyses these metrics across different workflows of recruiting, retaining, and promoting employees. The scorecard informs the team about their performance and encourages action to do better.
Conclusion
Today's job market is starkly different from what it looked like in the past years. Jobseekers are more inclined towards companies with a diverse and inclusive culture and submit applications accordingly. Your DE&I goals are thus perfectly aligned with the road to a better culture for your company. 
Companies like Accenture and Mastercard have set some great precedents for diverse and inclusive workplaces. So, follow their lead and diversify your workforce to build a culture that'll make you, and your employees, proud.