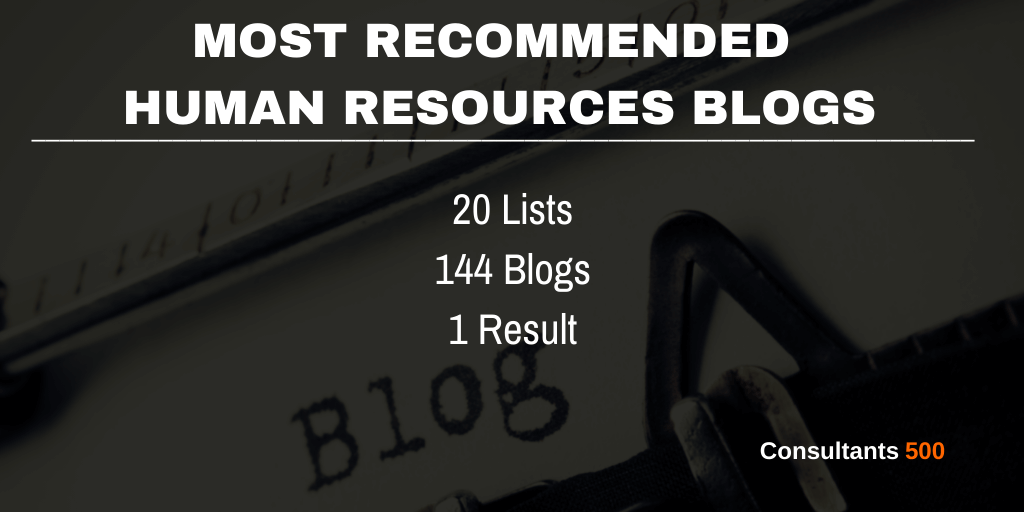 Blogs about Human Resources Management are an ideal source for staying up to date on the latest developments and learn new insights into all sorts of relevant HR topics. An excellent HR blog offers in-depth analyses, how-to guides, industry trends, handy statistics insights, strategy papers, the best tools for the HR professional, and much more.
The only problem is that there are a lot of HR blogs out there and they are all screaming for your attention. It is estimated that there are more than 440 million blogs worldwide, and about 2 million blog posts are written every day. Luckily, not all of them write about HR, but you get the idea, right?
So which HR blogs are successful in providing the information you need, and how can you find them? You can do a google search and search for the Best HR Blogs, but then you get hundreds of "Best of Lists" in front of you, so that doesn't help a lot either unless you want to spend a full day going through all those lists. Well, that is precisely what we did! We searched for 50 "Best of Lists" highlighting the most recommended Human Resources Blogs or HRM Resources. We selected and combined the 20 most valuable "Best of Lists" and earmarked and ranked what Blogs about Human Resources keep up appearing on most of those recently published lists. From a total of 144 HR Blogs compared, reviewed, and ranked, here are the Top 20 of Most Recommended HR Blogs around that appear on most of the "Best HR Blogs" lists.
As we are a small business ourselves, we use this list as well for educating and inspiring our minds and for optimizing our Consultants 500 platform, on which you can also find and search for Recruiting  & HR Experts. If you are a Recruiting or HRExpert yourself, you can always create a free profile on our Platform if you want to. It only takes a few minutes, and no credit card is needed for opening doors to new opportunities. It's all up to you. See here how it works.
Top 20 of Best HR Blogs & Resources
Most Recommended
#1. HR Bartender / Twitter
Listed 17 out of 20 times, HR Bartender is our top pick. This is the official blog of ITM Group, run by the company's president Sharlyn Lauby. This blog covers a wide variety of topics in a friendly-yet detailed-way HR professionals will understand and be able to apply. Just like the namesake, spending time on this blog feels like a casual conversation with a friendly bartender who is always there and always full of practical advice. Its readers can find about 4 new posts every week.
Handy Info:
Followers: FB 13k+ | Twitter 79k+
Guides: none
Favorite Resources: Books | Resources
Top Content: 10 Tips For First Time Supervisors
---
#2. TLNT / Twitter
Listed 10 out of 20 times, TLNT is an HR blog about the business of HR, with news, insight, and topical information from experts and thought leaders in HR, talent management, and all areas related to HR and managing a workforce. This includes legal topics and issues, compensation and benefits (health, financial/retirement, and voluntary), HR technology and software, training and development, HR management, and other related areas. With a seemingly endless supply of contributors and resources, every HR pro should probably subscribe to their newsletter and make TLNT a part of their normal routine.
Handy Info:
Followers: Twitter 55k+
Guides: none
Top Content: Toxic Workers Are More Productive, But the Price is High
---
#3. Evil HR Lady / Twitter
Listed 13 out of 20 times, is a blog focused on demystifying the Human Resources Suzanne Lucas has been doing this for at least a decade, and readers can find her on just about any business-related website. But her blog is the best place to find all her articles in an easy-to-consume format-which is good because it's almost impossible to think of an HR-related subject she hasn't covered before multiple times in depth.
Handy Info:
Followers: Twitter 28k+
Guides: none
Top Content: 10 HR Rules That Would Improve the World
---
#4. HR Examiner / Twitter
Listed 5 out of 20 times, HR Examiner covers the people, systems & products of Human Resources, talent acquisition, and recruiting. This blog offers high-level posts and podcasts that focus on technology and people in Human Resources. For any HR pro working in a highly competitive market, this blog (founded by John Sumner) is a must-read to gain next-level strategic insights that may be hard to find elsewhere.
Handy Info:
Followers: FB 428 | Twitter 30k+
Guides: paid only
Favorite Resources: Examiner Radio
---
#5. HRZone / Twitter
Listed 5 out of 20 times, is a UK-based HR site which publishes a wide range of articles analyzing the current and future state of HR in the categories 'Lead', 'Engage', 'Perform', 'Talent' and 'Community'. HR Zone is another all-round great blog about Human Resources and People Management. They tend to add new content multiple times a day, which means they're always worth a check for something fresh in the morning.
Handy Info:
Followers: FB 1.9k+ | Twitter 76k+
Guides: Resource Library
Favorite Resources: Podcasts
Top Content: How to Deal with Unfair Treatment at Work
---
#6. HR Ringleader / Twitter
Listed 6 out of 20 times, is an HR blog maintained by Trish McFarlane, the CEO of H3 HR Advisors, and also the CEO/Co-Founder of HRevolutionize, LLP. Trish has a lot of experience in the Human Resources industry and puts it to work on her HR Ringleader blog, offering advice on everything from task management to public speaking. It's a mixed bag of information, but it's all pretty relevant for anyone working in HR.
Handy Info:
Followers: Twitter 44k+
---
#7. TalentCulture / Twitter
Listed 6 out of 20 times, this blog is being updated with new posts on HR, leadership, and workplace innovation multiple times each day. Many of these posts are written by Meghan M. Biro, the blog's founder, but you'll also see contributions from guest writers. This site is an invaluable resource with an extensive catalog of useful posts. With six different categories of blogs (Workplace Culture & Innovation, Career Strategy, Talent Management, HR Technology, Social Learning, and Leadership), an HR pro could spend hours on this site without getting bored.
Handy Info:
Followers: FB 6.5k+ | Twitter 81k+
---
#8. HR Morning / Twitter
Listed 5 out of 20 times, a great way to catch up on the latest HR headlines over your morning coffee. HR Morning is a part of the Catalyst Media Network, providing the latest HR and employment law news for HR professionals in small-to-medium-sized businesses. Rather than simply regurgitating the day's headlines, HR Morning delivers actionable insights, helping HR execs understand what HR trends mean to their business.
Handy Info:
Followers: FB 2.2k+ | Twitter 2k+
---
#9. The HR Capitalist by Kris Dunn / Twitter
Listed 9 out of 20 times, this blog, run by HR pro Kris Dunn, has a strong focus on recruiting and performance management. Dunn really keeps his blog broad with topics covering anything from 401(k) to employee relations to HR technology, legal affairs, employee retention, and management. This HR blog is amongst the most read in the sector, with his incisive insights and amusing blog posts, earning him an enthusiastic following.
Handy Info:
Followers: Twitter 42k+
---
#10. Fistful of Talent / Twitter
Listed 8 out of 20 times, this blog focuses on the Talent Management aspect of Human Resources. It covers topics like recruiting, interviewing, selecting, performance, and corporate learning. The blog's strength is in the range and quality of its many authors, who include motivation and employee incentive expert Paul Herbert, and Laurie Ruettimann, a former HR leader and one of the internet's top HR influencers.
Handy Info:
Followers: Twitter 42k+
---
#11. The Chief Happiness Officer Blog / Twitter
Listed 6 out of 20 times, this blog will help you keep happiness at the forefront of your work, no matter what you do. You'll learn things like how to keep your employees happy, how to overcome a fear of being fired, and even what the show, Parks and Recreation, can teach you about your workplace. If you're interested in employee engagement (particularly employee happiness), the Chief Happiness Officer blog is a must-read. It tackles a specific, emerging area of HR with confidence and authority.
Handy Info:
Followers: FB 2.8k+ | Twitter 8.5k+
---
#12. Ere  
Listed 3 out of 20 times, ERE is the flagship publication and conference of ERE Media, designed to deliver need-to-know information to corporate recruiting professionals. It has steadily grown into a leading voice in corporate recruiting. ERE provides a blog, daily email newsletter, community, webinars, and a job board. They also host both the twice-a-year ERE Recruiting Conference & Expo and Recruiting Innovation Summits. A plethora of authors contribute to ERE.
---
#13. BLR.com
Listed 3 out of 20 times, reports unbiased HR news. This blog offers users a variety of tools and resources, including a search matrix that allows a visitor to drill down content based on category, specific topics, and even document type. This site is particularly useful for HR professionals and business owners looking for information on employment law and related compliance topics.
---
#14. Snacknation / Twitter
Listed 4 out of 20 times, this HR source helps companies improve culture, explore new workplace wellness ideas, and increase employee engagement. The blog's all about making offices better places to work through workplace wellness and employee engagement. Snacknation proves even "non-traditional HR blogs" can still be important ones for people who work in HR.
Handy Info:
Followers: FB 109k+ | Twitter 2.9k+
---
#15. Strategic Human Capital Management Blog
Listed 3 out of 20 times, this blog deals with strategic HR issues and wider workplace policies and trends such as talent management, learning technologies, social HR, and gamification. The author of this blog Jon Ingham is a prominent speaker, consultant, and published writer and has his finger very much on the HR pulse. He's well-networked, knowledgeable, and experienced. In short, he's someone worth listening to.
---
#16. Baudville / Twitter
Listed 3 out of 20 times, this blog is full of passion, a hyper-personal voice, and some kick-ass employee recognition ideas. Baudville looks and feels like a Pinterest board specially designed for the thoughtful HR rep. Whether you're looking for recipes for a Cinco de Mayo office party or looking to give your wellness program a boost, Baudville has you covered. Allison, the primary writer for the blog, has a passion for sharing everything she's learned in over 20 years of working in offices.
Handy Info:
Followers: FB 5.5k | Twitter 2.2k+
---
#17. Great Leadership by Dan
Listed 3 out of 20 times, Dan McCarthy's blog offers expert advice on leadership and management development. For over 20 years, Dan has helped thousands of leaders and aspiring leaders improve their leadership capabilities, working in a supervisory, management, and executive development capacity. He has been responsible for talent management for approximately 150 executives worldwide, including succession planning, and executive talent exchange, and executive development programs.
---
#18. Ask a Manager / Twitter
Listed 3 out of 20 times, this blog is run by Alison Green. She is an HR consultant that answers reader questions and all the general questions she can think of on her blog. Alison is funny, thorough, and writes on just about everything a manager needs to know. Curious about "how to ask for a raise, whether you might be in danger of getting fired, or how to act in a second interview?" Ask a Manager is here to help.
Handy Info:
Followers: FB 19k+ | Twitter 63k+
---
#19. TINYpulse / Twitter
Listed 3 out of 20 times, this blog's topics include employee retention, recruitment strategies, reviews, organizational culture, remote work, and even more. As an added bonus, it offers a sense of humor, makes fun, popular culture references, and touches on some subjects other HR blogs might be afraid to cover, like strange co-workers. TINY pulse gives an inside look at employee engagement, insight, and the truth behind how employees truly feel about company culture.
Handy Info:
Followers: FB 5.4k | Twitter 32k+
---
#20. Laurie Ruettimann / Twitter
Listed 4 out of 20 times, this blogger is always direct, fresh, and honest and shares posts that really get you thinking about the way you work. She is full of personality, opinion, and charm. Plus, with the range of topics she posts about, you'll never be bored. One day it is interview questions, and the next day it could be writing a performance improvement plan.
Handy Info:
Followers: FB 3.6k | Twitter 66k+
Best HR Books
for Further Learning
Books about Human Resources and Management offer a great way of learning more in-depth aspects of HR and Management and at a much lower price than taking, for example, a specialist HR or Management Course. By reading a book, you consume a huge amount of research in a relatively short amount of time, and it is one of the best ways to improve your Human Resources / Management knowledge and skills. These Human Resources Management Books keep up appearing on all the "Best of Lists" resulting in "The 20 Best HR Books Recommended most Times," and here are the top 5:
Best HR Tools
Most Recommended
Human Resource Software Tools automate, streamline, and improve human resources operations and processes of an organization. The benefits of using the most suitable HR Tool are extensive.  These HR Tools keep up appearing on all the "Best of Lists" resulting in "The 20 Best HR Tools Recommended most Times", and here are the top 5:
Our Job Board
for HR Jobs
Very soon, we will start operating a Job Board with a 100% Professional Services focus, which includes HR-related Jobs:
Post Jobs – Send your Jobs to multiple Job Boards with One Submission in minutes. Create your Job Post and find the right talent faster. Job searchers and job openings are connected by making use of the latest Job Search Technology.
Search Jobs – Easily find and compare Jobs in the Professional Services sector, which can be fixed, flex, freelance, and project type of Jobs.
A job opening can be created in minutes against a flat monthly fee, which can be canceled at any time. For Job Searchers, it is always free.
Leave your email at Subscribe for Updates at the top right of this page to get informed when we launch our new Job Board.
Our Platform for HR Professionals
Advisors, Freelancers, Firms
Be Found As an HR Expert
More than 75% of potential Clients who look for HR Services start a Web Search to find the best HR Specialist for the issue to be solved. Because the internet is by far the leading channel where potential buyers start their journey, it is critical that your business can be easily found on the internet. Creating a profile on our Platform is free and opens the door to new opportunities, it can be done in only a few minutes and without any credit card.
Learn More:
How it Works
Memberships
Create Profile
Search, Compare, Find & Hire Human Resources Experts
Easily find and compare highly qualified Human Resources Experts by searching our Platform, which can be local Firms specialized in Human Resources, specialized  Human Resources Experts, or independent Freelance HR Professionals. Directly contact and work with your ideal candidate in any way you like. Searching is always free, and that also means that we never charge any transaction type of fees.
How we Established the Final
Top 20 of Best HR Blogs
We made a list of 50 posts that were recently published about "Best HR Blogs" to use.
From this list of 50 posts, we selected the top 20 that seem most valuable to our readers and users.
We combined the 20  lists of "Best HR Blogs" and earmarked all individual Blogs that were on those lists.
When a Blog was ranked as number 1, it got 1 point, and when it was ranked 2nd, it got 2 points, etc.
When no particular ranking was applied to a specific list, then each listed Blog got the same points.
To be included in the final list, a Blog should be listed for a minimal number of times.
More weight was assigned to Blogs that were explicitly listed more times than other Blogs.
All lists were summed up, and the HR Blog with the lowest number was ranked 1, 2, 3, etc.
This resulted in the final "Top 20 of Best HR Blogs" that have been recommended most times by all types of HR Experts. 
Sources Used for
Best HR Blogs
The 20 "Best of Lists" used for researching what the Best HR Blogs are:
The Best Blogs for Business Degree Students
Top 10 HR Blogs Every HR Professional Should Be Reading
10 of the best HR blogs: What to read and who to follow in 2015
Top 13 HR Pages on the Web
Top 10 Human Resources Blogs in 2015
Top 20 HR Blogs To Follow
Top 10 HR Blogs of 2015
Top 7 Websites For HR Professionals
TOP HR AND RECRUITMENT BLOGS – OUR 10 RECOMMENDATIONS
Top HR and Recruitment Blogs 2015