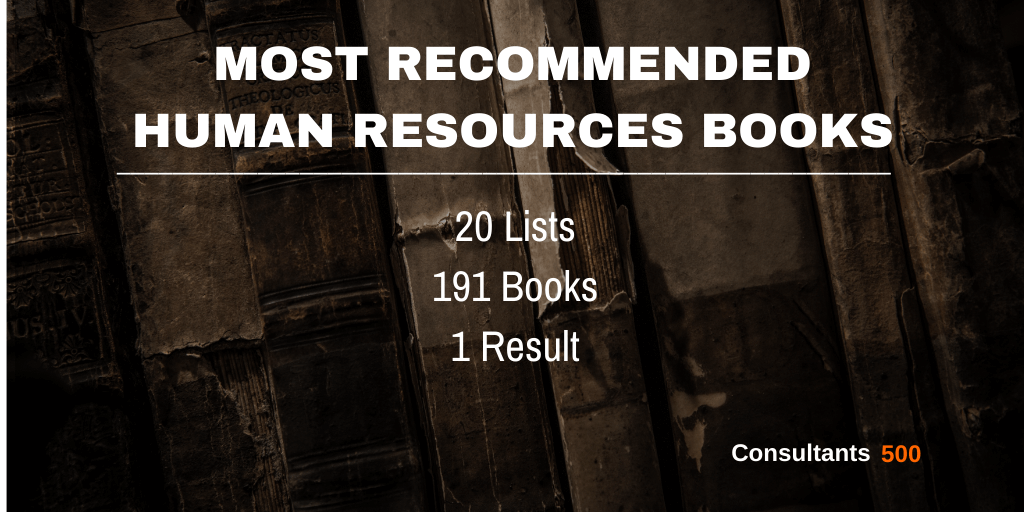 Books that teach the art of  Human Resources Management offer a great way of learning the ins and outs of HR and at a much lower price than taking, for example, a specialist HR Course. By reading a book, you consume a tremendous amount of research in a relatively short amount of time, and it is one of the best ways to improve your skills.
The only problem is that there are a lot of HR-related Books in the market and there is much more to come. For instance, just doing a search for "HR Books" in Amazon results in more than 50,000 books about Human Resources, so how do you make up your mind about what to read?
You can do a google search and search for the Best HR Books, but then you get hundreds of "Best of Lists" in front of you, so that doesn't help a lot either unless you want to spend a full day going through all those lists. Well, that is precisely what we did! We searched for 50 "Best of Lists," highlighting the most recommended Books about Human Resources by various authority sites. Then we selected and combined the 20 most valuable "Best of Lists" and earmarked and ranked what HR Books keep up appearing on most of those recently published lists. From a total of 191 HR Books reviewed and ranked, here are the Top 20 of Most Recommended HR Books that appear on most of the Best HR Books lists!
As we are a small business ourselves, we use this list as well for educating and inspiring our minds and for optimizing our Consultants 500 platform, on which you can also find and search for Recruiting  & HR Experts. If you are a Recruiting or HR Expert yourself, you can always create a free profile on our Platform if you want to. It only takes a few minutes, and no credit card is needed for opening doors to new opportunities. It's all up to you. See here how it works.
Top 20 of Best HR Books
Recommended Most Times
#1. First, Break All the Rules: What the World's Greatest Managers Do Differently | by Marcus Buckingham and Curt Coffman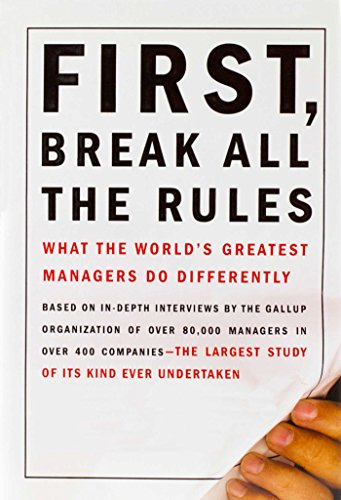 Listed 9 out of 20 times. Marcus Buckingham is the leader of The Gallup Organization's twenty-year effort to identify the core characteristics of great managers and great workplaces. He is also a senior lecturer at Gallup's Leadership Institute.
Curt Coffman is Senior Partner and Chief Science Officer of The Coffman Organization. Mr. Coffman has studied hundreds of organizations and millions of employees and customers literally.
"Out of hundreds of books about improving organizational performance, here is one that is based on extensive empirical evidence and a book that focuses on specific actions managers can take to make their organizations better today! In a world in which managing people provides the differentiating advantage, First, Break All the Rules is a must-read." (Jeffrey Pfeffer, Stanford Business School Professor and author of The Human Equation: Building Profits by Putting People First)
Recommended by:
– Jeffrey Pfeffer, Stanford Business School Professor
– Bradburry H. Anderson, President, and COO of Best Buy
– Bernie Marcus, former CEO of Home Depot
---
#2. Good to Great: Why Some Companies Make the Leap…and Others Don't | by Jim Collins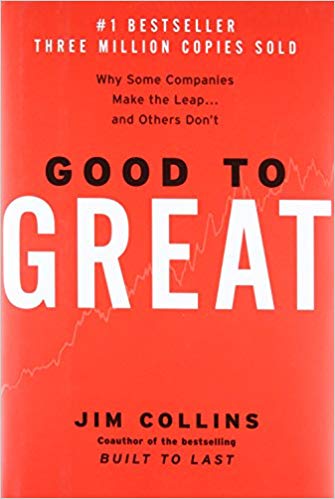 Listed 11 out of 20 times. Jim Collins is co-author of Built to Last, a national bestseller for over five years with a million copies in print. A student of enduring great companies, he serves as a teacher of leaders throughout the corporate and social sectors. Formerly a faculty member at the Stanford University Graduate School of Business, where he received the Distinguished Teaching Award, Jim now works from his management research laboratory in Boulder, Colorado.
"This carefully researched and well-written book disproves most of the current management hype – from the cult of the superhuman CEO to the cult of IT to the acquisitions and merger mania. It will not enable mediocrity to become competence. But it should enable competence to become excellence." (Peter F. Drucker)
Key Findings in this Book Are:
– Level 5 Leadership insights
– The Hedgehog Concept
– A Culture of Discipline
– The Flywheel and the Doom Loop concepts
---
#3. Why Employees Don't Do What They're Supposed To Do And What You Can Do About It  | by Ferdinand Fournies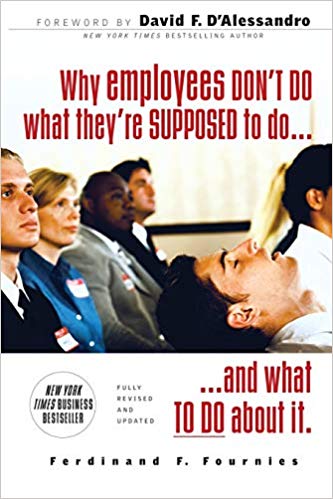 Listed 6 out of 20 times. Ferdinand F. Fournies was an internationally acclaimed business consultant and author of bestselling business books that have been translated into multiple languages. An expert in management and sales techniques, Fournies consulted to companies around the world, including Kodak, Merck, Hewlett Packard, and 3M.
"In simple, straightforward language, Fournies offers practical solutions to the problems of employee performance… [This book] should be on the desk of anyone who manages others." (Entrepreneur)
What Other Readers Have to Say About the Book:
– Communication is more complicated than you think
– Critical insights into management & job performance issues
– The best Business book ever
---
#4. Lean In: Women, Work and the Will to Lead | by Sheryl Sandberg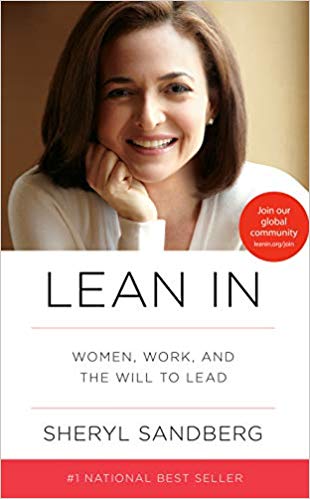 Listed 6 out of 20 times. Sheryl Sandberg is the chief operating officer at Facebook, overseeing the firm's business operations. Before Facebook, Sheryl was vice president of Global Online Sales and Operations at Google, chief of staff for the United States Treasury Department under President Clinton, a management consultant with McKinsey & Company, and an economist with the World Bank. Sheryl received a BA summa cum laude from Harvard University and an MBA with highest distinction from Harvard Business School.
 "If you loved Sheryl Sandberg's incredible TEDTalk on why we have too few women leaders, or simply believe as I do that we need equality in the boardroom, then this book is for you. As Facebook's COO, Sheryl Sandberg has firsthand experience of why having more women in leadership roles is good for business as well as society. Lean In is essential reading for anyone interested in righting the injustice of this inequality." (Sir Richard Branson, chairman, the Virgin Group)
Recommended by:
– Oprah Winfrey
– Jeff Immelt, CEO of General Electric
– Richard Branson, Chairman, and Founder of the Virgin Group
– Most authoritative media firms, like NYT, Fortune, Guardian, TIME, Forbes, Business Insider, etc.
---
#5. Work Rules!: Insights from Inside Google That Will Transform How You Live and Lead | by Laszlo Bock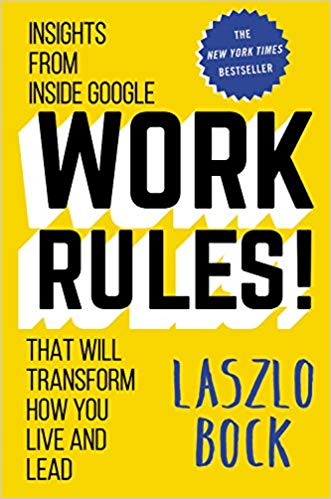 Listed 8 out of 20 times. Laszlo Bock is Senior Vice President of People Operations for Google, Inc. He leads Google's people function, which includes all areas related to the attraction, development, and retention of "Googlers," of which there are more than fifty thousand in more than seventy offices worldwide. During Bock's tenure, Google has been named the Best Company to Work For more than 30 times around the world and received over 100 awards as an employer of choice. In 2010, he was named "Human Resources Executive of the Year" by Human Resources Executive magazine.
"As a company renowned for questioning our assumptions, it should be no surprise that Google has developed unique and profoundly effective approaches to culture, talent and leadership. By debunking many accepted HR practices WORK RULES! establishes itself as a new testament for managing talent in modern times." (Tim Brown, CEO of IDEO and author of Change By Design)
Key Insights:
– Take away managers' power over employees
– Learn from your best employees-and your worst
– Only hire people who are smarter than you
– Don't trust your gut: Use data to predict and shape the future
---
#6. The HR Answer Book: An Indispensable Guide for Managers and Human Resources Professionals | by Shawn Smith and Rebecca Mazin
Listed 4 out of 20 times. Shawn Smith is an attorney, corporate executive, and founder of Next Level Consulting. Her articles have appeared in numerous legal and business publications.
Rebecca Mazin is cofounder of Recruit Right, an HR consulting firm, and has held key positions at Hyatt Hotels, Owens Corning, and the National Labor Relations Board.
"The HR Answer Book provides practical advice to executives and business owners for creating a positive work environment and managing the complex employee issues that routinely arise." (Zachary T. Julius, Chief Executive Officer, Professional Disposables. International, Inc.)
---
#7. Radical Candor: Be a Kick-Ass Boss Without Losing Your Humanity | by Kim Scott
Listed 3 out of 20 times. Kim Scott is the author of Radical Candor: How To Be a Kickass Boss without Losing your Humanity, to be published by St Martin's Press in March 2017. Kim is also the co-founder of Candor, Inc., which builds tools to make it easier to follow the advice she offers in the book. She is also the author of three novels.
"Reading Radical Candor will help you build, lead, and inspire teams to do the best work of their lives. Kim Scott's insights–based on her experience, keen observational intelligence and analysis–will help you be a better leader and create a more effective organization." (Sheryl Sandberg author of the New York Times bestseller Lean In)
---
#8. Smart Staffing: How to Hire, Reward and Keep Top Employees for Your Growing Company | by Wayne Outlaw
Listed 3 out of 20 times. A former Xerox branch marketing manager and marketing consultant, Wayne Outlaw developed the benchmark sales strategy used worldwide by Xerox to beat the lower-priced competition. He is also the founder of the Outlaw Group, Inc., has recruited personnel for companies such as Exxon, and has taught hiring skills to owners and managers for organizations such as Dale Carnegie & Associates.
"People are known by the company they keep. Companies are known by the people they keep. Smart Staffing is one of the most comprehensive books on screening, selecting, hiring, training, and retaining the best" (John Covilli, Vice President, Dale Carnegie & Associates)
---
#9. 1501 Ways To Reward Employees | by Bob Nelson, Ph.D.
Listed 3 out of 20 times. Dr. Bob Nelson is considered one of the leading authorities on employee recognition, motivation, and engagement in the world. He is President of Nelson Motivation Inc., a management training and consulting company that specializes in helping organizations improve their management practices, programs, and systems and has worked with 80 percent of the Fortune 500 and serves as an Executive Strategist for HR Issues.
"The most interesting and inventive business book on the market today… a publishing phenomenon. (Training Magazine)
---
#10. Love'em or Lose'em: Getting Good People to Stay | by Beverly Kaye and Sharon Jordan-Evans
Listed 5 out of 20 times. Beverly Kaye is the founder and Chairwoman of Career Systems International. She is a recipient of ASTD's Distinguished Contribution to Workplace Learning and Performance Award and is the author of Up Is Not the Only Way.
Sharon Jordan-Evans is president of the Jordan Evans Group and is a sought-after keynote presenter and a certified executive coach. Kaye and Jordan-Evans are the coauthors of Love It, Don't Leave It: 26 Ways to Get What You Want at Work.
"Marriott's global engagement strategy includes asking associates worldwide about their work environment and then providing resources to guide them through the key drivers of engagement and retention in the workplace. As a global resource in Marriott's engagement strategy, Kaye and Jordan-Evans once again provide a powerful, globally inclusive book that is both impactful and relevant… practical, associate-centric ideas that work!" (Steve Bauman, Vice President, Global Learning Deployment, Marriott International)
---
#11. The Human Equation: Building Profits by Putting People First | by Jeffrey Pfeffer
Listed 3 out of 20 times. Jeffrey Pfeffer is the Thomas D. Dee Professor of Organizational Behavior at the Stanford Graduate School of Business. He is the author of eight books, including Managing with Power and Competitive Advantage through People, both from HBS Press. He has consulted extensively for companies, universities, and industry associations in the U.S. as well as in 20 other countries.
"Bravo! Jeff Pfeffer illustrates the fact that although most companies say, 'people are our most important asset,' only an enlightened few actually do put a positive focus on their employees. Through a strong case of facts, he converts what many consider a 'soft' subject to a 'hard' one, and he proves that a people-based strategy truly is a competitive advantage." (Sheryl L. Bartolucci, Executive Vice President, Bank of America)
---
#12. The Five Dysfunctions of a Team: A Leadership Fable | by Patrick Lencioni
Listed 5 out of 20 times. PATRICK M. LENCIONI is the founder and president of The Table Group, a management consulting firm specializing in executive team development and organizational health. As a consultant and keynote speaker, he has worked with thousands of senior executives and their teams in organizations ranging from Fortune 500 companies to high-tech startups to universities and nonprofits. Lencioni is the author of 11 best-selling books, including The Advantage and The Ideal Team Player.
"A gripping analysis of what makes teams work effectively. This fine work is a must-read for any leader that has come to grips with the fact that no one makes progress—much less succeeds—alone." (James H. Amos Jr., president and CEO, Mail Boxes Etc.)
---
#13. HR from the Outside In: Six Competencies for the Future of Human Resources | by Dave Ulrich, Jon Younger, Wayne Brockbank, Mike Ulrich
Listed 3 out of 20 times. Dave Ulrich is a Professor at the Ross School of Business, University of Michigan, a partner at the RBL Group, and Executive Director of the RBL Institute. He studies how organizations build capabilities of leadership, speed, learning, accountability, and talent through leveraging human resources.
Jon Younger is a partner of the RBL Group, leads the firm's strategic HR practice, and is a director of the RBL Institute.
Wayne Brockbank is a Clinical Professor of Business at the University of Michigan's Ross School of Business and an Emeritus Partner in the RBL Consulting Group. At the Ross School of Business, he is the Co-director (with Dave Ulrich and Dick Beatty) and core faculty of the Advanced Human Resource Executive Program.
Mike Ulrich is a PhD student at the Moore School of Business, University of South Carolina. Before returning to the university, he was a Research Associate for RBL Group, where he led the data collection and analysis of the RBL/Michigan global HRCS.
"This definitive work on HR competencies provides ideas and tools that help HR professionals develop their career and make their organization effective." (Edward E. Lawler III, Professor, USC)
---
#14. 100 Ways to Motivate Others: How Great Leaders Can Produce Insane Results Without Driving People Crazy | by Steve Chandler
Listed 3 out of 20 times. Steve Chandler is a keynote speaker and corporate leadership coach with a large number of Fortune 500 clients. He is also a popular convention speaker. (Arthur Morey of Renaissance Media said, "Steve Chandler is the most original and inspiring figure in the highly competitive field of motivational speaking.") Chandler's first book, 100 Ways to Motivate Yourself, was named Chicago Tribune's Audiobook of the Year in 1997. Chandler's 16 books, now in more than a dozen languages, have also become best-sellers around the world.
"Steve Chandler's coaching has had a tremendous impact in my life. He was vital to my personal transformation from a man of ideas and dreams to a person of action and reality." (Radames Soto, former managing director, The Wall Street Journal)
---
#15. Social Media Recruitment: How to Successfully Integrate Social Media into Recruitment Strategy | by Andy Headworth
Listed 3 out of 20 times. Andy Headworth is the founder of Sirona Consulting, a specialist consultancy that helps companies understand and integrate social media into their recruitment strategies. As the author of a multi-award-winning recruitment blog and a regular international speaker, he enjoys sharing his extensive industry knowledge, expertise, and insights.
"Andy is the social media and recruitment expert that the experts in the industry seek out to read and listen to. His advice is spot on and supported by years of diverse consulting experience. After seven years in the social media recruitment arena, you'd think I'd know it all. Andy's book is chock-full of case studies that are inspiring for my firm and clients. For years I've made Andy's a blog a weekly must-read. His book surpasses his blog, with detailed case studies and examples of how to use social media properly to recruit." (Kelly Dingee Director, Strategic Recruiting at Staffing Advisors)
---
#16. 7 Habits of Highly Effective People | by Stephen R. Covey
Listed 3 out of 20 times. Recognized as one of Time magazine's twenty-five most influential Americans, Stephen R. Covey (1932–2012) was an internationally respected leadership authority, family expert, teacher, organizational consultant, and author. His books have sold more than twenty-five million copies in thirty-eight languages, and The 7 Habits of Highly Effective People was named the #1 Most Influential Business Book of the Twentieth Century. After receiving an MBA from Harvard and a doctorate degree from Brigham Young University, he became the co-founder and vice-chairman of FranklinCovey, a leading global training firm.
Stephen Covey's The 7 Habits of Highly Effective People played a major role in the development of Saturn's operating systems and philosophy. Our commitment to quality and to our customers has its roots in The 7 Habits. (The late Skip LeFauve President, Saturn Corporation/General Motors)
---
#17. Who: The A Method for Hiring | by Geoff Smart and Randy Street
Listed 4 out of 20 times. Geoff Smart is chairman and CEO of ghSMART, the management assessment firm for CEOs and investors, which he founded in 1995. ghSMARTS's clients include leading private equity investors, Fortune 500 CEOs, and billionaire entrepreneurs. Geof is co-creator of the Topgrading philosophy of talent management and has trained over ten thousand CEOs, investors, and managers on how to improve their hiring success.
Randy Street is the Managing Partner of ghSMART, and he has served as a leadership advisor to boards, CEOs, and executive teams for over 20 years. He is also a popular keynote speaker with a dynamic and energetic style that routinely generates the highest audience satisfaction scores possible.
"A great read–it really is all about finding, keeping, and motivating the team." (John Malone, chairman, Liberty Media Corporation)
---
#18. Delivering Happiness: A Path to Profits, Passion, and Purpose | by Tony Hsieh
Listed 3 out of 20 times. In 1999, at the age of twenty-four, Tony Hsieh (pronounced Shay) sold LinkExchange, the company he co-founded, to Microsoft for $265 million. He then joined Zappos as an adviser and investor, and eventually became CEO. He helped Zappos grow from almost nothing to over $1 billion in gross merchandise sales annually, while simultaneously making Fortune magazine's annual "Best Places to Work For" list.
"Funny, wry, honest… immensely readable… Hsieh is really on to something (Fast Company)
---
#19. The Power of Habit: Why We Do What We Do in Life and Business | by Charles Duhigg
Listed 3 out of 20 times. Charles Duhigg is a reporter for The New York Times. He is also the author of The Power of Habit, about the science of habit formation, as well as Smarter Faster Better: The Secrets of Productivity in Life, and he has worked at the Times since 2006. In 2013, Charles was part of a team that won the Pulitzer Prize for a series about Apple named "The iEconomy". Before that, he contributed to the NYT series about the 2008 financial crisis, how companies take advantage of the elderly, and national violations of the Safe Drinking Water Act. (For those series, he won the National Journalism Award, the Investigative Reporters and Editors' Medal, the National Academies' reporting award and other recognitions.)
"Few [books] become essential manuals for business and living. The Power of Habit is an exception. Charles Duhigg not only explains how habits are formed but how to kick bad ones and hang on to the good." (Financial Times)
---
#20. Start with Why: How Great Leaders Inspire Everyone to Take Action | by Simon Sinek
Listed 3 out of 20 times. Simon Sinek, the bestselling author of Leaders Eat Last and Together is Better, is an optimist who believes in a brighter future for humanity.  He teaches leaders and organizations how to inspire people and has presented his ideas around the world, from small startups to Fortune 50 corporations, from Hollywood to Congress to the Pentagon. His TED Talk based on Start with Why is the third most popular TED video of all time.
"Each story will force you to see things from an entirely different perspective. A perspective that is nothing short of the truth." (Mokhtar Lamani, former ambassador, special envoy to Iraq)
Best Books on Recruitment
Recommended Most Times
These Books on Recruitment might also interest you as we did another research for books about Recruitment in the same way as we did for Best HR Books.  These Top 20 of Best Books on Recruitment keep appearing on all lists of Best Recruitment Books, and here are the top 5:
Best HR Blogs
to Follow
Human resource management is basically the optimal approach to effectively manage the people in a business or organization in such a way that they help their business gain a competitive advantage. It is designed to maximize employee performance in service of an employer's strategic objectives.
Therefore a lot of aspects come into play when determining your optimal Human Resources strategy. Blogs about Human Resources are an ideal source for staying up to date on the latest developments and learn new insights into all sorts of relevant HR topics. An excellent HR blog offers in-depth analyses, how-to guides, industry trends, handy statistics insights, strategy papers, the best tools for the HR professional, and much more.
These HR Blogs keep up appearing on all the "Best of Lists" resulting in "The 20 Best HR Blogs Recommended most Times", and here are the top 5:
Best HR Tools
Most Recommended
Human Resource Software Tools automate, streamline, and improve human resources operations and processes of an organization. The benefits of using the most suitable HR Tool are extensive.  These HR Tools keep up appearing on all the "Best of Lists" resulting in "The 20 Best HR Tools Recommended most Times", and here are the top 5:
Our Job Board
for HR Jobs
Very soon, we will start operating a Job Board with a 100% Professional Services focus, which includes HR-related Jobs:
Post Jobs – Send your Jobs to multiple Job Boards with One Submission in minutes. Create your Job Post and find the right talent faster. Job searchers and job openings are connected by making use of the latest Job Search Technology.
Search Jobs – Easily find and compare Jobs in the Professional Services sector, which can be fixed, flex, freelance, and project type of Jobs.
A job opening can be created in minutes against a flat monthly fee, which can be canceled at any time. For Job Searchers, it is always free.
Leave your email at Subscribe for Updates at the top right of this page to get informed when we launch our new Job Board.
Our Platform for HR Professionals
Advisors, Freelancers, Firms
Be Found As an HR Expert
More than 75% of potential Clients who look for HR Services start a Web Search to find the best HR Specialist for the issue to be solved. Because the internet is by far the leading channel where potential buyers start their journey, it is critical that your business can be easily found on the internet. Creating a profile on our Platform is free and opens the door to new opportunities, it can be done in only a few minutes and without any credit card.
Learn More:
How it Works
Memberships
Create Profile
Search, Compare, Find & Hire Human Resources Experts
Easily find and compare highly qualified Human Resources Experts by searching our Platform, which can be local Firms specialized in Human Resources, specialized  Human Resources Experts, or independent Freelance HR Professionals. Directly contact and work with your ideal candidate in any way you like. Searching is always free, and that also means that we never charge any transaction type of fees.
How we Established the Final
Top 20 of Best HR Books
We made a list of 50 posts that were recently published about "Best HR Books" to read.
From this list of 50 posts, we selected the top 20 that seem most valuable to our readers and users.
We combined the 20  lists of "Best HR Books" and earmarked all individual books that were on those lists.
When a book was ranked as number 1, it got 1 point, and when it was ranked 2nd, it got 2 points, etc.
When no particular ranking was applied to a specific list, then each listed book got the same points.
To be included in the final list, a book should be listed for a minimal number of times.
More weight was assigned to books that were explicitly listed more times than other books.
All lists were summed up, and the HR Book with the lowest number was ranked 1, 2, 3, etc.
This resulted in the final "Top 20 of Best HR Books" that have been recommended most times by all types of HR Experts. 
Sources Used for
Best HR Books
The 20 "Best of Lists" used for researching what the Best HR Books are: