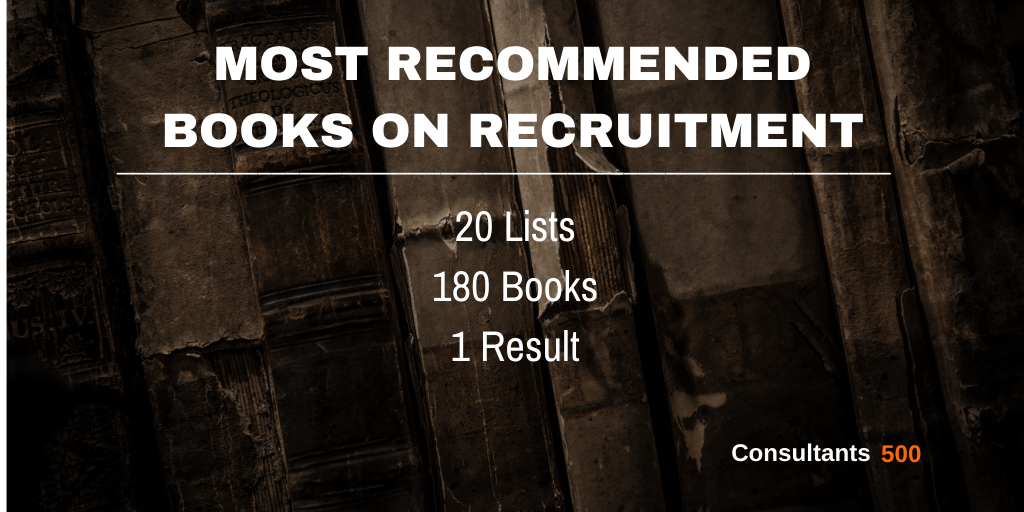 Books that teach the art of Recruitment offer a great way of learning the ins and outs of the overall Recruitment Process and at a much lower price than taking, for example, a specialist Recruitment Course. By reading a book, you consume a tremendous amount of research in a relatively short amount of time, and it is one of the best ways to improve your skills.
The only problem is that there are a lot of Recruitment-related Books in the market and there is much more to come. For instance, just doing a search for "Recruitment Books" in Amazon results in more than 8,000 books about Recruitment, so how do you make up your mind about what to read?
You can do a Google search and search for the Best Books on Recruitment, but then you get hundreds of "Best of Lists" in front of you, so that doesn't help a lot either unless you want to spend a full day going through all those lists. Well, that is precisely what we did! We searched for 50 "Best of Lists," highlighting the most recommended Books on Recruitment by various authority sites. Then we selected and combined the 20 most valuable "Best of Lists" and earmarked and ranked what Recruitment Books keep up appearing on most of those recently published lists. From a total of 180 Recruitment Books reviewed and ranked, here are the Top 20 of Most Recommended Books on Recruitment that appear on most of the Best Recruitment Books lists!
As we are a small business ourselves, we use this list as well for educating and inspiring our minds and for optimizing our Consultants 500 platform, on which you can also find and search for Recruiting  & HR Experts. If you are a Recruiting or HR Expert yourself, you can always create a free profile on our Platform if you want to. It only takes a few minutes, and no credit card is needed for opening doors to new opportunities. It's all up to you. See here how it works.
Top 20 of Best Books on Recruitment
Recommended Most Times
#1. Who: The A Method for Hiring | by Geoff Smart and Randy Street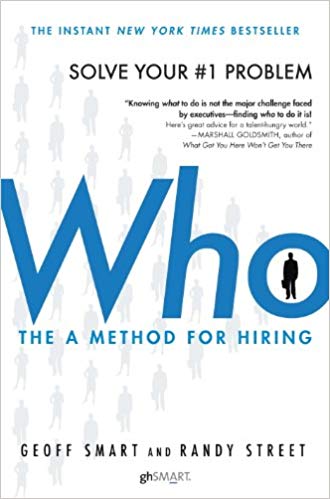 Listed 10 out of 20 times. Dr. Geoff Smart is Chairman & Founder of ghSMART, a leadership consulting firm that serves Fortune 500 CEOs and boards, billionaire entrepreneurs, and heads of state. He is the New York Times bestselling author of Who, Leadocracy, and Power Score: Your Formula for Leadership Success. Randy Street is the Managing Partner of ghSMART, a leadership advisory firm whose mission is to help great leaders amplify their positive impact on the world.
"A great read–it really is all about finding, keeping, and motivating the team." (John Malone, chairman, Liberty Media Corporation)
Recommended by:
– Robert Gillette, president, and CEO, Honeywell Aerospace
– Wayne Huizenga, founder, Blockbuster Video
– John Varley, group chief executive, Barclays
– Ed Evans, executive vice president, and chief personnel officer, Allied Waste Industries
---
#2. "Work Rules!: Insights from Inside Google That Will Transform How You Live and Lead | by Laszlo Bock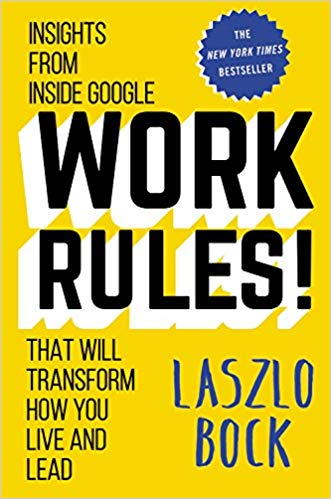 Listed 9 out of 20 times. Laszlo Bock leads Google's people function, responsible for attracting, developing, retaining, and delighting "Googlers." Bock's earlier experience spans executive roles at the General Electric Company, management consulting at McKinsey & Company, start-ups, non-profits, and acting. During Bock's tenure, Google has been named the Best Company to Work For more than 30 times around the world and received over 100 awards as an employer of choice. In 2010, he was named "Human Resources Executive of the Year" by Human Resources Executive magazine.
"WORK RULES! offers a bold, inspiring, and actionable vision that will transform the future of work. It should be mandatory reading for everyone who leads, manages, or has a job."  (Adam Grant, author of Give and Take)
Recommended by:
– Daniel Coyle, author of The Talent Code
– Dan Pink, author of Drive and To Sell Is Human
– Susan Cain, co-founder of Quiet Revolution and author of Quiet
– Ram Charan, coauthor of Execution and advisor to boards and CEOs
---
#3. Hire With Your Head: Using Performance-Based Hiring to Build Great Teams | by Lou Adler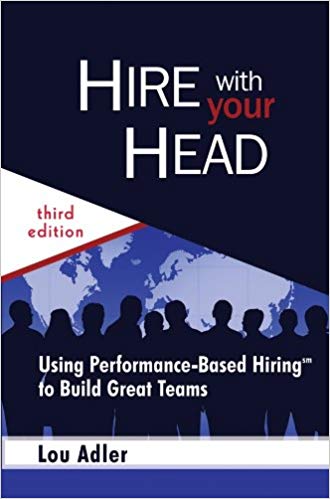 Listed 8 out of 20 times. Lou Adler is the CEO and founder of The Adler Group, a training and search firm based in Southern California. He is a noted recruiting industry expert, national speaker, and columnist for several major recruiting sites, including HR.com, ERExchange.com, Kennedy Information, and Workforce Management magazine.
"We have chosen Performance-based Hiring because it's a comprehensive process, it's behaviorally grounded, managers and recruiters find it easy to use, and it works." (Marshall Utterson, Director Staffing, AIG Enterprise Services, LLC)
Recommended by:
– John Ganley, Vice President, and Chief Talent Officer, Quest Software
– Dan Hilbert, Recruiting Manager, Valero Energy Corporation
– Trudy Knoepke-Campbell, Director, Workforce Planning, HealthEast® Care System
– Marshall Utterson, Director Staffing, AIG Enterprise Services, LLC
---
#4. Hiring for Attitude: A Revolutionary Approach to Recruiting and Selecting People with Both Tremendous Skills and Superb Attitude | by Mark Murphy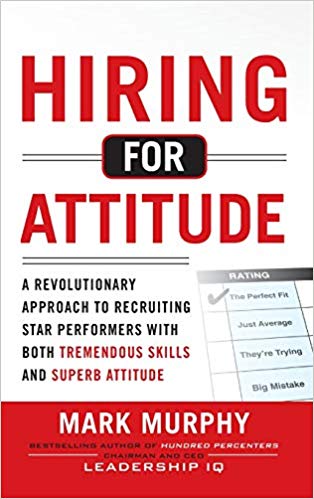 Listed 9 out of 20 times. Mark Murphy is the author of the bestsellers Hundred Percenters and HARD Goals. The founder and CEO of Leadership IQ, a top-rated provider of cutting-edge research and leadership training, Mark has personally provided guidance to more than 100,000 leaders from virtually every industry and half the Fortune 500. His public leadership seminars, custom corporate training, and online training programs have yielded remarkable results for companies including Microsoft, IBM, GE, MasterCard, Merck, AstraZeneca, MD Anderson Cancer Center, and Johns Hopkins.
"Success in business starts with finding great talent that will thrive within your company culture. Hiring for Attitude combines valuable insights with relatable examples, giving you the tools to recruit the right talent for your organization and reduce your risk of mishires." (BRENT RASMUSSEN, President of CareerBuilder North America)
Recommended by:
– Terry Byrnes, Vice President of Total Service, Caesars Entertainment
– Mitch Little, Vice President of Worldwide Sales and Applications, Microchip
– Sam Holtzman, President, and CEO, LifeGift
– Brent Rasmussen, President of CareerBuilder North America
---
#5. Good to Great: Why Some Companies Make the Leap…And Others Don't | by James C. Collins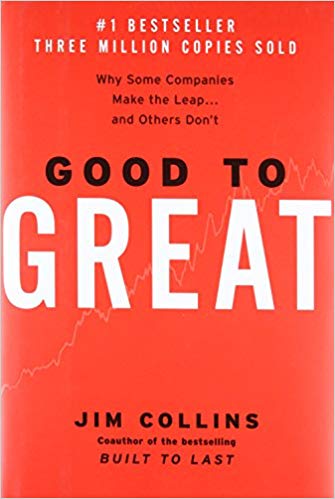 Listed 6 out of 20 times. Jim Collins is a student of enduring great companies, and he serves as a teacher to leaders throughout the corporate and social sectors. Formerly a faculty member at the Stanford University Graduate school of Business, where he received the Distinguished Teaching Award, Jim now works from his management research laboratory in Boulder, Colorado.
"Built to Last is an unusual business book – seriously researched, unconventional in its conclusions… [It] is well worth reading, particularly by those engaged in trying to reinvigorate our nation's largest enterprises." (Richard J. Tofel, Wall Street Journal)
Recommended by:
– Peter F. Drucker
– Wall Street Journal
– Fortune
– USA Today
– Harvard Business Review
---
#6. 96 Great Interview Questions to Ask Before You Hire | by Paul Falcone
Listed 5 out of 20 times. Paul Falcone is a human resources executive in Los Angeles and has held senior-level positions with Nickelodeon, Paramount Pictures, and City of Hope. He has extensive experience in entertainment, healthcare/biotech, and financial services, including in international, nonprofit, and union environments. Paul is the author of numerous bestselling AMACOM and Society of Human Resource Management (SHRM) books, and four of his books have made SHRM's prestigious "Great 8" annual bestseller listings. He is also a long-term contributor to HR Magazine, a top-rated presenter at the SHRM national conference, and an adjunct faculty member at UCLA Extension's School of Business and Management.
"Paul Falcone's books are real and applicable to the everyday life of Human Resources. They are for the front-line managers on how to lead effectively." (PeopleG2)
---
#7. How to Win Friends and Influence People | by Dale Carnegie
Listed 3 out of 20 times. Dale Breckenridge Carnegie was an American writer and lecturer and the developer of famous courses in self-improvement, salesmanship, corporate training, public speaking, and interpersonal skills. Born in poverty on a farm in Missouri, he was the author of How to Win Friends and Influence People, first published in 1936, a massive bestseller that remains popular today. He also wrote a biography of Abraham Lincoln, titled Lincoln the Unknown, as well as several other books.
"Dale Carnegie's rock-solid, time-tested advice has carried countless people up the ladder of success in their business and personal lives." (Amazon)
---
#8. Moneyball: The Art of Winning an Unfair Game | by Michael Lewis
Listed 5 out of 20 times. Michael Lewis is the best-selling author of Liar's Poker, Moneyball, The Blind Side, The Big Short, and The Undoing Project. He lives in Berkeley, California, with his wife and three children.
"Fantastically informative and entertaining… bound to excite extreme envy." (Josh Benson, New York Observer)
---
#9. Social Media Recruitment: How to Successfully Integrate Social Media into Recruitment Strategy | by Andy Headworth
Listed 6 out of 20 times. Andy Headworth is the founder of Sirona Consulting, a social media recruiting consulting company that helps companies understand and integrate social media into their recruiting strategy and processes. As the author of a multi-award-winning recruitment blog and regular international speaker, he enjoys sharing his extensive industry knowledge, expertise, and insights.
"With social recruiting, there is no one silver bullet or strategy. Social Media Recruitment is one of the most comprehensive sources for all things social media recruiting to date." (Jessica Miller-Merrell Founder of Blogging4Jobs)
---
#10. Topgrading: The Proven Hiring and Promoting Method That Turbocharges Company Performance | by Bradford D. Smart
Listed 3 out of 20 times. Bradford D. Smart, Ph.D., is the president of Smart & Associates, Inc., a group of professionals who assess candidates for executive positions and train managers to implement Topgrading. A well-known industrial psychologist and consultant, he has personally helped hundreds of companies of all sizes dramatically improve their talent. His other books include Topgrading for Sales. Brad lives in a suburb of Chicago.
"The Topgrading interview process is one of the best tools in our arsenal for getting an in-depth understanding of high-potential managers. It probably improved our success promoting high-potential managers from maybe 50% to over 80%." (BILL CONATY, former Senior Vice President of Human Resources, General Electric)
---
#11. How to Hire A-Players: Finding the Top People for Your Team—Even If You Don't Have a Recruiting Department | by Eric Herrenkohl
Listed 4 out of 20 times. Eric Herrenkohl is President of Herrenkohl Consulting and author of the Amazon best-selling book How to Hire A-Players, published by John Wiley & Sons and described as "the definitive book on talent acquisition." Herrenkohl Consulting transforms businesses by creating A-player teams. The firm provides executive search and recruiting services to clients across North America.
"It takes A-Players to conceive, design, and build a world-class business system so C-Players can produce A-Player results. How to Hire A-Players tells you how to find the A-Players you need to grow your business. Read it, or forever settle for less than you deserve." (Michael E. GerberAuthor of The E-Myth books and The Most Successful Small Business in the World)
---
#12. The Professional Recruiter's Handbook: Delivering Excellence in Recruitment Practice | by Jane Newell Brown and Ann Swain
Listed 4 out of 20 times. Jane Newell Brown has worked in the recruiting industry for 25 years. She is a consultant who advises clients on recruiting strategy. Ann Swain is the Chief Executive of The Association of Professional Staffing Companies. She presents at numerous international conferences within the recruiting sector.
"I can think of very few people better qualified to write about the recruitment industry." (Russell Clements CEO, SThree)
---
#13. How to Spot a Liar | by Gregory Hartley and Maryann Karinch
Listed 2 out of 20 times. Gregory Hartley's expertise as an interrogator first earned him honors with the U.S. Army. More recently, it has drawn organizations such as the CIA and national TV to seek his insights about "how to" as well as "why." Maryann Karinch has written numerous books on human behavior and health, including eight with Gregory Hartley that feature insights into reading and using body language.
"This book is a practical guide to learning and using the sophisticate psychological tools of interrogators. You need this book if someone has lied to you, manipulated you, or backed you into a corner. You need this book if you have and important relationship-with a spouse, boss, parent, client, child, employee, friend-that lack honesty." (From the Back Cover)
---
#14. Predictably Irrational, Revised and Expanded Edition: The Hidden Forces That Shape Our Decisions |  by Dan Ariely
Listed 2 out of 20 times. Dan Ariely is the James B. Duke Professor of Behavioral Economics at Duke University, with appointment at the Fuqua School of Business, the Center for Cognitive Neuroscience, the Department of Economics, and the School of Medicine. Dan earned one Ph.D. in cognitive psychology and another Ph.D. in business administration. His work has been featured in the New York Times. Wall Street Journal, Washington Post, Boston Globe, Business 2.0, Scientific American, and Science.
"Surprisingly entertaining…. Ariely's book makes economics and the strange happenings of the human mind fun." (USA Today)
---
#15. The Talent Code: Unlocking the Secret of Skill in Sports, Art, Music, Math, and Just About Everything Else | by Daniel Coyle
Listed 2 out of 20 times. Daniel Coyle is a two-time national magazine Award finalist and a contributing editor to Outside magazine. He has written for the New York Times Magazine and Sports Illustrated. His previous books include The Times bestseller Lance Armstrong: Tour de Force, which won Best Biography in the 2006 British Sports Book Awards.
"This is a remarkable—even inspiring—book. Daniel Coyle has woven observations from brain research, behavioral research, and real-world training into a conceptual tapestry of genuine importance. What emerges is both a testament to the remarkable potential we all have to learn and perform and an indictment of any idea that our individual capacities and limitations are fixed at birth." (Dr. Robert Bjork, Distinguished Professor and Chair of Psychology, UCLA)
---
#16. Decisive: How to Make Better Choices in Life and Work | by Chip Heath and Dan Heath
Listed 2 out of 20 times. Chip Heath is a professor at the Graduate School of Business at Stanford University. He lives in Los Gatos, California. Dan Heath is a senior fellow at Duke University's Center for the Advancement of Social Entrepreneurship (CASE). He lives in Raleigh, North Carolina. They are the bestselling authors of Made to Stick and Switch.
"Excellent tips for improving your decisions and a neat four-stage conceptual formula…. Books about decision-making are common these days. But the Heath brothers have a winner with their outline of the four villains of decision-making and their many practical solutions, informed not only by behavioural economics studies but also examples of successful and unsuccessful decision makers." (Harvey Schachter, The Globe and Mail)
---
#17. The Best Team Wins: Build Your Business Through Predictive Hiring | by Adam Robinson
Listed 2 out of 20 times. Adam Robinson is the founder and CEO of Hireology (www.Hireology.com), where he's on a mission to help business owners make better hiring decisions using predictive data and technology. He is a noted recruiting industry expert, speaker, and author with over twenty years of experience in the field of hiring and selection management.
"Adam Robinson has created a strategic method for successful hiring with The Best Team Wins. I can attest to the power of data and technology to reach scalable and predictable growth in sales and Adam has presented a proven formula for hiring which ensures that companies are hiring the best possible people." (Mark Roberge, Bestselling author of The Sales Acceleration Formula, Senior Lecturer, Harvard Business School)
---
#18. ReWork: Change the Way You Work Forever | by Jason Fried and David Heinemeier Hansson
Listed 3 out of 20 times. Jason Fried and David Heinemeier Hansson are the founders of 37signals—a trailblazing software company that produces products used by millions of people around the world. They have been profiled in such publications as Time, Newsweek, and Wired. They're also contributors to Signal vs. Noise, one of the Web's most popular blogs. To learn more about Rework and 37signals, go to 37signals.com.
"The brilliance of REWORK is that it inspires you to rethink everything you thought you knew about strategy, customers, and getting things done. Read this provocative and instructive book—and then get busy reimagining what it means to lead, compete, and succeed." (William C. Taylor, Founding Editor of Fast Company and coauthor of Mavericks at Work)
---
#19. Hiring Smart!: How to Predict Winners and Losers in the Incredibly Expensive People-Reading Game | by Pierre Mornell
Listed 3 out of 20 times. Pierre Mornell is a psychiatrist who helps companies evaluate and hire key people. He has lectured in IBM's Advanced Management Seminar and International Executive Programs; he has acted as the first dean of the University Faculty for the Young Presidents Organization and has led programs at the Stanford and Harvard business schools. He has served as a consultant to the presidents of organizations as diverse as Intuit, Kinko's, Canada's Northern Telecom, American Gold Corporation, Hellman & Friedman, and the Institute for the Future.
"We all know that finding the right people is the key to success – often, the whole ballgame. Pierre Mornell brings a disciplined and practical sensibility to the hiring process. As one who has both succeeded and failed at hiring smart, I found Dr. Mornell's message invaluable." (N.J. Nicholas, Jr., Co-CEO, Time Warner, 1990-92)
---
#20. The Rare Find: Spotting Exceptional Talent Before Everyone Else | by George Anders
Listed 3 out of 20 times. George Anders is a contributing writer at Forbes, exploring issues related to talent, recruiting, and innovation. He spent two decades as a top feature writer for The Wall Street Journal, where he was part of a team that won a Pulitzer Prize for national reporting. He also has written for Fast Company, The New York Times, Bloomberg View, and Harvard Business Review. He is the author of four previous books, including Perfect Enough, a New York Times bestseller about high-tech upheaval.
"George Anders is himself a rare find. A superb writer, he brings piercing intellect and persistent curiosity to examine the single most important leadership skill: finding and picking the right people. By turning his own talent upon this vital and elusive question, Anders has done a great service." (Jim Collins, author of How the Mighty Fall and Good to Great)
Best Human Resources Books
Recommended Most Times
These Human Resources Books might also interest you as we did another research for books about Human Resources Management in the same way as we did for Best Books on Recruitment.  These Top 20 of Best HR Books keep appearing on all lists of Best HR Books, and here are the top 5:
Best HR Blogs &
Resources to Follow
Blogs about Human Resources are another ideal source for staying up to date on the latest developments and learn new insights into all sorts of HR topics. Therefore, these HR Blogs might also interest you as we did another research for Blogs about Human Resources Management in the same way as we did for Best Books on Recruitment.  These Top 20 of Best HR Blogs keep appearing on all lists of Best HR Blogs to follow, and here are the top 5:
Best HR Tools
Most Recommended
Human Resources Management and Recruiting is a time consuming and complex process. Human Resource Software Tools automate, streamline, and improve human resources operations and processes of an organization. The benefits of using the most suitable HR Tool are extensive.  These Top 20 of Best HR Tools keep appearing on all lists of Best HR Tools, and here are the top 5:
Our Job Board
for HR Jobs
Very soon, we will start operating a Job Board with a 100% Professional Services focus, which includes Recruiting & HR-related Jobs:
Post Jobs – Send your Jobs to multiple Job Boards with One Submission in minutes. Create your Job Post and find the right talent faster. Job searchers and job openings are connected by making use of the latest Job Search Technology.
Search Jobs – Easily find and compare Jobs in the Professional Services sector, which can be fixed, flex, freelance, and project type of Jobs.
A job opening can be created in minutes against a flat monthly fee, which can be canceled at any time. For Job Searchers, it is always free.
Leave your email at Subscribe for Updates at the top right of this page to get informed when we launch our new Job Board.
Our Platform for Recruiting & HR Professionals
Advisors, Freelancers, Firms
Be Found As a Recruiting or HR Expert
More than 75% of potential Clients who look for Recruiting & HR Services start a Web Search to find the best Recruiting or HR Specialist for the issue to be solved. Because the internet is by far the leading channel where potential buyers start their journey, it is critical that your business can be easily found on the internet. Creating a profile on our Platform is free and opens the door to new opportunities, it can be done in only a few minutes and without any credit card.
Learn More:
How it Works
Memberships
Create Profile
Search, Compare, Find & Hire Recruiting or Human Resources Experts
Easily find and compare highly qualified Recruiting & Human Resources Experts by searching our Platform, which can be local Firms specialized in Recruiting & HR, specialized  Recruiting & HR Experts, or independent Freelance Recruiting & HR Professionals. Directly contact and work with your ideal candidate in any way you like. Searching is always free, and that also means that we never charge any transaction type of fees.
How we Established the Final
Top 20 of Best Books on Recruitment
We made a list of 50 posts that were recently published about "Best Recruitment Books" to read.
From this list of 50 posts, we selected the top 20 that seem most valuable to our readers and users.
We combined the 20 lists of "Best Recruitment Books" and earmarked all individual books that were on those lists.
When a book was ranked as number 1, it got 1 point, and when it was ranked 2nd, it got 2 points, etc.
When no particular ranking was applied to a specific list, then each listed book got the same points.
To be included in the final list, a book should be listed for a minimal number of times.
More weight was assigned to books that were explicitly listed more times than other books.
All lists were summed up, and the Recruitment Book with the lowest number was ranked 1, 2, 3, etc.
This resulted in the final "Top 20 of Best Books on Recruitment" that have been recommended most times by all types of Recruitment & HR Experts. 
Sources Used for
Best Books on Recruitment
The 20 "Best of Lists" used for researching what the Best Books on Recruitment are:
11 Books Every Recruiter Should Read
19 Books Every In House Recruiter Should Read
7 Must-read Recruitment Books to Be More Successful