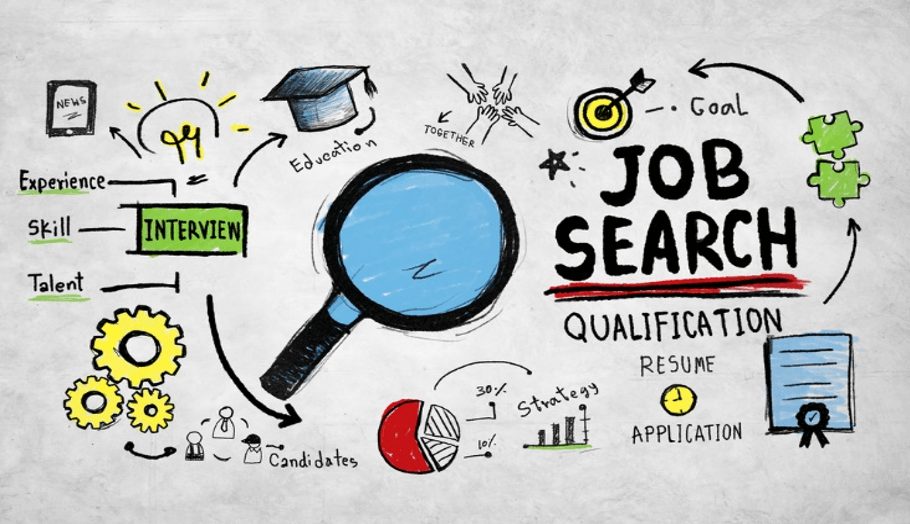 If you have just graduated and are worried about the lack of employment opportunities, you are not alone. The recent pandemic has slowed down an already sluggish economy, decreasing the chances of employment for new graduates. Even the most prosperous industries are looking to downsize, and thus job prospects look slim.
Although the market looks glum, don't despair! It is not the end of the world. There are still endless opportunities, even for the noobs. Let us learn how to make our career paths in this time of uncertainty.
How Should Recent Grads Plan Their Job Search?
1.    Focus on The Best Performing Industries
Though the economy is down, some industries are still showing an upward trend. When one door is closed, many others are still open. Hiring managers from tech and online businesses are on the lookout for fresh graduates skilled in software development and design, online marketing, retail and eCommerce, and other related fields.
Amazon is a great example; it has recently doubled its hiring rate because of a massive increase in online purchases. Therefore, you should increase your chance of employment by acquiring these in-demand skills. Your degree is not in any of these fields? No problem! Just take online courses or get an internship to learn on the job.
2.    Go Digital
We are living in an era of digitization. Everything is at our fingertips; we just need to hone our ideas. Though many people are hunkered down in their houses, use the power of the internet to connect. Stay in the eyes of professionals through LinkedIn, attend virtual workshops and seminars, look for online interviews, and check some remote working opportunities.
Example:
Search job fairs via LinkedIn, join employment groups on Facebook and turn on notifications for new opportunities on job search sites. Be prepared that job search might turn into a daunting task. However, with little patience and consistency, you can get the right one.
3.    Stop Procrastinating
Even though the pandemic is still at its peak in certain parts of the world, you should not let it affect your plans. There is an alternative possibility for everything; delaying things can create more hurdles for you. While you wait for the world to reopen, don't waste your time watching movies.
Just like every other thing in life, job searching also requires some preparation. So instead of wasting your time, get ready by making a killer resume, amass new skills, and gather relevant experience.
Tip:
When you use the keywords for searching the right job, search for the industries doing well these days. Like online retailing jobs, remote working jobs, freelance writing jobs, and so on.
4.   Look Inside Your Social Circle
Do you know many companies only consider referral hiring? Though job searching websites are great for hunting potential jobs, your social circle is even more helpful. All you need to do is to let people know what you are looking for a job. You will be amazed to know about many people who are willing to help you out.
Example:
Create a Facebook post about your expertise and ask others to help you in finding a job. You can also make a WhatsApp group or send a private message to some of your contacts.
5.    Build Your Online Identity
The trend of hiring a new workforce has changed globally. Today, hiring managers look for the online presence of an employee before making a final decision. Candidates who have an active online presence are more likely to get hired. Besides, experts suggest new grads brand themselves in the online world. Platforms like LinkedIn, Instagram, and Twitter are ideal for this purpose.
Billions of employers are present on these platforms. New grads should make use of this opportunity and try to showcase their talent. In this way, they can attract employers and secure their position in the company.
Example:
A finance grad can create a blog on the latest financial tactics. Regular sharing of the blog posts may gain the attention of the employers seeking to hire a finance expert.
6.   Always Follow Up
Businesses are finding it hard to face this turbulent time. In this scenario, they are involved in multiple things at a time. It is common to delay the hiring process when the business is going through a difficult phase. Companies usually show reluctance in hiring fresh talent when they are already struggling financially. However, fresh candidates should follow up if they get silence from the other side.
Example:
A coaxial cable manufacturing company did not respond to a new grad after taking an interview. The candidate did not become demotivated and emailed the HR department for follow up. After two months, when the company reopened its hiring process, the H.R manager called the candidate who followed up instead of taking new interviews.
7.    Don't Give Up
There is no fixed formula for getting a job at a particular time. Some people get their desired job in a week while others wait for long six months and end up with a job that is lower than their expectations. But motivation is the key to success, keep looking for the right job while working on improving your resume, and you will certainly succeed.
Tip:
Whenever you feel demotivated and want to give up with your job search, always change your strategy but never stop trying. Undoubtedly, Coronavirus is the biggest hurdle in finding the right job today. When thousands of well-experienced professionals are becoming jobless, fresh grads are sure to face a tough time.
However, on the flip side, many new grads have found remote working opportunities from the comfort of their home as companies across the globe shift towards remote work. Hence, concentrate on creating a professional resume, build an impressive online identity, a prolific portfolio, and keep applying for new job openings. Be consistent with these few factors, and you will end up getting a job even at this crucial time.
Author Bio:
Shaheryar provides ghostwriting and copywriting services. His educational background in the technical field and business studies helps him in tackling topics ranging from career and business productivity to web development and digital marketing. He occasionally writes articles for Shireen Inc.