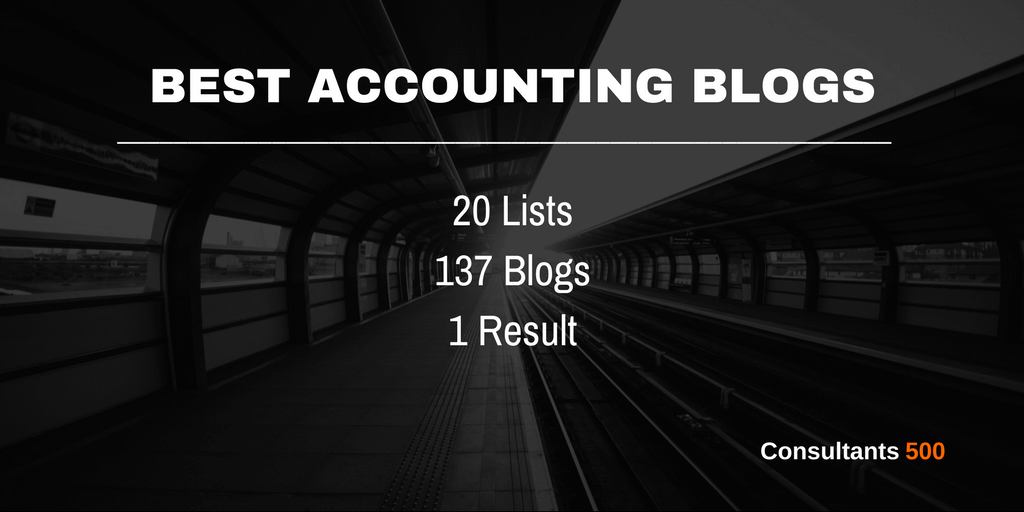 Blogs are an ideal tool to stay up to date on the latest developments and learn new insights on how to succeed and grow your business. The only problem is that there are a lot of blogs out there and they are all screaming for your attention.
So which ones are successful in providing the information you need and how can you find them? As we have done for all our Business Services (like The Legal Checklist for Startups and SME's, Best Content Marketing Blogs and Best Small Business Blogs), we searched for 50 "Best of List", selected and combined the 20 most valuable "Best of List" and earmarked and ranked what blogs keep up appearing on most of these recently published lists. From a total of 137 Accounting Blogs reviewed and ranked, here are the top 20 results!
As we are a small business ourselves, we use this list as well for educating and inspiring our minds and for optimizing our Consultants 500 platform, on which you can find and search for a broad range of independent Business Advisors.
Top 20 Accounting Blogs to Follow
& Stay Up-To-Date
Accounting Onion–Listed 13 out of 20 times, it is without any doubt the number one Accounting Blog to track on our list. It covers a broad range of financial reporting issues affecting many companies. It often addresses complex issues that receive little coverage in the business press by peeling by the complexity one layer at a time. When accounting standards are responsive to political pressure from issuers and their auditors, the Accounting Onion lets you know it and also tells you what could be done about it. Accounting Onion Peels away financial reporting issues one layer at a time.
Accounting Today – Listed 6 out of 20 times, brings latest accounting news and information for CPAs, accountants, tax preparers. Accounting Today has become one of the leading providers of news for the tax and bookkeeping community. Besides breaking news, Accounting Today also provides in-depth guides and online services and resources covering accounting technology, audits, and financial planning. Other features include informative podcasts and newsletters that discuss the leading accounting firms and professionals.
Accountex Report – Listed 9 out of 20 times, provides high-quality technical and marketing information on accounting solutions for small and medium-sized businesses and the consultants and accountants who support them. The blog also provides useful technical information on accounting software and articles on best business practices.
Bloomberg BNA Accounting Blog – Listed 6 out of 20 times, provides in-depth coverage of accounting, auditing, and tax topics. The blog benefits from the contribution of more than 2,500 reporters and experts in the field. As a result, BNA is one of the most comprehensive sources of information for accounting professionals, with a subscription section and a free blog with tons of accounting information.
Accounting Coach – Listed 7 out of 20 times, is a Q&A style blog and the format makes it quite different from the other accounting blogs. So far, the blog has managed to answer more than 1,000 questions about different aspects of accounting. Some of the topics covered by the blog include accounting basics, careers, principles, financial accounting, improving profits, payroll accounting, calculations, standard costing, non-profit accounting and numerous others.
Blunt Bean Counter – Listed 6 out of 20 times, this blog offers advice on income taxes, finance and the role of money in our lives. It is mainly presented as an opportunity for high net worth individuals and business owners to acquire more knowledge, with the potential to appeal to a much broader audience. As the author himself states, the posts are blunt, opinionated and humorous.
Rita Keller – Listed 6 out of 20 times, it is filled with advice, experiences and life lessons for accountants and accounting leaders, updated almost daily, so there'll always be something new there for you to read. Rita Keller is a respected CPA, author, and speaker who has frequently been recognized as one of the most influential influencers in accounting. Her daily blog posts share lessons she's learned from her work experience, as well as practical advice for CPAs.
CPA Success – Listed 5 out of 20 times, this blog discusses topics such as business strategy, professional services, staffing issues, leadership, organizational development, corporate finance, and technology. Bill & Tom are the thought-provoking, well-written accountants & bloggers behind CPA Success. Their posts cover many facets of accounting practice, challenging general accounting & business practices, examining multi-generational issues in the workplace and exploring new technologies.
Accounting Web – Listed 5 out of 20 times, Accounting Web is a community site for tax and accounting professionals (predominantly from small independent firms) who regularly work with clients. Accounting Web regularly provides useful and practical content for this audience. The vast majority of content comes from the community itself as well as thought leaders and others (such as vendors and service providers) looking to influence the profession in some way.
Going Concern – Listed 4 out of 20 times, covers the worlds of accounting and business finance, with a slightly more irreverent take. It is an "alt-weekly" for the accounting profession. In the words of one of their contributors, "the accounting profession's leader in opposing viewpoints." Many have likened Going Concern to TMZ, The Daily Show, Last Week Tonight.
Don't Mess With Taxes – Listed 4 out of 20 times, is the blog run by Kay Bell, an Austin-based journalist who has covered taxes for more than 15 years and is the author of "The Truth About Paying Fewer Taxes." This award-winning blog shares Kay's opinions regarding tax laws, policies, and regulations. Don't Mess With Taxes also includes tax tips and a glossary of terms, and presents a real help to keep its readers up-to-date on new tax laws, regulations and policies.
The Fraud Files – Listed 5 out of 20 times, is a blog dedicated to the practice of forensic accounting. Tracey Coenen, a CPA and forensic accountant with two decades of experience covers a wide variety of topics, including auditing and regulations, fraud, white collar crime, and even divorce cases that involve hidden income or assets.
Number Crunch – Listed 5 out of 20 times, The OSYB blog called Number Crunch provides advice from Ed Becker, a licensed CPA. The posts target small businesses and provide tips for balancing your budget, creating a marketing plan and much with titles, such as Small Business End of Year Tax Tips. Number Crunch provides help for accounting and bookkeeping needs of small business owners.
Intuit Accountants News Central – Listed 3 out of 20 times, keeps its subscribers up to date on the latest in QuickBooks and cloud accounting trends. It offers Professional financial accounting & tax accounting solutions from Intuit to help save time and money, and serve accounting, bookkeeping & tax clients.
Less Accounting Blog – Listed 4 out of 20 times, Less Accounting provides simplified accounting software for small businesses. The company who seeks to make accounting easy for everyone also brings the LessAccounting blog, which follows the goal of making accounting information accessible to everyone. It features posts that focus on ways to improve accounting and small business practices with tips on automating marketing and dealing with demanding clients.
Re: The Auditors – Listed 4 out of 20 times, is a blog with information for accountants from an accountant with over 20 years' experience in consulting and professional services. Populated with news and stories of scandals, fraud, backstabbing, and ignominy; this blog flies in the face of anyone who stereotypes business or accounting as staid.
ConvergenceCoaching – Listed 3 out of 20 times, is the place, where CPA professional thought leaders post inspired ideas related to leadership, management, personal development, trends in the profession and personal stories to help leaders in their profession achieve success. Honest, thought-provoking and practical, these posts are intended to inspire change and growth at both the individual and organizational level.
Bond Beebe Blog – Listed 5 out of 20 times, is the blog of Bond Beebe, Accounts & Advisors, one of the top DC Accounting Firms, with over 80 professionals who provide high-quality audit, tax, and advisory services. The company shares information about favorite topics and some of the biggest concerns that its customers have. It's Taxing is a user-friendly blog designed to offer information and education geared toward topics related to tax, estates, accounting, and finance.
Energized Accounting – Listed 4 out of 20 times, this blog belongs to Bill Kennedy, CPA, and heads Energized Accounting. Working primarily with Canadian charities to streamline accounting processes and produce reporting in a more readable and engaging way, Bill focuses on helping non-profits succeed. Bill shares his insights on accounting for charities, accounting software, and professional development as well as war stories from his career.
Apple Tree Business Services – Listed 5 out of 20 times, is the blog voice of New Hampshire-based "Apple Tree Business Services" CPA, Steve Feinberg. He discusses deductions on everything from pets to diets, distinguishing sub contractor vs. employee status, the value of bookkeeping for small business and the best response when an IRS letter arrives.
Most Favorite Accounting Posts
on our Blog 
Blog: Accounting, Audit & Advisory
Our Blog focuses on helping you to find the best sources on the web about Accounting. Think of blogs, books, tools, software, online courses, firm rankings, universities and much more, all related to Accounting. It also includes guest posts from our users or visitors about all sorts of accounting topics.
Popular Articles:
Top 15 Accounting Books Recommended Most Times by Accounting Pro's
Best Online Courses for Accounting
Best Accounting Software for Professional Service Firms
More Resources for Accounting
Q&A: Accounting Knowledge Sharing 
Via our Accounting Community Forum, Professionals and Clients can share knowledge by having Q&A conversations about typical business issues or best practices in relation to Accounting. Here you can share your Accounting Knowledge, rank answers by how valuable they are, or just read and follow any Accounting topic you want, and get noticed when new contributions are made to discussions you follow.
Latest Sector News: Aggregated Accounting News
Via our Accounting Briefing Room, the Top Accounting Resources on the web are followed and only the most shared content is shown. You can filter all the content for the last 24 hours, 3 days, 1 week, 1 month, 3 months, etc so you can easily find and stay up to date with the latest Accounting developments.
Other Briefing Rooms:
All Latest Sector News Briefing Rooms
Digital Marketing & SEO
Entrepreneurship, Technology, Freelance, and Professional Services
How Our Platform Works
More than 75% of potential Clients who look for Accounting Services start a Web Search to find the best Accounting Pro for the Job. Because the internet is by far the leading channel, it is critical that your business can be easily found on the internet. Creating a profile on our Platform is free and opens the door to new opportunities, it can be done in only a few minutes and without any credit card.
Easily find and compare highly qualified Accounting Pros by searching our Platform, which can be Accounting Firms, Accounting Professionals, or Accounting Freelancers. Directly contact and work with your ideal candidate in any way you like. Searching is always free, and that also means that we never charge any transaction type of fees.
Learn More:
How it Works
Memberships
Create Profile
How we Established the Final Top 20 List
We made a list of 50 posts that were recently published about "Best Accounting Blogs" to follow.
From this list of 50 posts, we selected the top 20 that seem most valuable to our readers and users.
We combined the 20 lists about "Best Accounting Blogs" and earmarked all individual blogs that were on those lists.
When a blog was ranked as number 1, it got 1 point, and when it was ranked 2nd, it got 2 points, etc.
When no particular ranking was applied to a certain list, then each listed blog got the same points.
To be included in the final list a blog should be listed for a minimal number of times.
More weight was assigned to blogs who were clearly listed more times than other blogs.
All lists were summed up, and the blog with the lowest number was ranked 1, 2, 3, etc.
This resulted in the final "Top 20 Accounting Blogs" that are followed by many small business owners and/or accounting experts. 
Sources Used
The 20 "Best of Lists" used for our research are:
The Best Accounting Blogs of 2016, as posted on FitSmallBusinessblog, that focuses on the needs of small business owners. This blog was founded by Marc Prosser and David Waring.
Best Cloud Accounting Blogs of 2016, as an accountant, consultant, and blogger Blake Oliver published on his blog. He covers various topics, with a focus on accounting technology.
A Curated Directory of 100+ Accounting Resources & Tools, as Jetpack Workflow, the workflow management firm published on its blog.
The Best Blogs for Business Degree Students, the comprehensive list of useful blogs, published on Discover Business Online.This website offers in-depth resources, subject guides, and rankings, intended to business students.
50 BEST ACCOUNTING BLOGS OF 2014, as posted on Accounting Degree Review, an independent and objective resource for current and prospective accounting and finance students.
Top Ranked Accounting Blogs, the list published on Accounting Degree Today, based on website popularity metrics such as website authority, the number of linking sites, and Twitter Followers.
The Top Seven Accounting Blogs of 2015, as posted on OutstandingColleges.com, the online publication providing useful information to help students make the right decision when selecting what school to go to.
10 ACCOUNTING BLOGS YOU NEED TO FOLLOW, as published on the blog that belongs to Due, online invoicing platform, designed to help freelancers and small business owners.
15 Accounting Blogs Worth Reading, the list of 15 blogs from professional associations, accounting firms, and experienced CPAs, published on Saint Leo University blog.
10 Best Accounting Websites for Startups, published by Entrepreneur, the North American magazine, and website that carries news stories about entrepreneurship, small business management, and business.
5 Accounting Blogs to Follow, as posted on Marissa Malone's LinkedIn Pulse.
10 CPA Blogs Worth Following, as posted on the Perfect Client, financial advising firm's blog.
100 Best Websites for Accountants, as published on Best Accounting Schools, a resource guide for finding the latest up-to-date information about top accounting degree programs, that shares expert knowledge on the highest quality accredited accounting schools.
The Top 13 Small Business Accounting Resources, the list completed by Capterra, free service that helps businesses find the right software solutions.
7 Small Business Accounting Blogs Worth Reading, as B&J Bookkeeping, tax and bookkeeping services provider recommended on their blog.
Top 10 Blogs to Follow for Accounting & Financial Tips for Your Small Biz, the list compiled on a blog that belongs to Ambir, a manufacturer of scanning, signature capture, and document management equipment.
2016 – Top 10 Accounting & Bookkeeping Blogs, as published on Bookkeeping Online, the blog that provides information about Small Business Bookkeeping Services.
50 Accounting Blogs You Should Follow, as Direct Capital announced on their blog. Direct Capital is a fast online lending platform for small and mid-sized businesses.
Top Accounting Blogs, as published by MastersinAccounting.info, a free online resource focused on providing the best information for prospective masters in accounting students researching degrees, programs, and schools.
Top 25 Accounting Blogs, as posted on a blog that belongs to Inspire Education, a provider of a range of nationally accredited training courses for students across Australia.