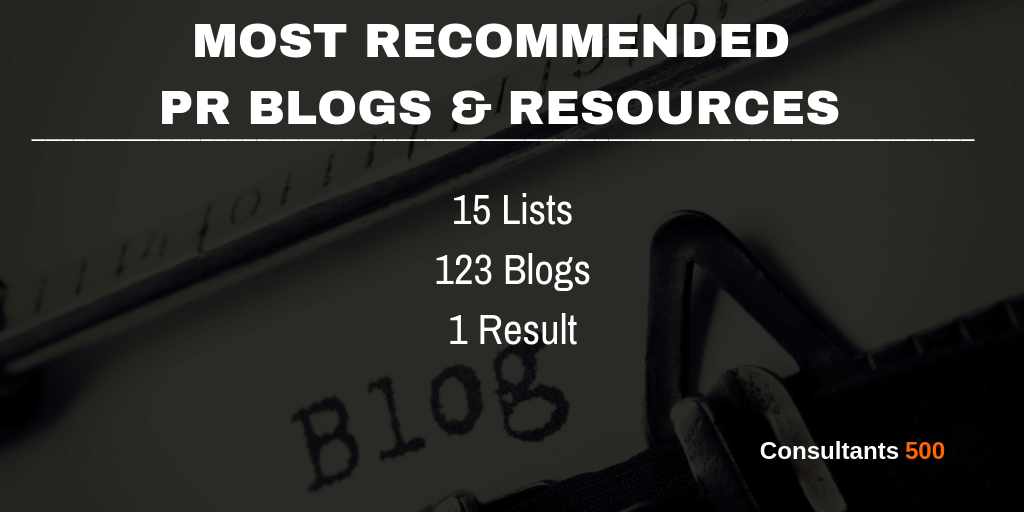 Blogs about PR or Public Relations are an ideal source for staying up to date on the latest developments and learn new insights into all sorts of relevant PR topics. A good PR blog offers in-depth analyses, how to guides, industry trends, handy statistics insights, strategy papers, the best tools for the PR professional and much more.
The only problem is that there are a lot of PR blogs out there and they are all screaming for your attention. It is estimated that there are more than 440 million blogs worldwide, and about 2 million blog posts are written every day. Luckily, not all of them write about PR, but you get the idea right?
So which PR blogs are successful in providing the information you need and how can you find them? You can do a google search and search for the Best PR Blogs, but then you get hundreds of "Best of Lists" in front of you, so that doesn't help a lot either unless you want to spend a full day going through all those lists. Well, that is exactly what we did! We searched for 50 "Best of Lists" highlighting the most recommended Public Relation Blogs or PR Resources, then we selected and combined the 15 most valuable "Best of Lists" and earmarked and ranked what Blogs about Public Relations keep up appearing on most of those recently published lists. From a total of 123 PR Blogs compared, reviewed and ranked, here is the Top 20 of Most Recommended PR Blogs around that appear on most of the "Best PR Blogs" lists.
As we are a small business ourselves, we use this list as well for educating and inspiring our minds and for optimizing our Consultants 500 platform, on which you can also find and search for PR & Communication Experts. If you are a PR & Communication Expert yourself, you can always create a free profile on our Platform if you want to. It only takes a few minutes and no credit card is needed for opening doors to new opportunities. It's all up to you. See here how it works.
Top 20 of Best PR Blogs & Resources
Most Recommended
#1. Ragan's PR Daily / Twitter
Listed 10 out of 15 times. For more than three decades, Lawrence Ragan Communications, Inc., has been the leading publisher of corporate communications, public relations, and leadership development newsletters. Ever since the launch of The Ragan Report in 1970, Ragan has provided the professional communicator and executives with timely, practical, and relevant information that few others can match. The Ragan brand now includes over 16 targeted newsletters in the areas of employee communication, organizational writing and editing, sales and marketing, media relations and motivational management.
Handy Resources:
Public affairs vs. public relations: What is the difference?
10 tenets of outstanding PR strategies
10 things to love about public relations
Here are the 3 (possible) definitions of public relations
---
#2. Spin Sucks / Twitter
Listed 12 out of 15 times. Spin Sucks has a deceptively simple goal—to win the "Fight Against Destructive Spin!" The team at Spin Sucks manages the blog to provide expert information and advice on current issues and trends surrounding marketing, communication, social media, entrepreneurship, search engine optimization, and advertising.
Handy Resources:
10 Tips to Become a More Successful PR Pro
What Does a Public Relations Career Look Like?
DIY Public Relations: Perspective From a Journalist
Why PR and Marketing Must Work Together for Better Results
---
#3. PRSay / Twitter
Listed 7 out of 15 times. PRsay is an interactive public relations and communication blog brought to you by the Public Relations Society of America (PRSA). PRsay is a resource where public relations and communication professionals can learn about current issues, news, popular topics and effective strategies leading the PR profession. As PRSA's blog channel, PRsay covers thought leadership, career advice, industry insights, special events, trainings and more.
Handy Resources:
What Lies Ahead for Public Relations in 2018?
The 4 Absolutes of Public Relations
A Modern Definition of Public Relations
Public Relations, Marketing or Both?
---
#4. SHIFT Communications Blog / Twitter
Listed 6 out of 15 times. This blog takes Shift's integrated PR approach to the public sphere. SHIFT is a data-driven PR agency with offices in Boston, NYC, Austin, and San Francisco, guided by 150 creative and smart SHIFTers across the country. Their PR blog covers how traditional media such as newspapers, magazines, radio, TV, music, and movies are dealing with digital disruption and adapting their business models for a more mobile, networked world.
Handy Resources:
Public Relations and Media Relations: What's the Difference?
What is Investor Relations?
---
#5. PR Couture / Twitter
Listed 6 out of 15 times. PR Couture is the leading digital platform and industry sourcebook for fashion & lifestyle communications professionals looking to show up and stand out. They educate, inspire and celebrate forward-thinking communicators and brands through expert insight, job leads, agency directory, digital tools, courses and annual Bespoke Communication Awards program.
Handy Resources:
7 Reasons You Work in PR (& Love It!)
4 Ingredients To a Successful Career in Public Relations
Be Less Stressed: 6 Organizational Strategies For PR Professionals
---
#6. Holmes Report / Twitter
Listed 5 out of 15 times. The Holmes Report is the authoritative voice of the global public relations industry, dedicated to proving and improving the value of public relations by providing insight, knowledge and recognition to public relations professionals. The Holmes Group was founded in 2000 by Paul Holmes, founder and chair, who has more than two decades of experience writing about and evaluating the public relations business and consulting with both public relations firms and their clients.
Handy Resources:
'Public Relations': Now More Than Ever
Public Relations And The Democratization Of Popular Culture
Public Relations Values Perfect Fit For Social Media Age
What Does The PR Professional Of The Future Look Like?
---
#7. Stephen Waddington / Twitter
Listed 3 out of 15 times. Stephen Waddington is Partner and Chief Engagement Officer at Ketchum helping clients and colleagues to do the best job possible engaging with the public. He is responsible for driving the integration of digital and social capabilities in client engagements across the agency's international network. Stephen understands how the media landscape works online and offline and champions best practice as a writer, conference speaker and award-winning blogger.
Handy Resources:
Public relations in 2018
95 tools to help you work smarter in public relations
Public relations dissertation topics
How to write a public relations plan in 10 steps
---
#8. The Skimm / Twitter
Listed 3 out of 15 times. The Skimm is popular for a good reason. Offering a wealth of straightforward, no-nonsense, factual blurbs that give insight on a wide range of topics, with a particular focus on social media and its many facets. Think of it as the Cliff Notes for important stuff happening in the world right now.
Latest Stories
Teach Me How to Debuggie
Introducing Skimm'r of the Year
No BS, No Cry: Introducing Skimm'd from The Couch
---
#9. Institute for Public Relations (IPR) Blog / Twitter
Listed 3 out of 15 times. The Institute for Public Relations (IPR) is a nonprofit foundation dedicated to research in, on and for public relations. They focus on research that matters to the practice, providing timely insights and applied intelligence that professionals can put to immediate use.  IPR has one of the best PR blogs for timely insights and applied intelligence on industry topics that matter, so professionals can put them to immediate use.
Recent Posts:
Getting Emotional: Emotions' Role in Crisis Communication
Exploring the Relationship Between Corporate Reputation and Social Media
Researchers Address Lack of Standardized Internal Communication Measurement
A Post-Communication World: Where to Go from Here
---
#10. Bulldog Reporter / Twitter
Listed 4 out of 15 times. Billing itself as a "hub for PR views, news, and resources", the Bulldog Reporter houses posts by industry folks, profiles of pros and winning campaigns, industry reports and webinars. It offers timely, insightful PR news and feature content that drives traffic and builds an online community of PR practitioners, agencies and service providers.
Handy Resources:
Why your company needs a public relations plan today
The 10 characteristics of a successful PR professional
4 great public relations stunts so far in 2018
---
#11. Public Relations on Reddit / Twitter
Listed 3 out of 15 times. This seven-year-old sub-reddit is dedicated to questions about the PR industry. Submissions consist of interesting PR-related articles or posts with questions or discussions for the community. While there's no self-promotion, it's a great resource for those who are starting out in their careers or are solo PR pros looking to crowdsource some advice from their online community.
Latest Feeds:
Has anyone used GAIN to manage social media approvals?
PR Best Practices
About to Start a PR Postgrad at Humber College in the Fall. Any book/content recommendations?
How to introduce yourself at job fairs?
---
#12. Meltwater / Twitter
Listed 3 out of 15 times. Meltwater is committed to fostering the growth of the greater startup and data science ecosystem around the world – from MEST, our Pan-African entrepreneurial training program and incubator, to Shack15, the first global data science hub. Their blog provides relevant and useful stories created by contributors who are serious about PR. Also keep an eye out for content in languages other than English.
Handy Resources:
Create Solid PR Strategy in Four Simple Steps
6 Good Reasons to Combine Your PR and Content Marketing Strategies
The History of Public Relations
Social Media Impact on Public Relations and News
---
#13. Peter Shankman / Twitter
Listed 3 out of 15 times. Peter Shankman is a spectacular example of what happens when you merge the power of pure creativity with Attention Deficit Hyperactivity Disorder (ADHD) and a dose of adventure and make it work to your advantage. An author, entrepreneur and corporate keynote speaker, this "worldwide connector" is recognized worldwide for radically new ways of thinking about customer service, social media, PR, marketing, advertising, and ADHD.
Recent Posts:
If You Are The Smartest Person In The Room, You're In The Wrong Room
Why Your Next Book Should Be Self-Published
I Became An Entrepreneur 20 Years Ago This Year
---
#14. Bad Pitch Blog / Twitter
Listed 3 out of 15 times. Founded by Richard Laermer and Kevin Dugan, this is a blog that finds obscure topics and turns them on their ear(s) to help the average PR pro learn how not to write a pitch bad enough to become media room bulletin board fodder. It's a great resource to be able to learn more about PR pitches, and how to take your initial pitches and perfect them.
Handy Resources:
PR & Media Relations: Top 22 Posts from a Decade of (Really) Bad Pitches
Headline Clickbait: PR Science or PR Fail?
Media Relations Should Be Smart, Fast and Flexible
A PR Time Capsule Can Take You Back to the Future
---
#15. Brian Solis PR 2.0 / Twitter
Listed 3 out of 15 times. Brian Solis is a principal analyst at Altimeter, the digital analyst group at Prophet. He is also an award-winning author, prominent blogger/writer, and world renowned keynote speaker. Brian's blog is consistently named as a leading marketing and business blogs around the world.
Recent Posts:
The Hybrid Theory Manifesto: The Future Of Marketing, Advertising, And Communications Part Three
The Hybrid Theory Manifesto: The Future Of Marketing, Advertising, And Communications Part Two
Q&A: Personal Vs. Professional Branding In Social Media
---
#16. The Future Buzz / Twitter
Listed 4 out of 15 times. The Future Buzz, run by Googler Adam Singer has fast become one of the most popular blogs on the web about digital marketing/PR strategies, building organic buzz and creating long-term visibility for your brand, business, and art in a fragmented media society. Everyone from entrepreneurs at startups to marketing leaders at major corporations will find value in the content here. Adam Singer is Analytics Advocate at Google, a marketing, media and PR industry speaker, startup adviser and blogger.
Handy Resources:
The War On Media Relations
Please Kill The 'PR Isn't Measurable' Myth
Blogger Relations: Two Approaches For PR
The Right Team Member Is More Valuable Than An Entire PR Firm
---
#17. Cision Blog / Twitter
Listed 3 out of 15 times. Cision covers all aspects of your communication needs, helping you reach, target and engage your audience. The blog is well organized with best practices, media updates, trends, news, influencers and other PR essentials.
Recent Posts:
How to Write Content that Sparks a Conversation
AI and the Future of Sentiment Analysis in PR
The Biggest Problem With Influencer Marketing — Featuring Jay Baer
How Instagram Stories Are Changing PR Pitching And Media Coverage
---
#18. AdWeek Social Pro Daily / Twitter
Listed 4 out of 15 times. Social Pro Daily covers the ins-and-outs of social media, doing an impressive job of keeping up with changes in algorithms and use cases for different social media features. They post 3 new articles per day and cover practical topics such as Instagram.
Recent Posts:
No. 1 Pick Baker Mayfield and the Cleveland Browns Dominated Twitter During the NFL Draft
Preparing for a Spike in Social Media Activity When Brands Decide to Take a Stand
---
#19. PR Conversations / Twitter
Listed 3 out of 15 times. PR Conversations is a collective global public relations blog, reflecting a wide variety of voices, critical thinking and informed opinion. It is run by two seasoned PR professionals.
Handy Resources:
The four Ps of public relations leadership
The Art of Smart Thinking in Public Relations
How to Use Public Relations Counsel
Do You Have Any Tips for Your Favorite
Online Public Relations Resources?
Want to share your favorite Online PR Resources? Just do the following:
Later on, we will share the results via Knowledge Resources, so you can quickly find the best Online PR Resources on the web as suggested by our users and visitors.
More Resources for
PR & Marketing
Besides reading blogs about Public Relations, there are other great ways to stay up to date with the latest (Digital) Marketing trends and developments.
Q&A: Marketing Knowledge Sharing 
Via our Marketing Community Forum, Professionals and Clients can share knowledge by having Q&A conversations about typical business issues or best practices about Marketing. Here you can share your Marketing Knowledge, rank answers by how valuable they are, or just read and follow any Marketing topic you want, and get noticed when new contributions are made to discussions you follow.
Latest Sector News for Digital Marketing: Aggregated Marketing News
Via our Marketing Briefing Room, the Top Marketing Resources on the web are followed, which includes the Top 3 Public Relations Blogs listed above, and only the most shared content is shown. You can filter all the content for the last 24 hours, 3 days, 1 week, 1 month, 3 months, etc so you can easily find and stay up to date with the latest Marketing developments.
Other Briefing Rooms:
All Latest Sector News Briefing Rooms
Entrepreneurship, Technology, Freelance, and Professional Services
How Our Platform Works
Be Found As a Public Relations Expert
More than 75% of potential Clients who look for Public Relations Services start a Web Search to find the best PR Specialist for the Job. Because the internet is by far the leading channel where potential buyers start their journey, it is critical that your business can be easily found on the internet. Creating a profile on our Platform is free and opens the door to new opportunities, it can be done in only a few minutes and without any credit card.
Learn More:
How it Works
Memberships
Create Profile
Search, Compare, Find & Hire PR & Communications Experts
Easily find and compare highly qualified PR & Communications Experts by searching our Platform, which can be local Agencies Specialized PR & Communications, specialized PR & Communication Experts, or independent PR & Communications Freelancers. Directly contact and work with your ideal candidate in any way you like. Searching is always free, and that also means that we never charge any transaction type of fees.
How we Established the Final
Top 20 of Best Public Relations Blogs
We made a list of 50 posts that were recently published about "Best Public Relations Blogs" to follow.
From this list of 50 posts, we selected the top 15 that seem most valuable to our readers and users.
We combined the 15  lists of "Best Public Relations Blogs" and earmarked all individual blogs that were on those lists.
When a blog was ranked as number 1, it got 1 point, and when it was ranked 2nd, it got 2 points, etc.
When no particular ranking was applied to a certain list, then each listed blog got the same points.
To be included in the final list a blog should be listed for a minimal number of times.
More weight was assigned to blogs which were explicitly listed more times than other books.
All lists were summed up, and the Public Relations Blog with the lowest number was ranked 1, 2, 3, etc.
This resulted in the final "Top 20 of Best Public Relations Blogs" that have been recommended most times by all types of PR Experts. 
Sources Used for
Best Public Relations Blogs to Follow
The 15 "Best of Lists" used for researching what the Best Public Relations Blogs & Resources are:
Top 10 PR Blogs You Should Be Reading
Top 20 Social Media & PR Blogs Of 2016
The Best PR Blogs 2016
13 Insightful PR Blogs That You Should Be Reading
Top 10 PR Blogs to Watch in 2017