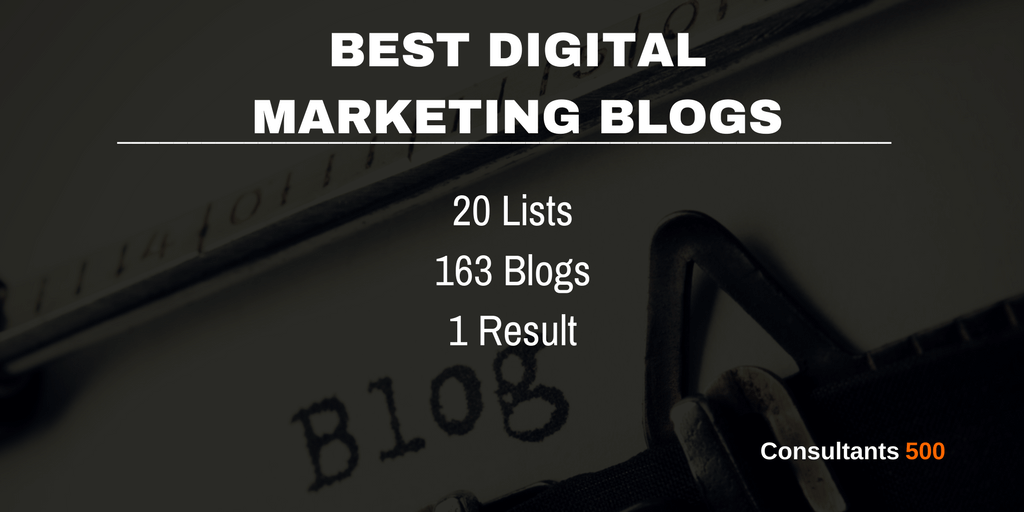 Blogs about Digital Marketing are an ideal source for staying up to date on the latest developments and learn new insights about all sorts of marketing topics. A good marketing blog offers in-depth analyses, how to guides, industry trends, handy statistics insights, strategy papers, the best tools for the marketing professional and much more.
The only problem is that there are a lot of digital marketing blogs out there and they are all screaming for your attention. It is estimated that there are more than 440 million blogs worldwide, and about 2 million blog posts are written every day. Luckily, not all of them write about marketing, but you get the idea right?
So which Digital Marketing Blogs are successful in providing the information you need and how can you find them? You can do a google search and search for the best Digital Marketing Blogs, but then you get hundreds of "Best of Lists" in front of you, so that doesn't help a lot either unless you want to spend a full day going through all those lists. Well, that is exactly what we did! We searched for 50 "Best of Lists" highlighting the most recommended Digital Marketing Blogs, selected and combined the 20 most valuable "Best of Lists" and earmarked and ranked what Blogs about Digital Marketing keep up appearing on most of those recently published lists. From a total of 163 Digital Marketing Blogs compared, reviewed and ranked, here are the 20 Best Digital Marketing Blogs around.
As we are a small business ourselves, we use this list as well for educating and inspiring our minds and for optimizing our Consultants 500 platform, on which you can also find and search for Digital Marketing Experts.
Top 20 Digital Marketing Blogs to Follow
Digital Marketing Aspects:
Best SEO Blogs
SEO should be a key element in your overall Digital Marketing strategy. These 20 Best SEO Blogs keep up appearing on all the "Best of Lists"  for Best SEO Blogs, and here are the top 5:
Other Resources that Might be Helpful
How we Established the
Best Digital Marketing Blogs List
We made a list of 50 posts that we recently published about "Best Digital Marketing Blogs" to follow.
From this list of 50 posts, we selected the top 20 that seem most valuable to our readers and users.
We combined the 20 lists about "Best Digital Marketing Blogs" and earmarked all individual blogs that were on those lists.
When a blog was ranked as number 1, it got 1 point, and when it was ranked 2nd, it got 2 points, etc.
When no particular ranking was applied to a certain list, then each listed blog got the same points.
To be included in the final list a blog should be listed for a minimal number of times.
More weight was assigned to blogs which were explicitly listed more times than other blogs.
All lists were summed up, and the Digital Marketing Blog with the lowest number was ranked 1, 2, 3, etc.
This resulted in the final "Top 20 Digital Marketing Blogs" that are followed by many digital marketing experts and other people who want to learn more about marketing in today's digital world. 
Sources Used
The 20 "Best of Lists" used for our research are: