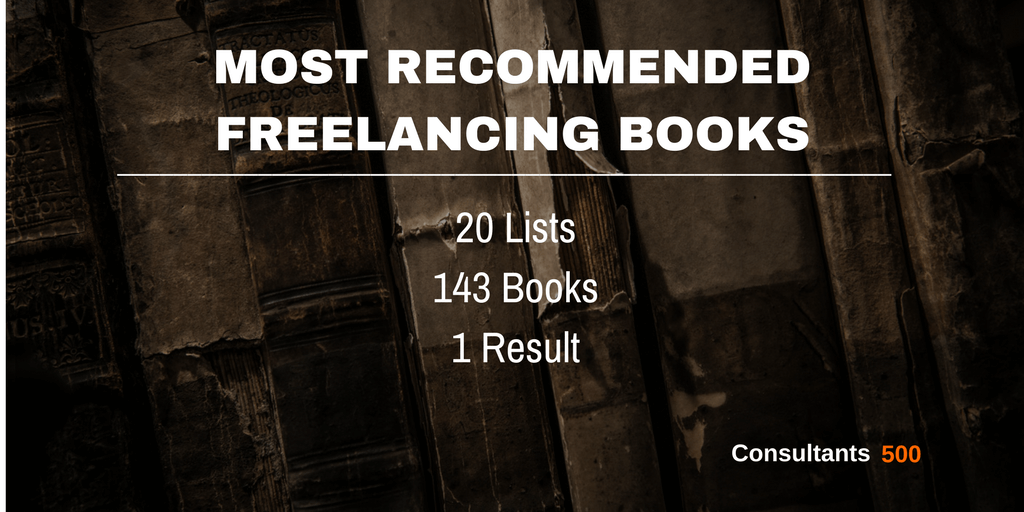 Freelancing can be a tough job. You are your own boss, which is great, but at the same time, you have to deal with all aspects of running a business. No matter what type of freelancer you are, you need to market your work, keep clients happy, network, do your administration, do your taxes and keep up with all the latest developments in your branch, and just is just a small selection of all the skills you need as a freelancer. But bottom line you just need to run a business, your own business, and that can be a hard job.
So how do you learn about or keep up with all those skills and developments? Books offer a great way of learning and at a much lower price than taking, for example, a specialist course. By reading a book, you consume a huge amount of research in a relatively short amount of time, and it is one of the best ways to improve your skills.
Now we know what we should be doing, right? Just start reading Freelancing Books! However, now there is another problem because there are a lot of books written about freelancing in the market, and there are much more to come. For instance, just doing a search for "Freelance" books in Amazon results in more than 3,928 books about Freelancing, so how do you make up your mind about what to read?
You can do a google search and search for the Best Books about Freelancing, but then you get hundreds of "Best of Lists" in front of you, so that doesn't help a lot either unless you want to spend a full day going through all those lists. Well, that is exactly what we did! We searched for 50 "Best of Lists" highlighting the most recommendable books for freelancers, selected and combined the 20 most valuable "Best of Lists" and earmarked and ranked what books for freelancers keep up appearing on most of those recently published lists. From a total of 143 books compared, reviewed and ranked, here are the Top 20 of Most Recommended Freelancing Books!
As we are a small business ourselves, we use this list as well for educating and inspiring our minds and for optimizing our Consultants 500 platform. And in case you didn't know yet, on our platform you can search for many types of freelancers all over the world. Finally, if you are a freelancer, you can always register for free if you want to, it's all up to you. See here how it works.
The 20 Most Recommended
Freelancing Books
These books are not only about freelancing but also about how to run a business and what key aspects come into play, which in the end should help you with your freelancing business.
Other Resources that Might be Helpful
Best Digital Marketing Blogs – As a Freelancer your Digital Marketing skills are key and blogs are an ideal source for staying up to date on the latest developments and learn new insights about all sorts of marketing topics. Check our Best Digital Marketing Blogs to Follow and stay up to date on many digital marketing subjects. For this list, we followed the exact same approach as we did for our Top 20 Most Recommended Freelancing Books to read.
Best Small Business Blogs – As a Freelancer, you run your own business and in doing so any help is welcome. Small Business Blogs are an ideal tool to stay up to date on the latest developments and learn new tricks on how to succeed and grow your business. Here you can read what the Best Small Business Blogs are to follow. Again, for this list, we followed the exact same approach as we did for our Top 20 Most Recommended Freelancing Books to read.
Latest Sector News for Freelancers – The internet is an invaluable resource for knowledge. The only problem is that there are tons of sources for learning and staying up to date with the latest developments. You can spend a ton of time searching for relevant sector news or use our curated Briefing Room for Freelancing. The Freelancing Briefing Room follows the top Freelancing resources on the web, which includes the best sources as suggested by our users and visitors. Only the most shared content is shown, and you can filter all the content for the last 24 hours, 3 days, 1 week, 1 month, 3 months, etc. so you can easily find and stay up to date with the latest Freelancing Developments.
How we Established the
Final Top 20 Freelancing Books List
We made a list of 50 posts that we recently published about "Best Freelancing Books"  or "Best Books for Freelancers" to read.
From this list of 50 posts, we selected the top 17 that seem most valuable to our readers and users.
We combined the 17  lists of "Best Freelancing Books" and earmarked all individual books that were on those lists.
When a book was ranked as number 1, it got 1 point, and when it was ranked 2nd, it got 2 points, etc.
When no particular ranking was applied to a certain list, then each listed book got the same points.
To be included in the final list a book should be listed for a minimal number of times.
More weight was assigned to books which were explicitly listed more times than other books.
All lists were summed up, and the Freelancing Book with the lowest number was ranked 1, 2, 3, etc.
This resulted in the final "The 20 Most Recommended Freelancing Books" that have been read by many small business owners and/or freelancing experts. 
Sources Used
The below resources were used for establishing our list of Top 20 Most Recommended Freelancing Books: