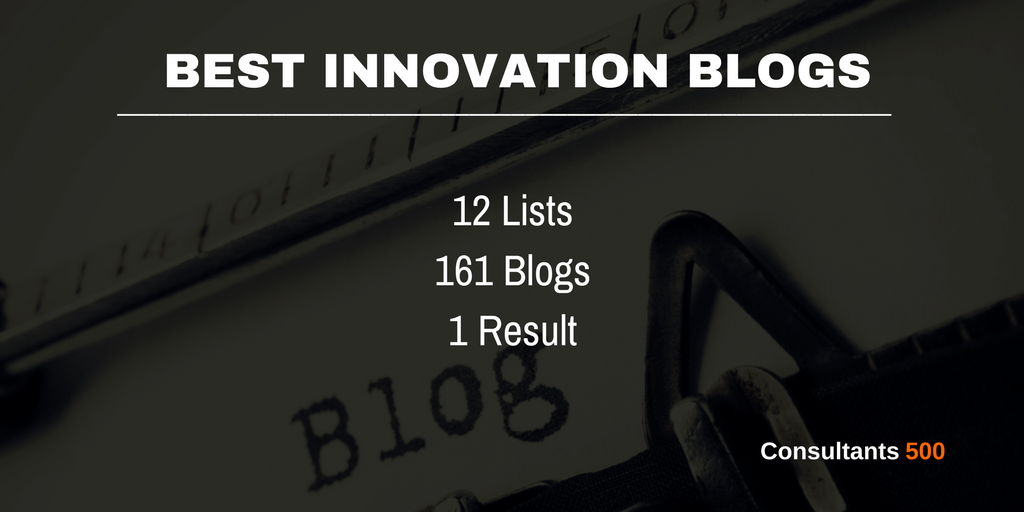 Blogs about Innovation are an ideal source for staying up to date on the latest developments and learn new insights about all sorts of innovation topics. A good innovation blog offers in-depth analyses, how to guides, industry trends, handy statistics insights, strategy papers, the best tools for the innovation professional and much more.
The only problem is that there are a lot of innovation blogs out there and they are all screaming for your attention. It is estimated that there are more than 440 million blogs worldwide, and about 2 million blog posts are written every day. Luckily, not all of them write about innovation, but you get the idea right?
So which Innovation Blogs are successful in providing the information you need and how can you find them? You can do a google search and search for the Best Innovation Blogs, but then you get hundreds of "Best of Lists" in front of you, so that doesn't help a lot either unless you want to spend a full day going through all those lists. Well, that is exactly what we did! We searched for 50 "Best of Lists" highlighting the most recommended Innovation Blogs, selected and combined the 12 most valuable "Best of Lists" and earmarked and ranked what Blogs about Innovation keep up appearing on most of those recently published lists. From a total of 161 Innovation Blogs compared, reviewed, and ranked, here are the Top 15 Innovation Blogs around.
Learn More About Our Free Job Posting Opportunities
Are you an Innovation Consulting Firm or a Recruiter in that sector?

Do you want unlimited free job posts on our Job Board with a 100% Professional Services focus?

Then we should Partner!
Our niche Job Board has a strong focus on Innovation & Consulting Jobs, and we are seeking a Partner in key regions who can post jobs for free. No credit card needed, no hassle involved, and it can be operational within minutes. Find out how it works.
Top 15 of Best & Most Recommended
Innovation Blogs 
#1. Innovation Excellence / Twitter
Listed 10 out of 12 times. Innovation Excellence is the online home of the global innovation community, building upon a rapidly-growing network with thousands of members from over 175 countries – thought leaders, executives, practitioners, consultants, vendors, and academia representing all sectors and industries. Their community currently generates over 225,000 unique visits and requests more than 800,000 pages every month.
Recent posts:
The Undeniable Power of the "Garage Experience"
4 Ways to Create Talent Gravity and Get the Best People
Top 40 Innovation Bloggers of 2017
We are in need of a common language for innovation
---
#2. Board of Innovation / Twitter
Listed 7 out of 12 times. Board of Innovation is an international office specialized in intrapreneurship & business model innovation. They help corporate clients like eBay, P&G, J&J, and Volkswagen to innovate like startups and to develop sustainable new revenue streams.
Recent posts:
4 Golden Rules of Ideation
10 top skills of the best Transformation Leaders
2018 Trends: read, then what?
Building an online Idea Generator
---
#3. InnovationManagement / Twitter
Listed 6 out of 12 times. Based out of Lund, Sweden, the founders recognized very early an unfulfilled need in the market for knowledge, training, and inspiration on how to manage innovation in organizations of all shapes and sizes. Over the years the website has evolved into an online resource and learning center with an impressive growing global audience. Besides the main website, IM has collaborated with educational institutions and industry leaders on numerous side-projects such as research, reports, training, and forums.
Recent posts:
Impact Assessment: The Innovation Paradigm Shift that is Coming
How the Innovation of the Email Changed Communication and Performance in Business
Imagine a Bigger Better World: An Innovative Leap by Sir Tim Berners-Lee
10 Innovations That Will Make Your Business Greener
---
#4 Scott Berkun / Twitter
Listed 3 out of 12 times. Scott Berkun is a bestselling author and popular speaker on creativity, philosophy, culture, business and many other subjects. He's the author of six books, including  The Myths of Innovation,  Confessions of a Public Speaker, and The Year Without Pants. His work has appeared or been mentioned, in The New York Times, The Washington Post, Forbes, The Wall Street Journal, The Economist, The Guardian, Wired magazine, USA Today, Fast Company, National Public Radio, The Huffington Post and other media.
Recent posts:
Which is more dangerous: writing badly or reading poorly?
Star Trek and the ideas we must reject to save our future
How to master the ways to say NO
Does the attention economy make life harder for creatives?
---
#5. InventHelp / Twitter 
Listed 4 out of 12 times. InventHelp is a leading inventor service company and assists you in trying to submit your inventions or new product ideas to industry.
Recent posts:
The Biggest Innovations & Gadgets of 2017
5 Inventions that Have Impacted Thanksgiving Dinner
6 Ways to Encourage Young Inventors
4 Tips for Creating a Professional Business Card
---
Are you looking for new Hires?
Post your job on our
Niche Job Board
 for Innovation Experts.
#6. Innovation at Harvard Business Review / Twitter  
Listed 4 out of 12 times. HBR covers a wide range of topics, including strategy, leadership, organizational change, negotiations, operations, innovation, decision making, marketing, finance, work-life balance, and managing teams. They publish articles of many lengths (some in both print and digital forms, and some in digital-only), graphics, podcasts, videos, slide presentations, and just about any other media that might help us share an idea effectively.
Popular posts:
Why Amazon's Grocery Store May Not Be the Future of Retail
What Is Disruptive Innovation?
The Truth About Blockchain
The 4 Main Ways to Innovate in a Digital Economy
---
#7. The Heart of Innovation / Twitter
Listed 4 out of 12 times. Idea Champions is a consulting and training company dedicated to awakening and nurturing the spirit of innovation. We help individuals, teams and entire organizations tap into their innate ability to create, develop, and implement ideas that make a difference.
Popular posts:
Thought Leaders Now Being Replaced By Feeling Leaders
25 Awesome Quotes on Creativity
The Paradox of Innovation
23 Reasons Why Nothing Happens After a Brainstorming Session
---
#8 Idea to Value / Twitter  
Listed 4 out of 12 times. Idea to Value is a community about improving everyone's ability to generate new ideas and turn them into something amazing. Their insights come from experts in Innovation Management, Psychology, Neuroscience, Art, Business Leadership, and many more.
Recent posts:
Elon Musks new $0 salary and what it can teach us about visionary innovation leaders
How machines learn (a great video explanation of deep learning)
Thinking about being more creative? Why don't you ask around?
These Xiaogang farmers could have been executed for their innovation in 1978, instead they changed China forever
---
#9. Burrus Blog / Twitter  
Listed 3 out of 12 times. Burrus Research helps leaders create anticipatory and highly innovative organizations by using predictable Hard Trends and game-changing technology to build a better tomorrow. Its founder, Daniel Burrus, is considered one of the World's Leading Futurists on Global Trends and Innovation. The New York Times has referred to him as one of the top three business gurus in the highest demand as a speaker.
Recent posts:
How to Skip Your Biggest Problem (And Still See Results)
Trial & Error: What Thomas Edison Can Teach Businesses Today
A "Brandless" Form of Anticipation
Anticipation and Risk Management
---
#10. Destination Innovation / Twitter 
Listed 4 out of 12 times. Destination Innovation is a company that helps companies overcome the problems they have making innovation happen. They improve creativity and lateral thinking for leaders with our leadership and innovation workshops. This results in more agile culture, more ideas, and successful innovation. Their leadership talks and innovation workshops help you to find better ways to do things – saving money and giving you a competitive advantage.
Recent posts:
Two Contrarian Thinkers Who Went Unheeded
Why Did No-One Think of This Before?
Innovate Like a Software Start-Up
What Can We Do With Packaging? Why Not Eat It?
---
#11. Innovate UK / Twitter
Listed 3 out of 12 times. Innovate UK is the UK's innovation agency, run by the UK government. They work with people, companies and partner organizations to find and drive the science and technology innovations that will grow the UK economy.
Recent posts:
Industrial Strategy Challenge Fund – more challenges, more opportunities
It's a great time to be looking to fund your innovative business
Accelerating patient capital
Open to Innovation
---
#12. Innovation in Practice / Twitter
Listed 5 out of 12 times. For thousands of years, inventors have embedded five simple patterns into their inventions, usually without knowing it. These patterns are the "DNA" of products that can be extracted and applied to any product or service to create new-to-the-world innovations. Drew Boyd shares how to use this effective, repeatable, and trainable innovation process for organic growth.
Recent posts:
3 Innovation Specialists Busting the Myth About Brainstorming
Innovation Sighting: Attribute Dependency in Swiss Trains
Innovation Sighting: Partial Subtraction for Better Beer Drinking
Innovation Sighting: Yet Another Multiplication in Cameras
---
Are you looking for a new Job?
Search for jobs on our
Job Board
 for Consulting & Innovation Experts.
#13. Inventors Digest / Twitter
Listed 4 out of 12 times. Investors Digest is an innovation magazine in its 32nd year. Inventors Digest fosters the spirit and practice of innovation. Inventors Digest is committed to educate and inspire independent and professional innovators. As the leading print and online publication for the innovation culture, Inventors Digest delivers useful, entertaining and cutting-edge information to help its readers succeed.
Recent posts:
One Path to Success: Think Lazy
5 Steps to a More Effective Product Pitch
Is Entrepreneurship in Your Future? Six Questions to Answer
---
#14. Lateral Action / Twitter
Listed 3 out of 12 times. Lateral Action is run by Mark McGuinness, a writer and coach to help you succeed (however you define success) by getting you to realize that busy does not equal productive or more importantly, innovative.
Popular articles:
Forget the Career Ladder: Start Creating Assets
Kabuki: Lessons from 400 Years of Creative Tradition
The Art of Emotional Pricing
Why You Don't Need to Be a Genius to Be a Creative Success
---
#15. The IdeaConnection / Twitter
Listed 3 out of 12 times. IdeaConnection teams work every day solving challenges for companies of all sizes – from Fortune 10s to single proprietorships. IdeaConnection has been solving problems since 2007 by assembling multidisciplinary teams lead by world-class facilitators, who develop intensely researched, innovative, and in-depth solutions.
Recent Posts:
Crowdsourcing Effort to Conserve Anti-Slavery Correspondence
The Wisdom of Not Knowing
The Value of Team Diversity
Crowdsourcing Marijuana Prices for the Canadian Government
Global R&D Spending and Innovation
Research & Development is the backbone of innovation. According to this study, there is a direct correlation between R&D, innovation, and productivity. Another key takeaway is that size does not matter, whether you are a multinational or a small business when your R&D intensity is high it is very likely that you have more successful innovations and increased productivity.
The Global Innovation Index measures which economies and regions respond best to the challenges of innovation, and has helped to shape the innovation agendas of nations since 2007. The relative size of global R&D spending is nicely shown here:

The Ivy League
MBA Reading List
We did another research and these Business / Consulting Books might also interest you. We tried to find the MBA Reading Lists recommended by the Best Business Schools in the world and again earmarked what Business Books are recommended most times by Ivy League schools like Harvard, Stanford, Wharton, and MIT. These Top 20 of Best Business Books keep appearing on the MBA Reading Lists, and here are the top 5:
Learn More About Our Job Board
Most Favorite Consulting Posts
on our Blog 
Blog: Consulting
The Consulting section of our Blog focuses on helping you to find the best sources on the web related to Consulting. Think of blogs, books, tools, software, online courses, firm rankings, universities, and much more, all related to Consulting. It also includes guest posts from our users or visitors about all sorts of business topics.
Popular Articles:
Top 20 Most Recommended Freelancing Books
Best Blockchain Books Recommended Most Times
More Resources for
Innovation & Consulting
Besides reading blogs about Innovation, there are other great ways to stay of to date with the latest Innovation trends and developments.
Q&A: Consulting Knowledge Sharing 
Via our Consulting Community Forum, Professionals and Clients can share knowledge by having Q&A conversations about typical business issues or best practices in relation to Consulting, including Innovation. Here you can share your Consulting / Innovation Knowledge, rank answers by how valuable they are, or just read and follow any Consulting / Innovation topic you want, and get noticed when new contributions are made to discussions you follow.
Latest Sector News for Innovation: Aggregated Consulting News
Via our Consulting Briefing Room, the Top Consulting Resources on the web are followed, which includes the Top 3 Innovation Blogs listed above, and only the most shared content is shown. You can filter all the content for the last 24 hours, 3 days, 1 week, 1 month, 3 months, etc so you can easily find and stay up to date with the latest Consulting / Innovation developments.
Other Briefing Rooms:
All Latest Sector News Briefing Rooms
Digital Marketing & SEO
Entrepreneurship, Technology, Freelance, and Professional Services
Sources Used for
Best Innovation Blogs
The 12 "Best of Lists" used for finding out what the Best Innovation Blogs are:
Quirky's 47 Top Inventions, Innovation, & Idea Blogs
Consultants 500
Via our two platforms, you can find jobs, professional services providers, and more in the professional services sector, including the innovation and consulting industry.
Consultants 500
Niche Job Board
Market Place