How can a small business go up against mega giants such as Amazon or Walmart and still find success in the e-commerce space? Staying competitive in a global economy isn't an easy endeavor. However, by choosing a very narrow focus and marketing to the right audience, you can build your client list and keep customers coming back time after time.
In the first few months of 2020, people began changing the way they shop, turning more often to online retail. About 25% of survey respondents told Statista they now purchase hygiene products online and plan to continue this trend. Across the board, internet sales are up as more people stay home. It's a good time to make sure your e-commerce store is up to par and make any needed tweaks to excel.
The bigger companies have huge marketing budgets and can slash prices. You must find other promotional ploys to make your business stand out. Thankfully, there are many strategies online stores can use to be more competitive. Here are seven changes to implement today.
1. Find a Niche
One of the ways smaller brands compete with big-box retailers is by perfecting a niche. Walmart might sell bath bombs, but do they sell ones that are made with high-quality ingredients and add sparkle to the water? Brands such as Lush made a name for themselves by creating amazing packaging that makes the product look like a high-end gift. First, find an unserved sector and become the best you can in that area.
2. Personalize Shipping
Custom packaging shows you take your company seriously, but it also serves as free advertising. As the order makes its way to the customer, mail carriers see the information on your brand. Neighbors might see the package sitting on the front porch. To make an impact, design unique packaging consistent with the rest of your branding. Create excitement around the arrival of one of your packages and increase word-of-mouth marketing.
3. Focus on the Product
What is unique about your product or service? Do you offer the highest quality furniture in your area? Perhaps items are handmade, personalized, or inexpensive. Whatever the unique value proposition (UVP), highlight that on your website. Make sure you take plenty of vivid photographs of the product from a variety of angles.
If possible, add 360-degree views. You must compete not only with other e-commerce stores but also with physical locations. Make the shopping experience as detailed to real life as possible.
4. Get Personal
One of the complaints you'll see people post on social media about Amazon is how impersonal the experience is. When you get in touch with someone at customer service, the results may or may not be what you desire.
You can beat out the giants by offering a hands-on, customer-centered approach. Get in touch after the sale and ask if they have any questions or concerns. Respond immediately and great the person by name. Offer the best customer experience the person ever had.
5. Go Mobile
Amazon and Walmart both have mobile apps. The selections are overwhelming for some people and not very personalized. You can utilize your own mobile app that ties your physical and e-commerce stores together. Allow users to order on their app but pick up in-store. Take returns for online orders at your physical location. Use the app to push deals specific to the user, pinging them when they get near your shop.
Don't try to be Amazon. You don't need to sell everything — you only need to offer exactly what your target audience wants. Many people prefer a quick and simple shopping process and may flock to you over the bigger player to save time and aggravation.
6. Support Your Community
Even though Amazon has warehouses in various locations around the United States, they aren't very active in local events. One way you can get ahead of the big guys is by getting involved. Support a local Little League team to reach all the parents of those players and likely gain their business. Send small gift baskets to a local nursing home and gain the attention of staff and the families of patients living there. Set up a booth at a local craft fair and give out promotional items.
The more involved you are, the more likely you'll develop a loyal following. Those people then become brand ambassadors for you, telling others about your products and sharing your social media posts.
7. Build a Relationship
As a smaller business, you have fewer customers than the millions who shop with huge retailers. You can build a closer relationship with your audience. Take the time to create content based on their specific questions. Reach out to them on their birthday and send good wishes. Offer a special discount after so many orders.
You can also engage people more on social media. Read their comments and respond specifically. Build a close relationship so when they need what you sell, they'll think of you first.
Look for Openings
Keep an eye on your competition and look for openings where you can serve your target audience. Amazon may try to be everything to everyone, but it can't possibly offer the level of personalization you can. There are actually many perks to doing business with a smaller brand. Highlight the benefits to users so they feel compelled to buy from you.
About the Author: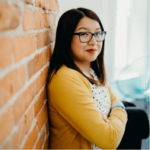 Lexie is a digital nomad and graphic designer. She enjoys hiking with her goldendoodle and trying new food recipes. Check out her design blog, Design Roast, and connect with her on Twitter @lexieludesigner.