Being a freelancer requires hard work, and it is not for everyone. You must allow yourself to let the transition process take time and think about if it is a career path that fits for you.
Once you decided if it is a career path you want to proceed, there are a few things that will help with your transition process:
Create a financial buffer, make a great sales document, create profiles on relevant marketplaces, use your network, and make yourself visible to potential clients.
How to Transition From a Staff Job to Freelance as an IT Professional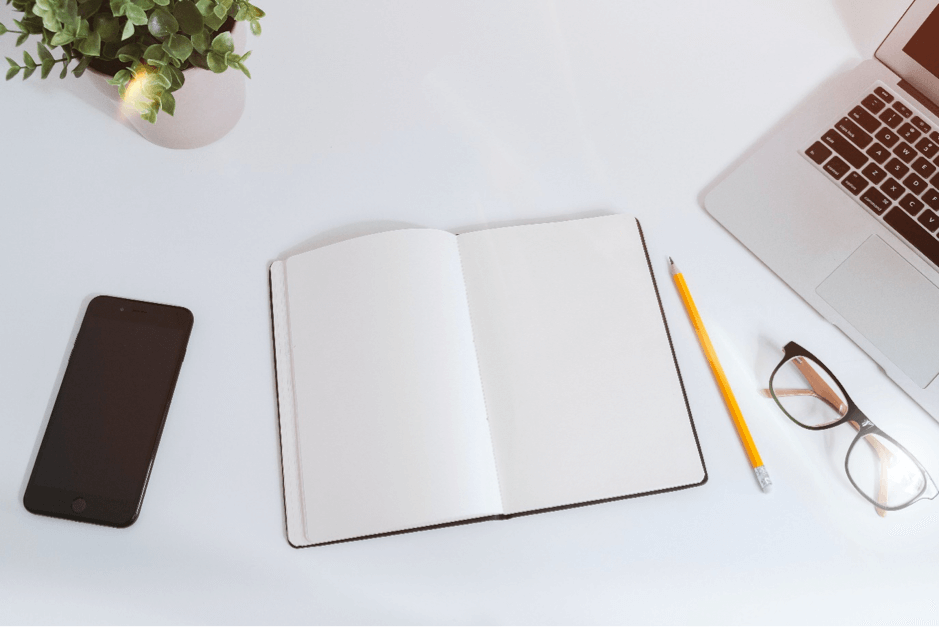 More people are leaving their 9-to-5 job to become a freelancer. Working as a freelancer brings flexibility in choosing when to work and with whom you want to work. However, it is always scary to leave a secure job, and deciding whether you should move into freelancing can be hard.
Here is what you should consider and keep in mind when transitioning from a staff job to freelance as an IT professional.
Decide whether freelancing is actually for you
Freelancing is a fantastic career path for some people and a terrible and exhausting path for others.
Two things should be essential for you in deciding whether freelancing is actually for you.
The first thing is whether your motivation is strong enough and founded for professional reasons. The second thing is to evaluate if there is a high demand for your competencies and whether you feel skilled enough to handle the commercial side of being a freelancer.
As a freelancer, the work will also consist of sales as you have to ensure that you continuously receive projects. Also, you have to market yourself, do administrational stuff, and keep track of timesheets and invoices.
These three questions can help you with your decision:
Will you still be willing to be a freelancer even when it becomes hard? Because it will most certainly be challenging times where you will struggle to find clients.
Do you have the skills necessary to succeed? Being a freelancer, especially in the tech industry, you need to excel in your field as you will take on more responsibilities were people are relying on you more than you may be used to do. 
Is there a demand for your area of expertise? Do your research to see if your skills are needed because if it turns out they are not, it will be tough to succeed as a freelancer.
 Create a private financial buffer
Being a freelancer is running a business. If you are running a business that is always under financial pressure, it forces you to take wrong decisions focused on short-term gains.
Cut your private spending to the minimum in the transition period to maximize your financial buffer. Ideally, you should have enough to cover your expenses for at least four to six months to be safe before you start receiving customers.
Make a fantastic CV and distribute it
Many freelancers have their CV as their only piece of sales material (yep, you should think of it as sales material). Unfortunately, often the quality of the CV is way too low.
Essential advice for making a fantastic CV as an IT professional is to focus more on your projects and your hardcore skills than you would do in a traditional "employee CV". The hardcore skills are the technical competencies (i.e. programming languages, databases, project management tools) that you possess.
With time, your CV will get longer and longer as you work on several projects. Think of the first page as the most essential to give potential customers a clear picture of your competencies for the project you are applying.
For instance, the first section in your CV should be a summary that you adapt and keep up to date, to fit the project and needs of the customer. After that, you have a section where you present your skills and certificates.
Here is an excellent example of an application for a Dynamics NAV implementation project: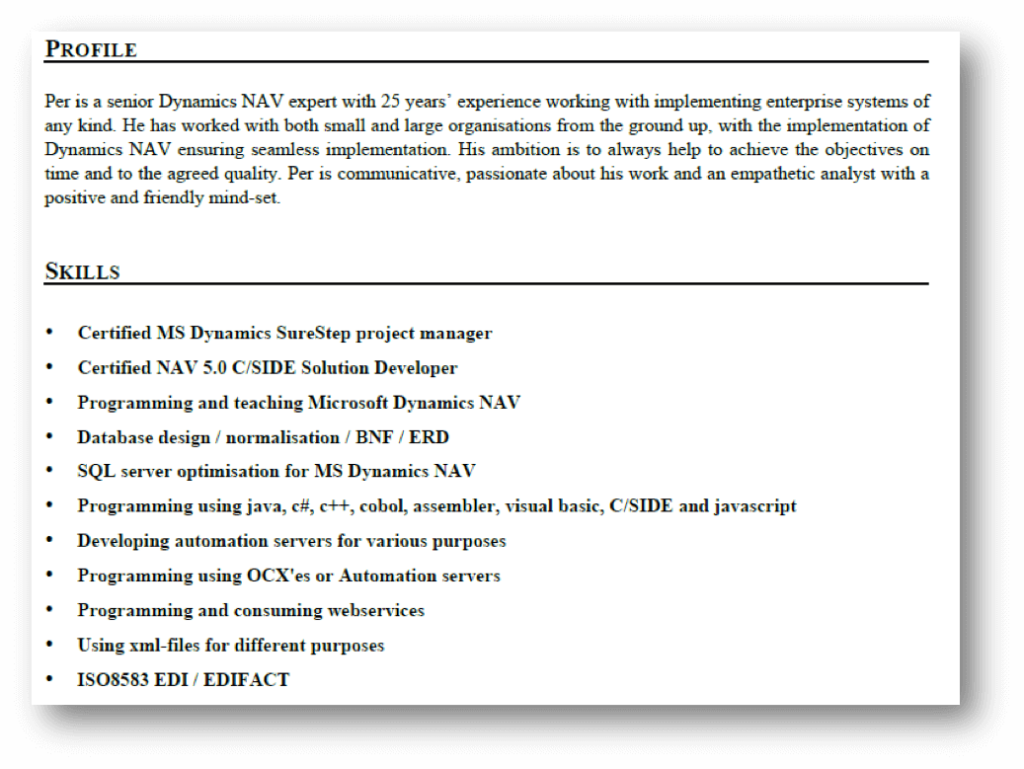 So now when you have a fantastic CV, then distribute it in your network and to relevant freelance agencies and broker companies.
Create profiles on relevant platforms
More and more freelance platforms are arising, and you can probably find several platforms that fit perfectly with your skills and wishes. An example of remote projects is Upwork.com, and an example for onsite work on the customer's location is Onsiter.com.
Create your profile in great detail on these platforms, as this is a way of attracting potential customers directly to you. Just as in your CV, your profile should include an excellent summary. Include your skills and any certifications you might have. Another advice is to write from when you are available.
Lastly, if you include a picture in your profile (which I recommend you to do), you should ensure that it is a professional picture and not a dark selfie or a vacation photo. Invest in a headshot taken by a professional while it will give a better first impression to anyone looking at your profile.
Use your professional network
Using your network is a fantastic way to kickstart your freelance career. If a potential customer already knows you or had you recommended from people they trust, you are one step closer to getting that critical first big project.
Map all relevant people in your network and contact them for coffee and inspiration meetings. Moreover, meetups and networking events is another excellent place to meet people in your industry.
Make yourself visible to clients
Today every customer that is looking for resources will use the internet as the first step. Use the online opportunities as a marketing tool to communicate your skills and competencies. It is also a way to differentiate yourself from your competitors.
Here are a few examples:
Creating a website is a great way to use as a digital CV and people will be able to find you on search engines. Always remember to make it easy to find your contact details.
Start a blog where you can write about topics of your expertise. It is a great way to show that you are skilled in the industry you are working in, and it will also make you visible on search engines.
Write articles and be active on LinkedIn to promote your business and show your competencies. Share your accomplishments and ask for recommendations from earlier customers and colleagues.
About the author:
Linnea Johansson is a digital communication manager at onsiter.com, a marketplace connecting IT professionals and businesses.