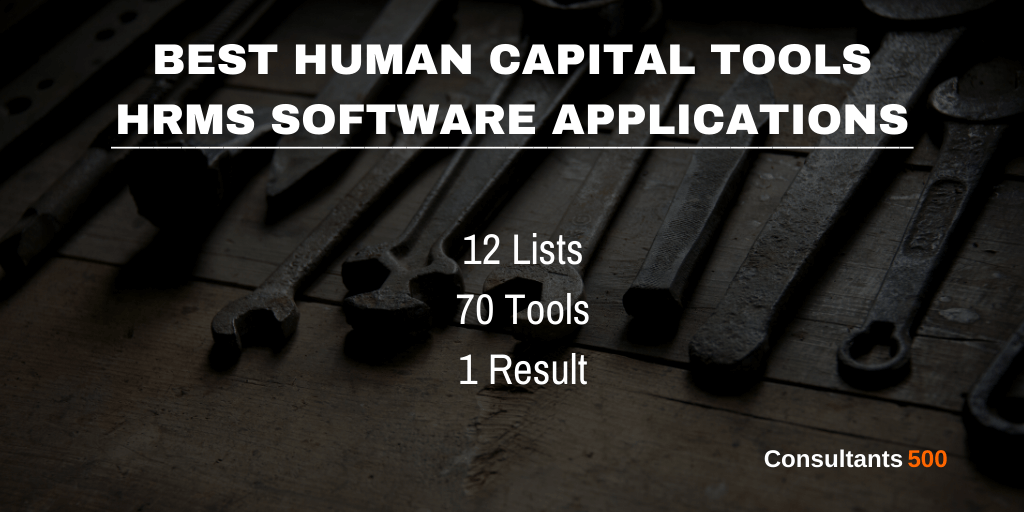 A suitable Human Capital Management Software application is a must-have for optimizing your HR strategy. The benefits of using the most suitable HCM Tool are extensive. In the full spectrum of the Human Resources Management ecosystem, many types of HR Tools can be used for different and specific goals. In general, HR Tools can be grouped into 3 main HR categories, being (i) Recruiting HR Tools, (ii) Administrative HR Tools, and (iii) Human Capital Management HR Tools. The HCM Software applications overlap all three categories.
The only problem is that there are a lot of HR Tools out there, and they are all screaming for your attention. There are more than 81 million sites that have something to say about Human Resource Information Systems. Luckily, not all of them are actual HCM Software application vendors, but you get the idea, right?
The features of a particular HCM Software tool can be highly diverse, and therefore you first need to clearly define what your goals and needs are. Once you have determined the minimum functionalities of your HCM System, you can start investigating what tools are available in the market. So which HCM  Software systems are successful in providing the applications and features you need, and how can you find them? You can do a google search and search for the Best HCM Software, but then you get hundreds of "Best of Lists" in front of you, so that doesn't help a lot either unless you want to spend a full day going through all those lists. Well, that is precisely what we did! We searched for 50 "Best of Lists," highlighting the most recommended HCM Software systems. We selected and combined the 12 most valuable "Best of Lists" and earmarked and ranked what HCM Software applications keep up appearing on most of those recently published lists. From a total of 70 HCM Software Tools compared, reviewed, and ranked, here are the Top 15 of Most Recommended HCM Software applications around that appear on most of the "Best of Lists".
As we are a small business ourselves, we use this list as well for educating and inspiring our minds and for optimizing our Consultants 500 platform, on which you can also find and search for Recruiting  & HRM Experts. If you are a Recruiting or HRM Expert yourself, you can always create a free profile on our Platform if you want to. It only takes a few minutes, and no credit card is needed for opening doors to new opportunities. It's all up to you. See here how it works.
Top 15 of  HCM Software
Most Recommended
#1. SAP SuccessFactors / Twitter
Listed 6 out of 12 times. SAP SuccessFactors HRM Suite is an evolved, cloud-based human resources management system (HRMS) with a focus on engagement and experiences. It offers Individualized, relevant, and meaningful talent experiences, with guidance and recommendations throughout the employee journey to empower employees each step of the way, and continuous capabilities for performance, reward, and recognition, learning, development, and talent planning.
Handy Resources:
Features Overview: SAP SucessFactors
Guide: SAP SuccessFactors
Their Blog
User Reviews
---
#2. Workday / Twitter
Listed 8 out of 12 times. Workday delivers financial management, human capital management, and analytics applications designed for the world's largest companies, educational institutions, and government agencies. The platform combines finance, HR, and planning in one seamless cloud ERP system for better business performance.
Handy Resources:
Features Overview: Workday
Guide: Workday
Their Blog
User Reviews 
---
#3. BambooHR / Twitter
Listed 10 out of 12 times. BambooHR software collects and organizes all the information organizations gather throughout the employee life cycle, then helps them use it to achieve great things. Whether they're hiring, onboarding, preparing compensation, or building culture, BambooHR gives the time and insights to focus on the most important asset—their people.
Handy Resources:
Features Overview: BambooHR
Guide: BambooHR
Their Blog
Pricing: Quote-Based
User Reviews
---
#4. UltiPro / Twitter
Listed 9 out of 12 times. UltiPro delivers all the strategic HR functionality organizations need in one global system of record. They can track all human capital management information about their employees, including personal information, employment history, benefits information, performance history, and more.
Handy Resources:
Features Overview: UltiPro
Their Blog
User Reviews
---
#5. Oracle HCM Cloud / Twitter
Listed 4 out of 12 times. Oracle provides organizations a complete HCM cloud solution that drives digital transformation and improves business agility while meeting both current and future business requirements. Their vision for organizational excellence includes creating a unified cloud solution that connects Finance and HR to improve business performance.
Handy Resources:
Features Overview: Oracle HCM Cloud
Guide: Oracle HCM Cloud
Their Blog
User Reviews
---
#6. Zenefits / Twitter
Listed 5 out of 12 times. Zenefits has all the HR tools that make managing people easy, from streamlined onboarding and easy PTO tracking to org charts, performance reviews, and so much more. The platform helps users seamlessly connect their company's payroll, health insurance, paid time off, and other HR systems with Zenefits in just a few seconds without having to change vendors, plans, or pricing.
Handy Resources:
Features Overview: Zenefits
Guide: Zenefits
Their Blog
Pricing: Monthly Membership (From USD 6 Per Employee)
User Reviews
---
#7. ADP Workforce Now / Twitter
Listed 5 out of 12 times. ADP Workforce Now is a cloud-based platform for HR management software, where users can easily manage all of their HR functions — payroll, time, benefits, HR management, and talent. It Automates and streamlines key needs such as employee record keeping, new hire onboarding, policy acknowledgment, workforce reporting, employee status changes, compliance tracking and reporting, and more.
Handy Resources:
Features: ADP Workforce Now
Guide: ADP Workforce Now
Their Blog
User Reviews
---
#8. Kronos Workforce Ready / Twitter
Listed 6 out of 12 times. Kronos Human Capital Management (HCM) solutions provide HR confidence with tools to help manage the modern workforce — so users can build trust, increase transparency, deliver real-time feedback, and give employees the best experience from their first day to their last. The Kronos human capital management (HCM) platform revolutionizes how people experience work — from prehire to retire. The intuitive, responsive platform empowers people to quickly and easily complete daily tasks such as apply for jobs, enroll in benefits, manage time, and track performance.
Handy Resources:
Features Overview: Kronos Workforce Ready
Their Blog
User Reviews
---
#9. Ceridian DayForce / Twitter
Listed 4 out of 12 times. Dayforce is a global HCM software platform that transforms the employee experience. It unifies data from across the entire employee lifecycle to enable better decision-making at every level. Dayforce is a comprehensive cloud platform that combines HR, payroll, benefits, workforce management, and talent management in a single application. This scalable HCM software is built with a single, flexible rules engine combined with real-time updates and calculations that help address complex regulatory requirements.
Handy Resources:
Features Overview: Ceridian DayForce
Guide: Ceridian DayForce
Their Blog
User Reviews
---
#10. Oracle PeopleSoft / Twitter
Listed 4 out of 12 times. Oracle's PeopleSoft applications are designed to address the most complex business requirements. They provide comprehensive business and industry solutions, enabling organizations to increase productivity, accelerate business performance, and provide a lower cost of ownership.
Handy Resources:
Features Overview: Oracle PeopleSoft
Guide: Oracle PeopleSoft
Their Blog
User Reviews
---
#11. ADP Vantage HCM / Twitter
Listed 4 out of 12 times. ADP Vantage HCM solution, powered by ADP DataCloud, is a powerful tool that infuses real-time data into software processes. It is an all-in-one, open-architecture solution for strategic human capital management — talent, payroll, time, and benefits — for large U.S.-based multinational businesses.
Handy Resources:
Features Overview: ADP Vantage
Guide: ADP Vantage
Their Blog
User Reviews 
---
#12. NetSuite SuitePeople / Twitter
Listed 3 out of 12 times. NetSuite SuitePeople securely weaves people data throughout the Suite, giving businesses complete control over their HR processes. SuitePeople empowers managers and HR professionals to streamline employee information, new hires, employee onboarding, payroll, promotions, and compensation changes, all from a single Suite.
Handy Resources:
Features Overview: Netsuite SuitePeople
Their Blog
User Reviews
---
#13. Kronos Workforce Central / Twitter
Listed 3 out of 12 times. The Kronos Workforce Central suite of workforce management solutions are purpose-built to help drive business outcomes by engaging organizations' employees, controlling labor costs, increasing productivity, and minimizing compliance risk. They can manage the workforce on a proven cloud platform that is secure, scalable, and mobile.
Handy Resources:
Features Overview: Kronos Workforce Central
Guide: Kronos Workforce Central
Their Blog
User Reviews
---
#14. Gusto / Twitter
Listed 3 out of 12 times. Gusto makes payroll and benefits easy for modern employers. It is an advanced, online people platform that helps small businesses take care of their teams. On top of full-service payroll, Gusto offers health insurance, 401(k)s, expert HR, and team management tools.
Handy Resources:
Features Overview: Gusto
Guide: Gusto
Their Blog
Pricing: Free Trial & Monthlly Membership (From USD 6 Per Person)
User Reviews
---
#15. Zoho People / Twitter
Listed 3 out of 12 times. Zoho People manages all HR administrative actions from a central location. Search employees, set favorites, view organization trees and analyze attrition reports–all of that from a single dashboard. The platform also enables users to Automate mail alerts, create tasks and checklists, initiate automatic field updates, and build custom applications.
Handy Resources:
Features Overview: Zoho People
Guide: Zoho People
Their Blog
Pricing: Free & Monthly Membership (From EUR 0.83 Per User)
User Reviews
Types of HR Systems
Do you know the difference between HRIS, HCM, and HRMS? There are lots of other terms used in the HR industry to describe all sorts of HR software solutions, and there is no clear definition of what is what, but the most commonly used terms are:
Human Resource Information Systems (HRIS)
Human Capital Management (HCM)
Human Resource Management Systems (HRMS)
The below table shows the significant differences between the three categories and what HR features belong to each category.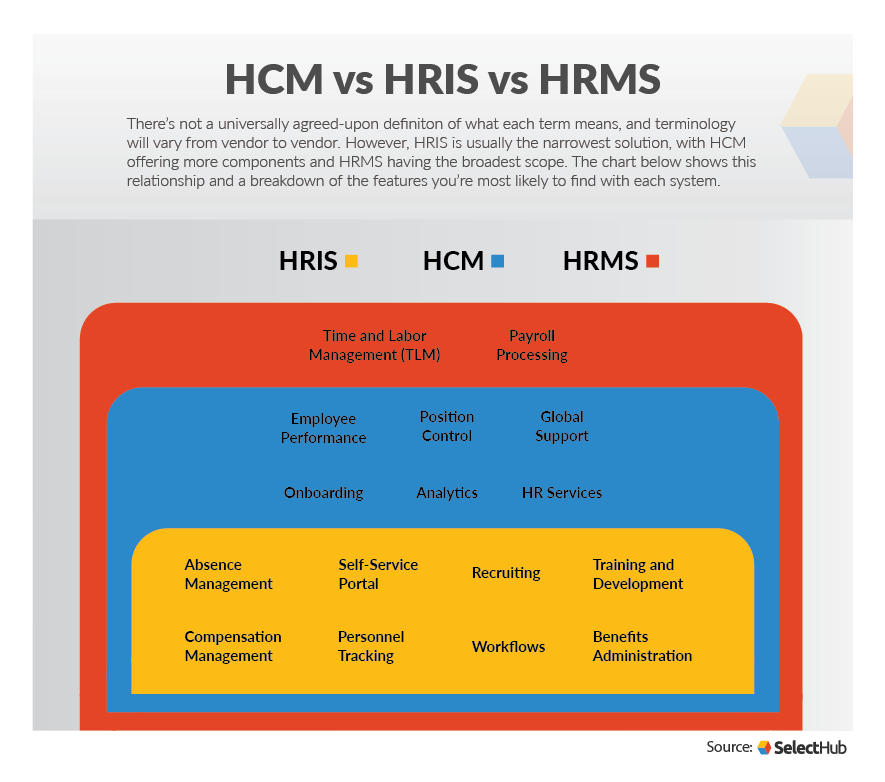 As you can see, HRIS is the most basic option according to the general consensus, and at its core, it manages people, procedures, and policies. Next, comes HCM offering more components and HRMS having the broadest scope.
However, keep in mind that there is no agreement across the industry of what belongs where and various vendors use different definitions of what features belong to what category as further explained by SelectHub.
The Key Components of
HCM Software
As can be seen from the above overview, HCM is the middle category, and it includes al features of HRIS Software tools and some additional tools.
HCM Software relates to the overarching management activities of your employees. The features of an HCM Software application can be very diverse because Human Capital Management involves the full spectrum of attracting, maintaining, monitoring, administrating, and training your workforce.
Key features of a useful HCM Software application include:
Attendance, Absence, and Leave Management – Manage employee timesheets, absence record tracking, keep up with leave requests, while sketching out workforce schedules. All this obviously integrates with the payroll management functionality.
Recruiting – Recruitment stands at the beginning of the Human Resources Management ecosystem. Must have recruitment features include job board integration, applicant tracking systems, automated candidate sourcing, resume parsing, onboarding tools, automated emails, and recruiting analytics & reporting.
Employee Training & Development –  Develop individual training programs for your staff, automate the training, and keep track of progress and expenses involved. It can include learning portals, personalized learning programs, and training recommendations.
Compensation Management – This handles all forms of compensation like salary, paid time off, overtime, bonus programs, company-funded activities, and more.
Personnel Tracking – Maintaining proper employee files is essential but can also be a lot of work. Therefore a useful HRMS application helps you managing critical employee data like personal information, salary to work history, performance history, and much more.
Benefits Admin & Management – Manage, plan, and deliver all employee benefits within your organization on top of your employee's wages. Employee benefits can be small items like free coffee in the office, an annual New Year's party, or a subsidized canteen. But they can also be more valuable benefits like car leasing, health care benefits, pension schemes, childcare benefits, or employee share schemes.
Performance Management – Performance management and evaluation is another must-have component of a useful HCM Software application. Set performance goals, track progress, and evaluate performances against KPIs determined by you.
Position Control – Ensure that the right employee has the proper responsibilities.
Onboarding – Helps hires to get up to speed quickly by streamlining the process.
Reporting & Analytics – Generate instant, detailed reports on any data in the HRMS Software application with a few clicks enabling you to make data backed up decisions. Customized HR reports that fit your needs can also be part of the package.
HR Services – Gives employees and management access to a company knowledge base, policies and procedures, documentation, and other relevant data.
What the Software Review Sites Say About
the Top 5 HCM Software Tools
The massive number of different Software Applications in the market has created a whole new industry, which is the industry of the Software Review Sites. These sites are dedicated to grouping software into categories that you can search to identify the application for your business needs and see then see what customers have to say about these applications.
We have identified the most trustful sites that provide unbiased information and reviews, and which are also the market leaders in the software comparison industry, not surprisingly. Some of these sites have also been used as a source for our research (in addition to other resources) for this article. This is what the top review sites have to say about the Top 5 of Best HCM Software applications.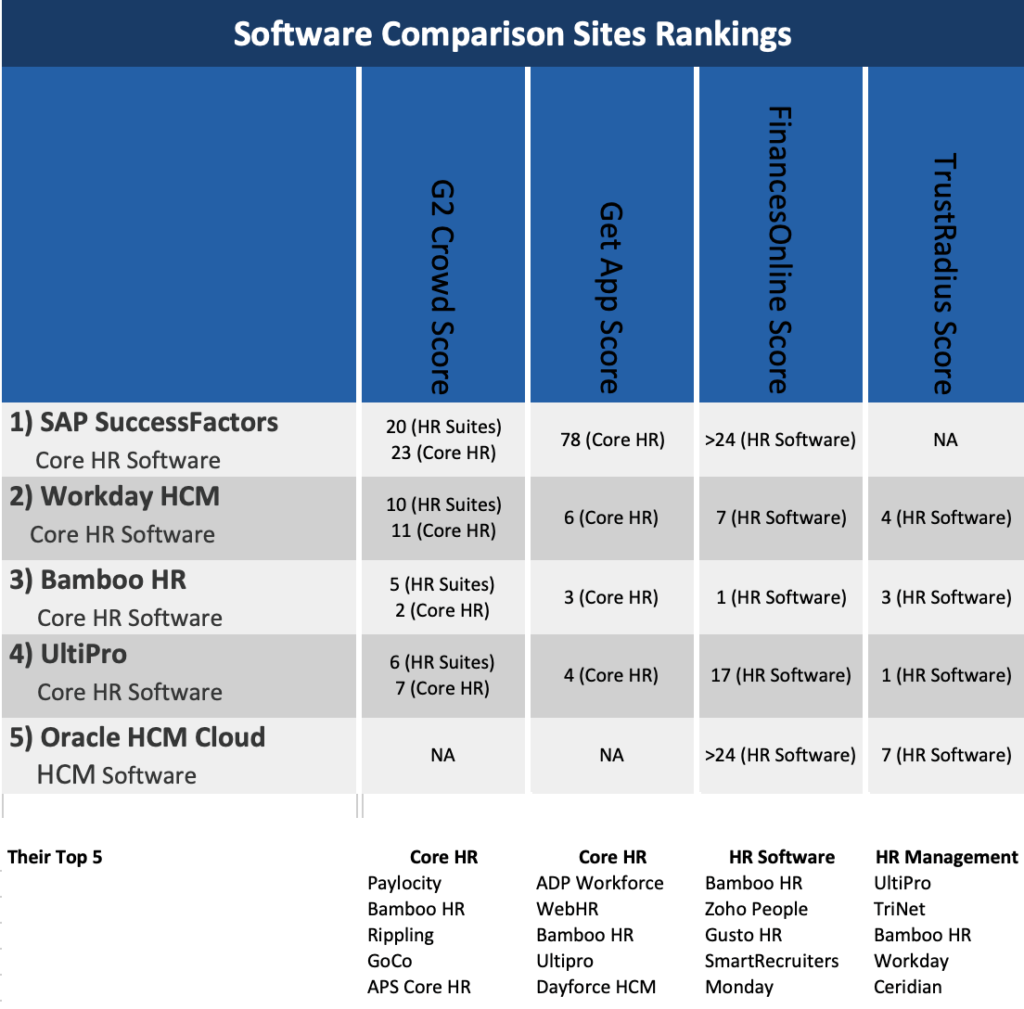 As can be seen, Bamboo HR is a clear favorite among the leading Software Review Sites as it is listed in the top 5 of all the review sites, and among the various HR-related categories, it always scores in the top-ranking regions. Therefore, it is no surprise that Bamboo has been listed as number 3 on our list as well.
Choosing the Best
HCM Software Application
The number of software applications related to HR is enormous. G2 Crowd, one of the leading Software Review Sites, has grouped the software applications associated with HR in more than 67 separate software categories. Each category exists of more than 100+ different software systems, whereby each of them offers various features.
The HRMS Software category is basically at the top of the HR hierarchy, with 67 subcategories underneath it, more or less. And as said, each subcategory can exist of 100+ different software systems whereby each of them has different functionalities.
Therefore, making a choice between the different HCM Software applications can be an overwhelming project, but the one you choose can have a significant impact on your overall Human Resources process. What makes things extra complex is that all the HCM Software Systems come with their own set of features. Therefore, the following elements can help you further in making the right choice:
What are your Human Capital Management main objectives;
Involve all stakeholders from start to end;
What are the minimum functionalities you want an HCM Software application to have;
Should the HCM Software System be able to connect with other systems;
How user-friendly is the application and can it be customized;
How difficult is it to implement, and what are the costs involved.
Once you have answered these questions, you have eliminated many of the available software applications in the market, and you can start a more focused research. Keep in mind that ranking lists and reviews can be misleading, and they only should be used to give some guidance, especially when the results are scattered.
HCM &
the Future of Human Resources Management
Deloitte's Global Human Capital Trends Report reveals how businesses are turning to new organizational models that highlight the networked nature of today's working environment; the rise of innovation-based HR platforms; the importance of learning and career programs in this rapidly changing world; and employee experience strategies that put the workforce at the center. The report closes with insights into the future of work, whereby changes are driven by advances in automation and an expanded definition of the workforce.
As can be seen from the identified 10 human capital trends in the report, various sorts of Human Resources aspects are a critical factor within HRM, and most of them are at the center of the rapidly changing workforce ecosystem.
Best HR Books
for Further Learning
Books about Human Resources and Management offer a great way of learning more in-depth aspects of HR and Management and at a much lower price than taking, for example, a specialist HR or Management Course. By reading a book, you consume a huge amount of research in a relatively short amount of time, and it is one of the best ways to improve your Human Resources / Management knowledge and skills. These Human Resources Management Books keep up appearing on all the "Best of Lists" resulting in "The 20 Best HR Books Recommended most Times," and here are the top 5:
Best HR Blogs
to Follow
Blogs about Human Resources are another ideal source for staying up to date on the latest developments and learn new insights into all sorts of HR topics. Therefore, these HR Blogs might also interest you as we did another research for Blogs about Human Resources Management in the same way as we did for Best HRMS Software Systems. These Top 20 of Best HR Blogs keep appearing on all lists of Best HR Blogs to follow, and here are the top 5:
Best HRMS Software
Most Recommended
A suitable HRMS Software application is a must-have for optimizing your overall Human Resources Management strategy. The benefits of using the most suitable HRMS System are extensive. Therefore, these HRMS Software applications might also interest you as we did another research for HRMS Software Systems in the same way as we did for Best HCM Software applications.  These Top 20 of Best HRMS Software Systems keep appearing on all lists of Best HRMS Software Systems, and here are the top 5:
Our Job Board
for HCM Jobs
Very soon, we will start operating a Job Board with a 100% Professional Services focus, which includes Recruiting & HR-related Jobs:
Post Jobs – Send your Jobs to multiple Job Boards with One Submission in minutes. Create your Job Post and find the right talent faster. Job searchers and job openings are connected by making use of the latest Job Search Technology.
Search Jobs – Easily find and compare Jobs in the Professional Services sector, which can be fixed, flex, freelance, and project type of Jobs.
A job opening can be created in minutes against a flat monthly fee, which can be canceled at any time. For Job Searchers, it is always free.
Leave your email at Subscribe for Updates at the top right of this page to get informed when we launch our new Job Board.
Our Platform for HRM Professionals
Advisors, Freelancers, Firms
Be Found As an HR Expert
More than 75% of potential Clients who look for HRM Services start a Web Search to find the best HRM Specialist for the issue to be solved. Because the internet is by far the leading channel where potential buyers start their journey, it is critical that your business can be easily found on the internet. Creating a profile on our Platform is free and opens the door to new opportunities, it can be done in only a few minutes and without any credit card.
Learn More:
How it Works
Memberships
Create Profile
Search, Compare, Find & Hire Human Resources Management Experts
Easily find and compare highly qualified Human Resources Management Experts by searching our Platform, which can be local Firms specialized in Human Resources Management, specialized  Human Resources Management Experts, or independent Freelance HRM Professionals. Directly contact and work with your ideal candidate in any way you like. Searching is always free, and that also means that we never charge any transaction type of fees.
How we Established the Final
Top 15 of Best HCM Software Tools
We made a list of 50 posts that were recently published about "Best HCM Software" to use.
From this list of 50 posts, we selected the top 12 that seem most valuable to our readers and users.
We combined the 12 lists of "Best HCM Software" and earmarked all individual tools that were on those lists.
When a tool was ranked as number 1, it got 1 point, and when it was ranked 2nd, it got 2 points, etc.
When no particular ranking was applied to a specific list, then each listed tool got the same points.
To be included in the final list, a tool should be listed for a minimal number of times.
More weight was assigned to tools that were explicitly listed more times than other tools.
All lists were summed up, and the HCM Software System with the lowest number was ranked 1, 2, 3, etc.
This resulted in the final "Top 15 of Best HCM Software" that has been recommended most times by all types of HCM Experts. 
Sources Used for
Best HCM Software
The 12 "Best of Lists" used for researching what the Best HCM Software Systems are:
12 Top HCM Software for Human Capital Management in 2020