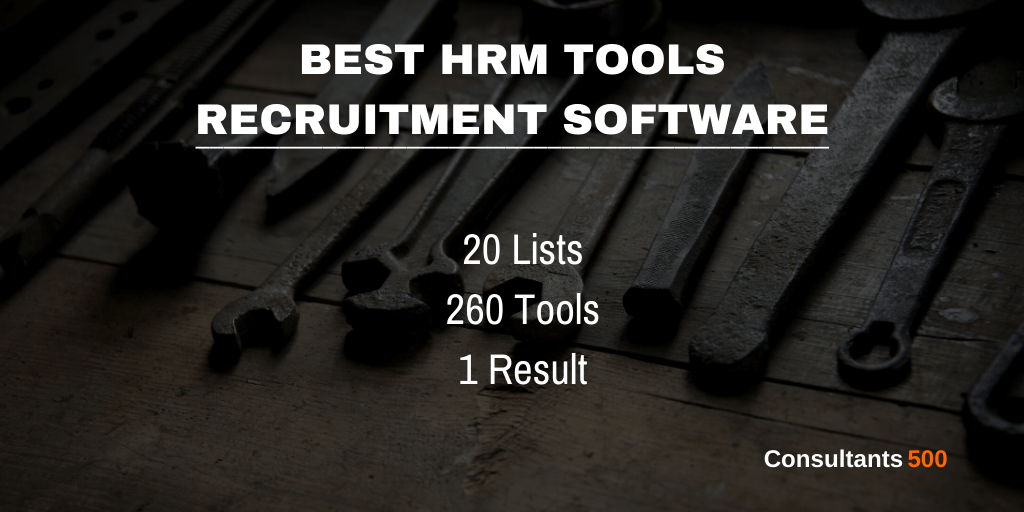 A suitable Recruitment Software application is a must-have for optimizing your recruitment strategy. The benefits of using the most suitable Recruitment Tool are extensive. In the full spectrum of the Human Resources Management ecosystem, many types of HR Tools can be used for different and specific goals. In general, HR Tools can be grouped into 3 main HR categories, being (i) Recruiting HR Tools, (ii) Administrative HR Tools, and (iii) Human Capital Management HR Tools. Obviously, Recruitment Software applications fit in the first category.
The only problem is that there are a lot of HR Tools out there, and they are all screaming for your attention. There are more than 81 million sites that have something to say about Human Resource Information Systems. Luckily, not all of them are actual Recruitment Software application vendors, but you get the idea, right?
The features of a particular Recruitment Software tool can be highly diverse, and therefore you first need to clearly define what your goals and needs are. Once you have determined the minimum functionalities of your Recruitment System, you can start investigating what tools are available in the market. So which Recruitment Software systems are successful in providing the applications and features you need, and how can you find them? You can do a google search and search for the Best Recruitment Software, but then you get hundreds of "Best of Lists" in front of you, so that doesn't help a lot either unless you want to spend a full day going through all those lists. Well, that is precisely what we did! We searched for 50 "Best of Lists" highlighting the most recommended Recruitment Software systems. We selected and combined the 20 most valuable "Best of Lists" and earmarked and ranked what Recruitment applications keep up appearing on most of those recently published lists. From a total of 260 Recruitment Software Tools compared, reviewed, and ranked, here are the Top 20 of Most Recommended Recruitment Software applications around that appear on most of the "Best of Lists".
As we are a small business, we use/have used quite a number of the tools discussed on our Blog ourselves for optimizing our blog and our platform. On our Consultants 500 platform, you can compare and search for all kinds of Professional Services Providers, including Recruitment Experts. If you are a Recruitment Expert yourself, you can always create a free profile on our Platform if you want to. It only takes a few minutes, and no credit card is needed for opening doors to new opportunities. It's all up to you. See here how it works.
Top 20 of  Recruitment Software
Most Recommended
#1. iCIMS Recruit / Twitter
Listed 8 out of 20 times. iCIMS empowers mid-sized and enterprise employers to win their wars for talent by delivering cloud-based recruiting software solutions within a unified platform and a customer experience that ranks second to none. As the leading provider of talent acquisition software solutions, they empower employers to win their wars for top talent. With the help of our talent acquisition software suite, employers can find, attract, screen, and hire top talent.
Handy Resources:
Features Overview: iCIMS Recruit
Guide: iCIMS Recruit
Their Blog
User Reviews 
---
#2. SmartRecruiters / Twitter
Listed 9 out of 20 times. SmartRecruiters' Talent Acquisition Suite is used by high-performance organizations for making the best hires. It has full functionality for recruitment marketing and collaborative hiring built on a modern cloud platform with an open marketplace for 3rd party recruitment services. Unlike the first generation applicant tracking systems it replaces, SmartRecruiters provides an amazing candidate experience, hiring managers actually want to use the product, and recruiters love us because we make their jobs easier.
Handy Resources:
Features Overview: SmartRecruiters
Guide: SmartRecruiters
Their Blog
Pricing: Quote-Based
User Reviews
---
#3. Zoho Recruit / Twitter
Listed 11 out of 20 times. Zoho Recruit is both powerful recruiting software and a cutting-edge applicant tracking system that streamlines your hiring process. Source best talent faster, track resumes and interviews efficiently, and never miss on a great hire. The current job market is as competitive as ever. For recruiters, this means jumping over a number of hurdles to get the job done. Zoho Recruit understands this and has the perfect set of features, mandatory for every recruiting solution.
Handy Resources:
Features Overview: Zoho Recruit
Guide: Zoho Recruit
Their Blog
Pricing: Free Trial & Monthly Membership (From EUR 22.5)
User Reviews
---
#4. Greenhouse / Twitter
Listed 10 out of 20 times. Greenhouse Software is the fastest-growing provider of enterprise talent acquisition software. Thousands of the smartest and most successful companies like Cisco Meraki, Time Inc., and Airbnb use Greenhouse's intelligent guidance to design and automate all aspects of hiring throughout their organizations, helping them compete and win for top talent.
Handy Resources:
Features Overview: Greenhouse
Guide: Greenhouse
Their Blog
Pricing: Quote-Based
User Reviews
---
#5. BambooHR / Twitter
Listed 6 out of 20 times. BambooHR is the leading software provider powering the strategic evolution of HR in small and medium businesses. BambooHR's cloud-based system is an intuitive, affordable way for growing companies to manage essential employee information in a personalized Human Resources Information System (HRIS).
Handy Resources:
Features Overview: BambooHR
Guide: BambooHR
Their Blog
Pricing: Quote-Based
User Reviews
---
#6. JobDiva / Twitter
Listed 4 out of 20 times. JobDiva combines CRM, synchronization with all major job boards and VMS providers, BI analytics, a Mobile App, and the largest resume database in the world to deliver staffing solutions with unmatched speed and precision. It offers more patent-protected features than any other solution on the market – including the unique ability to search resumes for "skills by years of experience."
Handy Resources:
Features Overview: JobDiva
Guide: JobDiva
Their Blog
User Reviews
---
#7. PeopleFluent / Twitter
Listed 4 out of 20 times. PeopleFluent helps companies hire, develop, and advance a skilled and motivated workforce. Deployed separately or as a suite, the software spans talent acquisition, performance, succession, compensation, and learning. PeopleFluent Talent Productivity Platform unifies talent processes within a collaborative experience that enables HR and L&D teams to guide managers and employees with contextual learning—right in the flow of work.
Handy Resources:
Features Overview: PeopleFluent
Their Blog
User Reviews
---
#8 UltiPro / Twitter
Listed 5 out of 20 times. Ultimate Software's UltiPro cloud solution helps organizations implement smart people-management strategies to develop highly productive and satisfied workforces. With the ability to deliver personalized recruiting and convenient onboarding experiences, UltiPro empowers organizations to make positive, lasting impressions on new hires that set the foundation for long-term relationships.
Handy Resources:
Features Overview: UltiPro
Their Blog
User Reviews
---
#9. Workday / Twitter
Listed 5 out of 20 times. Workday is a leading provider of enterprise cloud applications for finance, HR, and planning. Founded in 2005, Workday delivers financial management, human capital management, and analytics applications designed for the world's largest companies, educational institutions, and government agencies. Their recruiting solution works with the rest of Workday, creating a seamless experience for candidates, recruiters, and hiring managers alike.
Handy Resources:
Features Overview: Workday
Guide: Workday
Their Blog
User Reviews
---
#10. Workable / Twitter
Listed 7 out of 20 times. Workable helps companies get more qualified candidates by sharing jobs with everyone who's right for it. With one-click posting to 200+ job sites, AI-powered sourcing, employee referrals, and more, they'll reach those best-fit candidates actively looking for work, those who may not be looking, and even those your other successful hires already know. After filling the pipeline with top talent, Workable helps move quickly to identify and hire the best.
Handy Resources:
Features Overview: Workable
Guide: Workable
Their Blog
Pricing: Free Trial & Mothly Memberhip ($99 Per Job)
User Reviews
---
Listed 7 out of 20 times. The Jobvite Platform infuses automation and intelligence into today's expanded recruiting cycle to increase the speed, quality, and cost-effectiveness of talent acquisition. Focused exclusively on recruiting software since 2006 and headquartered in San Mateo, Jobvite has thousands of customers, including LinkedIn, Schneider Electric, Premise Health, Zappos.com, and Blizzard Entertainment.
Handy Resources:
Features Overview: Jobvite
Guide: Jobvite
Their Blog
User Reviews
---
#12. LinkedIn Talent / Twitter
Listed 6 out of 20 times. LinkedIn Talent Solutions provides innovative recruiting tools to find and engage the best talent using the world's largest professional network, helping organizations become more successful at talent acquisition.
Handy Resources:
Features Overview: LinkedIn Talent
Guide: LinkedIn Talent
Their Blog
User Reviews
---
#13. JazzHR / Twitter
Listed 6 out of 20 times. JazzHR is a powerful, user-friendly, and affordable recruiting software that enables today's greatest people to build tomorrow's greatest companies. JazzHR replaces antiquated hiring processes like using email and spreadsheets with an intuitive applicant tracking system that helps recruiters and hiring managers to build a scalable and effective recruiting process that consistently results in great hires.
Handy Resources:
Features Overview: JazzHR
Guide: JazzHR
Their Blog
Pricing: Free Trial & Monthly Membership (From USD 39)
User Reviews
---
#14. Recruitee / Twitter
Listed 6 out of 20 times. Recruitee is a leading European talent acquisition platform, designed for recruiters and hiring managers alike. With Recruitee, you can use data, and advanced AI features to continuously optimize every aspect of your recruitment process.
Handy Resources:
Features Overview: Recruitee
Guide: Recruitee
Their Blog
Pricing: Free Trial & Monthly Membership (From EUR 79)
User Reviews
---
#15. Bullhorn / Twitter
Listed 6 out of 20 times. Bullhorn's powerful, easy-to-use applicant tracking system lets users manage the entire recruitment process from a single interface – from desktop or mobile device, on any browser. From job submission to candidate placement, Bullhorn eliminates manual data entry, streamlines the end-to-end recruiting process, and enables teams to move faster and work smarter.
Handy Resources:
Features Overview: Bullhorn
Guide: Bullhorn
Their Blog
Pricing: Quote-Based
User Reviews
---
#16. iSmartRecruit / Twitter
Listed 4 out of 20 times. With all ATS functionalities, iSmartRecruit strengthens candidate sourcing, CRM, reporting, and analytics. It is an easy-to-use solution that reinforces end-to-end recruitment processes and fits in any staffing business model. Top features include industry best candidate search, job promotion, 3rd party access, reporting, Email & SMS, mobile recruiting, outlook, and Gmail add-ins.
Handy Resources:
Features Overview: iSmartRecruit
Guide: iSmartRecruit
Their Blog
Pricing: Quote-Based
User Reviews
---
#17. Breezy HR / Twitter
Listed 6 out of 20 times. Breezy HR is end-to-end recruiting software designed to optimize the recruiting process and delight the entire team. It helps organizations bring everyone on board in less time (and with less hassle) with its user-friendly, feature-rich platform.
Handy Resources:
Features Overview: Breezy HR
Guide: Breezy HR
Their Blog
Pricing: Free & Monthly Membership (From USD 143)
User Reviews
---
#18. Lever / Twitter
Listed 9 out of 18 times. Lever builds modern recruiting software for teams to source, interview, and hire top talent. Whether a company of 1 or 10,000 employees, Lever is designed to grow with its users – providing the features and flexibility they need at every stage.
Handy Resources:
Features Overview: Lever
Guide: Lever
Their Blog
Pricing: Quote-Based
User Reviews
---
#19. HireVue / Twitter
Listed 4 out of 20 times. Using HireVue's combination of industrial/organizational science and rigorously tested, predictive artificial intelligence, customers are hiring higher quality talent, faster. HireVue is available worldwide in over 30 languages and has hosted more than eight million on-demand interviews and one million assessments.
Handy Resources:
Features Overview: HireVue
Guide: HireVue
Their Blog
User Reviews
---
#20. ClearCompany / Twitter
Listed 3 out of 20 times. ClearCompany is Talent Management Software provider that unifies Recruiting, Onboarding, Performance Management, and Goal Tracking. Their suite of software solutions includes: Applicant Tracking System; Paperless Onboarding; Performance Management; Talent Operating System.
Handy Resources:
Features Overview: ClearCompany
Guide: ClearCompany
Their Blog
Pricing: Quote-Based
User Reviews
The Key Components of
Recruitment Software
Recruitment Software automates certain parts of the overall recruitment process. The features of a Recruitment Software application can be very diverse, but the main goal of the tool it to make (certain parts of) the recruitment process more efficient and effective for both the recruiter and the job seeker. Key features of a useful Recruitment Software application include:
Job Board Integration – Job promotion is one of the first steps in the recruitment process, and it is one of the most important and time-consuming tasks of a recruiter. If the Recruitment Software is integrated with free and premium job boards, all you have to do is publish your job once, and then the job will be automatically posted on all the integrated job boards.
Automated Candidate Sourcing – Adding candidates to specific job pipelines is one of the most repetitive and time-consuming tasks for any recruiter, and some sort of automation for this part of the recruitment process can free up a lot of time.
Resume Parsing – This feature extracts the desired information from a resume and inserts the data into a database in a structured way. After this, a recruiter can search the database for keywords and phrases and get a list of relevant candidates.
Automated Emails – A useful Recruitment Software application should facilitate automated transactional email communication using personalized email templates. Usually, these emails are sent based on triggering events that can be determined by the recruiter.
Analytics & Reporting – Analytics can give valuable insights to make the hiring process faster and more efficient. It can also track the performance of individual recruiters or team performance based on recruitment parameters that can be set.
What Do the Software Review Sites Say
About the Top 5 Recruitment Software Tools
The massive number of different Software Applications in the market has created a whole new industry, which is the industry of the Software Review Sites. These sites are dedicated to grouping software into categories that you can search to identify the application for your business needs and see then see what customers have to say about these applications.
We have identified the most trustful sites that provide unbiased information and reviews, and which are also the market leaders in the software comparison industry, not surprisingly. These sites have also been used as a source for our research (in addition to other resources). This is what the top review sites have to say about the Top 5 of Best Recruitment Software tools.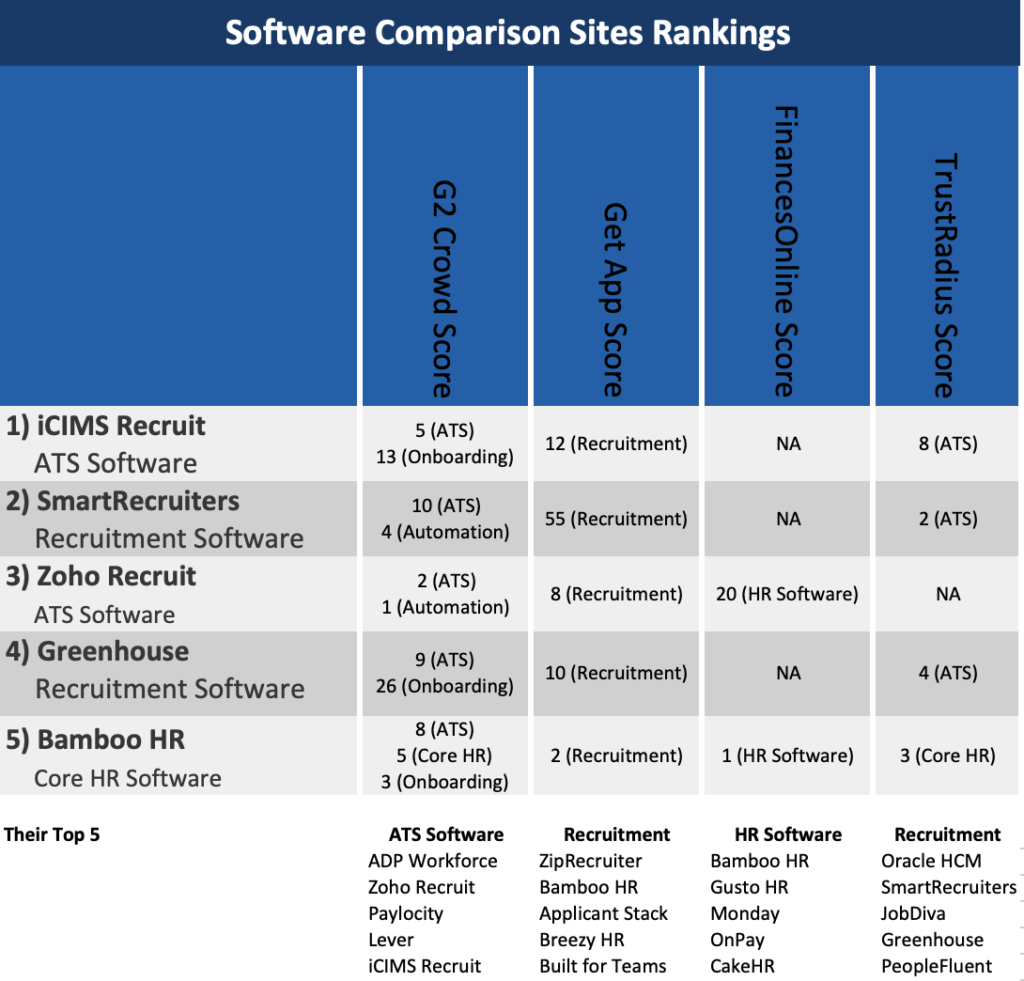 As can be seen, there is no clear favorite for Recruitment Software applications among the leading Software Reviews Sites. However, Bamboo HR, our number 5 on the list, scores best when looked at in an aggregated way.
Choosing the Best
Recruitment Software Application
The number of software applications related to HR is enormous. G2 Crowd, one of the leading Software Review Sites, has grouped the software applications associated with HR in more than 67 separate software categories. Each category exists of more than 100+ different software systems, whereby each of them offers different features.
The Recruitment Software category has more than 20 sub-categories, and again each sub-category can exist of 100+ different software systems whereby each of them has different functionalities.
Therefore, making a choice between different Recruitment Software applications can be an overwhelming project, but the one you choose can have a significant impact on your overall Human Resources process. What makes things extra complex is that all the Recruitment Software Systems come with their own set of features. Therefore, the following elements can help you further in making the right choice:
What is your Recruitment objective;
Involve all stakeholders from start to end;
What are the minimum functionalities you want a Recruitment Application to have;
Should the Recruitment System be able to connect with other systems;
How user-friendly is the application and can it be customized;
How difficult is it to implement, and what are the costs involved.
Once you have answered these questions, you have eliminated many of the available software applications in the market, and you can start a more focused research. Keep in mind that ranking lists and reviews can be misleading, and they only should be used to give some guidance, especially when the results are scattered.
Recruitment &
the Future of Human Resources Management
Deloitte's Global Human Capital Trends Report reveals how businesses are turning to new organizational models that highlight the networked nature of today's working environment; the rise of innovation-based HR platforms; the importance of learning and career programs in this rapidly changing world; and employee experience strategies that put the workforce at the center. The report closes with insights into the future of work, whereby changes are driven by advances in automation and an expanded definition of the workforce.
As can be seen from the identified 10 human capital trends in the report, Talent Acquisition is a critical factor and is at the center of the rapidly changing workforce ecosystem.
Best Recruiting Books
for Further Learning
Books about Recruiting offer a great way of learning more in-depth aspects of Recruitment and at a much lower price than taking, for example, a specialist Recruiting Course. By reading a book, you consume a tremendous amount of research in a relatively short amount of time, and it is one of the best ways to improve your Recruiting knowledge and skills. These Books on Recruitment keep up appearing on all the "Best of Lists" resulting in "Top 20 of Best Books on Recruitment Recommended most Times by Recruiting Pros," and here are the top 5:
Best HR / Recruiting Blogs &
Resources to Follow
Blogs about Recruiting & Human Resources are another ideal source for staying up to date on the latest developments and learn new insights into all sorts of HR topics. Therefore, these HR/Recruiting Blogs might also interest you as we did another research for Blogs about Recruiting / Human Resources Management in the same way as we did for Best Recruitment Software Systems. These Top 20 of Best HR/Recruiting Blogs keep appearing on all lists of Best HR/Recruiting Blogs to follow, and here are the top 5:
Best Applicant Tracking Systems
Most Recommended
As you know, Human Resources Management and Recruiting is a time consuming and complicated process. Applicant Tracking Systems automate, streamline, and improve part of the Recruiting process. The benefits of using a suitable Applicant Tracking System are extensive. Therefore, these Applicant Tracking Systems might also interest you as we did another research for Applicant Tracking Systems in the same way as we did for Best Recruitment Software Tools.  These Top 20 of Best Applicant Tracking Systems keep appearing on all lists of Best ATS-Systems, and here are the top 5:
Our Job Board
for Recruitment Jobs
Very soon, we will start operating a Job Board with a 100% Professional Services focus, which includes Recruiting & HR-related Jobs:
Post Jobs – Send your Jobs to multiple Job Boards with One Submission in minutes. Create your Job Post and find the right talent faster. Job searchers and job openings are connected by making use of the latest Job Search Technology.
Search Jobs – Easily find and compare Jobs in the Professional Services sector, which can be fixed, flex, freelance, and project type of Jobs.
A job opening can be created in minutes against a flat monthly fee, which can be canceled at any time. For Job Searchers, it is always free.
Leave your email at Subscribe for Updates at the top right of this page to get informed when we launch our new Job Board.
Our Platform for
Recruitment Professionals
(Advisors, Freelancers, Firms)
Be Found As a Recruitment Expert
More than 75% of potential Clients who look for Recruiting Services start a Web Search to find the best Recruitment Specialist for the job to be fulfilled. Because the internet is by far the leading channel where potential buyers start their journey, it is critical that your business can be easily found on the internet. Creating a profile on our Platform is free and opens the door to new opportunities, it can be done in only a few minutes and without any credit card.
Learn More:
How it Works
Memberships
Create Profile
Search, Compare, Find & Hire Recruitment Experts
Easily find and compare highly qualified Recruitment Experts by searching our Platform, which can be local Firms specialized in Recruitment, specialized Recruiting Experts, or independent Freelance Recruiting Professionals. Directly contact and work with your ideal candidate in any way you like. Searching is always free, and that also means that we never charge any transaction type of fees.
How we Established the Final
Top 20 of Best Recruitment Software
We made a list of 50 posts that were recently published about "Best Recruitment Software" to use.
From this list of 50 posts, we selected the top 20 that seem most valuable to our readers and users.
We combined the 20 lists of "Best Recruitment Software" and earmarked all individual tools that were on those lists.
When a tool was ranked as number 1, it got 1 point, and when it was ranked 2nd, it got 2 points, etc.
When no particular ranking was applied to a specific list, then each listed tool got the same points.
To be included in the final list, a tool should be listed for a minimal number of times.
More weight was assigned to tools that were explicitly listed more times than other tools.
All lists were summed up, and the Recruitment Software System with the lowest number was ranked 1, 2, 3, etc.
This resulted in the final "Top 20 of Best Recruitment Software" that has been recommended most times by all types of HR Experts. 
Sources Used for
Best Recruitment Software
The 20 "Best of Lists" used for researching what the Best Recruitment Software Systems are:
Recruitment Software Comparison