The rapid pace of our life forces us to explore new ways on how to make our daily routine more convenient. Thanks to the age of digitalization, we can find whatever information we need. 
Nevertheless, the process of information search takes our time. Even if you do this operation on Google. 
Likely, Google found a solution for making this process faster. Thanks to voice search, you will be able to get the information you need in a blink of an eye. 
The reaction to this innovation from the SEO community hasn't been long in coming. Furthermore, website owners decided not to keep pace with the demand of Google search users and wanted to optimize their website for voice search.
Nevertheless, there is a slight problem – voice search optimization is quite a new "mechanism" in the entire search engine. Therefore, there are not so many facts about voice search optimization. 
In this post, you will find out the basics of voice search and get a few proven tips on how to optimize a website accordingly. 
What You Should Know About Voice Search Basics
It won't be hard to guess what voice search is. Voice search is the process when people use their voice to find the necessary information on Google.  
You might wonder – why is voice search so special? 
There are two arguments to this question. First of all, voice search is faster in contrast to a standard way of search. Secondly, voice search forces you to interact with a search engine directly. 
However, keep in mind that you can't ask Google anything you want. For instance, if you say "Hey Google, call out the firemen", nothing will happen. Your voice queries should push Google to research the whole web to find the best answer. 
For example, if you ask Google "what is santa claus's phone", Google will tell you the exact phone number of Santa Claus. Hence, you must ask simple and direct questions that could be replied to in a simple short sentence.
As has been already stated, voice search becomes more popular than an old-fashioned way of typing queries on Google. According to this survey, 41% of adults and 55% of teenagers prefer using voice search to a standard type of search. 
These stats have given us to understand that voice search has a huge impact on digital marketing itself. Since voice search opens new horizons for building a business online, it would be fair to know how to optimize a website for it. 
But before you find out the tips on voice search optimization, you should review a few important facts about voice search:
User gets the results per the device been used
For example, if you ask Google something like "how to tie a scarf", you will get an instant answer in a few short sentences. The same question asked via Google Home will provide you with the steps you will have to take in detail.
User gets the answers taken from the featured snippets
According to this analysis, 40.7% of voice search results are based on the featured snippets.
User gets the answers taken from top-pages
You should know that 91% of voice search results come from Google's top 5 pages.
These three things to know will give you a clear idea of how voice search provides people with the answers. By knowing these aspects you can proceed with exploring tips for voice search optimization. 
The Process of Optimization for Voice Search 
We can't down-grade the positive impact on user experience that voice search has created.
Despite the fact, voice search is quite an unexplored field. It is already a well-known fact that there is no chance to analyze keywords people use for voice search. But you can be 100% sure that voice search operates with simple questions. 
When it comes to optimization, you must work on optimizing content for relevant questions.
Sounds easy, right? 
To accomplish the process of voice search optimization you will have to take the following seven steps.
Create a profile using Google My Business
Just for the record, 47% of all voice search queries are all about business. Consequently, the most straightforward way to optimize for voice search with a business intent is by creating Google My Business account.
What does it give to you?
Having your personal business account at Google My Business you will be able to provide your target audience with the information on the business you offer. 
SIDENOTE: Google My Business can be used for a local type of search. Plus, to make sure GMB optimization works well, you will have to earn reviews and optimize listings timely.
Identify questions behind the searches
Voice search optimization stands for creating content that would provide your target audience with the answers to the questions they have.
To find these questions you should understand if you already rank for some of them. 
Let's assume that your website ranks for some long-tail keywords that look like questions. And when people type these queries on Google, your website ranks in the top. 
If your website ranks for these questions by default, you can try voice search optimization here. 
To find long-tail keywords you might already rank for, check out "Organic keywords" report available at Site Explorer. Filter the results by sorting the position (first 5 SERPs) + include interrogatives like "when", "what", "how", ect, and point out a word number from 4 to 7.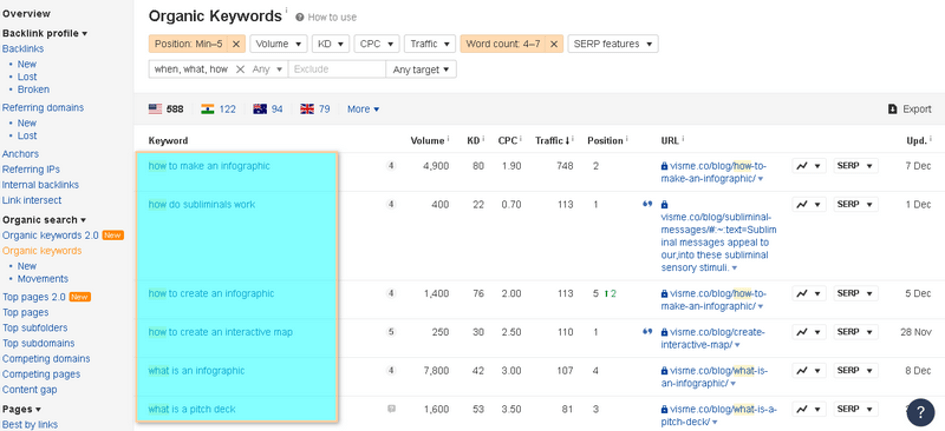 Aside from this, you can review the questions your competitors rank for. Use "Content gap" tool from Ahrefs and find low-hanging fruits. Plus, you can explore those opportunities that neither you nor your competitors rank for as well. Just use "Questions" report using Keywords Explorer.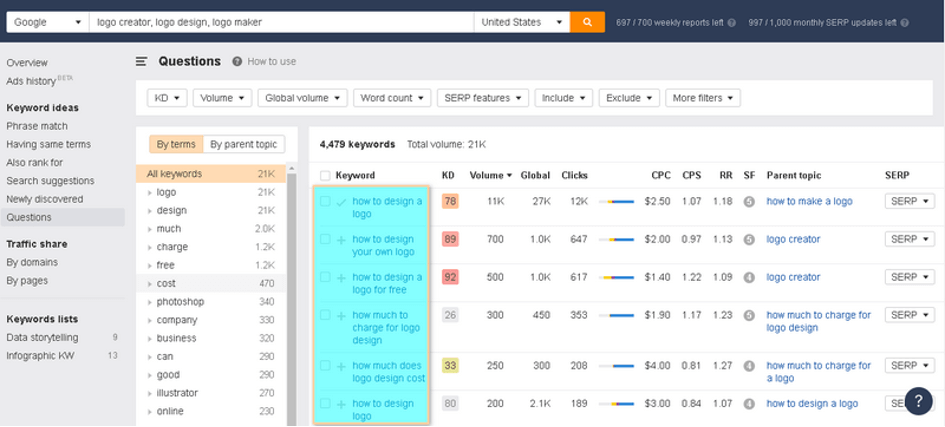 From the screenshot, you can see the report suggested all possible "questions" opportunities for the keywords in question. Your task is doing the same analysis and finding opportunities for your website specifically. 
Make sure your content can answer certain questions
Obviously, if your content doesn't answer the questions your target audience might have, you won't be able to optimize for voice search.
Answer yourself the following questions:
Have you already covered this question in your content?

Is there any potential that you would be able to answer the question in your content?

Does it make sense to answer the question?
Type a search request like "best twitter analytics tools." SERP suggests to you a featured snippet of the blog post that answers this query completely.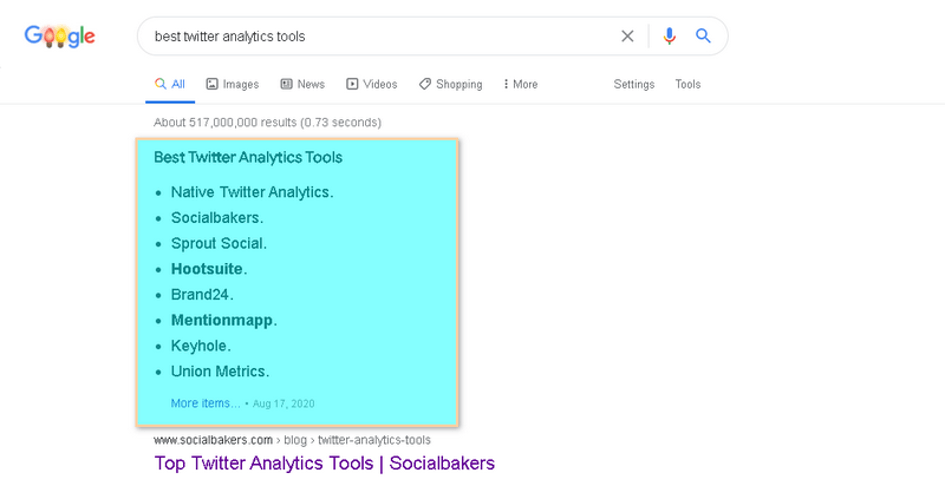 You might notice that this is not a "question" query but it doesn't mean that it can't be optimized for voice search. However, focus on "questions" mostly. 
It is strictly important to analyze if it would make sense to optimize a particular page for a certain question. For instance, our website doesn't rank for the question "what is interactive presentation." Likewise, we have a post on interactive presentation ideas. And it would be not unreasonable to cover this question in this piece of content.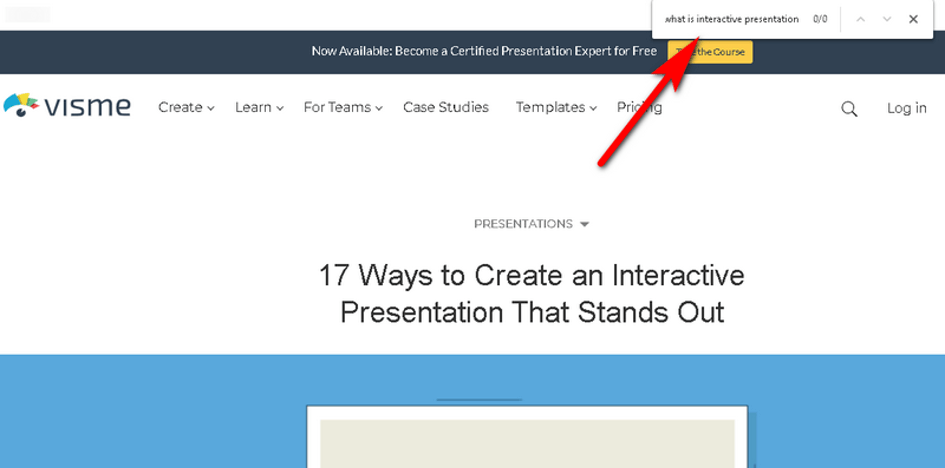 Try this method by yourself and see if you can find some pages that would be worth optimization. 
Talking about the practicability of optimization of new pages for voice search – it makes no sense in general. However, if you're working on a topic that would answer your target audience's questions, you can try voice search optimization for sure. 
To understand the way of how you should optimize your content for voice search, you should play with voice search by yourself. Literally, ask some questions related to your business and review the format the answers would be provided.
When the format for voice search optimization is identified, you can move forward. But remember two tiny recommendations that will help you a lot:
The answers must be grammatically correct

Keep the answers no longer 29 words
Work on page speed optimization
Just imagine that voice search results load 52% faster in contrast to the average speed of loading a web-page. A study from Backlinko proves that PageSpeed plays a leading part in voice search optimization.
Notwithstanding the fact, this correlation doesn't prove causation.
To conclude, Google is sensitive to page speed because it is another one ranking factor that helps pages rank higher. On the other hand, voice search is based on providing the results that are taken from the first 5 top pages. 
The number of backlinks is yet another ranking factor that Google draws attention to. The more backlinks your pages have, the more chances that they will reach out to Google top.
To build links on autopilot you will need professional link building software and basic knowledge on link building outreach. 
Voice search optimization requires you to create content that would be easy to reproduce verbally. To help Google do this you must help it to understand it beforehand. For this, you should add a code called "schema markup."
Likely, you don't need to hire a developer who would do this for you. It could be done by yourself if you know the basics of coding. 
By the way, the next case-study from Backlinko proves that 63.6% of voice search results don't pay attention to schema markup being used. 
Do You Really Need to Optimize for Voice Search
The tendency shows that voice search is the future of search. By 2022, a voice-based shopping experience tends to grow to $40 billion. Due to this fact, you should not neglect voice search optimization for your online business. But you must realize if the game is worth the candle. 
You already know that you should brainstorm potential questions related to your business that could be answered with a simple sentence. 
However, does it mean that you should optimize your content for these questions?
If you ask Google "how do I redeem a promo code", you will get a step-by-step guide that is taken from a featured snippet.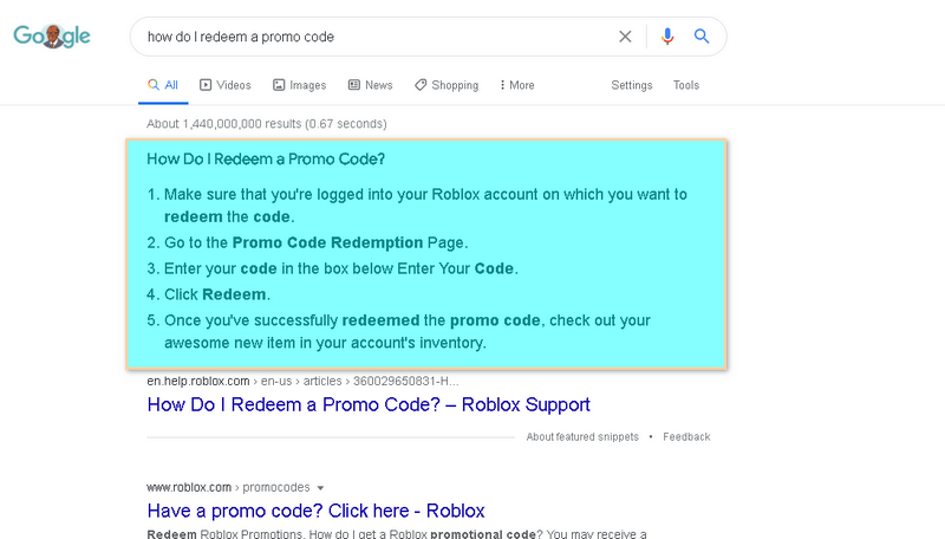 You can hear or read the instruction without clicking the link for further information. It means the dead-end for a buyer's journey. Plus, because of the voice search option, a website doesn't get any traffic. 
This is a negative side of voice search optimization.
On the other side of the coin, if your website aims to provide people with information that would solve their needs (without money-making intent), voice search is your solution for sure. 
Consequently, voice search could be considered both from positive and negative sides for your website. It depends on the business you're running. And it is up to you whether it is worth doing or not.
You can review more statistics that might sell the idea that voice search optimization is a "must" element for your website. What's more important, if you care about user experience, you should optimize for voice search.
To Sum Up
Google presented us with voice search that makes our search more comfortable and fast. For website owners, it is a wonderful opportunity to show their attitude towards their target audience by making their process of search solutions much easier. 
Nevertheless, voice search is not something that you must be obsessed with. You should consider it as an additional option for your website. Nothing more. Hence, if you believe that your business website needs to be optimized for voice search, go ahead.
Author bio:
Sergey Aliokhin is a Community Outreach Manager at Visme. When he is out of work, he likes to spend his time with family, read books on science-fiction, practice playing the bass, and visit the gym.