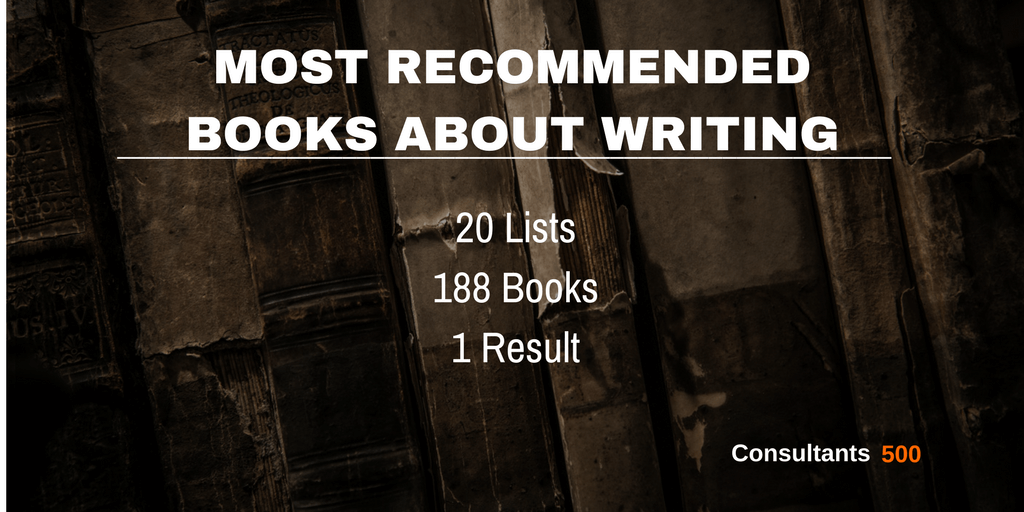 Books that teach the art of writing offer a great way of learning the ins and outs of writing and at a much lower price than taking, for example, a specialist Writing Course. By reading a book, you consume a huge amount of research in a relatively short amount of time, and it is one of the best ways to improve your skills.
The only problem is that there are a lot of Books for Writers in the market and there are much more to come. For instance, just doing a search for "Books for Writers" in Amazon results in more than 200,000 books about Writing, so how do you make up your mind about what to read?
You can do a google search and search for the Best Books About Writing, but then you get hundreds of "Best of Lists" in front of you, so that doesn't help a lot either unless you want to spend a full day going through all those lists. Well, that is exactly what we did! We searched for 50 "Best of Lists" highlighting the most recommended Books about Writing by various authority sites. Then we selected and combined the 20 most valuable "Best of Lists" and earmarked and ranked what Books  About Writing keep up appearing on most of those recently published lists. From a total of 188 books reviewed and ranked, here are the 20 most recommended Books for Writers that appear on most of the Best Books About Writing lists!
As we are a small business ourselves, we use this list as well for educating and inspiring our minds and for optimizing our Consultants 500 platform. And in case you didn't know yet, on our platform you can search for all types of Writing Experts all over the world. Finally, if you are a Writing Expert yourself, you can always register for free if you want to, it's all up to you. See here how it works.
Top 20 of Best Books for Writers
Recommended Most Times by the Pros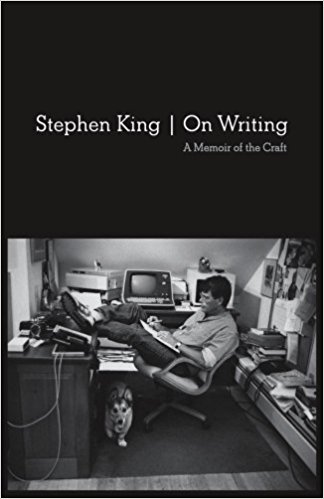 #1. On Writing: A Memoir of the Craft
by Stephen King
Listed 15 out of 20 times. Stephen King is the author of more than fifty books, all of them worldwide bestsellers. His novel 11/22/63—a Hulu original television series event—was named a top ten book of 2011 by The New York Times Book Review and won the Los Angeles Times Book Prize for Mystery/Thriller. His epic works "The Dark Tower" and "It" are the basis for major motion pictures. He is the recipient of the 2014 National Medal of Arts and the 2003 National Book Foundation Medal for Distinguished Contribution to American Letters. He lives in Bangor, Maine, with his wife, novelist Tabitha King.
"Long live the King". Part memoir, part master class by one of the bestselling authors of all time, this superb volume is a revealing and practical view of the writer's craft, comprising the basic tools of the trade every writer must have. King's advice is grounded in his vivid memories from childhood through his emergence as a writer, from his struggling early career to his widely reported, near-fatal accident in 1999—and how the inextricable link between writing and living spurred his recovery. (Entertainment Weekly)
---
#2. Bird by Bird: Some Instructions on Writing and Life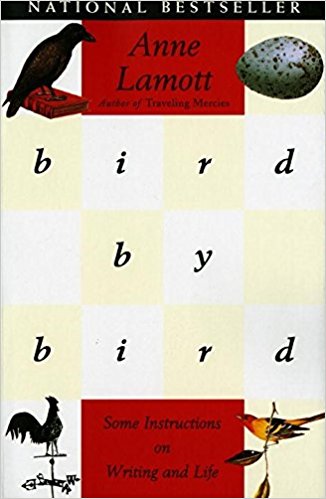 by Anne Lamott
Listed 10 out of 20 times. Anne Lamott was born in 1954 in San Francisco. After studying at Goucher College, she returned to the Bay Area to write. In 1980 her first novel, Hard Laughter, was published, followed by Rosie (1983), Joe Jones (1985), and All New People (1989). Her memoir, Operating Instructions, appeared in 1993. Her novel Crooked Little Heart was published in 1997. She published Traveling Mercies in 1999, and Plan B: Further Thoughts on Faith in 2005. She lives in San Rafael, California, with her son, Sam.
"A gift to all of us mortals who write or ever wanted to write… sidesplittingly funny, patiently wise and alternately cranky and kinda reveille to get off our duffs and start writing "now," while we still can." (Seattle Times)
---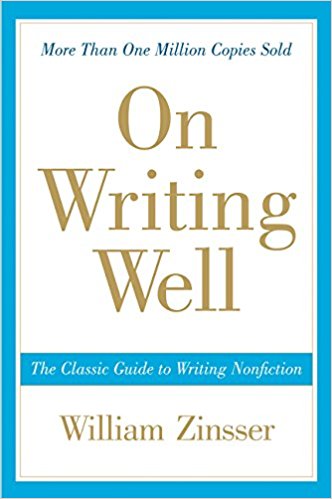 #3. On Writing Well: An Informal Guide to Writing Nonfiction 
by William Zinsser
Listed 7 out of 20 times. William Zinsser is a writer, editor, and teacher. He began his career on the New York Herald Tribune and has since written regularly for leading magazines. During the 1970s he was master of Branford College at Yale. His 17 books, ranging from baseball to music to American travel, include the influential Writing to Learn and Writing About Your Life. He teaches at the New School in New York, and at the Columbia University School of Journalism.
"On Writing Well is a bible for a generation of writers looking for clues to clean, compelling prose." (New York Times)
---
#4. The Elements of Style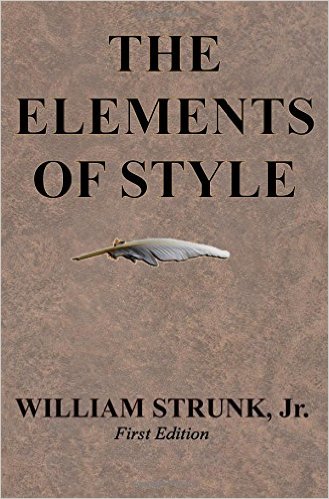 by William Strunk Jr. and E.B. White
Listed 9 out of 20 times. William Strunk Jr. (1 July 1869 – 26 September 1946), was a professor of English at Cornell University and author of The Elements of Style (1918). After revision and enlargement by his former student E. B. White, it became a highly influential guide to English usage during the late 20th century, commonly called Strunk & White. He earned a bachelor's degree at the University of Cincinnati in 1890 and a Ph.D. at Cornell University in 1896. He spent the academic year 1898–99 at the Sorbonne and the Collège de France, where he studied morphology and philology.
The Elements of Style is the definitive text and classic manual on the principles of English language read by millions of readers. The 18 main topics are organized under the headings, "Elementary Rules of Usage," "Elementary Principles of Composition," "A Few Matters of Form," "Words and Expressions Commonly Misused," and "Words Often Misspelled."
---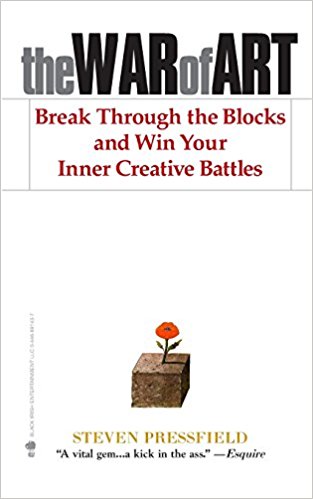 #5. The War of Art: Break Through the Blocks & Win Your Inner Creative Battles
by Steven Pressfield
Listed 9 out of 20 times. Steven Pressfield is a bestselling historical novelist whose books include the classic Gates of Fire, Alexander: The Virtues of War The Afghan Campaign and Killing Rommel. He lives in Los Angeles.
"As I closed The War of Art, I felt a surge of positive calm. I now know I can win this war. And if I can, so can you." From the foreword by Robert McKee, Screenwriting guru.
---
#6. How to Write a Damn Good Novel | by James N. Frey
Listed 4 out of 20 times. James N. Frey is the author of The Last Patriot, the Armageddon Game, and The Elixir, and is under contract for four other novels. He teaches courses in novel writing and suspense fiction at the University of California, Berkeley, Extension.
"Superb. The kind of book that should be kept by every author next to the typewriter. Frey not only includes the basics of good writing but the invaluable hints of how to add depth and texture to a novel. Inspiring and clear, the book gives detailed examples of common pitfalls and how to correct them. Not only instructive but pleasurable." Alla Crone, author of Winds Over Manchuria and East Lies the Sun.
---
#7. The Artist's Way | by Julia Cameron
Listed 4 out of 20 times. Julia Cameron has been an active artist for four decades. She is the author of more than forty books, fiction, and nonfiction, including such bestselling works on the creative process as The Artist's Way, Walking in this World, and Finding Water. A novelist, playwright, songwriter, and poet, she has multiple credits in theater, film, and television. She divides her time between Manhattan and the high desert of New Mexico.
"The Artist's Way by Julia Cameron is not exclusively about writing—it is about discovering and developing the artist within whether a painter, poet, screenwriter or musician—but it is a lot about writing. If you have always wanted to pursue a creative dream, have always wanted to play and create with words or paints, this book will gently get you started and help you learn all kinds of paying-attention techniques; and that, after all, is what being an artist is all about. It's about learning to pay attention." Anne Lamott, Mademoiselle.
---
#8. Writing Down the Bones: Freeing the Writer Within | by Natalie Goldberg
Listed 5 out of 20 times. Natalie Goldberg is the author of ten books. Writing Down the Bones, her first book, has sold over one million copies and has been translated into twelve languages. For the last thirty years, she has practiced Zen and taught seminars in writing as a spiritual practice. She lives in New Mexico.
"The secret of creativity, Natalie Goldberg makes clear, is to subtract rules for writing, not add them. It's a process of 'un-education' rather than education. Proof that she knows what she's talking about is abundant in her own sentences. They flow with speed and grace and accuracy and simplicity. It looks easy to a reader, but writers know it is the hardest writing of all." Robert Pirsig, author of Zen and the Art of Motorcycle Maintenance.
---
#9. The Writing Life | By Annie Dillard
Listed 6 out of 20 times. Annie Dillard is the author of ten books, including the Pulitzer Prize-winner Pilgrim at Tinker Creek, as well as An American Childhood, The Living, and Mornings Like This. She is a member of the Academy of Arts and Letters and has received fellowship grants from the John Simon Guggenheim Foundation and the National Endowment for the Arts. Born in 1945 in Pittsburgh, Dillard attended Hollins College in Virginia. After living for five years in the Pacific Northwest, she returned to the East Coast, where she lives with her family.
"For nonwriters, it is a glimpse into the trials and satisfaction of a life spent with words. For writers, it is a warm rambling conversation with a stimulating and extraordinarily talented colleague." (The Chicago Tribune)
---
#10. Eats, Shoots & Leaves: The Zero Tolerance Approach to Punctuation   | by Lynne Truss
Listed 3 out of 20 times. Lynne Truss is a writer and journalist who started out as a literary editor with a blue pencil and then got sidetracked. The author of three novels and numerous radio comedy dramas, she spent six years as the television critic of The Times of London, followed by four (rather peculiar) years as a sports columnist for the same newspaper. She won Columnist of the Year for her work for Women's Journal. Lynne Truss also hosted Cutting a Dash, a popular BBC Radio 4 series about punctuation. She now reviews books for the Sunday Times of London and is a familiar voice on BBC Radio 4. She lives in Brighton, England.
"There is a multitude of us riding this planet for whom apostrophe catastrophes, quotation bloatation, mad dashes, and other comma-tose errors squeak like chalk across the blackboard of our sensibilities. At last we who are punctilious about punctuation have a manifesto, and it is titled Eats, Shoots & Leaves." Richard Lederer, author of A Man of My Words and Anguished English.
---
#11. Zen in the Art of Writing  | by Ray Bradbury
Listed 5 out of 20 times. In a career spanning more than seventy years, Ray Bradbury, who died on June 5, 2012, at the age of 91, inspired generations of readers to dream, think, and create. A prolific author of hundreds of short stories and close to fifty books, as well as numerous poems, essays, operas, plays, teleplays, and screenplays, Bradbury was one of the most celebrated writers of our time. His groundbreaking works include Fahrenheit 451, The Martian Chronicles, The Illustrated Man, Dandelion Wine, and Something Wicked This Way Comes. He wrote the screenplay for John Huston's classic film adaptation of Moby Dick, and was nominated for an Academy Award. He was the recipient of the 2000 National Book Foundation Medal for Distinguished Contribution to American Letters, the 2004 National Medal of Arts, and the 2007 Pulitzer Prize Special Citation, among many honors.
"Famous science fiction author Bradbury here collects ten essays and eight poems from his past writings that illustrate his views on what a writer should do and be. Included are his reflections on the experience of writing, particularly the writing of such well-known works as Fahrenheit 451 and Dandelion Wine. Much autobiographical information is provided in this collection as well. As in his 500 short stories, novels, plays, and poems, Bradbury's warmth and cordiality will charm readers." Katherine Thorp, St. Louis University.
---
#12. Self-Editing for Fiction Writers: How to Edit Yourself Into Print | by Renni Browne and Dave King
Listed 3 out of 20 times. Renni Browne, formerly editor for William Morrow and other publishers, founded The Editorial Department in 1980, to teach fiction writers the techniques professional editors use to prepare a manuscript for publication. Dave King, has been the senior editor with the company since 1987. Both Browne and King give workshops for writers around the country.
"Even after 31 books published… I was able to learn something new about dialogue mechanics from Browne and King. For any author yet to be published, Self-Editing for Fiction Writers is priceless." OVID DEMARIS, author of The Last Mafioso.
---
#13. Story Genius: How to Use Brain Science to Go Beyond Outlining and Write a Riveting Novel | by Lisa Cron 
Listed 3 out of 20 times. Lisa Cron is the author of Wired for Story and Story Genius. Her TEDx talk, Wired for Story opened Furman University's 2014 TEDx Conference, Stories: The Common Thread of Our Humanity. Lisa has worked in publishing at W.W. Norton, as an agent at the Angela Rinaldi Literary Agency, as a producer on shows for Showtime and Court TV, and as a story analyst for Warner Brothers and the William Morris Agency. Since 2006 she has been an instructor in the UCLA Extension Writers' Program, and she is on the faculty of the School of Visual Arts MFA Program in Visual Narrative in New York City.
"Lost in the quagmire of trying to write a novel? Well, forget everything you've ever been told about story, because chances are, it's totally wrong. So where to turn? Story guru Cron not only gives you the skinny on why and how stories work (and why and how we respond to them), she also shows you how to craft a novel step by step, working with author Jenny Nash from the germ of an idea to a living, breathing story. I'd never consider writing a novel without Lisa's input, and neither should you." Caroline Leavitt, New York Times best-selling author of Is This Tomorrow and Pictures of You.
---
#14. Write. Publish. Repeat.  | by Sean Platt and Johnny B. Truant
Listed 4 out of 20 times. Johnny B. Truant is an author, blogger, and podcaster who, like the Ramones, was long denied induction into the Rock and Roll Hall of Fame despite having a large cult following. Sean Platt is a speaker, author, and entrepreneur. He is the co-founder of Collective Inkwell and Realm & Sands, writes for children under the name Guy Incognito, and has more than his share of nose. Johnny and Sean, along with David Wright (the guy whose curmudgeonly stance on western research inspired the Unicorn Western series) host two podcasts: the horror/comedy show Better Off Undead and the Self Publishing Podcast.
"I have a pretty popular blog on self-publishing, and I've written a couple of books on the topic myself – meaning I've read a lot on the topic and come across lots of different strategies and approaches to building a loyal audience. For my money, this is the best book on self-publishing out there." David Gaughran
---
#15. Writing Tools: 50 Essential Strategies for Every Writer | by Roy Peter Clark
Listed 4 out of 20 times. Roy Peter Clark, a writer who teaches and a teacher who writes, is vice president and senior scholar of the Poynter Institute, one of the most prestigious schools for journalists in the world. He has written or edited many books about writing and journalism, and he has spoken about the writer's craft on The Oprah Winfrey Show, NPR, and Today.
"Roy Peter Clark knows more about writing than anybody I know who is not currently dead." DAVE BARRY, author of Dave Barry's History of the Millennium (So Far).
---
#16. Save the Cat!: The Last Book on Screenwriting You'll Ever Need | by Blake Snyder
Listed 4 out of 20 times. In his 20-year career as a screenwriter and producer, Blake Snyder sold dozens of scripts, including co-writing Blank Check, which became a hit for Disney, and Nuclear Family for Steven Spielberg. His book, "Save the Cat! The Last Book on Screenwriting You'll Ever Need," was published in May 2005, and is now in its 33rd printing. The sequels, "Save the Cat! Goes to the Movies: The Screenwriter's Guide to Every Story Ever Told," "Save the Cat! Strikes Back: More Trouble for Screenwriters to Get Into… And Out Of," and software, "Save the Cat! The Last Story Structure Software You'll Ever Need," are also bestsellers.
"Want to know how to be a successful writer in Hollywood? The answers are here. Blake Snyder has written an insider's book that's informative ― and funny, too." David Hoberman, Producer, Muppets Most Wanted (2014), The Muppets, The Shaggy Dog, Raising Helen, Walking Tall, Monk (TV).
---
#17. Story: Substance, Structure, Style, and the Principles of Screenwriting | by Robert McKee
Listed 3 out of 20 times. Robert McKee, a Fulbright Scholar, is the most sought-after story authority in the world. The best-selling author of STORY, DIALOGUE: The Art of Verbal Action for Page, Stage and Screen, and soon to be published STORYNOMICS, McKee occupies a unique place in modern media storytelling. His teachings have spread beyond the screen, stage and page and his influence in corporate storytelling has become a global phenomenon.
"Robert McKee gave me a deeper understanding of the story process, of the script, of characterization, and of the psychology of the screen. Nobody… in the business can afford to miss this man's mind. It's a most for directors, writers, and producers." QUINCY JONES, executive producer of the 68th Annual Academy Awards and MadTV and co-producer of The Color People.
---
#18. Writing the Breakout Novel: Insider Advice for Taking Your Fiction to the Next Level | by Donald Maass
Listed 4 out of 20 times. Donald Maass is president of the Donald Maass Literary Agency in New York, which he founded in 1980. He represents more than one hundred fiction writers and sells more than one hundred novels per year to top publishers in America and overseas. Recently, he obtained six-and-seven-figure advances from publishers such as Warner, Ballantine, Penguin Putnam and others for authors like mystery writer Anne Perry, fantasy author David Zindell and science fiction writers David Feintuch and Todd McCaffrey.
In today's world, an author who doesn't produce a breakout novel risks getting lost in the midlist of the publishing world. Maass, the author of 17 novels who now works as a literary agent representing such distinguished writers as Anne Perry and James Patterson, knows firsthand what makes a novel rise above its category in the already saturated book market. (Library Journal)
---
#19. Story Engineering: Mastering the six core competencies of successful writing | by Larry Brooks 
Listed 4 out of 20 times. Larry Brooks is a critically acclaimed best-selling author of six psychological thrillers (including Darkness Bound, Pressure Points, Serpents Dance and others), in addition to his work as a freelance writer and writing instructor. He is the creator and editor of Storyfix.com, one of the leading instructional writing sites on the internet.
"Story Engineering is a master class in novel writing. Reading it is like getting an MFA, without the pesky admissions process or student loans. This book will make you smarter about the craft. Period." Chelsea Cain, New York Times Bestselling author of Heartsick, Sweetheart, and Evil at Heart.
---
#20. The Art of Fiction: Notes on Craft for Young Writers – John Gardner | by John Gardner 
Listed 3 out of 20 times. John Gardner (1933–1982) was born in Batavia, New York. His critically acclaimed books include the novels Grendel, The Sunlight Dialogues, and October Light, for which he received the National Book Critics Circle Award, as well as several works of nonfiction and criticism such as On Becoming a Novelist. He was also a professor of medieval literature and a pioneering creative writing teacher whose students included Raymond Carver and Charles Johnson.
"The Art of Fiction will fascinate anyone interested in how fiction gets put together.  For the young writer, it will become a necessary handbook, a stern judge, an encouraging friend… In the first half of the book, Gardner investigated just what fiction is.  In the second half, he treats specific technical matters. The Art of Fiction is filled with lecture counsel, wise encouragement." John L'Heureux, The New York Times Book Review
Other Writing Resources
Best Writing Blogs to Learn the Art of Writing
Blogs about the art of Writing are another great source for staying up to date on the latest developments and learn new insights into all sorts of Writing topics. A good Writing blog offers writing tips, how to guides, checklists, the best tools for the Writing professional and much more.
We wanted to know what the best Writing Blogs around are that teach the art of Writing, so we did some research again.
From a total of 189 Writing Blogs compared, reviewed, and ranked, here are the 20 Most Recommended Blogs for Writers. The top 5 of Writing Blogs are:
#1. Write to Done / Twitter
Listed 8 out of 20 times, and this is our top recommendation for Best Writing Blogs. This blog offers articles on writing and is about learning to write better. Whether you write non-fiction, novels, blog posts, or sales pages – you will find inspiration and tips here. Write to Done clearly outlines useful topics for writers, like imposter syndrome, recovering from destructive criticism, and finding a pen name. Mary Jaksch, chief editor of Write to Done, curates and creates content that's aimed at giving writers lots of practice.
Handy Resources:
4 Counter-Intuitive Benefits of Scheduling Your Writing Time
How To Have The Courage To Keep On Writing
47 Killer Tips All Writers Need When Their Creativity Goes AWOL
67 Top Tools for Writers and Bloggers in 2018
---
#2. Goins Writer / Twitter
Listed 11 out of 20 times, is also a great resource for writers. This is a blog about writing, creative ideas, and making a difference in the world by Jeff Goins, who is a published author and writing coach with lots of great information to share. He discusses novel writing, commercial writing and the road to publication, offering even a couple of downloadable e-books and podcasts.
Handy Resources:
10 Ridiculously Simple Steps for Writing a Book
The Secret to Developing a Regular Writing Habit
How to Overcome Writer's Block: 14 Tricks That Work
The Difference Between Good Writers & Bad Writers
---
#3. The Write Practice / Twitter
Listed 10 out of 20 times, helps young writers kick-start their practice. Fifteen minutes a day, six times a week, they will practice writing like Hemingway, James Joyce, Malcolm Gladwell, and many others. The author of this blog is a writing coach, and his blog has an up-to-the-minute feel and plenty of tips on storytelling, character development, how to survive and more.
Handy Resources:
JK Rowling's 8 Rules of Writing
Want to Be a Better Writer? Cut These 7 Words
7 Lies About Becoming a Writer That You Probably Believe
100 Writing Practice Lessons & Exercises
---
#4. Helping Writers Become Authors / Twitter
Listed 10 out of 20 times, is a great place for fiction writers. The author of this blog is K.M. Weiland, an award-winning author who shares creative writing advice on story structure, character arcs, common writing mistakes, and much more. She designed this site for writers who have great story ideas but no idea how to organize them. The site also offers live webinars for writers who want to connect with friendly faces.
Handy Resources:
6 Lifestyle Changes You Can Make to Protect Creativity
The Secrets of Story Structure (Complete Series)
The Great Novel-Writing Checklist (Just in Time for NaNoWriMo!)
5 Lies Writers Believe That Are Holding Them Back
---
#5. Live Write Thrive / Twitter
Listed 8 out of 20 times, gives writers feedback they can actually trust. With a myriad of credits guest blogging for some of the most popular writing sites on the web and some impressive creative work of her own, Susanne Lakin offers a safe haven for new writers looking for guidance and support.
Handy Resources:
What's Really Happening When You Think You Are Lazy
How to Make Your Sentences More Descriptive
Organizing Your Writing Workplace for Better Productivity
Most Favorite Posts on our Blog
Related to Writing 
Blog: Writing & Translation
This section of our Blog focuses on helping you to find the best sources on the web related to Writing & Translation. Think of blogs, books, tools, software, online courses, firm rankings, universities and much more, all related to Writing & Translation. It also includes guest posts from our users or visitors about all sorts of writing topics.
Popular Articles:
Best Content Writing Tools
Best Content Marketing Blogs
Do You Have Any Tips for
Your Favorite Books About Writing
Want to share your favorite Books for Writers? Just do the following:
Later on, we will share the results via Knowledge Resources, so you can quickly find the best Books about Writing on the web as suggested by our users and visitors.
Latest Sector News For
Writing & Translation
Latest Sector News: Writing & Translation
Via our Writing & Translation Briefing Room, the Top Resources on the web are followed and only the most shared content is shown in relation to Writing & Translation. You can filter all the content for the last 24 hours, 3 days, 1 week, 1 month, 3 months, etc so you can easily find and stay up to date with the latest developments.
Other Briefing Rooms:
All Latest Sector News Briefing Rooms
Digital Marketing & SEO
Entrepreneurship, Technology & Freelancing
How Our Platform Works
More than 75% of potential Clients who look for Writing Experts start a Web Search to find the best Writing Pro for the Job. Because the internet is by far the leading channel, it is critical that your business can be easily found on the internet. Creating a profile on our Platform is free and opens the door to new opportunities, it can be done in only a few minutes and without any credit card.
Easily find and compare highly qualified Writing Experts with all sorts of backgrounds by searching our Platform, which can be Firms that Provide Writing Services, a Writing Consultant or it can be Freelance Writing Experts. Directly contact and work with your ideal candidate in any way you like. Searching is always free, and that also means that we never charge any transaction type of fees.
Learn More:
How it Works
Memberships
Create Profile
How we Established the
Final Top 20 of Books for Writers
We made a list of 50 posts that we recently published about "Best Books for Writers"  or "Best Books about Writing" to read.
From this list of 50 posts, we selected the top 20 that seem most valuable to our readers and users.
We combined the 20  lists of "Best Books for Writers" and earmarked all individual books that were on those lists.
When a book was ranked as number 1, it got 1 point, and when it was ranked 2nd, it got 2 points, etc.
When no particular ranking was applied to a certain list, then each listed book got the same points.
To be included in the final list a book should be listed for a minimal number of times.
More weight was assigned to books which were explicitly listed more times than other books.
All lists were summed up, and the Books for Writers with the lowest number was ranked 1, 2, 3, etc.
This resulted in the final "The 20 Best Books for Writers" that have been recommended most times by all types of writing experts. 
Sources Used for
Best Books about Writing
The 2o "Best of Lists" used for finding out what the Best Books for Writers are: