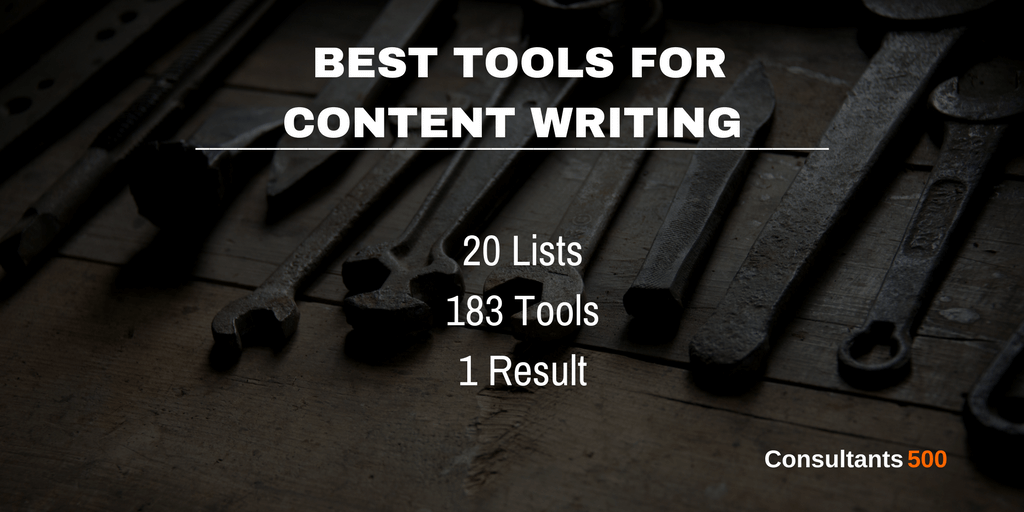 Tools for Content Writing can be very useful for streamlining and improving your content creation efforts. Using the best tools around saves you valuable time and allows you to stay focused on content writing instead of spending hours on proofreading or making visuals. Some of the Content Writing Tools around improve your writing, increase readability, help you find new content ideas, create beautiful visuals, get you more organized, and much more.
The only problem is that there are a lot of Content Writing Tools out there and they are all screaming for your attention. It is estimated that there are more than 440 million blogs worldwide, and about 2 million blog posts are written every day. So you can imagine what the market potential is for Content Writing Tools.
So which Content Writing applications are successful in providing the tools and features you need and how can you find them? You can do a google search and search for the Best Content Writing Tools, but then you get hundreds of "Best of Lists" in front of you, so that doesn't help a lot either unless you want to spend a full day going through all those lists. Well, that is exactly what we did! We searched for 50 "Best of Lists" highlighting the most recommended Content Writing Tools, selected and combined the 20 most valuable "Best of Lists" and earmarked and ranked what Tools for Content Writing keep up appearing on most of those recently published lists. From a total of 183 Content Writing Tools compared, reviewed and ranked, here are the Top 20 Content Writing Tools around.
As we also do a lot of Content Writing, we use quite a number of the listed tools ourselves for optimizing our blog and our Consultants 500 platform, on which you can also find and search for Content Writing Experts or Content Marketing Pros.
Top 20 Content Writing Tools
Recommended Most Times by the Pros
#1. Hemingway 
Listed 15 out of 21 times, is the top-ranked tool on our list of Best Content Writing Tools. This online editing tool remains very popular among writers and bloggers for its convenient text editing system. It's like a spellchecker, but for the style. It makes sure that readers will focus on the message, not struggle through complex prose. Hemingway highlights sentences and phrases that are too complex, suggests eliminating excessive adverbs and turning passive voice constructions into active voice.  Moreover, the app converts complicated sentences into lucid expressions. The point of using this software is to make writing bold and clear.
#2. Grammarly 
Listed 13 out of 21 times. Grammarly does what word processors fails to do. Once a writer enters the text, it instantly fixes more than 250 types of errors, which can't be solved by Microsoft Word. It finds a better synonym for any word and optimizes writing with clarity and meaning. Apart from being able to spot errors other grammar-checking apps can't, it also helps optimize text and make it more readable. The free version of this app helps eliminate obvious grammar mistakes and vocabulary misuses. It even corrects whole text when it is in American English.
#3. HubSpot's Blog Topic Generator 
Listed 6 out of 21 times. This tool enables content writers to enter up to three keywords, after which it will do its magic and come up with a long list of subjects that will be ready to use right away or which will help point them in the right direction. Users simply paste in the keyword/s that they want to focus on and this tool will spit out topics and titles. They can use this to plan for a series of blog posts or to come up with a great title without wasting too much time brainstorming.
#4. Canva
Listed 4 out of 21 times. This tool offers ready designs or users can create their own from scratch using a smooth drag-and-drop feature and professional layouts. Canva has everything for amazing designs: free and paid images, photo filters, icons and fonts to use in social media posts, letters, brochures, resumes, postcards and much more. There is a massive database of content types which keeps on growing continually, along with an extensive list of professional designs (mostly free), that provide outstanding graphics. All created designs are saved automatically and are free to download.
#5. Portent's Content Idea Generator 
Listed 5 out of 21 times. This tool is a great solution for writers who often get stuck trying to come up with a catchy headline and have no clue what wording to choose. They just need to enter the idea, and Portent's Content Idea Generator will provide them with a great title for any post. In spite of generating rather simplistic ideas at times, it can even inspire writers to change the way they intended to deliver ideas at first. Search results can be updated as many times as needed until the topic is a perfect match.
#6. Calmly Writer
Listed 5 out of 21 times, this service is a good alternative to well-known text processors in cases when writers need something a lot more streamlined and simple that will help them focus on the writing. There are only the most basic content writing tools, such as the ability to insert different subheadings, quotes, and links. As soon as the writing on this interface starts, all the distracting options disappear. With a different kind of focus mode that highlights only the paragraph, that is currently being edited. Like many other tools, it offers cloud saving and a beautifully responsive design.
#7. Evernote 
Listed 4 out of 21 times. Evernote is an ideal tool that allows content writers to gather and sort information as fast as possible. It allows them to write a list of the things they need, manage ideas and projects for easier planning. It also has a way of managing deadlines, and it allows users to share the information with clients about specific elements of a certain project. Devices can easily integrate with the content stored in Evernote which make materials more accessible, and the content can be shared on LinkedIn, Facebook, or Twitter.
#8. Ilys
Listed 5 out of 21 times. For content writers experiencing writer's block when they need to draft an important article, Ilys can be a useful tool. At the start of a writing session, they can set the word count target and then start typing into the void of a blank screen. They can see the last character typed, but that's it. A progress bar and counter at the top of the screen shows how far they are from reaching the target number of words. Once they reach it, they can stop, read back what they wrote and edit it.
#9. Copyscape 
Listed 4 out of 21 times. Copyscape is an online anti-plagiarism tool aimed at finding out where unauthorized copies of your work have popped up elsewhere on the internet.  Plagiarism checker is an essential tool for writers, and Copyscape is free and can be used to check whether the content has any duplicates. Users just need to Enter the URL of a post and get results about their article. The tool also helps see whether the content is being "lifted" and used elsewhere. Copyscape is a requisite for everyone who outsources content creation activities or guest blog posts.
#10. WordCounter 
Listed 5 out of 21 times. Word Counter is immensely helpful for social media marketers. If they are managing a campaign of product or service launch, writers can count the character and word with the help of Word Counter. To use this tool, it is enough to start typing into the text area. Most copywriters will likely paste text in from another application, but whatever the preferred method of entry, the auto-save feature ensures no work will be lost. Additionally, the presence of spell checking and rudimentary formatting make it a compelling alternative to heavyweight writing tools.
#11. Ideaflip
Listed 3 out of 21 times. This tool gives writers a visual, interactive environment that enables them to write down, manage, and develop ideas. The design of its user interface removes visual constraints, which means users are free to do anything that will help their ideas spring to life. Ideaflip can be used to write down everything. This tool offers an interactive and visual environment so a content writer can scribble down, manage and develop ideas,  analyze the concept, determine the credibility and relevance of his ideas.
#12. Unsplash
Listed 3 out of 21 times. Unsplash is a website dedicated to sharing copyright-free photography under the Unsplash license. The website claims 25,000 contributing photographers and generates an estimated 1 billion photo impressions per month. Visual content is critical in attracting readers, and Unsplash provides secure free high-resolution material, allowing photographers to upload photos to its website, which are then curated by a team of photo editors. The permissive copyright terms on its photos have led to Unsplash becoming one of the largest photography suppliers on the internet, with its members' photos frequently appearing on articles.There are 10 images offered every week to people who subscribe for free account.
#13. Cliche Finder 
Listed 3 out of 21 times. This engine helps locate words and phrases to replace in order to make the content more creative. Users just need to submit a few paragraphs to the Finder which searches for clichés listed in the Associated Press Guide to News Writing. Even if clichés are few and far between, the Cliché Finder will light up the various and sundry overused phrases beyond the shadow of a doubt. For those, who would avoid them in the first place instead of checking for them, they can directly go to the link http://cliche.theinfo.org/cliches. This contains some of the common cliches.
#14. Headline Analyzer
Listed 3 out of 21 times. In many cases, the headline is both the first and possibly the only chance for a content writer to compel readers to keep reading. The free tool Headline Analyzer by CoSchedule can tell what does a good headline look like. It scores a headline quality and rates its ability to drive social shares, traffic, and SEO value. The score includes SEO factors, as well as the sharing history of the words used. This tool can also analyze the nature of the headline, whether it's positive or negative.
#15. Google Trends: Hot Searches 
Listed 3 out of 21 times. Google Trends is one of the most useful tools available for the content creators who want to get quality links and traffic. The tool tracks the popularity of the keywords in Google Search. Users can compare two or more keywords to see which has a higher search volume and how searches change over time. This is great for looking at seasonal terms, as well as the best time to start ramping up (or slowing down) marketing efforts for any particular keyword phrase.
#16. The Dangerous Writing App 
Listed 3 out of 21 times. The name of this app speaks for itself. The Most Dangerous Writing App is simple: a user choose the length of time or number of words he wants to write, and once the timer starts, he can't stop until the goal is reached. If, say, a writer wants to write 300 words but he stops for more than five seconds along the way, all of his writing will be lost forever. In short: don't stop typing, or all your progress will be in vain.
#17. Content Ideator 
Listed 3 out of 21 times. ContentIdeator is a great content intelligence solution that provides data-driven insights into content performance via crucial channels. This tool not only generates attractive titles but gives ideas on what a content creator could write about in the future. Users input a noun of choice, and it will show all the results related to the given keyword. It can even show up to 90 pages worth of topics according to a search term.
#18. ZenPen 
Listed 3 out of 21 times. ZenPen is a minimalist writing zone that keeps writers focused on the important task. They get a blank page that's waiting for words; there is no greater inspiration than that. The tiny option box won't be a distraction. To use the editor, simply go directly to the ZenPen site. Erase the starter text and start writing your own. It supports basic formatting like bold, italics, quotes, and links. You can set a word count target and save the whole thing in HTML or plain text when you're done.
#19. GrammarBase 
Listed 3 out of 21 times. GrammarBase is a free online grammar checker. Unlike some other websites, it doesn't require signing up for anything or providing any contact information. Users just type in their content and it underlines all the mistakes. It's more complex than some other checkers. Instead of just checking for grammar, spelling, punctuation, etc., it also checks for more obscure mistakes, like dangling modifiers, unclear antecedents, quantifiers, and more. The tool can also provide suggestions on how to solve errors. It is also possible to go for manual proofreading assistance from the professional editors of GrammarBase.
#20. Ninja Essays 
Listed 2 out of 21 times. The last one on our list of Best Content Writing Tools. No matter how hard a writer tries to do the best work, sometimes he needs professional writers and editors. Ninja Essays is an online content writing and editing services company. The site only hires writers with Masters degrees and PhDs, so they offer top quality editing to their customers. They'll edit the content for big mistakes like missing concepts, wordiness, and confusing sentences, as well as small (but important) details like typos, spacing errors, and spelling errors.
Other Writing Resources:
Best Writing Blogs to Learn the Art of Writing
Blogs about the art of Writing are another great source for staying up to date on the latest developments and learn new insights into all sorts of Writing topics. A good Writing blog offers writing tips, how to guides, checklists, the best tools for the Writing professional and much more.
We wanted to know what the best Writing Blogs around are that teach the art of Writing, so we did some research again.
From a total of 189 Writing Blogs compared, reviewed, and ranked, here are the 20 Most Recommended Blogs for Writers. The top 5 of Writing Blogs are:
#1. Write to Done / Twitter
Listed 8 out of 20 times, and this is our top recommendation for Best Writing Blogs. This blog offers articles on writing and is about learning to write better. Whether you write non-fiction, novels, blog posts, or sales pages – you will find inspiration and tips here. Write to Done clearly outlines useful topics for writers, like imposter syndrome, recovering from destructive criticism, and finding a pen name. Mary Jaksch, chief editor of Write to Done, curates and creates content that's aimed at giving writers lots of practice.
Handy Resources:
4 Counter-Intuitive Benefits of Scheduling Your Writing Time
How To Have The Courage To Keep On Writing
47 Killer Tips All Writers Need When Their Creativity Goes AWOL
67 Top Tools for Writers and Bloggers in 2018
---
#2. Goins Writer / Twitter
Listed 11 out of 20 times, is also a great resource for writers. This is a blog about writing, creative ideas, and making a difference in the world by Jeff Goins, who is a published author and writing coach with lots of great information to share. He discusses novel writing, commercial writing and the road to publication, offering even a couple of downloadable e-books and podcasts.
Handy Resources:
10 Ridiculously Simple Steps for Writing a Book
The Secret to Developing a Regular Writing Habit
How to Overcome Writer's Block: 14 Tricks That Work
The Difference Between Good Writers & Bad Writers
---
#3. The Write Practice / Twitter
Listed 10 out of 20 times, helps young writers kick-start their practice. Fifteen minutes a day, six times a week, they will practice writing like Hemingway, James Joyce, Malcolm Gladwell, and many others. The author of this blog is a writing coach, and his blog has an up-to-the-minute feel and plenty of tips on storytelling, character development, how to survive and more.
Handy Resources:
JK Rowling's 8 Rules of Writing
Want to Be a Better Writer? Cut These 7 Words
7 Lies About Becoming a Writer That You Probably Believe
100 Writing Practice Lessons & Exercises
---
#4. Helping Writers Become Authors / Twitter
Listed 10 out of 20 times, is a great place for fiction writers. The author of this blog is K.M. Weiland, an award-winning author who shares creative writing advice on story structure, character arcs, common writing mistakes, and much more. She designed this site for writers who have great story ideas but no idea how to organize them. The site also offers live webinars for writers who want to connect with friendly faces.
Handy Resources:
6 Lifestyle Changes You Can Make to Protect Creativity
The Secrets of Story Structure (Complete Series)
The Great Novel-Writing Checklist (Just in Time for NaNoWriMo!)
5 Lies Writers Believe That Are Holding Them Back
---
#5. Live Write Thrive / Twitter
Listed 8 out of 20 times, gives writers feedback they can actually trust. With a myriad of credits guest blogging for some of the most popular writing sites on the web and some impressive creative work of her own, Susanne Lakin offers a safe haven for new writers looking for guidance and support.
Handy Resources:
What's Really Happening When You Think You Are Lazy
How to Make Your Sentences More Descriptive
Organizing Your Writing Workplace for Better Productivity
How To Become a Better Content Writer
Using all these Content Writing Tools will not make you a better Content Writer by definition, they will just help you work more efficiently so you can spend more time on the actual Content Writing. The Content Marketing Institute is the number 1 authority when it comes to content marketing, so they must certainly know what excellent Content Writing is about.
They spend a whole article about defining what content actually is, and conclude, that there is not one definition of what content means. Instead, they say:
What matters most is that your team or organization agrees on what content means and when you have done that you should stick to that and build your content processes and content strategy around that.
Once you know what content means to you or your organization you can start writing great content. This article from the Content Marketing Institute gives 54 tips for improving your content writing.
The Content Marketing Industry
The Content Marketing Industry is huge and is still growing in staggering numbers. Based on a recent research more than USD 1 billion was invested in "content marketing" technology platforms over the last years.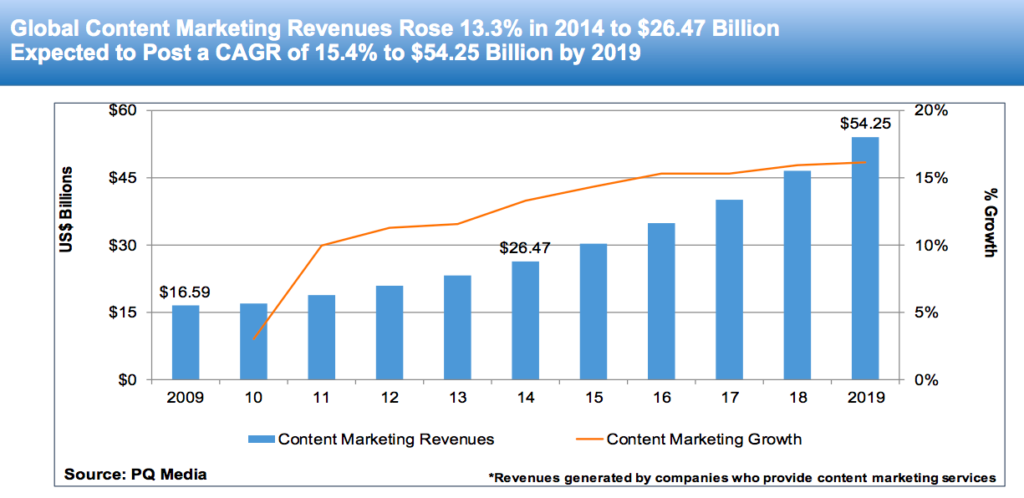 If you think about it, this should actually be no surprise. Because Content Marketing, and therefore Content Writing, basically touches all aspects of your digital marketing strategy.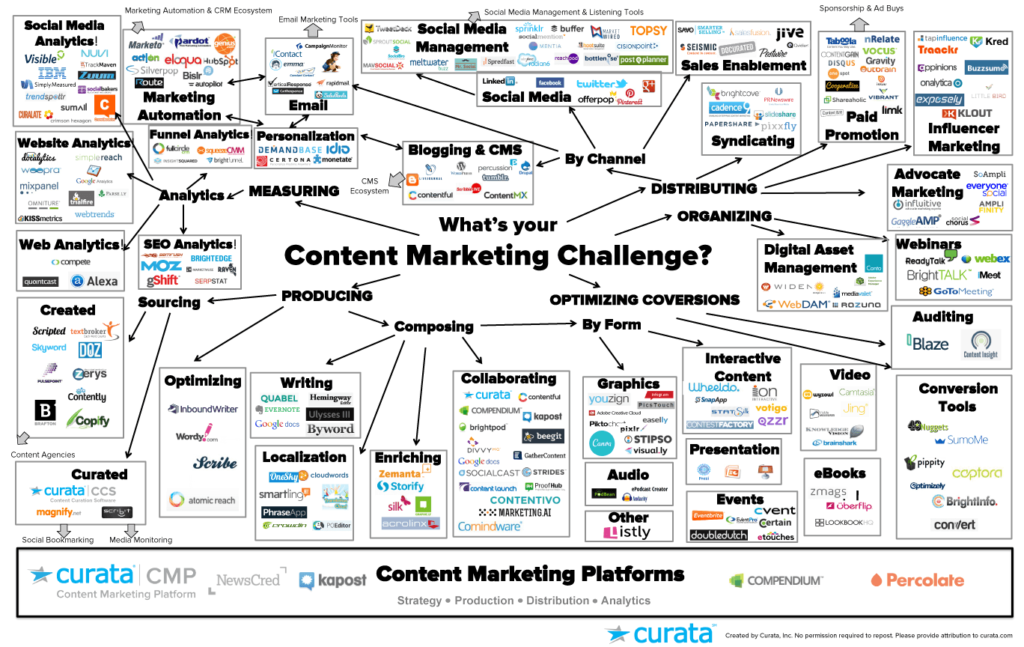 More reasons why Content Marketing matters are:
Content marketing gets three times more leads per dollar spent than paid search.
Small businesses with blogs get 126% more lead growth than small businesses without.
The most effective SEO technique? Content creation.
And here are some more stats that should convince you why content is King, including an infographic about the state of Content Marketing.
Most Favorite Marketing Articles
On Our Blog
Blog: Marketing
The Marketing section of our Blog focuses on helping you to find the best sources on the web related to Marketing. Think of blogs, books, tools, software, online courses, firm rankings, universities and much more, all related to Marketing. It also includes guest posts from our users or visitors about all sorts of business topics.
Popular Articles:
Best Content Marketing Blogs
Best Digital Marketing Blogs to Follow
Top 20 Affiliate Marketing Blogs
Top 20 of Best Books for Writers
More Resources for
Marketing
Besides reading blogs about Marketing, there are other great ways to stay of to date with the latest Marketing trends and developments.
Q&A: Marketing Knowledge Sharing 
Via our Marketing Community Forum, Professionals and Clients can share knowledge by having Q&A conversations about typical business issues or best practices about Marketing. Here you can share your Marketing Knowledge, rank answers by how valuable they are, or just read and follow any Marketing topic you want, and get noticed when new contributions are made to discussions you follow.
Latest Sector News for Digital Marketing: Aggregated Marketing News
Via our Marketing Briefing Room, the Top Marketing Resources on the web are followed and only the most shared content is shown. You can filter all the content for the last 24 hours, 3 days, 1 week, 1 month, 3 months, etc so you can easily find and stay up to date with the latest Marketing developments.
Other Briefing Rooms:
All Latest Sector News Briefing Rooms
Entrepreneurship, Technology, Freelance, and Professional Services
Do You Have Any Tips for
Your Favorite Content Writing Tools
Want to share your favorite Content Writing Tools? Just do the following:
Later on, we will share the results via Knowledge Resources, so you can quickly find the best Content Writing Tools on the web as suggested by our users and visitors.
How Our Platform Works
More than 75% of potential Clients who look for Content Writing Experts start a Web Search to find the best Content Writing Pro for the Job. Because the internet is by far the leading channel, it is critical that your business can be easily found on the internet. Creating a profile on our Platform is free and opens the door to new opportunities, it can be done in only a few minutes and without any credit card.
Easily find and compare highly qualified Content Writing Experts by searching our Platform, which can be Content Writing Firms, Content Writing Professionals, or Content Writing Freelancers. Directly contact and work with your ideal candidate in any way you like. Searching is always free, and that also means that we never charge any transaction type of fees.
Learn More:
How it Works
Memberships
Create Profile
Sources Used for
Best Content Writing Tools
The 21 "Best of Lists" used for finding out what the Best Content Writing Tools are:
Best Writing Tools for Content Writers: Create Flawless Copy for Social Media
16 Best Writing Tools and Software For A Creative Blogger [ Free tools Inside]
The 8 Best Tools To Help Improve Your Content Writing Skills