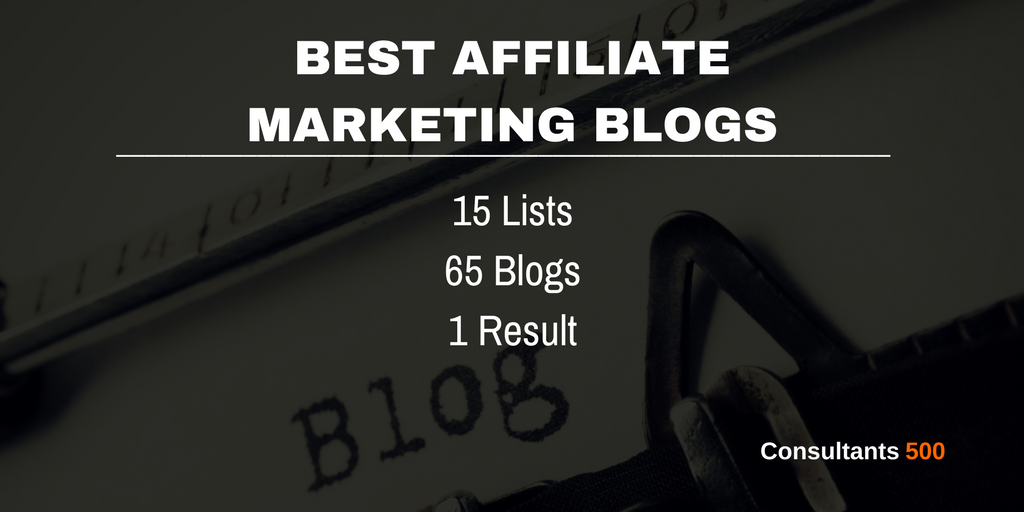 Blogs about Affiliate Marketing are an ideal source for staying up to date on the latest developments and learn new insights about all sorts of Affiliate Marketing topics. A good Affiliate Marketing blog offers in-depth analyses, how to guides, industry trends, handy statistics insights, strategy papers, the best tools for the Affiliate Marketing professional and much more.
The only problem is that there are a lot of Affiliate Marketing blogs out there and they are all screaming for your attention. It is estimated that there are more than 440 million blogs worldwide, and about 2 million blog posts are written every day. Luckily, not all of them write about Affiliate Marketing, but you get the idea right?
So which Affiliate Marketing blogs are successful in providing the information you need and how can you find them? You can do a google search and search for the Best Affiliate Marketing Blogs, but then you get hundreds of "Best of Lists" in front of you, so that doesn't help a lot either unless you want to spend a full day going through all those lists. Well, that is exactly what we did! We searched for 50 "Best of Lists" highlighting the most recommended Affiliate Marketing Blogs, selected and combined the 15 most valuable "Best of Lists" and earmarked and ranked what Blogs about Affiliate Marketing keep up appearing on most of those recently published lists. From a total of 65 Affiliate Marketing Blogs compared, reviewed and ranked, here are the Top 20 Affiliate Marketing Blogs around.
As we are a small business ourselves, we use this list as well for educating and inspiring our minds and for optimizing our Consultants 500 platform, on which you can also find and search for Affiliate Marketing Experts.
Top 20 Affiliate Marketing Blogs 
Recommended Most Times by the Pros
#1. John Chow / Twitter
Listed 13 out of 15 times. John Chow rocketed onto the blogging scene when he showed the income power of blogging by taking his blog from making zero to over $40,000 per month in just two years. And he did it working only 2 hours a day. Today, John Chow dot Com is one of the biggest blogs on the Internet, with over 200,000 active daily readers and followers.
Handy Resources:
How To Really Make Money with Affiliate Marketing
7 Ways to Earn More with Affiliate Marketing in 2017
The 10 Commandments of Affiliate Marketing
9 Hard Truths Every Affiliate Marketer Must Use To Earn More Money
---
#2. Shoemoney / Twitter
Listed 11 out of 15 times. Jeremy "ShoeMoney" Schoemaker is a web entrepreneur, founder of NextPimp.com, ShoeMoney Media and PAR Program, and co-founder of the AuctionAds service. He is a frequent speaker at search engine marketing and affiliate conferences. He also co-founded the Elite Retreat, an annual industry expert conference, with Lee Dodd.
Handy Resources:
Affiliate Marketing isn't Dying, But You Need to Adapt or Die
Affiliate Marketing 101 For Affiliates and Product Owners
How To Make Your First $1000 As An Affiliate…
The Affiliate Cash Tree Affiliate Marketing Method
---
#3. Luke Peer Fly / Twitter
Listed 10 out of 15 times. Luke Kling had started working in the affiliate marketing industry as an Affiliate Manager for XY7.com in 2004. He is now the Director of Marketing for PeerFly, the affiliate network to over 300,000 affiliates.
Handy Resources:
5 Affiliate Traffic Sources to Test in 2017
How to iframe an affiliate offer
The Power of Affiliate Marketing with Coupons
---
#4. Charles Ngo / Twitter
Listed 13 out of 15 times. Charles Ngo is one of the foremost thought leaders in an industry called affiliate marketing. Over 75,000+ people a month read his insights on affiliate marketing, internet marketing, and productivity. He's been a full-time affiliate marketer since 2008, been blogging since 2012, and his affiliate marketing company makes millions of dollars of profit.
Handy Resources:
The 7 Stages of Being an Affiliate Marketer
What's Hot? Affiliate Marketing Trends in 2018
Learning Affiliate Marketing is Hard
So, What Is Affiliate Marketing?
---
#5. Zac Johnson / Twitter
Listed 9 out of 15 times. Zac Johnson is a well-known entrepreneur and online marketer with nearly 20 years of experience. He began making money online designing web site banners for $1 each. A self-taught entrepreneur, Zac's been making money online for nearly 20 years and has been involved in nearly every facet of affiliate and online marketing.
Handy Resources:
The Simple 5-Step Formula to Affiliate Marketing Success
7 Reasons Why You are Going to Fail at Affiliate Marketing
How to Make Money with Affiliate Marketing – 57 Experts Share their Tips
A Brief History of Affiliate Marketing – (1989-2015)
---
#6. Smart Passive Income / Twitter
Listed 9 out of 15 times. Pat Flynn is an American entrepreneur, blogger, and podcaster best known for his blog and podcast Smart Passive Income, where he conducts income experiments and shares the results. The Smart Passive Income podcast is consistently ranked in the top 10 podcasts in iTunes's Business category, and Flynn is recognized by Forbes as one of the 25 Marketing Influencers to watch in 2017.
Handy Resources:
A Letter to All Current and Future Affiliate Marketers
How to Become a Successful Affiliate Marketer
8 Principles for Effective Affiliate Marketing on a Blog
Affiliate Marketing: An Insider Look at My Most Successful Long-Term Campaigns
---
#7. Matthew Woodward / Twitter
Listed 9 out of 15 times. Matthew Woodward is a rail adventurer and writer. He is also a multi-award winning business & internet marketing blogger & international keynote speaker who teaches how to achieve online goals step by step.
Handy Resources:
Learn How To Make Money Online With 465 Ways To Make Money Online
7 Figure Blogger Reveals How To Make Money Blogging
How To Sell Your Amazon Affiliate Website for $190,000
How To Start A Successful Blog And Make Money Online Step By Step
---
#8. AM Navigator / Twitter
Listed 9 out of 15 times. Evgenii "Geno" Prussakov, the author of this blog is a graduate of the University of Cambridge, acclaimed author, international speaker, award-winning affiliate blogger, marketing consultant, founder and CEO of AM Navigator affiliate management agency, founder and chair of two conferences: AM Days and Influencer Marketing Days, and regular contributor to a wide number of industry publications.
Handy Resources:
20 Affiliate Marketing Stats That Will Blow Your Mind
Top Affiliate Marketing Trends for 2018: Predictions by 15 Experts
5 Affiliate Marketing Podcasts To Listen To
10 Commonly Misunderstood Affiliate Marketing Terms (with Examples)
---
#9. Affiliate Marketing Blog / Twitter
Listed 12 out of 15 times. Shawn Collins is Co-CEO of the Affiliate Summit, the leading industry conference for affiliate marketing, which regularly sells out and features the biggest names in performance marketing. He is also the Co-Editor-in-Chief of FeedFront Magazine and Founder of GeekCast.fm, a marketing podcast network where he hosts the weekly This is Affiliate Marketing show.
Handy Resources:
The Benefits of Affiliate Marketing
Creating Your Affiliate Agreement
Choosing the Right Affiliates
---
#10. Sugarrae / Twitter
Listed 8 out of 15 times. Rae Hoffman-Dolan, aka Sugarrae, is a well-known SEO and Affiliate Marketer, White-Collar Redneck, Honorary Texan, Real Estate Agent & Investor, Co-owner @AMIHouseBuyers.  Sugarrae is a licensed real estate agent, and real estate investor focused on the Katy & Houston, Texas areas. She has also been a columnist for several publications – industry-specific and non – including Search Engine Land, Amex's Open Forum and more.
Handy Resources:
How to Find The Best Affiliate Programs in Your Niche
How to Cloak Affiliate Links (& Why You Should)
How to Conduct Niche Research for an Affiliate Site
Understanding Affiliate Marketing Lingo (Glossary of Terms)
---
#11. Affiliate Summit Blog / Twitter
Listed 4 out of 15 times. Shawn Collins and Missy Ward, co-founders of Affiliate Summit, have decades of combined experience in the area of affiliate marketing (Shawn starting in 1997 and Missy in 1999). In 2003, the pair founded Affiliate Summit for the purpose of providing educational sessions on the latest industry issues and fostering a productive networking environment for affiliate marketers. Since then, the Affiliate Summit Inc. brand has grown to include Affiliate Summit Social Events, Performance Marketing Summit, FeedFront Magazine, GeekCast.fm, AffStat.com and ReveNews.com.
Handy Resources:
Which are the Best Affiliate Marketing Blogs?
What is Affiliate Marketing?
Affiliate Marketing Books By Affiliate Summit Co-Founders
---
#12. Ian Fernando / Twitter
Listed 3 out of 15 times. Ian Fernando has been involved in the Internet industry since 2005. He started online selling on eBay, hacking MySpace to promote eBooks, and ad promotion via affiliate marketing, which helped him increase personal revenue on the side, he was able to leave his 3 jobs. Ian Fernando is the owner of QliQ Haus (pronounced: Click House) media ad agency. Currently, he is now releasing his second software business, AdRoots.
Latest Posts:
Why Our Affiliate Industry Always Survives Dooms Day Year After Year
Pick Pocket Marketing Tricks at Affiliate World Europe 2018
eMail Marketing is About Relationships, Data on Promo Offering eMailing
---
#13. Affilorama / Twitter
Listed 6 out of 15 times. Affilorama by Mark Ling was started in 2005 and is an internet community which has been devoted to affiliate marketing training. After many years of great success as a merchant who created products like "Rocket Piano" and "Jamorama", Mark and his small team branched out to create a stage or platform that would help train his affiliates within the internet marketing niche. Mark lives with his family and is from New Zealand.
Handy Resources:
Beauty Blog 101: Makeup Affiliate Programs to Help Get You Started
Real Earnings from 5 Real Estate Affiliate Programs
7 SEO Affiliate Programs to Monetize ANY Blog
5 Common Affiliate Marketing Scams To Watch Out For
---
#14. High Paying Affiliate Programs Blog / Twitter
Listed 5 out of 15 times. Bill Burniece, the author of this blog, has been a full-time internet marketer since 2006. Before that, he was a mortgage broker basking in the gains of a red-hot real estate market combined with record low-interest rates. After the real estate collapse, he jumped into the internet marketing game, and never looked back. Bill created highpayingaffiliateprograms.com because, like many affiliate marketers of today, he was looking for affiliate programs at the high end of the food chain to promote.
Handy Resources:
Top 10 Affiliate Networks For 2018
How To Build An Affiliate Website
State Of Affiliate Marketing 2017
Affiliate Marketing Guide: Your First 7 Days
---
#15. Adam Riemer Marketing / Twitter
Listed 6 out of 15 times. Adam Riemer is a long time online marketing veteran. With more than 10 years of experience in SEO, Ethical Affiliate Management, Adware, and Theft detection as well as PPC and Sales Funneling he enjoys helping his clients scale with clear and measurable results. Adam has spoken and been booked on panels internationally at various conferences & events, and he is the trusted source for strategy, campaign creation & execution for companies from the Fortune 500 to mom & pop shops.
Handy Resources:
Ticket Affiliate Programs, An Open Niche to Make Money In
How to Pitch Affiliates at Affiliate Summit (Networks & Merchants)
What is Affiliate Marketing?
---
#16. Missy Ward / Twitter
Listed 7 out of 15 times. After spending over a dozen years in Marketing Departments of various companies and managing her own affiliate sites, Missy Ward founded Affiliate Summit Corporation in 2003 with her business partner, Shawn Collins. For the last 17+ years, Missy Ward has helped companies grow their businesses successfully using the performance marketing model.  Her latest book, "Make Money With Your WordPress Blog", teaches bloggers how to integrate affiliate marketing into their blog to earn the money their work merits.
Handy Resources:
Choosing a Business Structure as an Affiliate Marketer
10 Spoooooooky Myths About Affiliate Marketing
Multi-Channel Affiliate Marketing Strategies You Shouldn't Overlook
Affiliate marketing content, available to everyone, absolutely FREE.
---
#17. Finch Sells / Twitter
Listed 6 out of 15 times. Finch Sells is a premium resource for beginners – from his Survival Kit, to his Affiliate Toolbox – Finch provides the perfect starting point. In fact, our team uses one of his guides for helping team members learn more about affiliate marketing. Finch runs his own company, Finch Media Ltd., involved with all kinds of affiliate campaigns, and he works directly with brands to improve their existing conversion funnels.
Handy Resources:
How Much Can You Earn From Affiliate Marketing?
Why I Quit Launching Affiliate Campaigns
How to Turn $5,000 into an Affiliate Business
---
#18. AvantLink / Twitter
Listed 5 out of 15 times. About Blog brings get up-to-date news, best practices and insight to the affiliate industry. This blog is run by Kevin Kotzian for AvantLink, leading affiliate marketing, multi-channel analytics, referral tracking & a technology platform for web retailers and publishers. The blog delivers the standard practices and solutions that help readers generate more money.
Handy Resources:
How Affiliate Marketing Gave My Career A New Life
Top 5 Reasons Your Affiliate Application Was Denied
Will Chrome's Ad Block Impact Affiliate Marketing?
Attribution Is The Next Big Thing for Affiliate Marketing in 2017
---
#19. AffiliateXFiles / Twitter
Listed 4 out of 15 times. Affiliate X Files was created by Ron Cripps for the sole purpose of teaching affiliates how to correctly market their campaigns and money sites in the free search engines MSN (Bing), Yahoo and Google and to answer one of the biggest questions online today. Targeted at beginners, Ron Cripps site AffiliateXFiles is full of free content to help those starting out find their way around the affiliate marketing world.
Handy Resources:
How to Maximise Your Affiliate Marketing Program ROI
How To Avoid The Seven Deadly Sins Of Affiliate Marketing
Smart Ways to Earn Money by Affiliate Marketing
---
#20. ClickNews / Twitter
Listed 3 out of 15 times. ClickNewz is an affiliate marketing blog by Lynn Terry, who's a professional blogger, super affiliate, and full-time internet marketer, operating for more than 18 years. The blog shares news on the latest digital meeting trends and strategies, as well as case studies.
Handy Resources:
Top 10 Problems With Affiliate Marketing
Do Affiliate Marketers Qualify As Entrepreneurs?
Is Affiliate Marketing Too Competitive?
MailChimp vs Affiliate Marketers (Important!)
What is Affiliate Marketing?
There is no standard definition of what Affiliate Marketing actually is. Pat Flynn's Smart Passive Income defines it as:
Affiliate marketing is the process of earning a commission by promoting another person's (or company's) product. Products exist in your target market right now (that people are probably already buying) and if you can become the resource that recommends those products, you can generate a commission as a result.
Wikipedia, however, defines it as a type of performance-based marketing in which a business rewards one or more affiliates for each visitor or customer brought by the affiliates own marketing efforts, and it talks about 4 different parties that are involved: the merchant, the network, the publisher, and the customer.
Neil Patel has further outlined these four different parties in his Step-by-Step Affiliate Marketing Guide. Neil is regarded as a digital marketing guru and a large part of his income is actually made via Affiliate Marketing.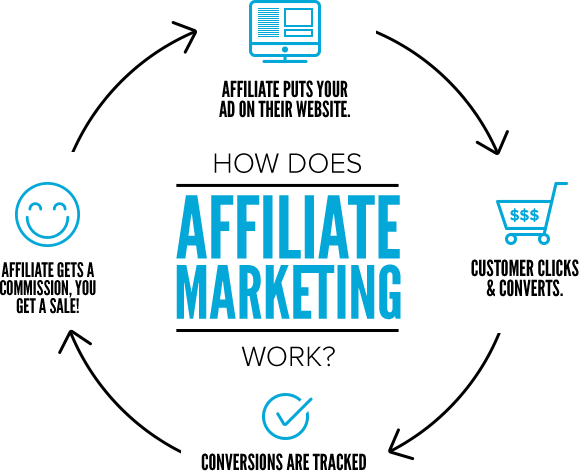 [Source: Ink Themes]
The Affiliate Marketing Industry
The Affiliate Marketing industry is huge and is still growing in staggering numbers.
Key players in all industry types apply some sort of Affiliate Marketing, like Amazon, eBay, TurboTax, Shopify, Nike, SEMrush, Aweber, Coursera, Udemy, Elegant Themes and there are way more examples. For most of them, Affiliate Marketing is the number one reason why they have been able to grow so fast, and Amazon is a great example of this, as its whole business model is built around Affiliate Marketing.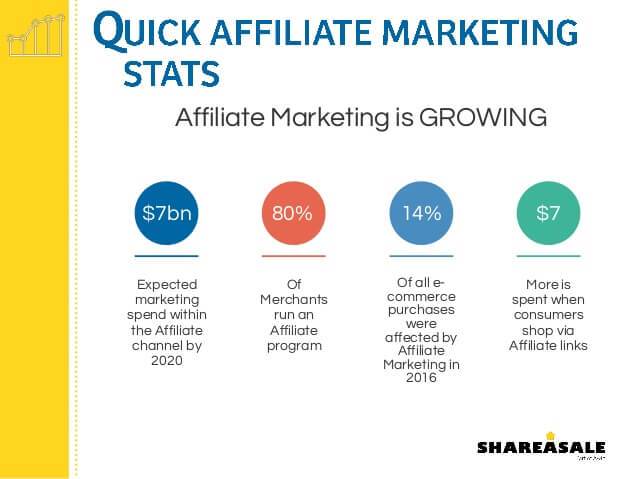 This post in Quora, give a perfect overview of the Affiliate Marketing industry via two different infographics, including the evolution, affiliate networks, earnings, traffic sources, the way of working and much more.
Most Favorite Marketing Articles
On Our Blog
Blog: Marketing
The Marketing section of our Blog focuses on helping you to find the best sources on the web related to Marketing. Think of blogs, books, tools, software, online courses, firm rankings, universities and much more, all related to Marketing. It also includes guest posts from our users or visitors about all sorts of business topics.
Popular Articles:
Best Affiliate Marketing Networks and Programs
Best Content Marketing Blogs
Best Small Business Blogs
Best Digital Marketing Blogs to Follow

More Resources for
Marketing
Besides reading blogs about Marketing, there are other great ways to stay of to date with the latest Marketing trends and developments.
Q&A: Marketing Knowledge Sharing 
Via our Marketing Community Forum, Professionals and Clients can share knowledge by having Q&A conversations about typical business issues or best practices about Marketing. Here you can share your Marketing Knowledge, rank answers by how valuable they are, or just read and follow any Marketing topic you want, and get noticed when new contributions are made to discussions you follow.
Latest Sector News for Digital Marketing: Aggregated Marketing News
Via our Marketing Briefing Room, the Top Marketing Resources on the web are followed, which includes the Top 3 Affiliate Marketing Blogs listed above, and only the most shared content is shown. You can filter all the content for the last 24 hours, 3 days, 1 week, 1 month, 3 months, etc so you can easily find and stay up to date with the latest Marketing developments.
Other Briefing Rooms:
All Latest Sector News Briefing Rooms
Entrepreneurship, Technology, Freelance, and Professional Services
Do You Have Any Tips for
Your Favorite Affiliate Marketing Resources
Want to share your favorite Affiliate Marketing Resources? Just do one of the following:
Leave a comment at the bottom of this article.
Join the Q&A conversation about What Are Your Favorite Affiliate Marketing Resources?
Later on, we will share the results via Knowledge Resources, so you can quickly find the best Affiliate Marketing Resources on the web as suggested by our users and visitors.
How Our Platform Works
More than 75% of potential Clients who look for Affiliate Marketing Services start a Web Search to find the best Affiliate Marketing Pro for the Job. Because the internet is by far the leading channel, it is critical that your business can be easily found on the internet. Creating a profile on our Platform is free and opens the door to new opportunities, it can be done in only a few minutes and without any credit card.
Easily find and compare highly qualified Affiliate Marketing Experts by searching our Platform, which can be Affiliate Marketing Firms, Affiliate Marketing Professionals, or Affiliate Marketing Freelancers. Directly contact and work with your ideal candidate in any way you like. Searching is always free, and that also means that we never charge any transaction type of fees.
Learn More:
How it Works
Memberships
Create Profile
Sources Used for
Top 20 Affiliate Marketing Blogs
The 15 "Best of Lists" used for finding out what the Best Affiliate Marketing Blogs are:
Top 10 Affiliate Marketing Blogs 2017 – Learn from the Best
11 Best Affiliate Marketing Blogs