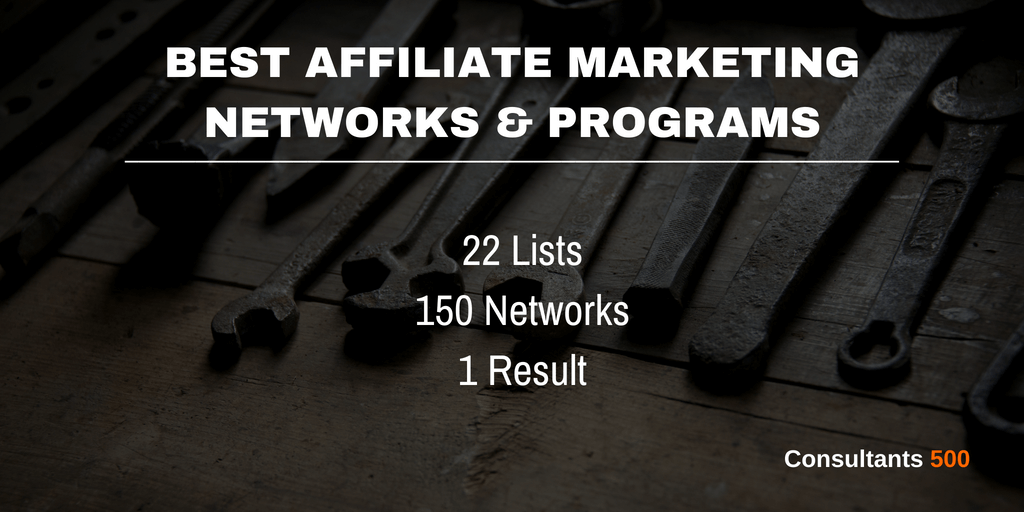 What Affiliate Marketing Networks offer the best value with the least hassle? That's the question! Having a good Affiliate Marketing Program in place can make all the difference for your business. A well implemented and straightforward Affiliate Marketing Program gives others the incentive to promote your product, so you have basically created a potentially massive virtual marketing team with no size limitations, which can increase your sales with staggering numbers. That's why Amazon is so successful because basically the whole online world is working as an online marketing machine for them and everyone is able to refer traffic to Amazon and get rewarded straight away.
You can either build your own Affiliate Program or join an existing Affiliate Marketing Network. Choosing the best option, thus doing it yourself or joining a network, is quite complex and depends on too many factors so there is no short answer to that. However, if you have figured out that joining an Affiliate Marketing Network is the best solution for you, then you are ready to go, right? Just pick a network and the cash starts coming in.
Well, unfortunately, it isn't as simple as that. Choosing the right network for your business or products is as important as deciding on building a program yourself versus joining a network. The problem is that there are a lot of Affiliate Marketing Networks and Programs out there and they are all screaming for your attention.
So which Affiliate Marketing Networks and Programs are the most successful in selling your products or services and how can you find them? You can do a google search and search for the Best Affiliate Marketing Networks, but then you get hundreds of "Best of Lists" in front of you, so that doesn't help a lot either unless you want to spend a full day going through all those lists. Well, that is exactly what we did! We searched for 50 "Best of Lists" highlighting the most recommended Affiliate Marketing Networks and Programs, selected and combined the 22 most valuable "Best of Lists" and earmarked and ranked what  Affiliate Marketing Networks and Programs keep up appearing on most of those recently published lists. From a total of 150 Affiliate Marketing Networks and Programs compared, reviewed and ranked, here are the Top 20 Affiliate Marketing Networks and Programs around.
As we are a small business ourselves, we used this list as well for finding extra opportunities and for optimizing our Consultants 500 platform, on which you can also find and search for Affiliate Marketing Experts.
Best Affiliate Marketing
Networks and Programs 
Recommended Most Times by the Pros
#1. ShareASale / Twitter
Listed 16 out of 22 times. ShareASale has been in business for 18 years, exclusively as an Affiliate Marketing Network. ShareASale pays commissions to affiliates based on sales. As an affiliate marketer, you can choose from more than 2,500 programs that allow you to earn these commissions. In addition to the network of affiliates, ShareASale also operates a network of merchants.
Handy Resources:
5 Affiliate Marketing Terms You Should Know
4 Ways to Increase Your Affiliate Marketing Earning Potential
Affiliate Marketing Predictions for 2018
4 Common Misconceptions About Affiliate Marketing
---
#2. CJ Affiliate / Twitter
Listed 17 out of 22 times. CJ Affiliate by Conversant (formerly Commission Junction) has the power to reach millions of consumers shopping online through their affiliate marketing network by facilitating fair, transparent partnerships between advertisers and publishers. CJ® helps advertisers acquire new customers and sell more to previous buyers while helping publishers generate advertising revenue.
Handy Resources:
The Power of Affiliate – Engaging with Consumers
What is Affiliate Marketing?
---
#3. Amazon Associates / Twitter
Listed 14 out of 22 times. The first affiliate marketing program on our list. Amazon Associates is one of the first online affiliate marketing programs and was launched in 1996. The Amazon Associates program has a more than 12-year track record of developing solutions to help website owners, Web developers, and Amazon sellers make money by advertising millions of new and used products from Amazon.com and its subsidiaries, such as Endless.com and SmallParts.com. When website owners and bloggers who are Associates create links and customers click on those links and buy products from Amazon, they earn referral fees. It's free to join and very easy to use.
Handy Resources:
What is the Amazon Associates Program?
Amazon Associates Tips
Amazon Associates Blog
---
#4. Rakuten LinkShare / Twitter
Listed 16 out of 22 times. Another affiliate marketing network on our list. Rakuten.com is a marketplace with a mission to deliver an outstanding shopping experience and offer a broad selection of products to discover and purchase. They empower retailers to build individual relationships and go the extra mile for their customers. Rakuten delivers data-driven personalized ad experiences that engage consumers – across screens, platforms and traditional publishers – and influence them to purchase.
Handy Resources:
Case Study: How Luxury Brands Succeed in Affiliate Marketing
Industry Insights June 2016: Affiliate Influencers, Investing Strategies, & Media Behaviors
How Personalization Successfully Drives Affiliate Marketing
7 Advertiser Affiliate Marketing Strategies to Ace Back to School Marketing
---
#5. Clickbank / Twitter
Listed 12 out of 22 times. ClickBank, another affiliate marketing network, sells lifestyle products that are created by passionate entrepreneurs. Ranging from guitar lessons and juicing recipes to slim-down secrets and coaching for bodybuilding, ClickBank works with product creators to translate passions into products that inspire and motivate customers. ClickBank reviews each product based on strict guidelines and works with product creators to ensure products are appropriate for ClickBank to sell.
---
#6. eBay Partner Network / Twitter
Listed 7 out of 22 times. Affiliate marketing with eBay Partner Network is a way for partners to earn commissions by promoting products on eBay through a promotable and shareable link. eBay has 1.1 billion listings so you can offer your audience links to the things they love in fashion, electronics, collectibles, home goods and more. They pay different commission rates for different categories. For example, the "Parts & Accessories" category has a 70% commission rate, while the "Home & Garden" category has a 60% commission rate.
Handy Resources:
Affiliate Marketing 101 (VIDEO): How to Make Money Online
Advice From a Legal Expert & Affiliate Marketer That Will Change Your Business Strategy
What is affiliate marketing?
Getting Started with Affiliate Marketing: Real-Life Stories
---
#7. FlexOffers / Twitter
Listed 9 out of 22 times. FlexOffers.com is an award-winning affiliate marketing network that provides comprehensive solutions to both advertisers and publishers. They use multiple marketing options, various data delivery options, and advanced payment solutions through NET 7 to create profitable partnerships. FlexOffers is where Publishers (AKA affiliates) learn about various advertising campaigns and then promote those campaigns on their websites, in their emails, in their social networks, in banner ads and many more places.
Handy Resources:
Online Marketing

---
#8. Impact Radius / Twitter
Listed 5 out of 22 times. Impact was founded in 2008 by a team of Internet marketing and technology experts who previously founded Commission Junction, Savings.com, and LeadPoint. From the beginning, they disrupted the industry by moving away from the traditional affiliate network model and instead introducing a SaaS technology platform for performance marketing professionals to better grow and manage all their revenue-generating partnerships.
Handy Resources:
Affiliate vs Partner: What's Really the Difference?
What You Need to Know About Partner Programs in the Financial Services Sector
Guest Post: Taking an Agency & Technology Approach to Affiliate Marketing
Taking Affiliate Global
---
#9. Affiliate Window / Twitter
Listed 5 out of 22 times. Affiliate Window (recently rebranded as Awin) is the UK's largest affiliate marketing website, With 2,100 advertisers on their platform and supporting 75,000 other publishers. It is based in Europe and was primarily targeted towards European affiliates. This has changed however and it now has hundreds of US and global brands including HP, Hyatt, StubHub, AliExpress etc.
Handy Resources:
How Affiliate Marketing Works
Nine predictions for affiliate marketing in 2018
Top 10 Tips in Travel Affiliate Marketing
Top 7 Affiliate Marketing Companies And Top CPS Network
---
#10. Skimlinks / Twitter
Listed 5 out of 22 times. Skimlinks is the leading content-to-commerce platform globally, helping publishers monetize their editorial content, and marketers find people who want to buy their products. They create new revenue for publishers by automatically creating affiliating links in content and syndicating the resulting behavioral data to marketers for use in advertising. Skimlinks is used on 1.5 million websites globally by more than 57,000 publishers such as Buzzfeed, Refinery29, Condé Nast, and AOL/HuffPost.
Handy Resources:
5 Affiliate Marketing Tips for Beginners
Who Uses Affiliate Marketing?
---
#11. Shopify Affiliate Program / Twitter
Listed 6 out of 22 times. The Shopify commission structure runs far and wide thanks to a variety of products you can promote. If you own a web design company or agency, development stores are an awesome way to build your recurring commissions. Shopify powers over 500,000 business in 175 countries and generates over $23.7 million in monthly recurring revenue. They're also the clear market leader in the drop shipping space.
Handy Resources:
How Affiliate Marketing Works
4 Affiliate Marketing Strategies to Sell More in Any Market
7 Tips to Help Cultivate Authenticity for your Affiliate Marketing Business
How to Set Up an Affiliate Program for Your Shopify Store
---
#12. Avangate / Twitter
Listed 6 out of 22 times. Avangate powers modern Digital Commerce, finally solving the complexity of online commerce, subscription billing, and global payments for Software, SaaS and Online Services companies. Backed by a proven cloud platform, Avangate helps digital business leaders drive the fastest path to revenue, maximize the value of every customer, and expand global reach. Over 4,000 of the most demanding digital businesses in over 180 countries trust Avangate including Absolute Software, Bitdefender, Brocade, FICO, HP Software, Kaspersky Lab.
Handy Resources:
The Importance of Affiliate Marketing for Digital Customer Acquisition
Affiliate Marketing – The Xⁿ Billion Dollar Business
Affiliate Marketing in Emerging Markets
Top 5 Considerations When Selecting an Affiliate Program Manager
---
#13. VigLink / Twitter
Listed 7 out of 22 times. Founded in 2009, VigLink is located in heart of San Francisco and backed by top investors including Google Ventures, Emergence Capital, and RRE. VigLink manages a publisher network of over 2 million sites and apps, as well as an advertiser network of over 70,000 brands and merchants. By identifying commercial products mentioned within a publisher's content, VigLink automatically invigorates those terms by transforming them into hyperlinks whose destinations are determined in real-time, advertiser-bid auctions.
Handy Resources:
How Affiliate Marketing Can Boost Your Business
13 Signs That You're an Affiliate Marketer
Mobile Affiliate Marketing Strategy Guide
How to Make Money From Your Blog
---
#14. PepperJam / Twitter
Listed 4 out of 22 times. Formerly eBay Enterprise Marketing Solutions and now resurrecting a brand synonymous with affiliate marketing, Pepperjam allows you to promote products such as health & beauty, travel, home & garden, sports & fitness, food & drinks, and more. Backed by Permira Funds and Banneker Partners, Pepperjam is taking a leadership position in the hyper-evolving performance marketing space by accelerating their unique offering driven by technology, data, and world-class services.
Handy Resources:
First Year of Marriage: Five Ways my Career in Affiliate Marketing Prepared Me
When You Should or Shouldn't Internationalise Your Affiliate Programme
Affiliate Marketing Has Disrupted Mainstream Marketing In A Very Good Way
Why Doesn't Your Influencer Strategy Include Affiliate?
---
#15. SEMRush  / Twitter
Listed 3 out of 22 times. SEMRush is the 2nd affiliate marketing program on our list. SEMrush started out in 2008 as a small group of SEO and IT specialists united by one mission — to make online competition fair and transparent, with equal opportunities for everyone. After seven years of trailblazing experiments and constant progress, they've grown into the world's leading competitive research service for online marketing. SEMRush is a program many new and older bloggers are using to optimize their sites, create the content their audience wants and create a better experience for their visitors.
Handy Resources:
How to Make Money With Affiliate Marketing
How SEO can Improve your Affiliate Revenue
How to Build an All-Star Affiliate Marketing Team
Identifying Profitable Niches: Creating a Perfect Synergy Between SEO & Affiliate Marketing
---
#16. LinkConnector / Twitter
Listed 5 out of 22 times. LinkConnector focuses on quality and does what their name suggests and "links" and "connects" you with partners they have built relationships with since 2004. Since its inception, LinkConnector has continuously introduced innovative technologies to the industry, such as the Affiliate Widget Builder, advanced FraudFREE™ Protection System, Pending Sale functionality, patent-pending Naked Link Technology®, and Affiliate Connections™ optimizing technology to better meet affiliate and merchant expectations in a rapidly evolving industry.
Handy Resources:
Affiliate Marketers for President
Cross Platform Tracking: A Breakthrough in Affiliate Marketing
What's Working, What's Not Working in Affiliate Marketing?
Should You Outsource SEM Via Affiliate Marketing?
---
#17. TradeDoubler / Twitter
Listed 5 out of 22 times. Tradedoubler is an affiliate marketing network that was founded in 1999 in Sweden. The network set out to invent a form of digital commerce that would empower businesses and publishers worldwide. They have offices in the UK and multiple countries throughout Europe, including Sweden, Germany, France, Poland and Spain. In 18 years, they've amassed an army of 180,000 active publishers, connecting them to over 2,000 merchants in Europe and the UK. Many of these merchants are household names.
Handy Resources:
Affiliate Marketing Trends 2018
The GDPR and what it means for affiliates
European Fashion Trend Report: Publishers earn well
---
#18. AvantLink / Twitter
Listed 4 out of 22 times. A stable and professionally operated affiliate marketing network with a great business model. AvantLink connects businesses with marketers where the merchants will take the advantage of affiliate marketing to boost their sales. Here, the merchants will need to provide info about the affiliate program set the commission charges and all the necessary details about their products. In other words, the affiliates will take this information into the market and earn commission after selling the products.
Handy Resources:
The Top Five Affiliate Opportunities Of 2018
Top 5 Reasons Your Affiliate Application Was Denied
5 Holiday Strategies for Affiliate Marketing Programs
Five Examples Of Fantastic On-site Affiliate Program Description Pages
---
#19. MaxBounty / Twitter
Listed 4 out of 22 times. MaxBounty is a performance marketing network which connects trusted affiliate marketers with high paying advertisers. It is a leading CPA (cost per action) network with more than 1500 active CPA, CPL and Pay Per Call campaigns. Unlike regular affiliate sites that pay when you make a sale, CPA networks pay you when your referred traffic performs a certain action. This could be anything like filling a survey, entering an email address or making a phone call.
Handy Resources:
Top 5 Landing Page Builders for the Affiliate Marketer
---
#20. Ebates / Twitter
Listed 3 out of 22 times. The last one on our list of Best Affiliate Marketing Networks. Ebates is a Rakuten owned network that has relationships with thousands of stores and offers discounts or cash back when you shop at these stores through Ebates.com. EBates provides bloggers with a wide variety of niches to earn revenue from its affiliate network. The blogger bonus program means bloggers can earn up to 40% cash back from all purchases that come from your site. Members can also earn by referring other bloggers to EBates.
What is Affiliate Marketing?
There is no standard definition of what Affiliate Marketing actually is. Pat Flynn's Smart Passive Income defines it as:
Affiliate marketing is the process of earning a commission by promoting another person's (or company's) product. Products exist in your target market right now (that people are probably already buying) and if you can become the resource that recommends those products, you can generate a commission as a result.
Wikipedia, however, defines it as a type of performance-based marketing in which a business rewards one or more affiliates for each visitor or customer brought by the affiliates own marketing efforts, and it talks about 4 different parties that are involved: the merchant, the network, the publisher, and the customer.
Neil Patel has further outlined these four different parties in his Step-by-Step Affiliate Marketing Guide. Neil is regarded as a digital marketing guru and a large part of his income is actually made via Affiliate Marketing.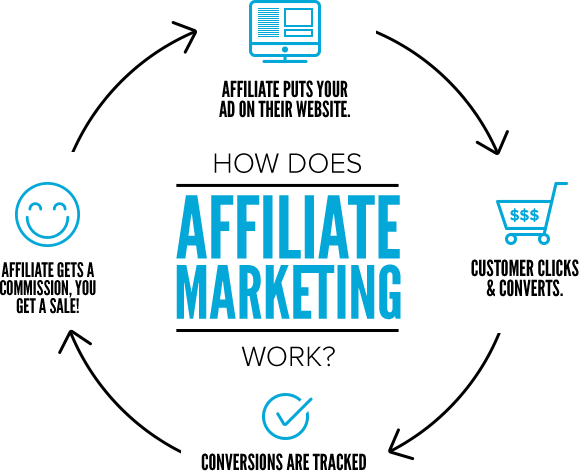 [Source: Ink Themes]
Self Hosting Your Affiliate Marketing Program
Versus Using an Affiliate Network
An Affiliate Marketing Program is a proven marketing tool whereby you reward or pay, anyone who refers a customer your way. When an Affiliate Marketing Program is implemented in the right way it gives others the incentive to promote your product, so you have basically created a virtual marketing team with no size limitations, which can increase your sales potential with staggering numbers. Its one of the main reasons why Amazon is so successful because basically the whole online world is working as an online marketing machine for them and everyone is able to refer traffic to Amazon and get rewarded straight away.
Websites that have incorporated an Affiliate Program around their own products are generally called self-hosted Affiliate Marketing Programs. These websites build the whole programs themselves, which can be quite technical, and they need to find affiliates themselves who want to promote their products. However, once the self-hosted Program is up and running you eliminated most of the drawbacks of joining an Affiliate Network (like more flexible, more control, and no need to pay any fees to the Affiliate Network).
When you join an Affiliate Marketing Network, all the hassle has already been done for you. You just need to join one of the many Networks, provided you are accepted, and all the tracking, promotion, monitoring etc is done for you. The main downsides of joining an Affiliate Network is that you need to pay part of the affiliate income to the Network, you need to make sure that the Affiliate Program offered by the Network fits your purposes, and your Program will not be the only one the Network so will be in direct competition with comparable products promoted on the Network.
The Affiliate Marketing Industry
The Affiliate Marketing industry is huge and is still growing in staggering numbers.
Key players in all industry types apply some sort of Affiliate Marketing, like Amazon, eBay, TurboTax, Shopify, Nike, SEMrush, Aweber, Coursera, Udemy, Elegant Themes and there are way more examples. For most of them, Affiliate Marketing is the number one reason why they have been able to grow so fast, and Amazon is a great example of this, as its whole business model is built around Affiliate Marketing.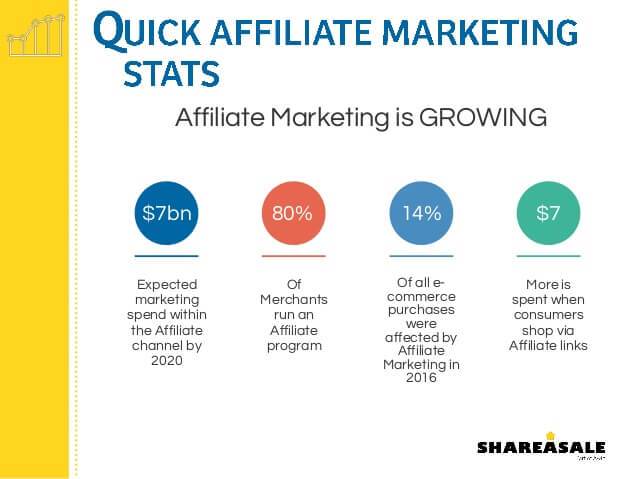 This post in Quora, give a perfect overview of the Affiliate Marketing industry via two different infographics, including the evolution, affiliate networks, earnings, traffic sources, the way of working and much more.
Most Favorite Marketing Articles
On Our Blog
Blog: Marketing
The Marketing section of our Blog focuses on helping you to find the best sources on the web related to Marketing. Think of blogs, books, tools, software, online courses, firm rankings, universities and much more, all related to Marketing. It also includes guest posts from our users or visitors about all sorts of business topics.
Popular Articles:
Best Content Marketing Blogs
Best Small Business Blogs
Best Digital Marketing Blogs to Follow
Top 20 Affiliate Marketing Blogs
More Resources for
Marketing
Besides reading blogs about Affiliate Marketing Networks, there are other great ways to stay of to date with the latest Marketing trends and developments.
Q&A: Marketing Knowledge Sharing 
Via our Marketing Community Forum, Professionals and Clients can share knowledge by having Q&A conversations about typical business issues or best practices about Marketing. Here you can share your Marketing Knowledge, rank answers by how valuable they are, or just read and follow any Marketing topic you want, and get noticed when new contributions are made to discussions you follow.
Latest Sector News for Digital Marketing: Aggregated Marketing News
Via our Marketing Briefing Room, the Top Marketing Resources on the web are followed, which includes the Top 3 Affiliate Marketing Blogs listed above, and only the most shared content is shown. You can filter all the content for the last 24 hours, 3 days, 1 week, 1 month, 3 months, etc so you can easily find and stay up to date with the latest Marketing developments.
Other Briefing Rooms:
All Latest Sector News Briefing Rooms
Entrepreneurship, Technology, Freelance, and Professional Services
Do You Have Any Tips for
Your Favorite Affiliate Marketing Resources
Want to share your favorite Affiliate Marketing Networks? Just do one of the following:
Leave a comment at the bottom of this article.
Join the Q&A conversation about What Are Your Favorite Affiliate Marketing Resources?
Later on, we will share the results via Knowledge Resources, so you can quickly find the best Affiliate Marketing Networks on the web as suggested by our users and visitors.
How Our Platform Works
More than 75% of potential Clients who look for Affiliate Marketing Services start a Web Search to find the best Affiliate Marketing Pro for the Job. Because the internet is by far the leading channel, it is critical that your business can be easily found on the internet. Creating a profile on our Platform is free and opens the door to new opportunities, it can be done in only a few minutes and without any credit card.
Easily find and compare highly qualified Affiliate Marketing Experts by searching our Platform, which can be Affiliate Marketing Firms, Affiliate Marketing Professionals, or Affiliate Marketing Freelancers. Directly contact and work with your ideal candidate in any way you like. Searching is always free, and that also means that we never charge any transaction type of fees.
Learn More:
How it Works
Memberships
Create Profile
Sources Used for
Best Affiliate Marketing Networks and Programs
The 22 "Best of Lists" used for finding what the Best Affiliate Marketing Networks and Programs are: